I didn't even think to post yesterday. Too busy basting a quilt and fighting a migraine. This morning I remembered the round up post! So without further ado, here it is!
Spinning
I started the year determined to get some spinning done. I've spun nearly every day so far this year. At first it was a lot every day, and a complete sweater spin appeared before the month was halfway gone.
I want to keep up spinning as a sort of regular practice, if not so intensely, so I started on a different sweater spin. This was a big batch of batts I made last year, and I want to spin them while they are still fairly "fresh."
It's a blend of bunches of stash I had lying around for years. In here is the cormo cross fleece I've been sitting on for a decade, the rest of the black alpaca that went into my Evergreen Mountain, the leftovers of some other alpaca that went into my Chrysler Cardigan spin, and maybe some bits and pieces of other things. It should be enough for a Weel Riggit, though that may be optimistic. This is a massive spin for me, and will likely take a few months, but it feels awfully good to have started on it.
Here's what I have finished so far: a large finished three-ply in dark grey, which I was too lazy to wind off the jumbo flyer, and three large bobbins filled with black. I'll fill three more and ply, then take a break and spin another contrast color. Breaking a huge task into smaller chunks, and working at it steadily! This is how to get a thing done!
You can see why I love crafting. It gives me that feeling of concrete accomplishment, when all of my actual work (mothering, pastoring, homeschooling, housekeeping) are… well, it's not that they don't have concrete moments, as much as they don't have a lot of benchmarks! But maybe that's for lack of reflection. Hm.
Sewing
Spinning is my evening craft, done in front of Star Trek: Deep Space Nine with my hubby. My daytime craft, squeezed into the here-and-theres, the weekends, the naptimes, is quilting. I've been posting about the blocks I made for Stringbean's quilt, but I haven't yet shown you the fully assembled quilt top. That's mostly because I forgot to take a picture of it. But yesterday I managed to baste it, so here's that: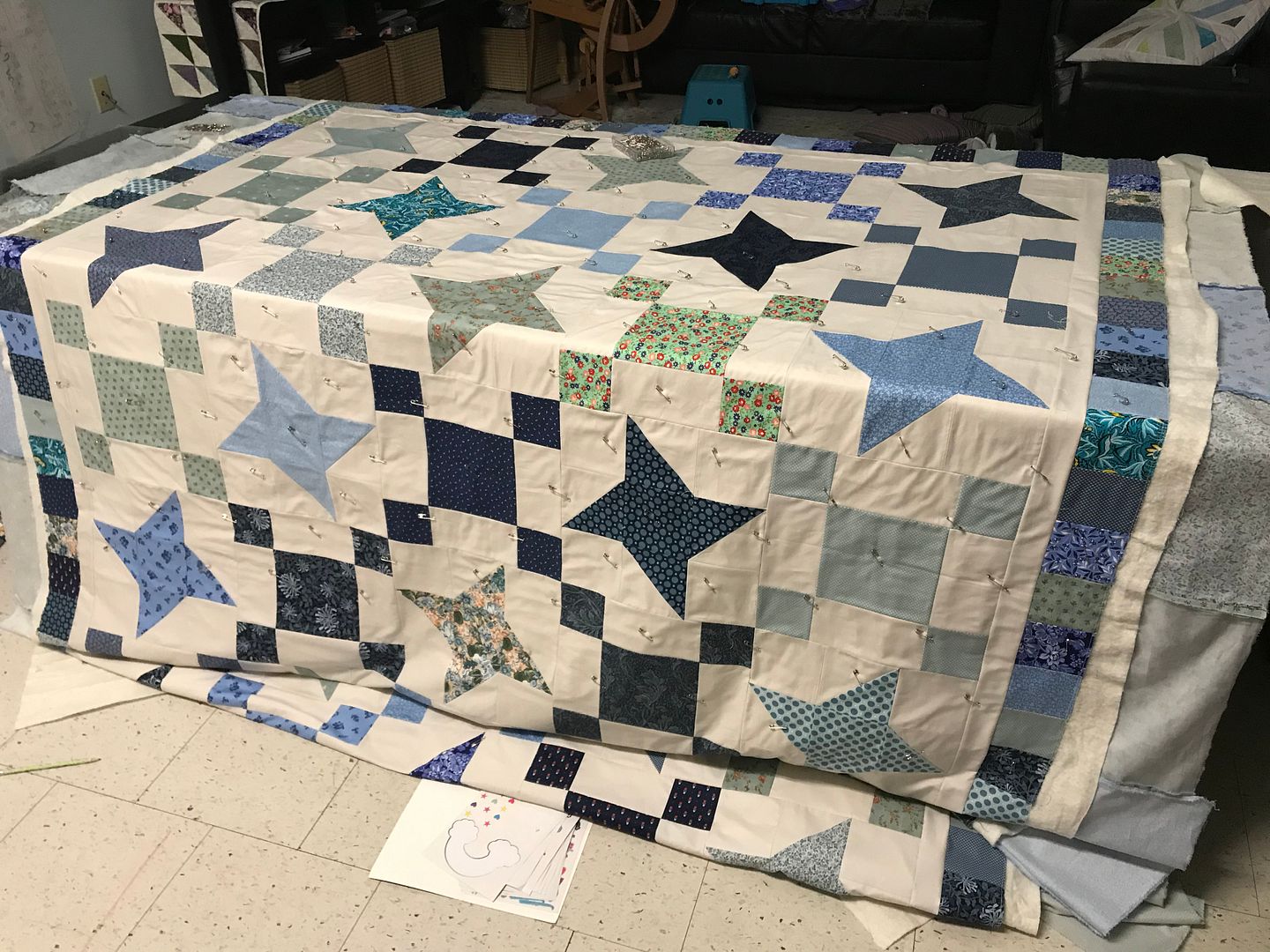 I'll post soon about how I got from blocks to here! It's a bit of a thing.
Quilting is next. I'll quilt much of it with the walking foot, but I've started messing about with a new toy: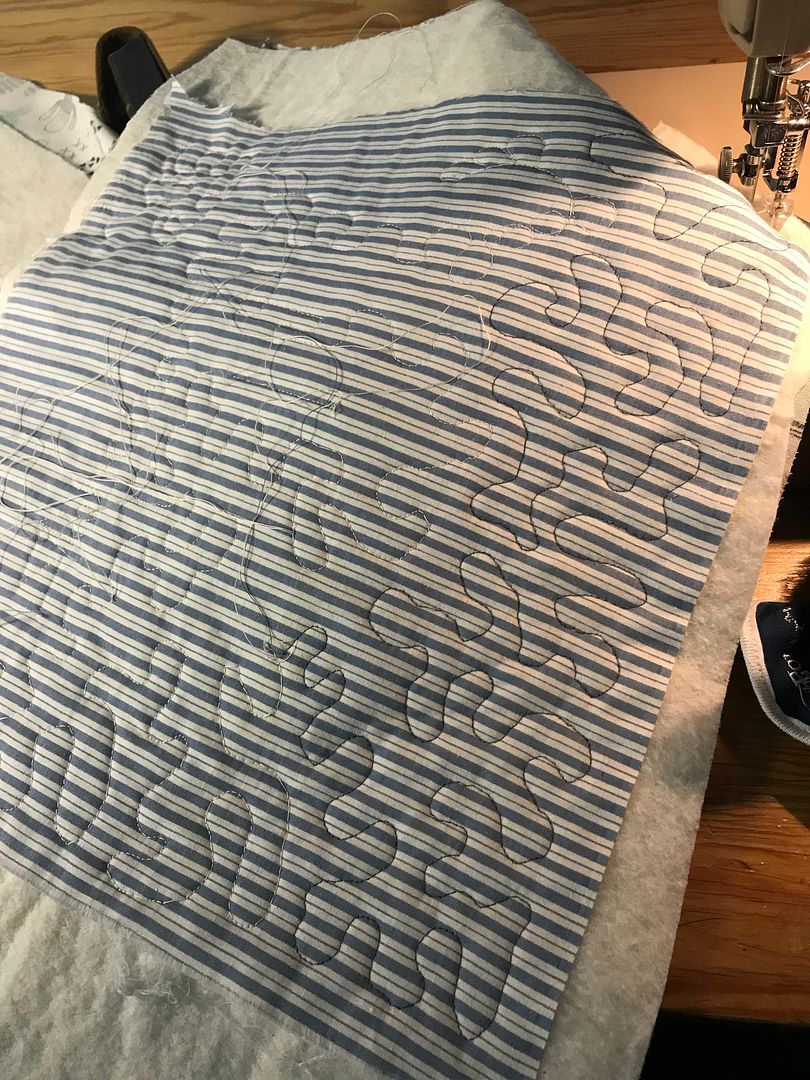 I've found time this month, believe it or not, to mess about with another sewing craft: English Paper Piecing. I actually finished a thing already, but it's a gift for someone who hasn't received it yet. So I won't tell you what it is, but I'm making another one.
I have to confess, when it comes to EPP, my favorite part is the cutting and gluing! I mean, I like the sewing too, but I'm happy to put it off. So now that this is prepped, it might sit like this quite a while!
Knitting
December and the first half of January seemed unusually cold – actually, they were only a normal level of cold; I'm told that "normal" is much colder. The latter half of January became unusually warm. The "Polar Vortex" is not, in fact, just a way for television meteorologists to be dramatic; it's a real thing. When it breaks up, it brings y'all down there serious cold weather, and leaves us with mild weather! We had a solid week and a half of this weather in late January, and I credit that weather as the only reason I made any progress on my Chrysler Cardigan. Fair isle is cabin work.
I've accepted that I'm just in a quilting-and-sewing season, which means that complicated knitting projects get no love. However, when I have to be mobile, knitting comes to the fore! Even twenty-four-hours at the cabin was enough to give me some solid progress into the first pattern repeat. It might sit there 'till the next cabin trip, but I can live with that.
The warmth of the weather might be ominous, but we were very grateful for the brief change of scene. Now that it's back to -30 C, I'm so glad we took advantage of it.
Not a lot of other knitting going on around here, but I have been steadily picking away at lengthening my Strodie. I'm down to the last of my grey and blue yarn, and it's a game of yarn chicken to decide when to start the garter stitch border. Think I can get in one more stockinette stripe? Or should I start garter stitch now?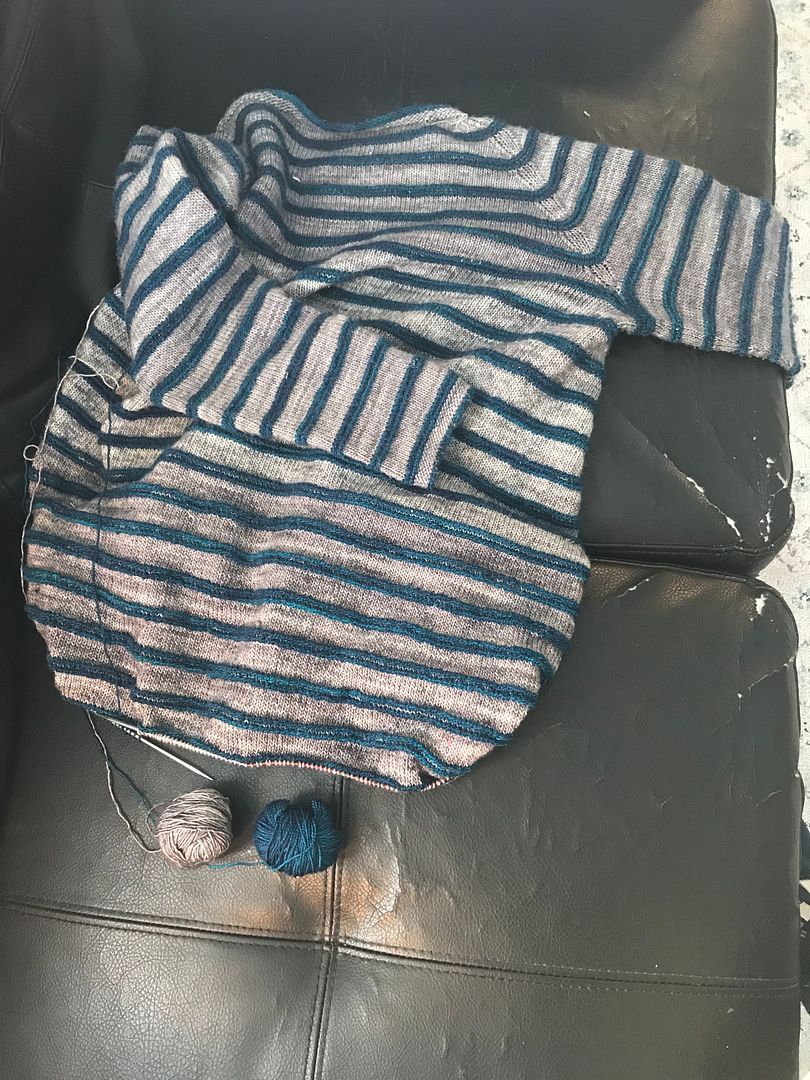 I'm looking forward to having this pullover back, and to having it reach the top of my jeans!
What are you up to, in order to stay cheerful during this bleak midwinter?