I'm pleased to announced that the first of my Make 9 projects is crossed off the list. I did a sweater spin in two weeks!
I had this pile of orange and brown fibers that I bought in May of 2010. These decade-old fibers have spent all that time waiting for me to turn them into a sweater quantity, and I just hadn't gotten around to it. The colours weren't speaking to me anymore, and there were just more interesting projects to work on. I tried selling them a few times, even considered composting them.
But my final spin of the 51 Yarns SAL inspired me. I discovered could spin and ply 2 oz of fiber in an hour and a half, if I set myself up for speed! Could I spin a sweater quantity that quickly? The answer is yes!
I started with the layered orange batt that I used for several of my 51 Yarns samples, plying colours together in the "structure" chapter. I discovered that way that I do NOT like all those oranges plied together. Blegh. I had a little over half the batt left, so I stripped each color in half and spun them separately. Plying them together made a gradient.
So far so good. That took two evenings. Next was a humbug top that had no other label except "uline maple". That took two days as well.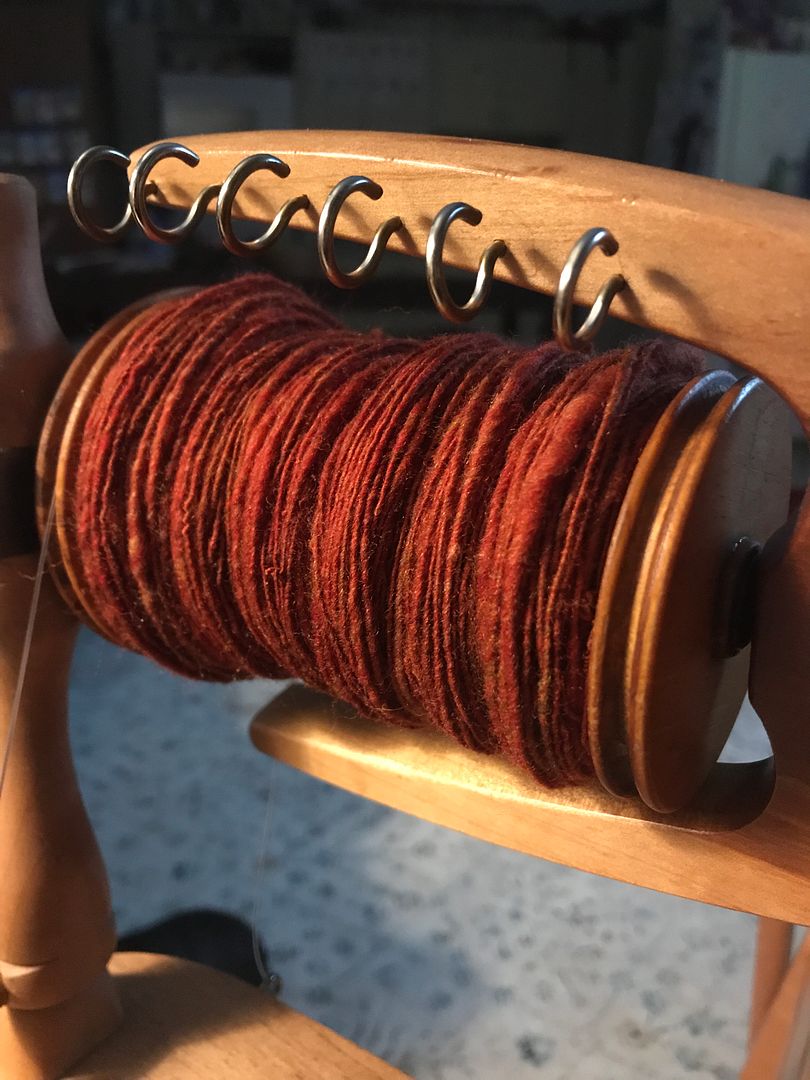 I dealt with this big multi-fiber spin pretty simply. My goal was to spin fast, so I didn't sample; I just spun fast. My abilities were the constant, not the goal yarn. I kept the same ratio, hand movements, and treadle rate for each spin and ply. But beyond that, I just went for it. I spun without aiming for consistency. I spun without watching my hands. The final yarns are quite thick and thin, but they're consistent enough among each other.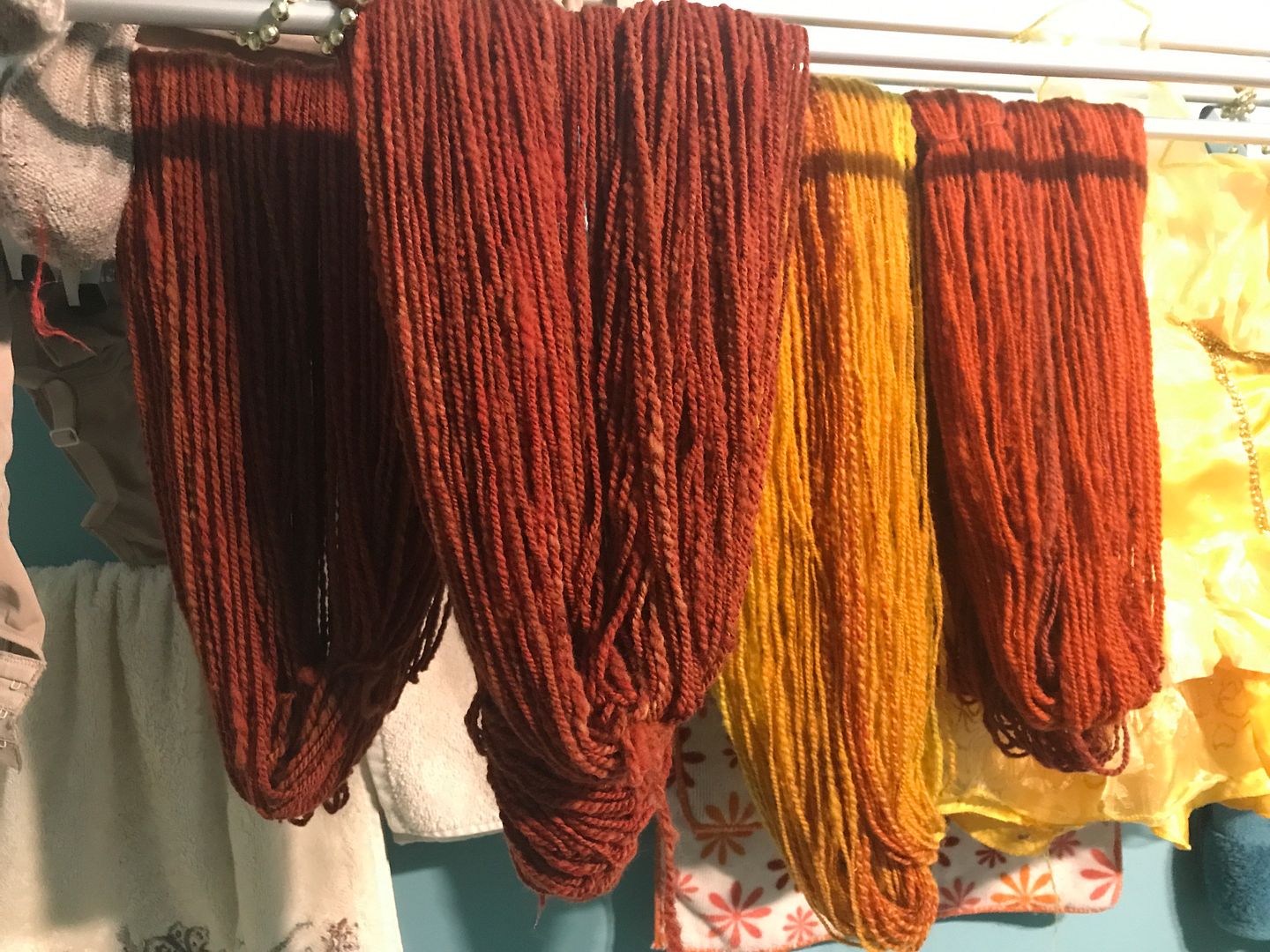 The third fiber was a gigantic batt from Spinner's Loft. This beautiful thing was a whole pound of brown stuff, including wool, mohair, alpaca, and the odd bit of green firestar. This batt definitely suited my loosey-goosey spinning for this project, and it was lots of fun.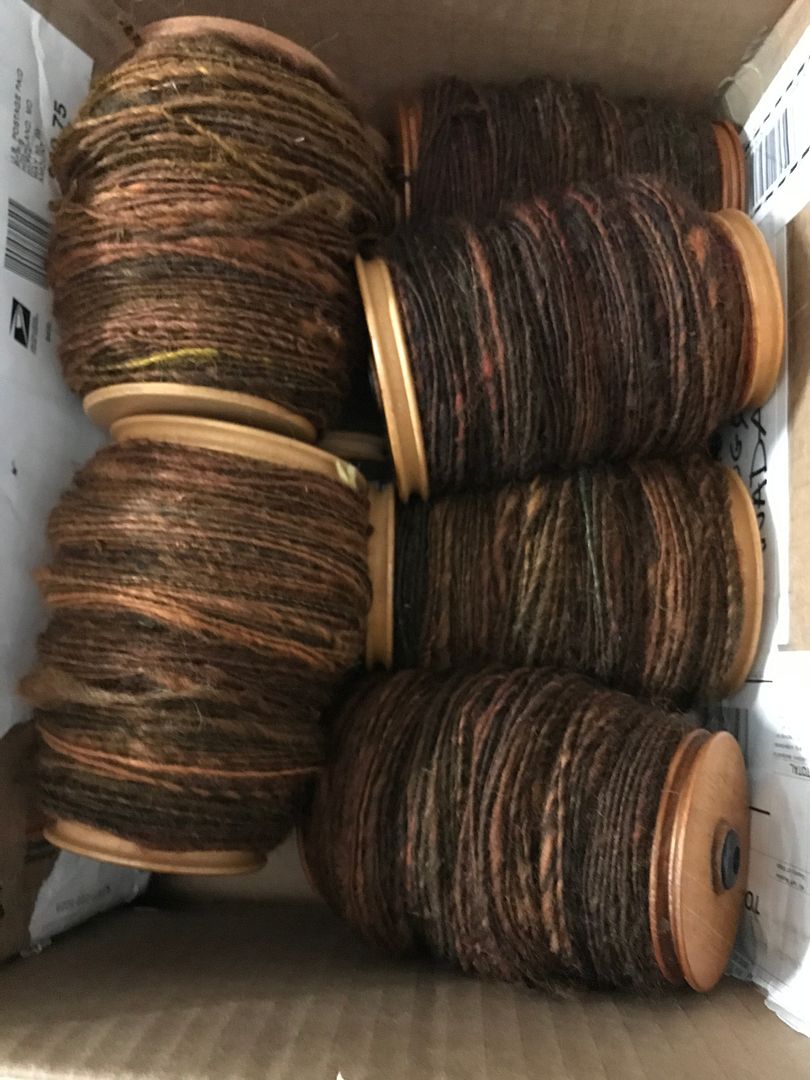 In the end I have about 26 oz of yarn, and about 1100 yards. It averaged around 9 wraps per inch, which should knit up as a worsted or Aran for me. Grist was low at around 600 yards per pound, which I find interesting. The yarn isn't dense, it's just thicker than I usually spin, and it might be a bit compacted from so long in the stash (ya think?).
I expect this to be enough for some kind of sweater for me. I have in mind something along the lines of the comfort fade cardigan, though the gauge will be so different that I'm not sure I want to bother buying the pattern. I expect it to be a quick knit. It's all I can do not to cast it on right away! But there are other things to finish first.
Some crafts come in seasons, some I like to have on the go all the time. Spinning is kind of both for me. I won't always be cranking out a big project like this, but I so enjoy spinning that I don't want a whole week to go by with no spinning at all! So I'll call this a great kick off to a year of spinning old stash. Lots of stash.