Stringbean's quilt followed a pattern by Christa Watson, from her Craftsy class "Startup Library: Quilting." It's a singularly well-designed project for an ambitious beginner, with lots of little touches that grow skills without adding difficulties. I know how difficult it is to design a piece like that!
This was especially evident in the quilting. The quilt is first anchored with squiggly lines of walking foot quilting, then there's an option to fill the rest of the space with more walking foot quilting or to try free-motion.
Walking foot quilting was not new to me, but the squiggly lines were. It's an aesthetically forgiving design, but more difficult than I thought it would be. It's not as if I just zip a line across the quilt; there's a lot of pausing to shift the bulk of the thing and remove basting pins. And every time I stop, I have to restart in a way that allows the curving line to continue smoothly. This is harder than I thought because there's a big thorax of a walking foot covering what I just stitched! Guessing did not work and remembering is a laugh, so I just lifted up the foot with the needle down and lined it up as well as I could. As I said, it's a very forgiving line, so you can't find my many errors unless you look for them.
Shifting this much quilt around the machine wasn't difficult per se, but it required a lot of attention. Ok, it was difficult. At all times you are trying to balance the positioning of the quilt so that no part of it is pressing or hanging or dragging or generally making the fabric under the machine move under any influence except your hands (free motion) or the feed dogs (walking foot). This is rather like leading a hippopotamus in a ballet en pointe.
The walking foot quilting was no walk in the park, but it was on familiar ground. Once I started free motion quilting, I was in new territory altogether.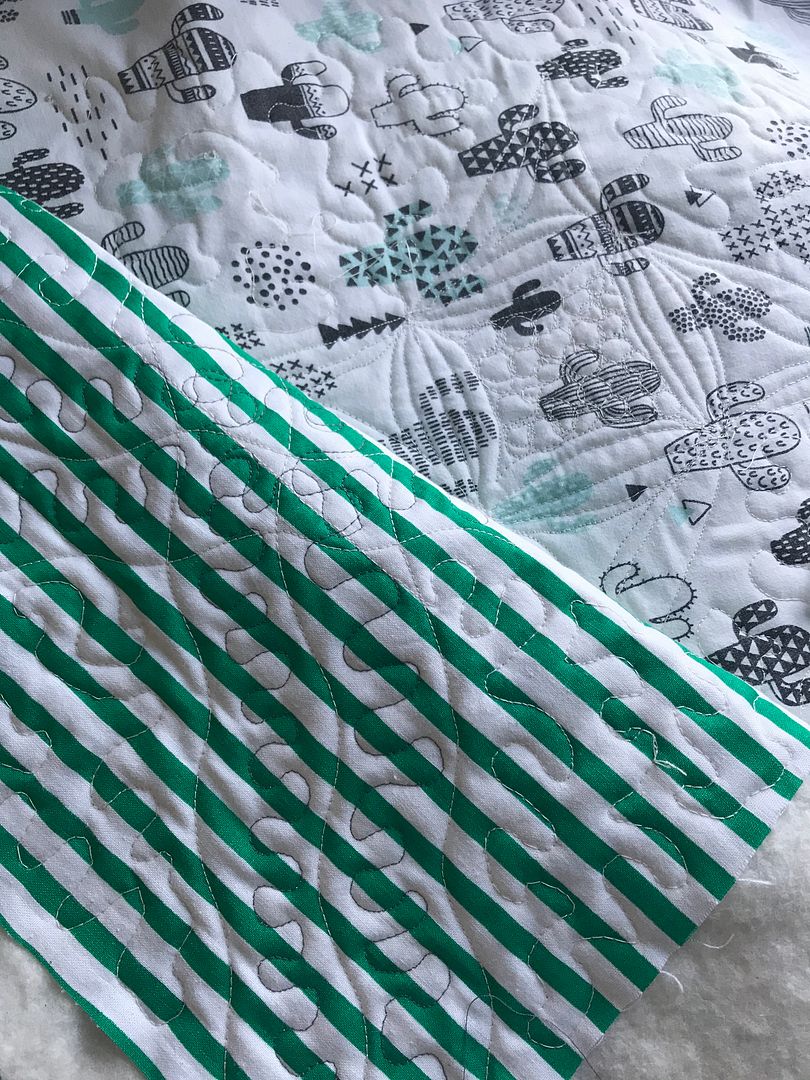 I'll spare you the details of all my sampling, but the short version is this: try as I might, I couldn't get the cotton thread to work. I tested tension, I cleaned my machine, I used a larger eye needle, and I went slow, but the cotton thread just shredded so easily. And going slowly made my work look terrible. My machine is like a gas stove; it basically has on and off, and anything in the middle is less than precise.
Following Leah Day's advice on her blog, I switched to polyester thread. It worked about a hundred times better.
On the big quilt the polyester thread still shredded fairly often, but I developed a trick of starting immediately and only cutting and rethreading the top thread. Then I went back a couple stitches, did a few locking stitches, and went back over my work. This made a wee knot on the back with a few locking stitches, but nothing awful.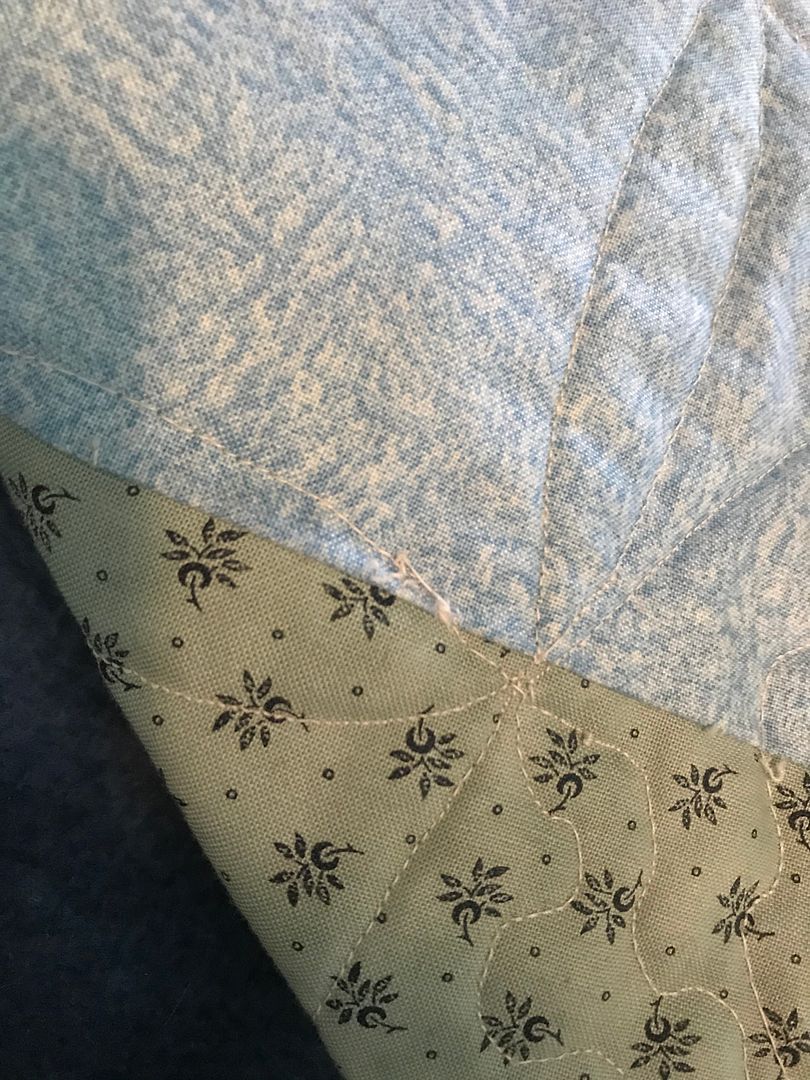 The polyester thread I found in town works great, though there's not quite the variety of colors in large spools. You can tell there's a difference in bright daylight, but Stringbean doesn't mind. Her exact words were "wow mom, you're really good at this." To which I replied, "thank you, I'm working hard at it.
Friday saw a day of frustration as I worked on the cotton thread and despaired. That night, I prayed for my quilting to go better. It felt pretty silly, when my next prayer was for friends going through some serious hard times, but I asked.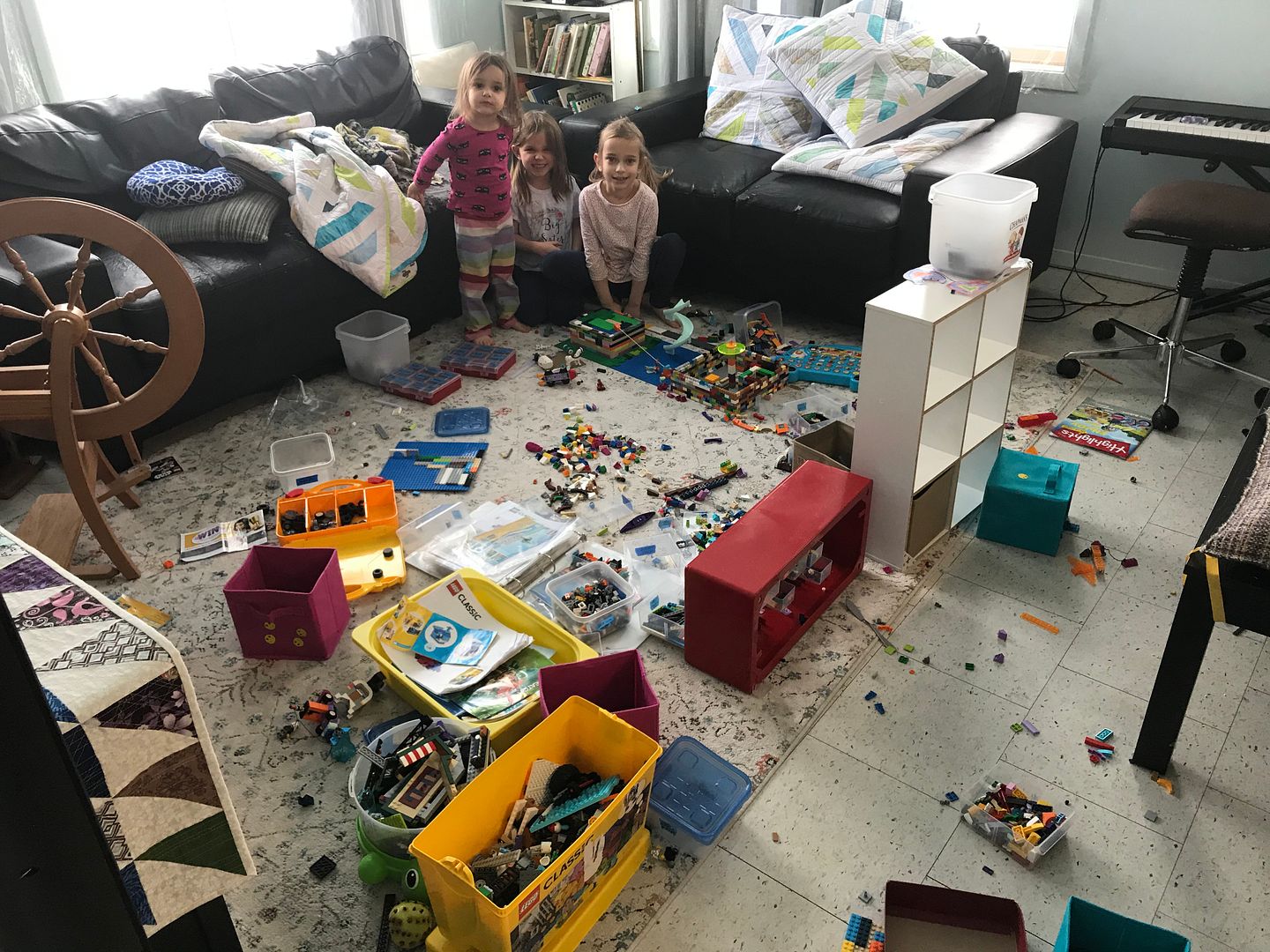 Saturday, by the time breakfast was cleaned up, the girls had brought all the Lego out to the clean living room, declared it a "Lego stadium," and spent the entire morning entertaining themselves. Meanwhile, I had decided to give in and try the polyester thread, with very good results. All told I spent about six hour sewing on Saturday, and I got the all eighteen stars quilted. Thank you Lord for your kindness in the little things!
The scribble stitch surprised me by being pretty easy. Like the wavy lines, the squiggles are very forgiving of irregularities. I just didn't think about it too hard, then stepped back and admired the shapes that appeared before me. I sometimes got a little bit of puckering when I was close to the wavy lines, but oh well. That was very organic and fun.
To my surprise, the continuous curves inside the friendship stars were much harder. To make it look smooth, I really had to do a whole curve in one motion, which is pretty challenging (even with the excellent benefit of quilting gloves). The darning foot I have would sometimes have a hard time when I got close to a corner, bumping into the bulk of seam allowances underneath. So that took many stars before I felt they were going well. Most passed the "galloping horse test" though; only one really looked like dogs breakfast so much that I had to pick it out and redo it. It was on the darkest fabric too.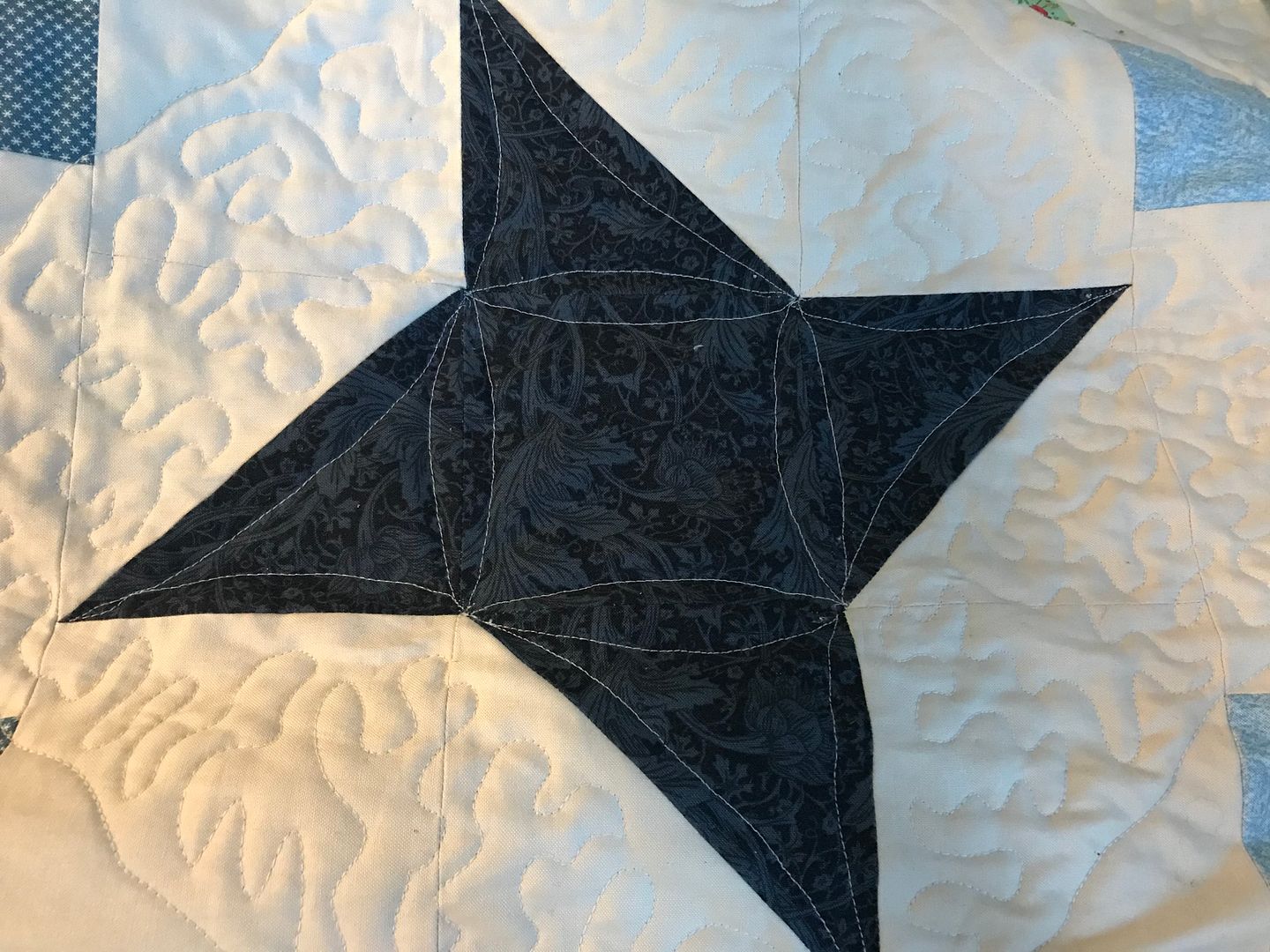 The next day I went from connecting binding strips in the morning to hand stitching the binding on at night. It took until 11 pm, but it was done. What a weekend!
I love blind stitching a binding by hand. It looks so incredibly sharp, and it takes a quilt from looking like a WIP to a finished item so so dramatically. It's like a magic trick.
Stringbean is very pleased with her new quilt. She slept under it for the first time last night, and I have wild hopes that having a nice quilt will make her more excited to make her bed!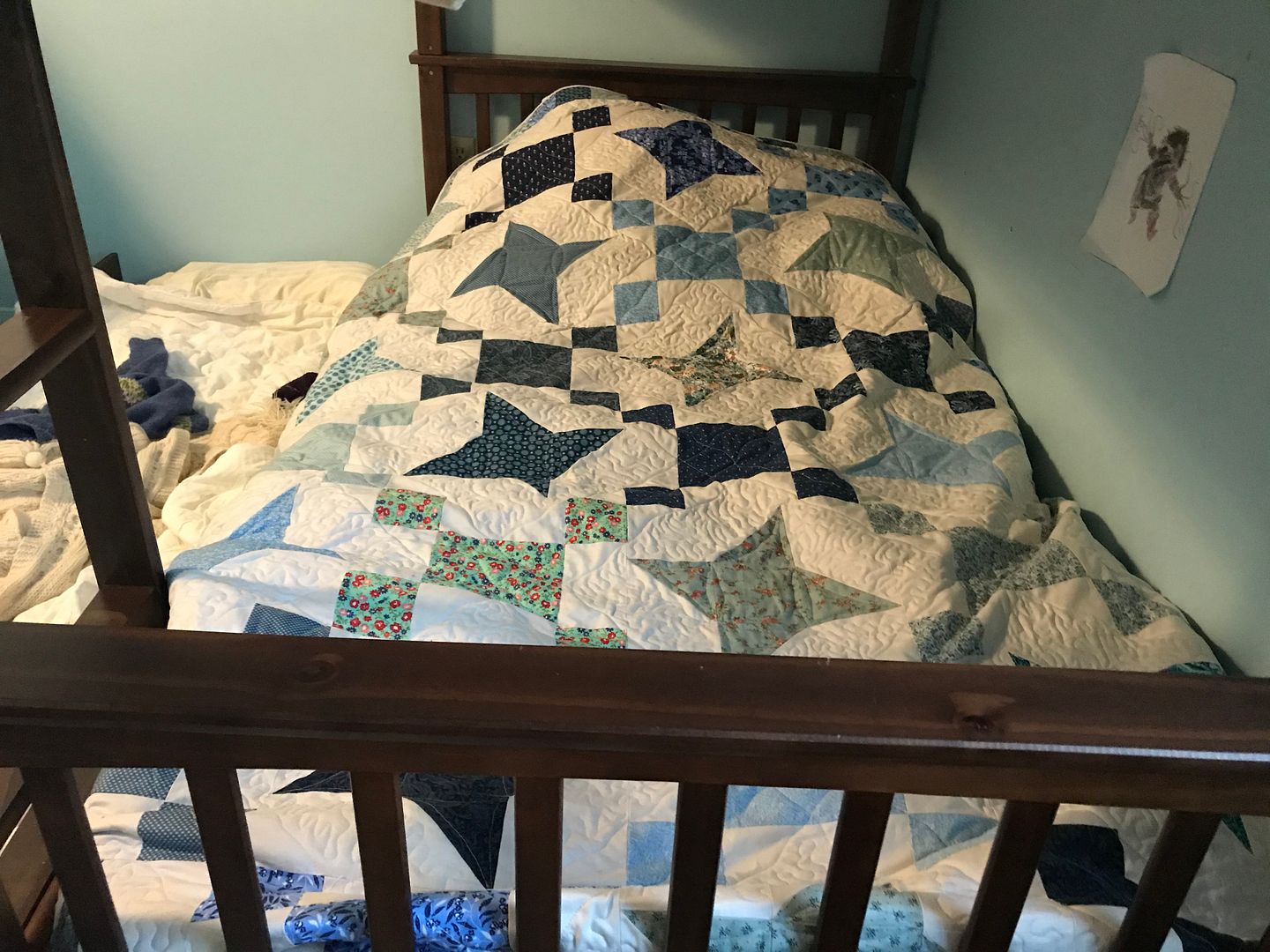 Of course, that wasn't the point of the quilt. The point was the fun of making it, and to celebrate my little star, who is such a friend and leader to her little sisters.
Love you Stringbean. Stay cozy.