Happy Feast of All Saints! Today we dealt with our candy hangovers in our own ways: me with a healthy breakfast and quiet lute music, the kids with the metaphorical hair of the dog.
This witch, ghost, and monkey trio had a great time last night. Stringbean is finally old enough to take charge of her own trick or treating mission on her own, while I followed with MiniMighty in the car. Dooner fell asleep on my back after about 45 minutes, and that monkey spent the rest of the evening lying (not jumping) on my bed.
I hope you observed the day in a safe way that brought you joy.
In a way this whole month has been about building up to Halloween, because Stringbean is a strong-minded interior decorator. Starting October 1, she started adding decorations to the house nearly every day. I have no idea where she got some of these ideas.
There are bats and spiders hanging from the ceiling, some ingenious cracks across the windows, and my personal favorite: a sign saying "Boo!" that is dripping blood into a puddle on the floor.
It was lots of fun, and I'm so glad it's over. Today is a day for remembering our dear departed in the Lord, and I have those I'm holding in my heart today.
Sewing (and Quilting!)
This has been quite the month for rediscovering my sewing machine. I have waxed poetic about this, in discussing my several completed projects this month. You can read about the couch cushions: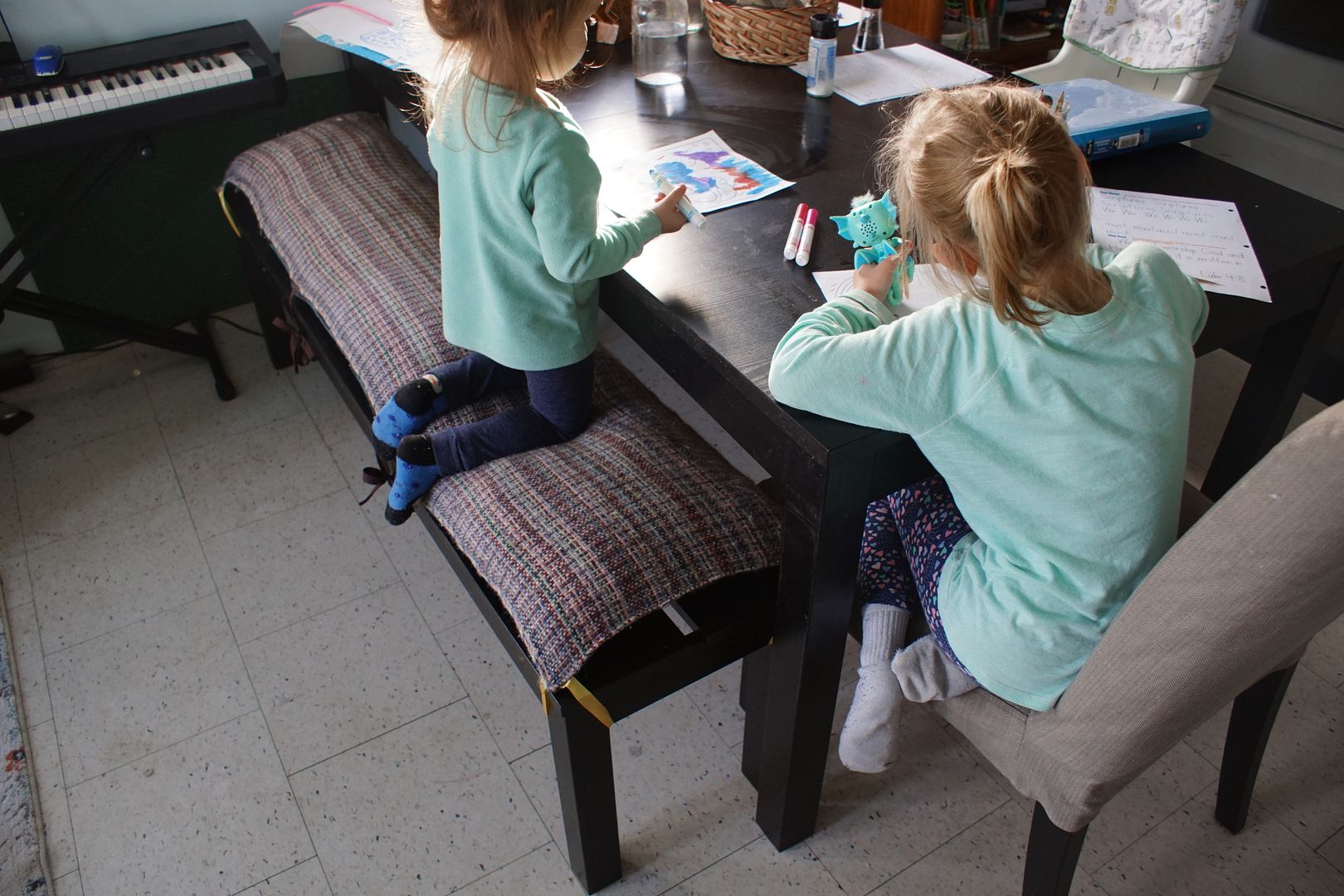 The baby quilt:
And the quilted table runner: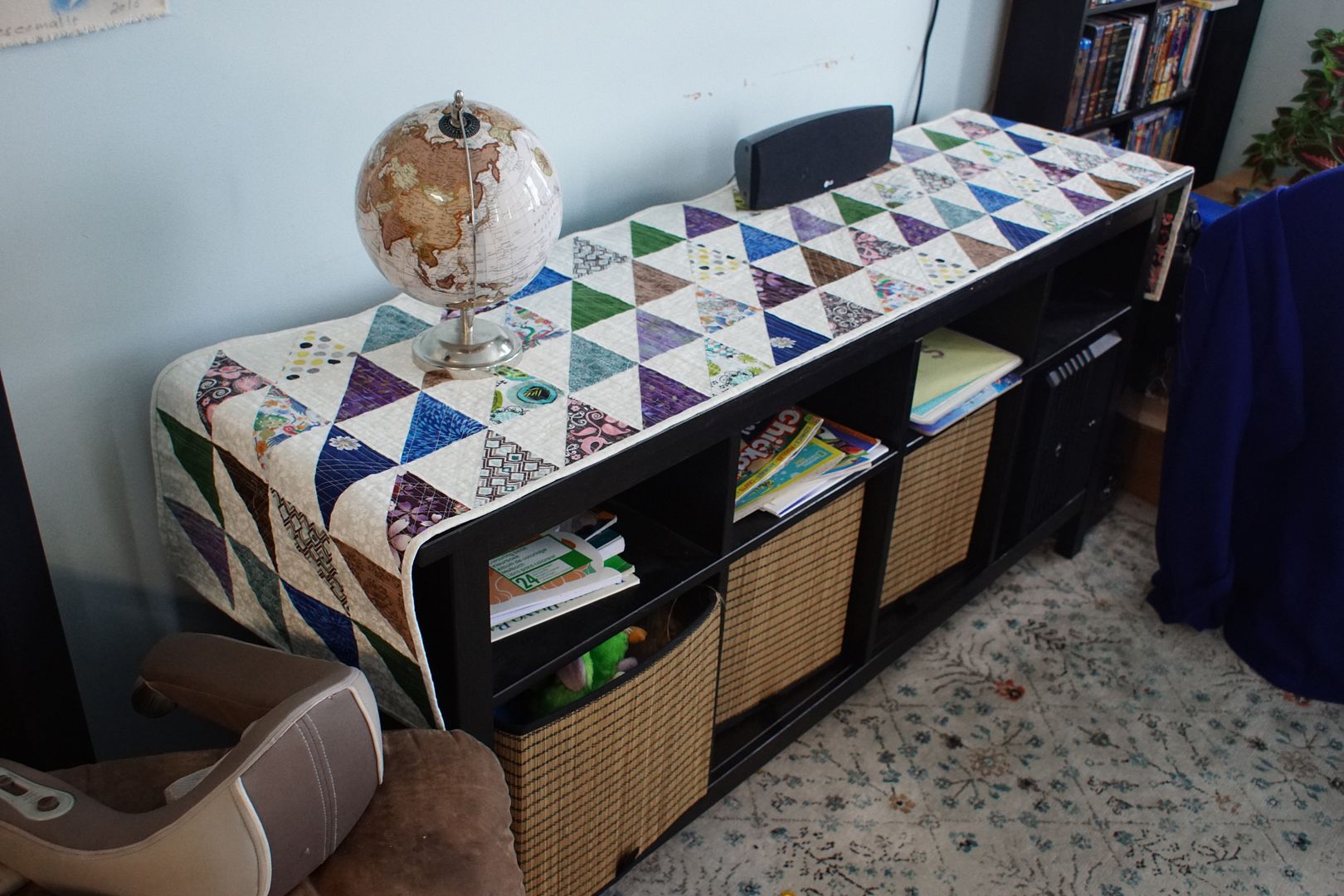 I am very pleased and thankful for all these completed projects. I have also become aware that sewing, in the way that it can take up residence in the middle of our living space and fit in around my many tasks, is both a great fit for my life right now, and a really handy way to escape from real-life stresses and thoughts and feelings. Sometimes I find I am using intense crafting to deal, sometimes to avoid dealing, and sometimes it does both, but only after I step back a bit. That's what I'm finding now that I have stepped back a bit to sit down at a couple of my more contemplative crafts.
Weaving
I'm very pleased to have my loom set up, and finally last week, I started weaving something.
I'd like to devote a whole post to this process, so more on that another day. It feels very good to sit at the loom, and engage in a slow, thoughtful weave. Being set apart in Jared's office, instead of the middle of the kitchen/living area, completely changes the process. The project is geographically protected from being rushed or harried.
Spinning
I Thank God for Thursday nights! Spinning night with my friend Alide has kept me going on my Ramie spin all month. I completed the plying yesterday and wound it into skeins during our Halloween movie night.
It's soaking now, so hopefully I'll have something to report about it soon, and I can start catching up again on the 51 Yarns SAL!
Knitting
This has been a month for sweaters. I knocked out this Love Note for Stringbean in a few days:
That's a sweater finished; here's a sweater started. I forget when exactly I cast on my Inukshuk sweater, but I got through the yoke this month.
I took it with me when we spent a few days at the cabin in the middle of the month. It was so fun to just curl up for it for a little bit here and there, or work on it while we played dominoes. I split for the body and sleeves just yesterday, so I'm in stockinette cruise mode for a nice long time.
The pattern I'm using for this is the Grand Forks Pullover from Interweave Knits Winter 2018 – an excellent issue. I'd like to make many of those pieces as written. This one was handy, though, because it's top down, and the chart was the right size to plug in the inukshuk I had already swatched. I'm following measurements for the 45″ size, and the stitch counts for the largest size, since I have more of a DK-weight gauge.
One sweater finished, one sweater finished, and another sweater, finished and restarted: Strodie. You might remember the sweater I finished a little over a year ago, a cropped sweater with welted stripes:
I am almost surprised to say it, but I like this sweater a lot. I certainly never wore it in the outfit pictured above, but it's lovely to wear with a skirt, or even with jeans and a tucked-in, dark undershirt. I love the fabric, the feel, and the fit. However, as you can see, it really is too cropped. I do have a nearly-full skein of the grey left, and a proportional amount of blue. So I finally removed the bottom bit of grey garter stitch and picked up to go down.
I expect this will take me a while to get around to finishing, especially since I now have the body and sleeves of my Inukshuk sweater to fill the stockinette niche in my queue. That Inukshuk sweater is the one thing I'd really like to finish this year, if nothing else gets done. But I'm sure other things will get done.
…Cake Decorating?
So, apparently this is a thing I do now. My kids and I are in love with the Man About Cake show, and I'm actively on the lookout for excuses to try fancy cake techniques.
This was our family half-birthday cake, divided into quarters for the four half-birthdays we have in October. I've learned to make swiss buttercream frosting, and the thing about buttercream is, it's definitely in service of the maker of the cake, and not the eater of the cake. Lovely to work with, makes beautiful cakes, but kinda gross to eat, especially in large quantities.
The same is true for the cake on the inside. I've made the vanilla and the chocolate recipes from the "Startup Library: Cake Decorating" class on Craftsy, and both came out pretty dry. The teacher, Jenny McCoy, explained very helpfully why you should opt for a sturdier cake, but I may be doing something wrong that they are coming out so dry. Next time I will try some of JJR's Man About Cake recipes and see if they come out a little more moist. At least now I understand why wedding cake is famous for being awful.
We didn't get any takers on our Pumpkin Cake last night, but we have been having a sort of cake open house today, so it's been significantly diminished. yay! Folding a little bit of peanut butter into the inside frosting actually added a lot. Thanks for the idea JJR!
School and Church
Homeschool! We are in a nice pattern with our school days. One more week remains in our first term of the year. I'd say I've gotten a little bit complacent, since things were going well, and let it get out of the center of my attention. I'm trying to get re-focused. We do have a little bit excitement to refresh things, as Stringbean will be completing the Alpha year of Math-U-See, and starting Beta. I have a good bit of work to do this next week to make sure I'm prepared for Term 2, and I hope that will help me get enough excitement going to get us to Christmas.
One last awesome thing that happened this month: Our family started going to church again. Regulations regarding masks were relaxed by the bishops, to the point that we felt we could responsibly bring kids to church with the other safeguards in place. This will all change, of course, if COVID-19 actually gets to Rankin, but we'll cross that bridge when we come to it. I've made up some activity packets to use at our seats, that go through a disinfection rotation, so we've started to see a few other families come back as well. That is very precious. If nothing else, I'm glad for the reminder not to take for granted the opportunity to worship together and share each other's company.
This month has been a transition into winter for us. The weather has shifted to properly cold, and we're thinking more indoorsy thoughts. Christmas looms ahead, at the end of the tunnel of upcoming holidays. What are you thinking about, this first of November?