Yesterday we were blessed with the brightest rainbow I have ever seen. It was a triple; you can see the colors repeat under the main bow, and the faint double rainbow far above. It lingered while we played at the playground yesterday.
Back home, we have another rainbow.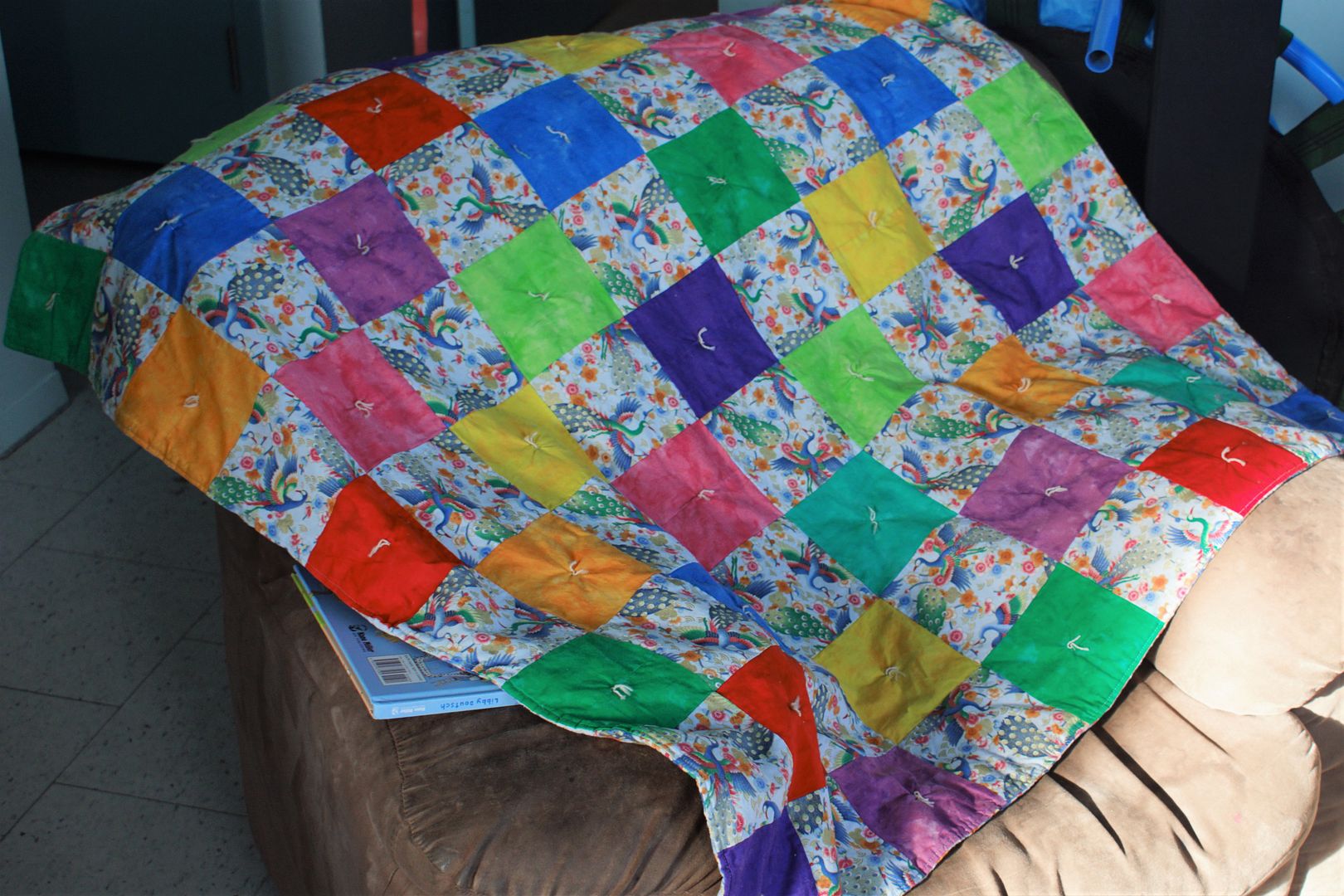 I have been possessed by a new craft. I blame Craftsy. I put on a beginning quilting class, just looking for something to watch in the background that I wouldn't be too interested in doing myself. Oops. I was transfixed. Soon I was poring through all the 200+ quilting classes, imagining which ones I would like to try. I found one that looked perfect to start with, that would make use of fabrics I already had. It was called "Learn to Quilt: Charming Baby Quilt" taught by Amy Gibson.
My starting place was this rainbow of batik solids. I had bought a rainbow bundle of fat quarters for the purpose of binding all of Andrew Lang's Fairy Books. Binding a book takes about half a fat quarter, and I had already cut them all in half and pre-washed them so they were ready to become book covers. The other halves were also washed, but unassigned. Clearly, they were meant to make my first quilt!
Now I know that I don't have to prewash fabrics for quilting, and if you do prewash, you have to starch. I can't buy starch here, so I had to make my own. The class project is designed around "charm squares," piles of pre-cut 5″ squares. The idea is that it makes your first project super easy, right? That is how I ended up washing, starching, ironing, and cutting, to get a pile of "charm squares." Why do something easy when you can make it harder?
I found a contrast fabric at the hardware store, where all the best fabric is sold in the Arctic. I had to wash, starch, and cut those squares too, then the piecing began.
I think the appeal of quilting for me, aside from the obvious fun of playing with colors, is the fascinating efficiency of construction. Seeing something beautiful come together so quickly, even though it's made of small pieces, is a little intoxicating. And since I've finally got my sewing machine working very happily, piecing is a truly joyful process.
Regarding the background fabric: I was hoping for a smallish rainbow print on a neutral ground, but no luck. This sparkly peacock fabric was the only thing I found that had a light background, but had enough variety of foreground color to tie the bright rainbow hues together. I was worried it would make the quilt overwhelmingly busy, but I think the light background prevented that.
I cut myself plenty of extra squares so I could pick and choose which ones I wanted. I didn't want any squares with just peacock behinds; I wanted their heads to show. So I have peacocks swooping into frame:
Peacocks diving: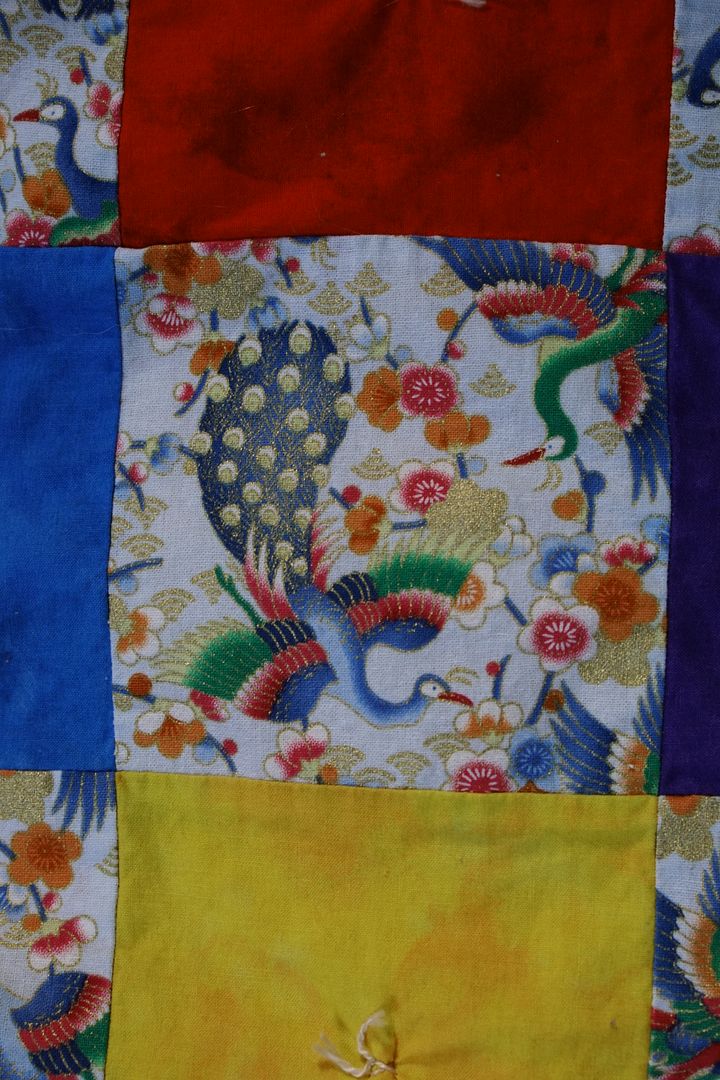 Peacocks joyfully soaring:
And peacocks looking cheekily back offstage.
Then came the process of actually making the quilt. To avoid a binding, this class had us do it a little differently from what I expected. The "quilt sandwich" was built and pinned inside out, then turned and finished with topstitching. Pretty cool, and I got to fall in love with my walking foot while doing the topstitching.
For batting, I used an ancient blanket that I had found in the house. It was very thin and worked perfectly. You can see its ugly yellow peering out from the bottom of the pinned inside-out sandwich.
The quilt-tying process went much faster than I thought. I worked on it while Jared read the girls their bedtime story, and by the time they noticed what I was doing, it was time for bed. But Stringbean had to have a go at tying some. She loved it, and wished she could stay up and do more. I might have to tie my next quilt just so she can do some of it.
And of course, MiniMighty has to try everything her sister does.
Thanks to the three ties they contributed, the girls are as proud of the finished quilt as if they had made it themselves.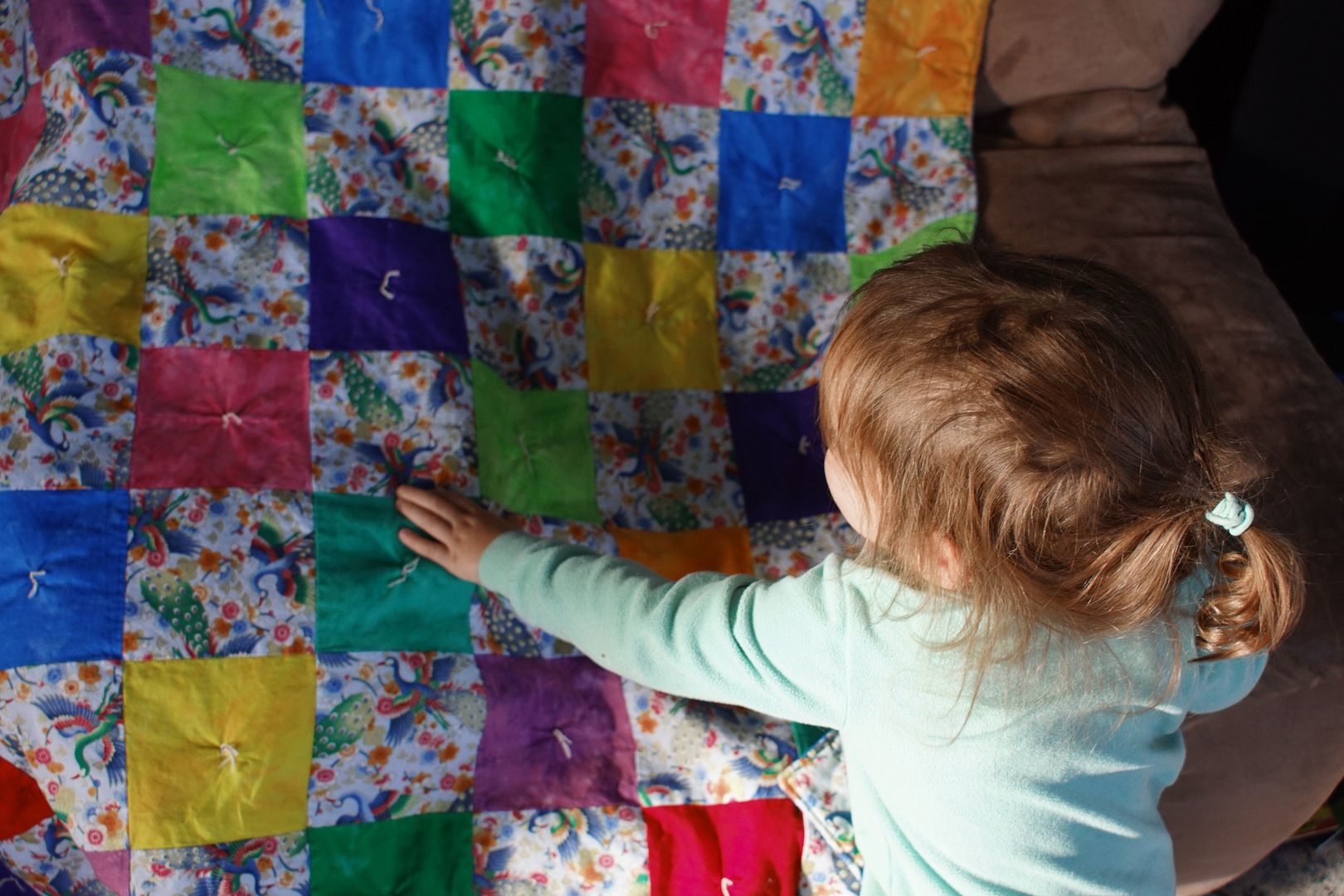 You know things are serious when the finished quilt goes for its final bath along with an initial wash for fabric for the next quilt. Look out.
This quilt is labeled with the name of the little person who will receive it, as soon as I have a new address to send it. She's someone for whom I would have liked to knit something for when she was born, but was unable to. I think she'll enjoy it even more now.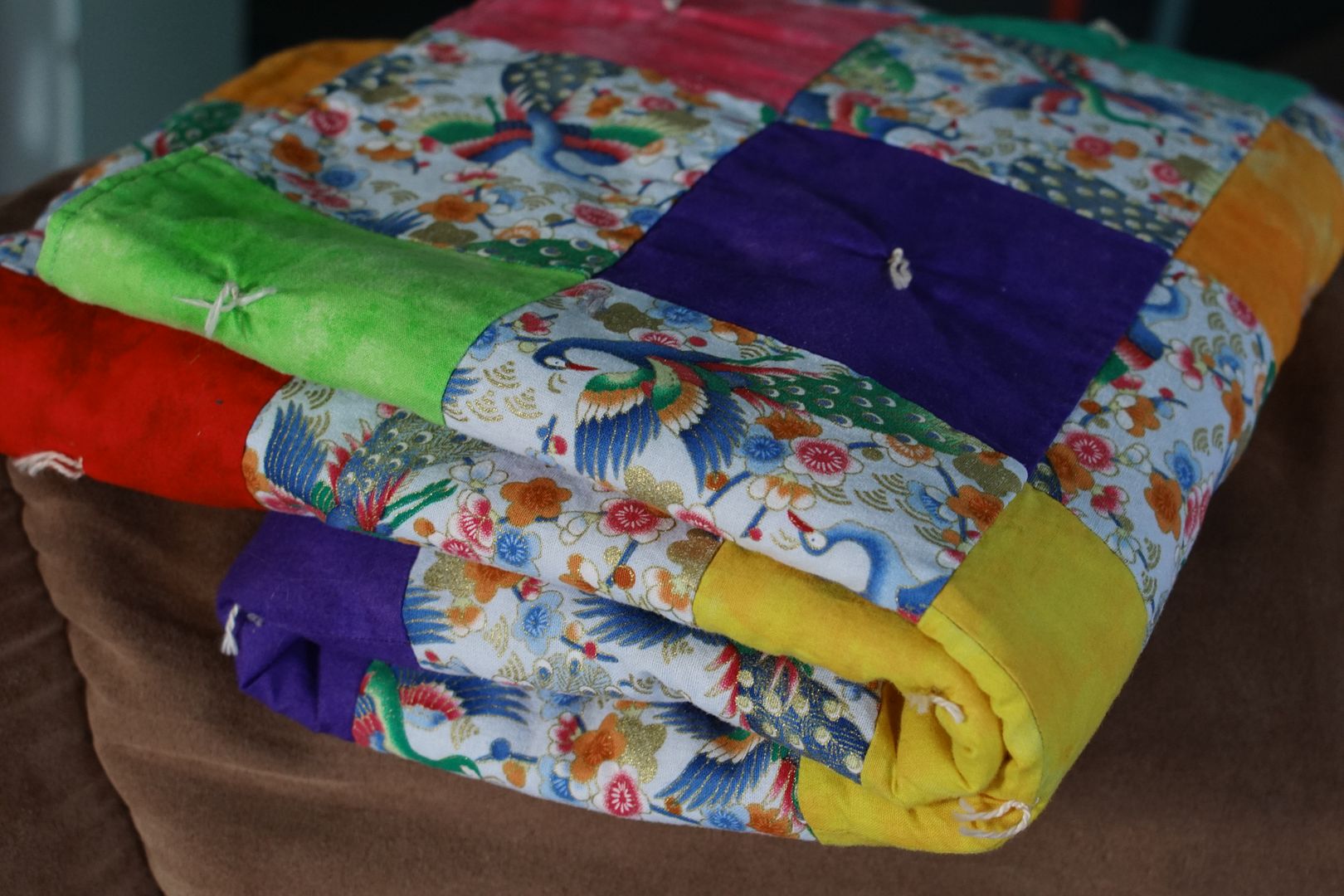 After all, what little person doesn't love a rainbow?