This is the continuation – and probably the conclusion, for the present – of the sewing spree I've been on lately. Last night I completed my second quilting project, a table runner for our living room console.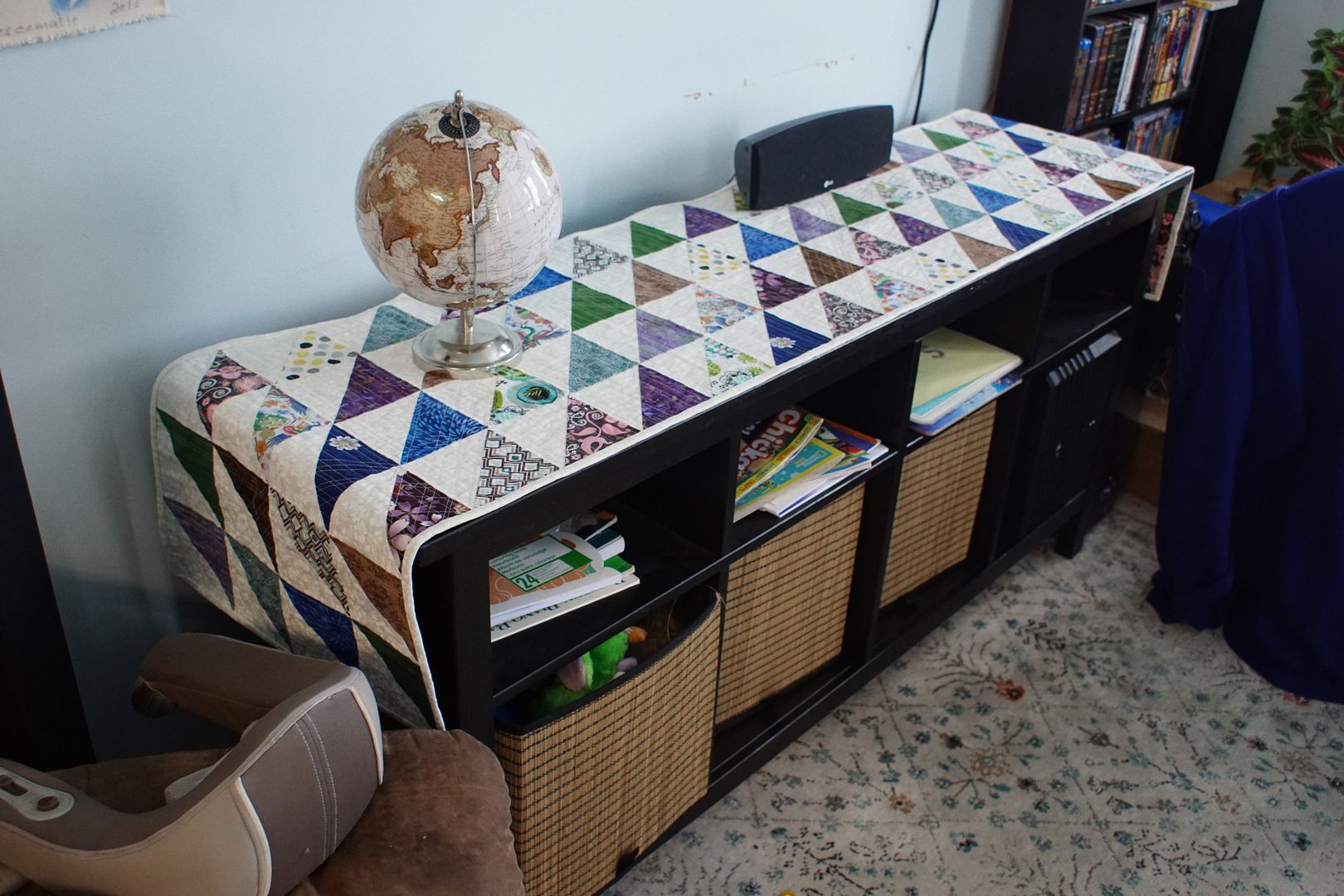 um… ok what is this piece of furniture called? IKEA called it a "console"; I think of it more as a "sideboard;" It could be a TV stand if our TV stood on it. It's just kinda a holder for the stuff we use in the living room. But I'm getting distracted.
This started as me wanting to take the second of Amy Gibson's beginning quilting classes on Craftsy, called "Learn to Quilt: Custom Table Runner." It's all about learning to make and use half-square triangles, and do some basic walking foot quilting.
For me, it started with a pile of scrap fabric. They were leftovers from pieces I have set aside to be book covers. Interestingly, they seem to be mostly cool colors, which works for our blue house. I starched them (having already washed them) and turned them into as many 5″ squares as I could.
For the background fabric, I picked one of the only plainish whiteish cotton fabrics available in town. I like the flowers ok, and it echoes some of my favorite patterned fabrics in this pile.
For me, so much of the appeal of quilting is the efficiency with which one can make really beautiful designs. The half-square triangle is one of those "duh" designs that once you learn it, you can't believe you didn't know how it was made. You just take one square of your background, one square of the pattern fabric, put them right sides together:
Draw a diagonal line, sew a 1/4″ line on either side of it, then cut on the line.
Press them open, and behold: a half-square triangle block. A small thing to find mind-blowing, but I guess when it comes to textiles I'm easily amused.
Trimming took a surprisingly long time. I thought it would help me have accurate points if I was very particular about my trimming, but it would have been more effective to be particular about my sewing. Having perfectly even squares doesn't matter if you can't match them up perfectly in sewing!
The piecing was very straightforward after my last quilt. I laid it out one quiet afternoon, and found it surprisingly simple to get the arrangement that I wanted. I followed the layout of the class sample, with the triangles all pointing in one direction. I considered following the class's ideas for making pinwheels or diamonds, but changed my mind. I had random numbers of blocks in each print – mostly 6 but some 4 – and so couldn't match them all up to make bigger blocks. Besides, I just really like this look.
After the blocks were done, it was two days to go from squares to quilt sandwich.
The backing is made of leftover pieces from my leftover pieces. It was just wide enough; you can see below that it doesn't stick out from below the batting like it's supposed to, so I had to be very careful that it covered the quilt top. (Also, I taped this to the table with the incorrect "right" side up twice. That's when you know it's well beyond time to stop.)
For a "batting," I used a tablecloth that I had found at the thrift store. I wanted something very thin, and also something white, since my background fabric is very light and transparent. Thankfully, even though you can see the yellow design on the tablecloth through the fabric, you can't also see it through the background fabric.
Pin basting is annoying. I'm totally spray basting next time. I found basting spray at the hardware store. We have masks handy for the fumes, obviously.
The quilting itself took probably 10 hours. That was much longer than I thought, a few machine issues notwithstanding. Again, I just copied what the class sample looked like, because it looked awesome. Organic, random spacing between the vertical lines was very effective at hiding how not-straight they are. And breaking things up with diagonal lines definitely rachetted up the cool.
Yeah, quilting is cool. I said it.
I got to try a traditional binding for the first time. For anyone with sewing experience, it's not exactly revolutionary, but I do like the technique you use to match up the ends. It feels like magic.
This quilt is like a record of all the sewing and bookbinding I've done over the last year, and all the people and places that have given me beautiful fabric.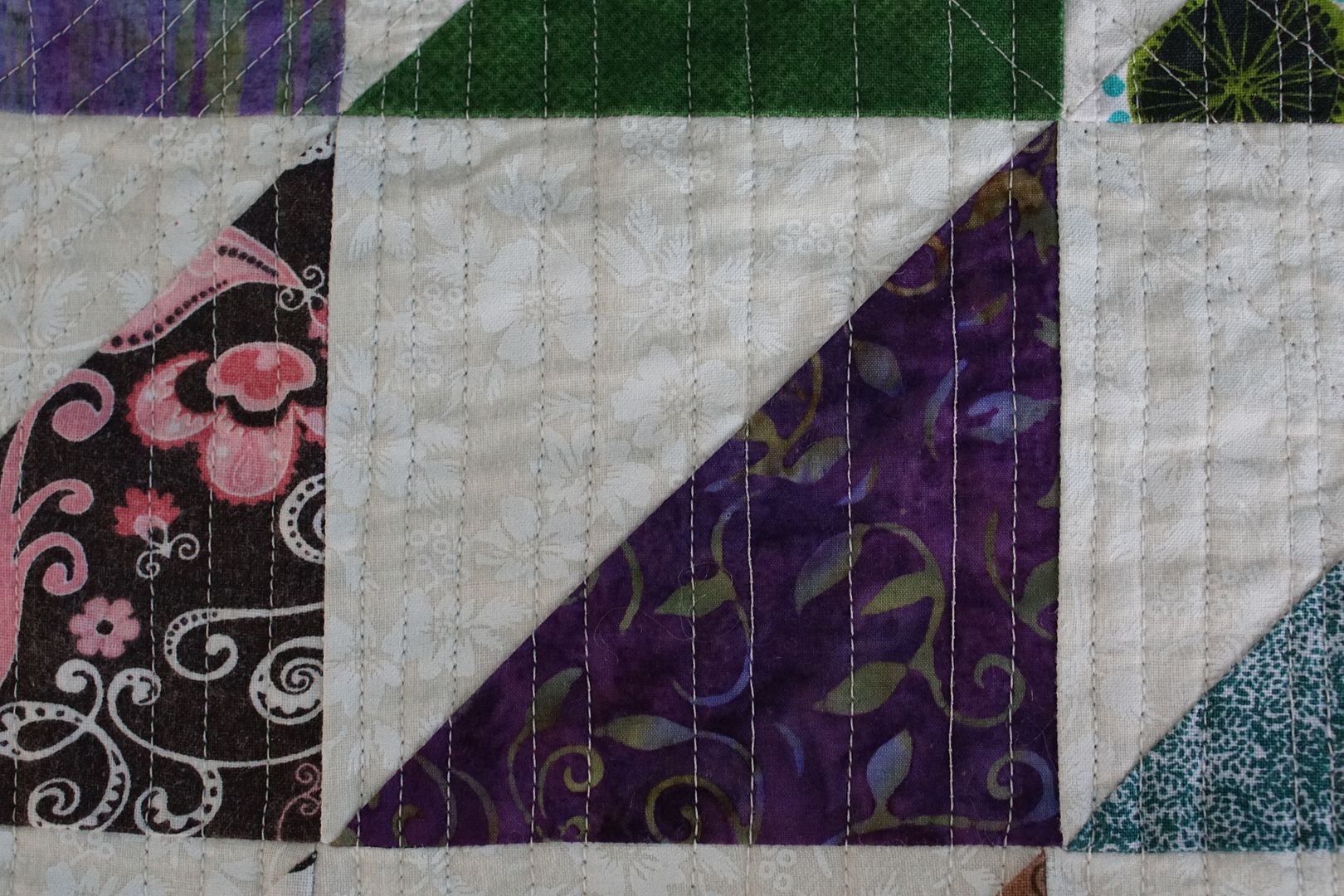 There are several beautiful batiks sent by my mother-in-law, who gave me the hookup when I was looking for fabrics for bookbinding (above and below; these two lovelies haven't made it onto books yet):
A few fabrics that I had purchased myself, for books already on the shelf (the below is Stringbean's Century Book):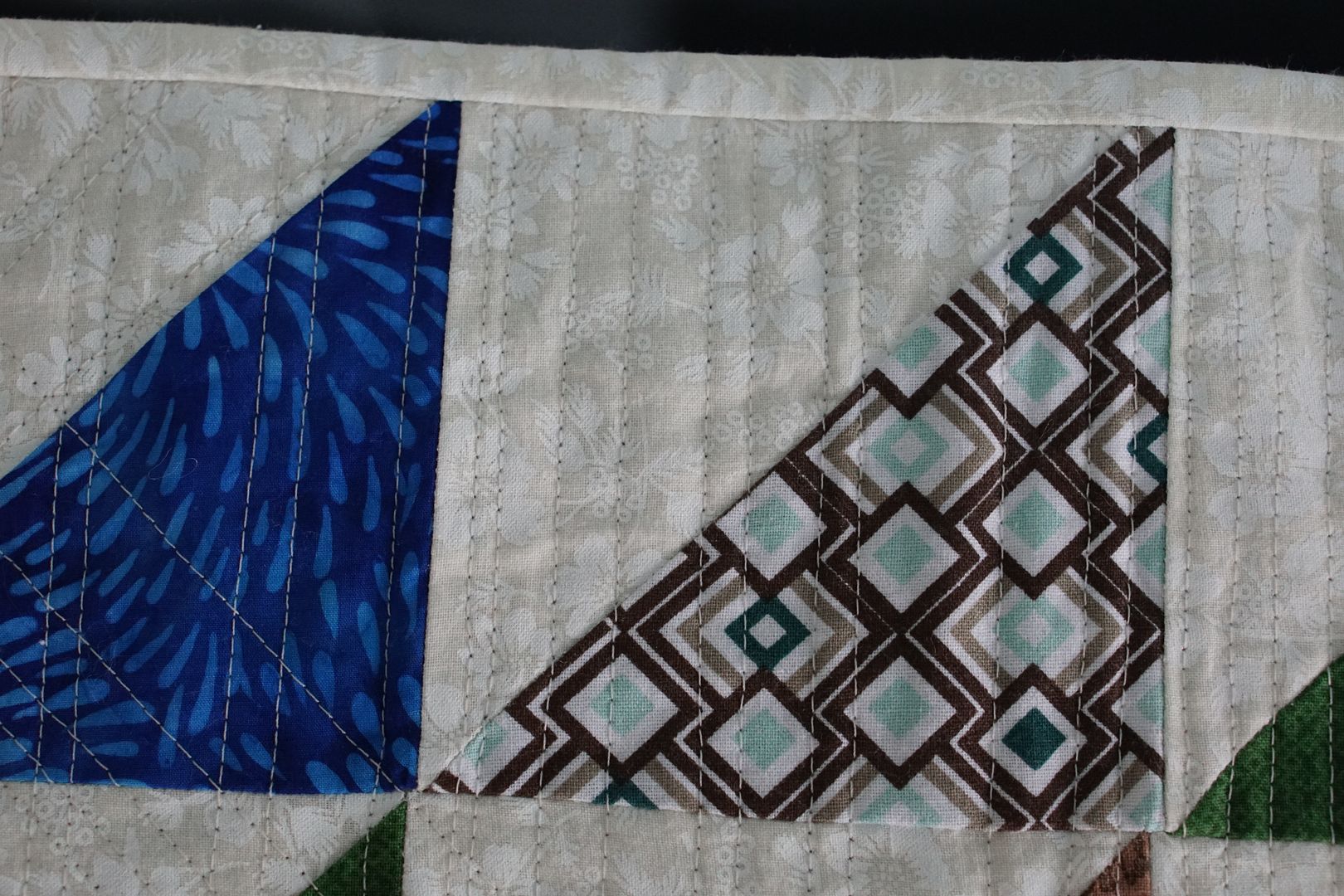 This brown was the background fabric for the infamous placemats:
Several of these fabrics also came from "Canadian Tire." This fabric is also in my church mask, and was in a brand new set of fat quarters that Lorraine found for me: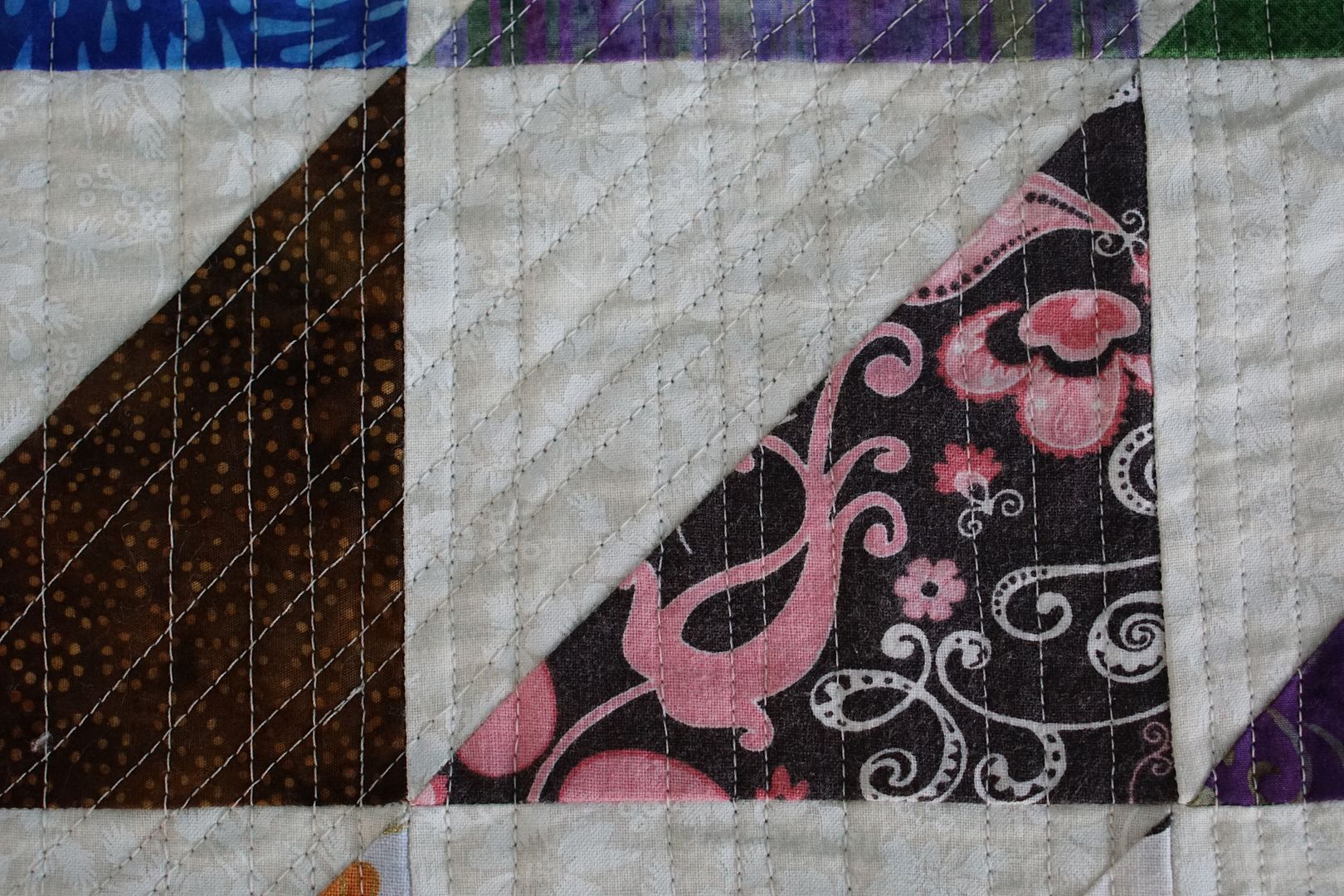 And a couple – even this one, which is my very favorite – that I cut out of discarded sewing projects that we dug out of trash bags. It's true what they say about "another man's treasure."
The effect in our living room is nice and brightening, and a sizeable (and unexpected) reward for our success recently in keeping the console from becoming a gathering spot for junk. I hope it stays that way; looking at all the pretties is very motivating.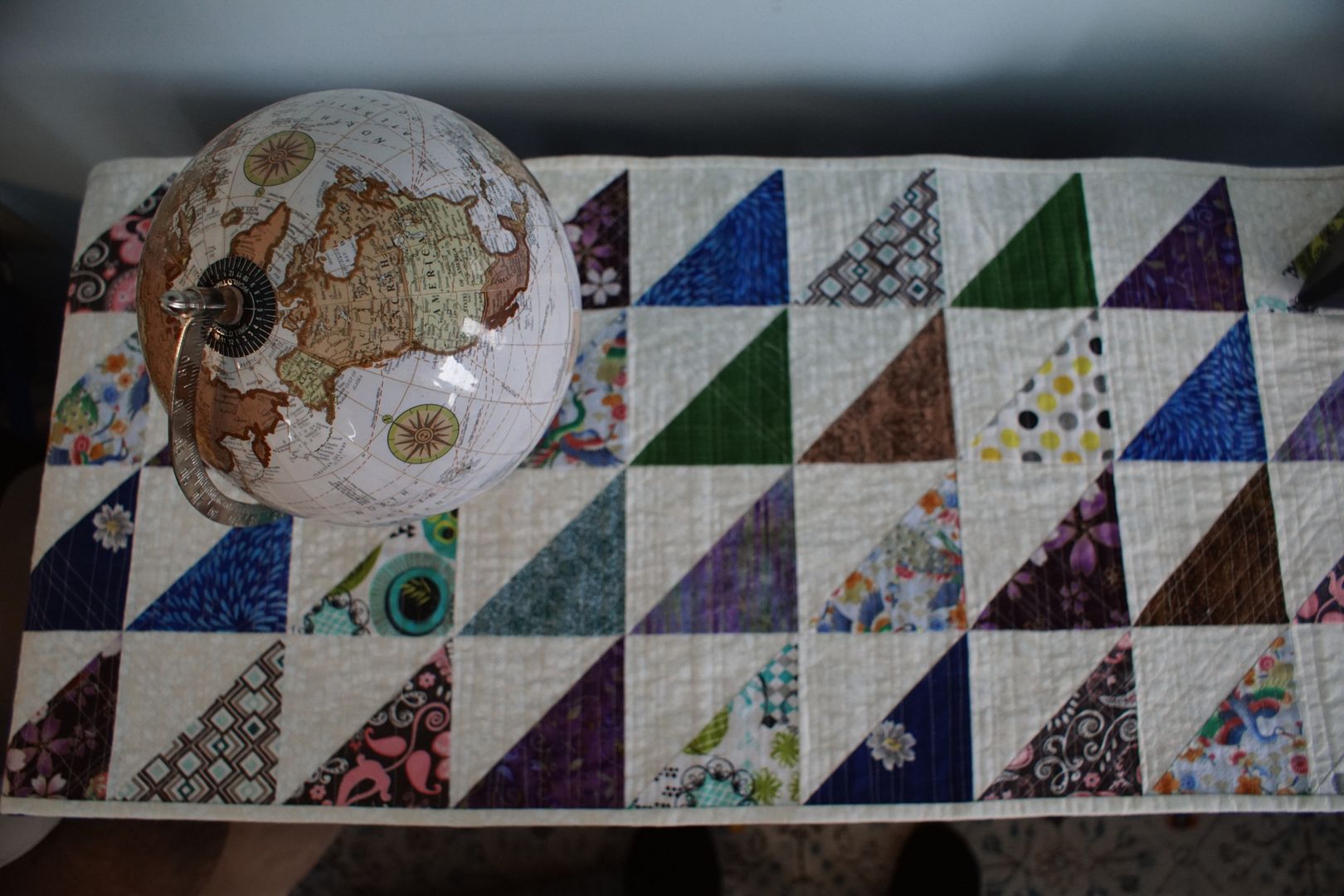 The pieced backing looks ok too, if exceedingly random. I might flip it over sometime if we need a little more energy.
The girls are enjoying looking at it, connecting the different squares with their different books, or other things around the house.
That pretty much exhausts my supply of scraps, though. So of course, I've already bought fabric for another quilt. It's so motivating, since compared to all my other crafts where I start with yarn, quilting feels like instant gratification. But I promised I'd finish a weaving project next, and there's Halloween to deal with. So you might see something from me next week that's made out of yarn again!