Lent is nearly over. It's been a good one, though our kids are looking forward very much to it being over. The main unintentional casualty of my Lenten discipline of reducing recreational screen use has been my blog. So, this record of what I've been up to this month will be a bit of a drive-by.
Sewing
This month I finished MiniMighty's quilt, which was a big delightful deal.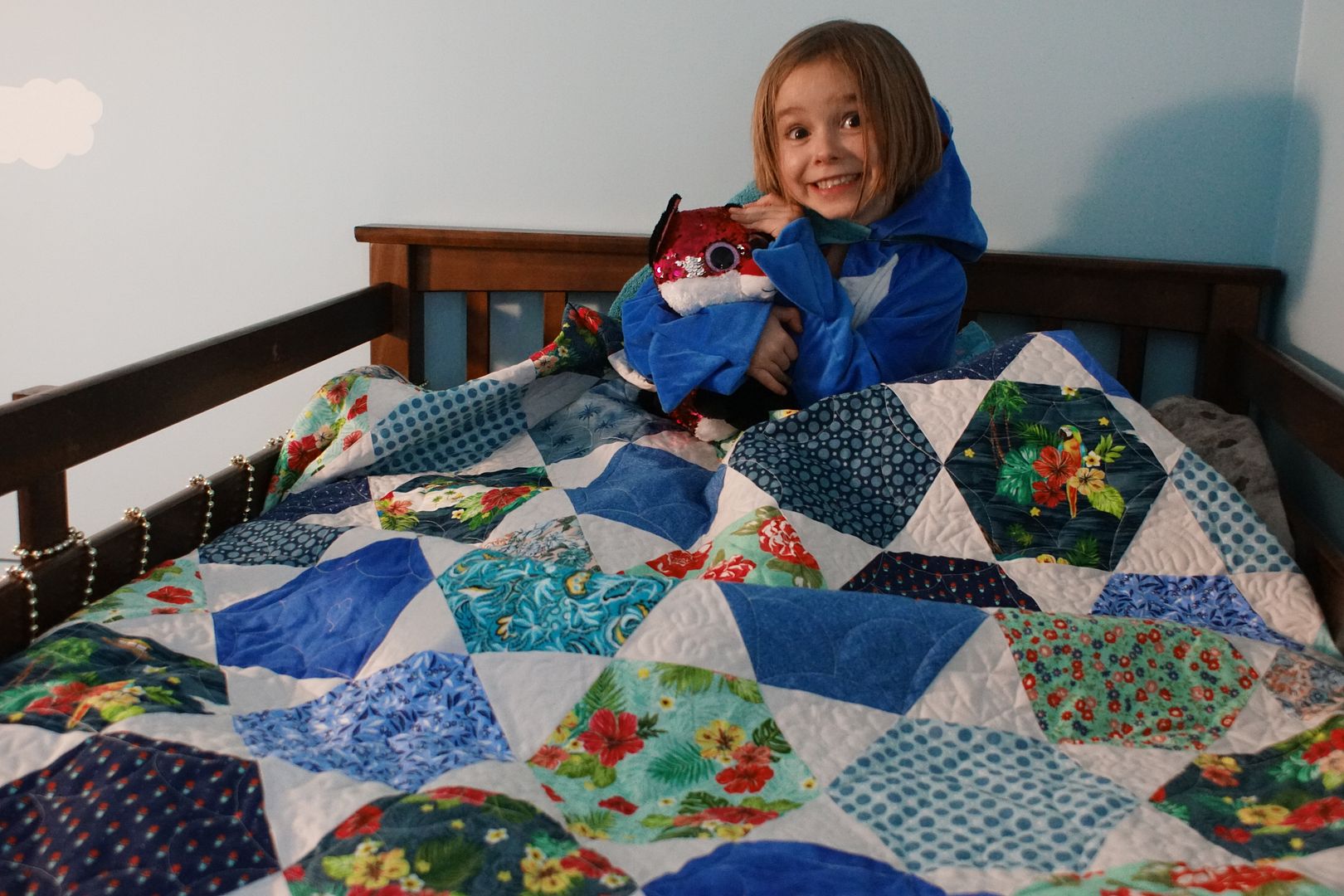 I haven't started Dooner's quilt yet. I'm giving the sewing machine a bit of a break, because I started a pair of kamiks for Stringbean with help from a friend. I know I'll never finish them if I don't apply myself, so I'm not allowing myself to start another quilt until those are done. But that's been slow going; I have trouble making time for sewing lessons.
In the meantime, there has still been sewing. I finished gluing and organizing all the thousand-or-so pieces for my next EPP project. I haven't started sewing the pieces yet, also waiting on the kamiks.
A strange thing happened to me one quiet day. I happened upon a reflection piece about becoming an artist, and it prompted you to make a list of skills you already have, and a list of skills you are excited about learning. I made the list, and to my surprise, I found myself putting down on the latter list, "garment sewing." I've always found garment sewing terrifying, but now that I have a much better relationship with my sewing machine, I'm interested in some more practical clothing-making. At present, I have neither desire nor budget to buy more fabric, but I experimented with a couple of small upcycled projects.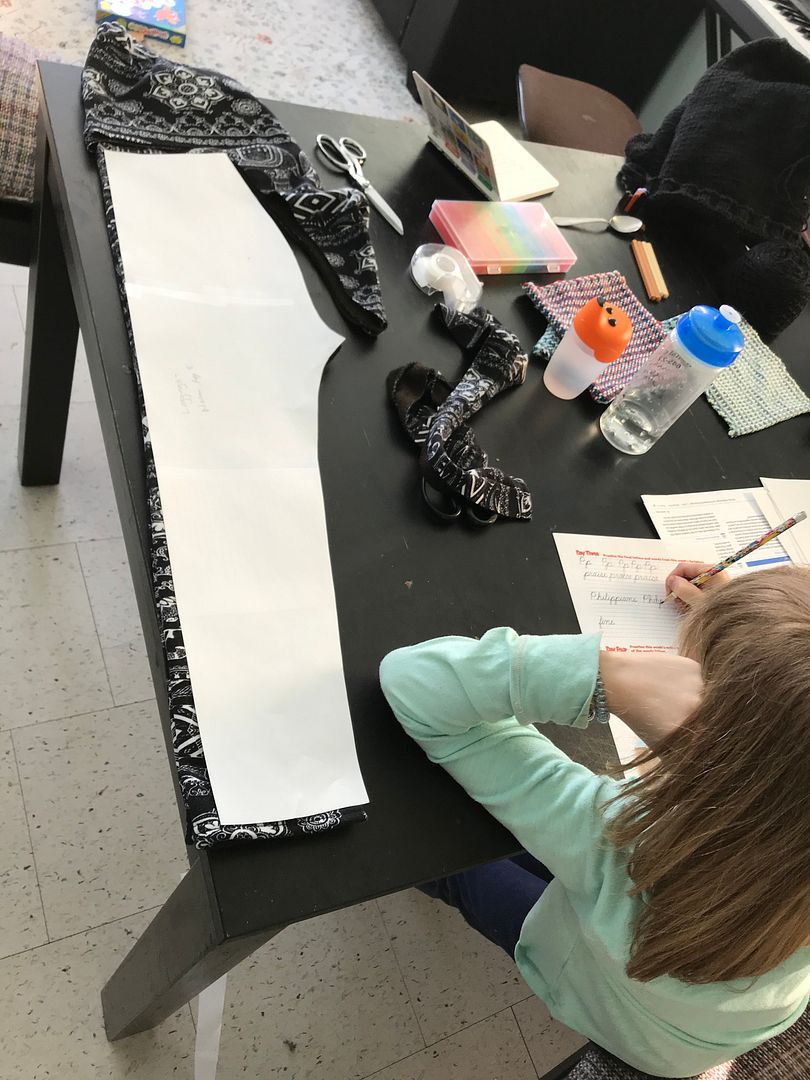 Stringbean's leggings have become so full of holes that she has begun complaining that she doesn't have any to wear. Mending is a woefully short-lived solution for kid leggings, so making her some very sturdy leggings is rather at the top of my sewing list. I realized that I have a pair of fleece-lined leggings that I found at the dump which I don't wear very often because they're a little too short for me, but they are made of two layers of substantial fabric. I watched a great tutorial video on the subject, and in an afternoon, she had some new leggings.
I should also say that this project and the following one were both inspired by my friend Kelly, who made herself some shirts out of jersey using only the zig-zag stitch on her machine.
The other top-of-the-list project for me is some tank top undershirts. I wear them every day, and several of them have now gotten so thin and hole-ridden that they seem to be holding together just by force of habit. I like the couple that I ordered from Old Navy, but buying fast fashion makes me cringe, I know they won't last that long, and they weren't cheap. So last Saturday, I went to the thrift store and bought an armload of XL-sized men's t-shirts for the price of one Old Navy camisole. I took care to buy ones that looked to have fabric in good shape, with designs I could bear. I then printed a free camisole pattern from Halfmoon Atelier and went to town.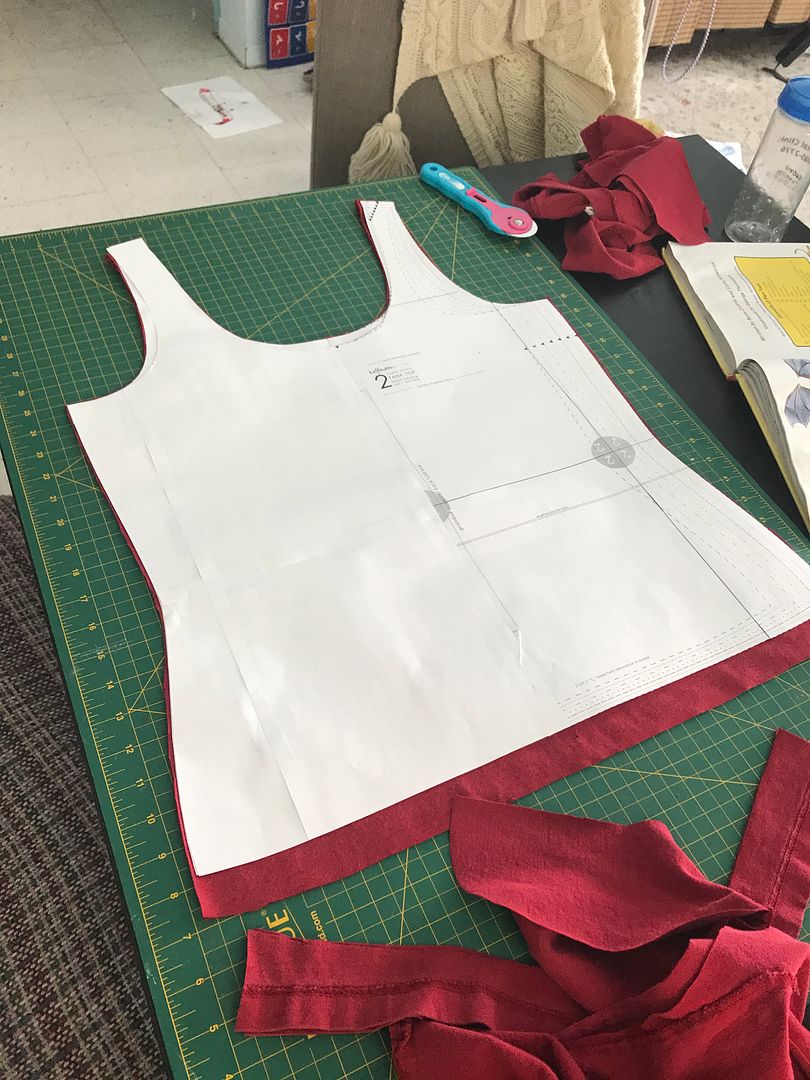 I started on the shirt that I cared about the least, and I'm wearing it a bit for a test drive. Sadly there wasn't quite enough red left for edging, so I'm left with a white edging that's a little loud.
As an undershirt, it's doing pretty well. The thick t-shirt cloth is much warmer than the flimsy cloth I'm used to in my camisoles. The binding is a little thick; I might cut the front of the armscye just a little bit deeper so I don't feel it pulling in front. But it fits well, and is certainly doing its job as an undershirt.
On my list for next month is to make eight more of them.
Weaving
Much to my own surprise, some weaving happened this month. Credit for this goes to my friend Alide; we've agreed on a sort of homeschool-knowledge-share where we take turns bringing our kids to each other's houses and doing crafts. At my house I think the crafts are all going to be weaving.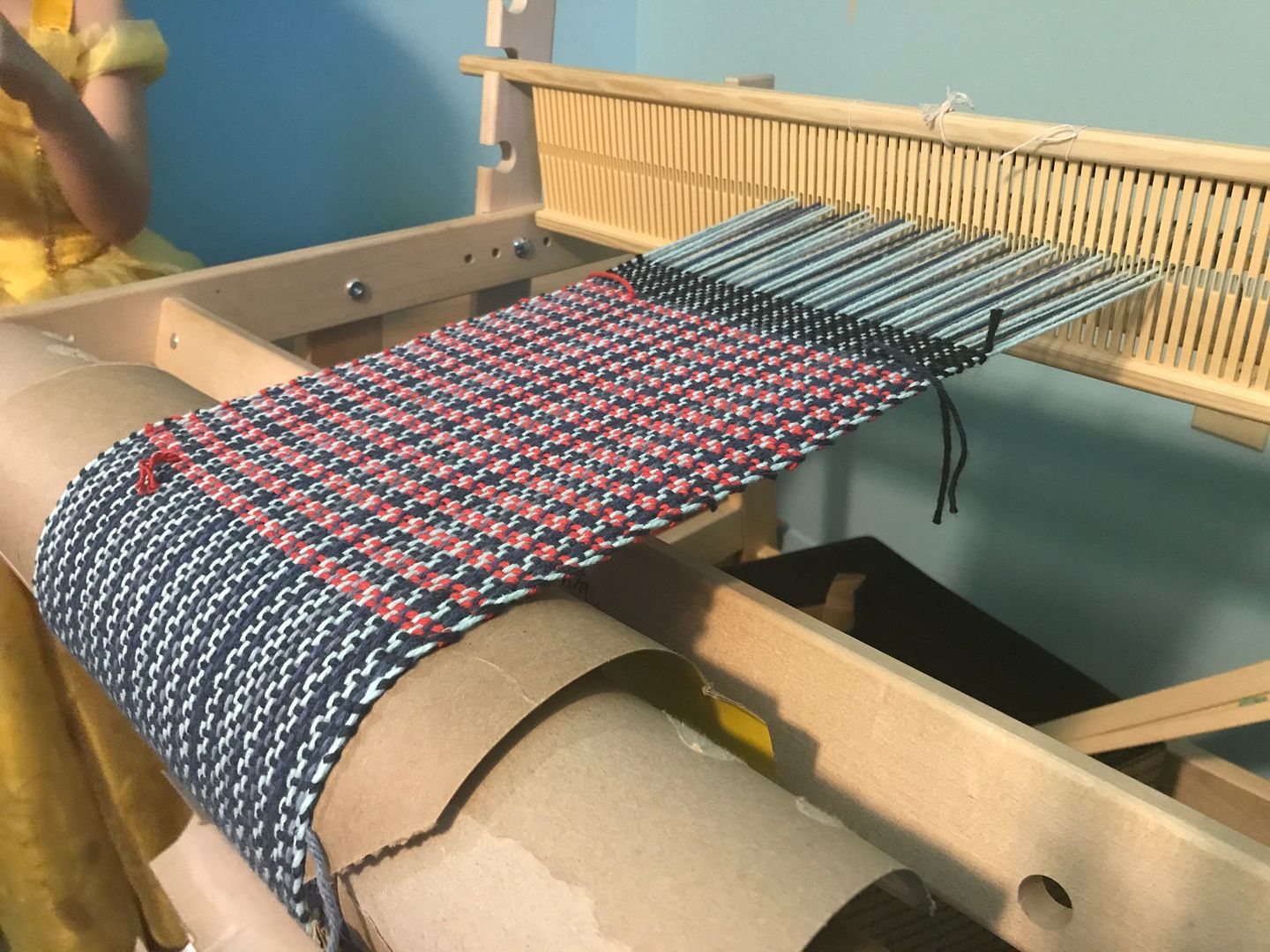 Stringbean and I warped up the loom with some of the leftover cotton from my epic dishcloth making two Christmases ago, and I let the kids go to town on it. Stringbean and her friend B each made a couple, Alide made a couple, and then one quiet afternoon I made several more.
I cut them off, sewed zig-zag stitch on either side of a cutting line between them, and cut them apart. To my chagrin, I hadn't accounted for take-up in my guesstimation of how long to make the washcloths, so most of them were too short for me to do a proper double-rolled hem. So the longer ones were hemmed into washcloths, and the shorter ones were paired up and made into sort of washcloth-bags.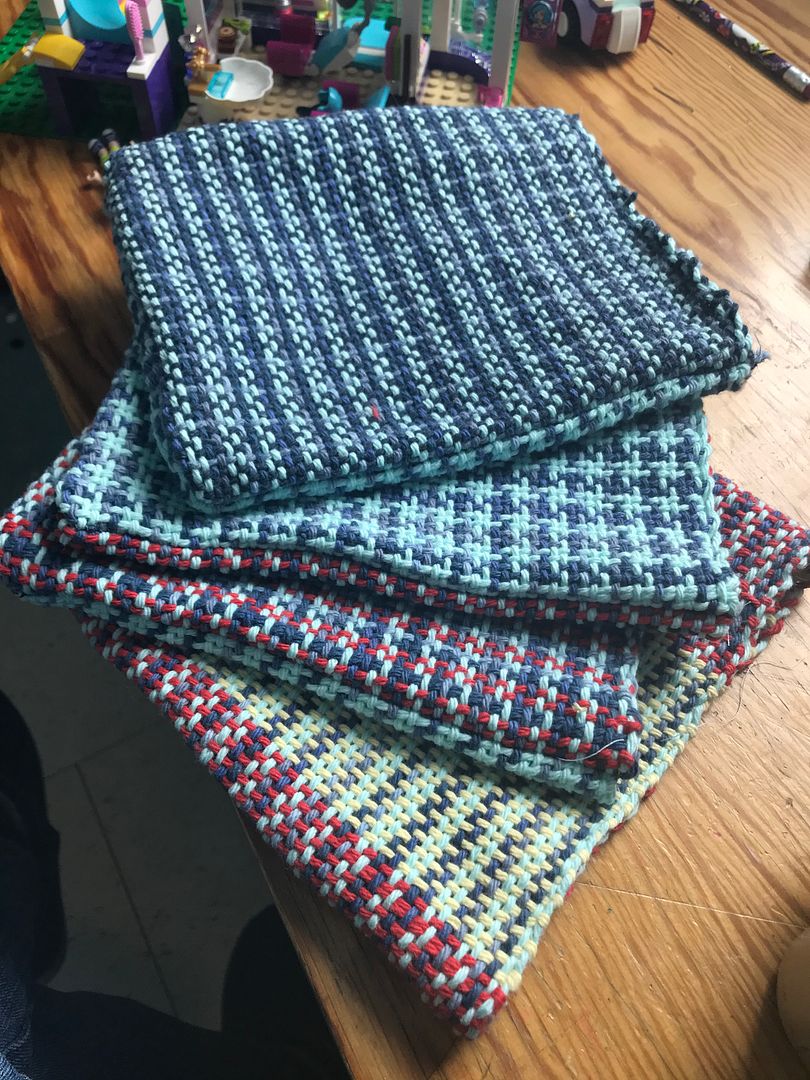 The makers are thrilled with their completed projects, and I'm thrilled to be weaving and helped out with some of my stash. We shall continue in the same vein.
Spinning
Spinning hasn't been front and center this month, but it has been happening. I just decided that spinning would be my evening activity when I have evenings with Jared. In so doing, I'm nearly done this big sweater spin.
This is all the cormo/alpaca blend I carded up last year. I've been piling it up in this corner, where it gives me much pleasure to gaze upon wool and globe and plant life nestled together. Seven sizeable skeins are done, with one more to go. I started spinning the singles for it last night.
Knitting
Knitting has not been front and center either, but it has been happening, and I recently had some excellent milestones that have scooted it back to the front of my mind.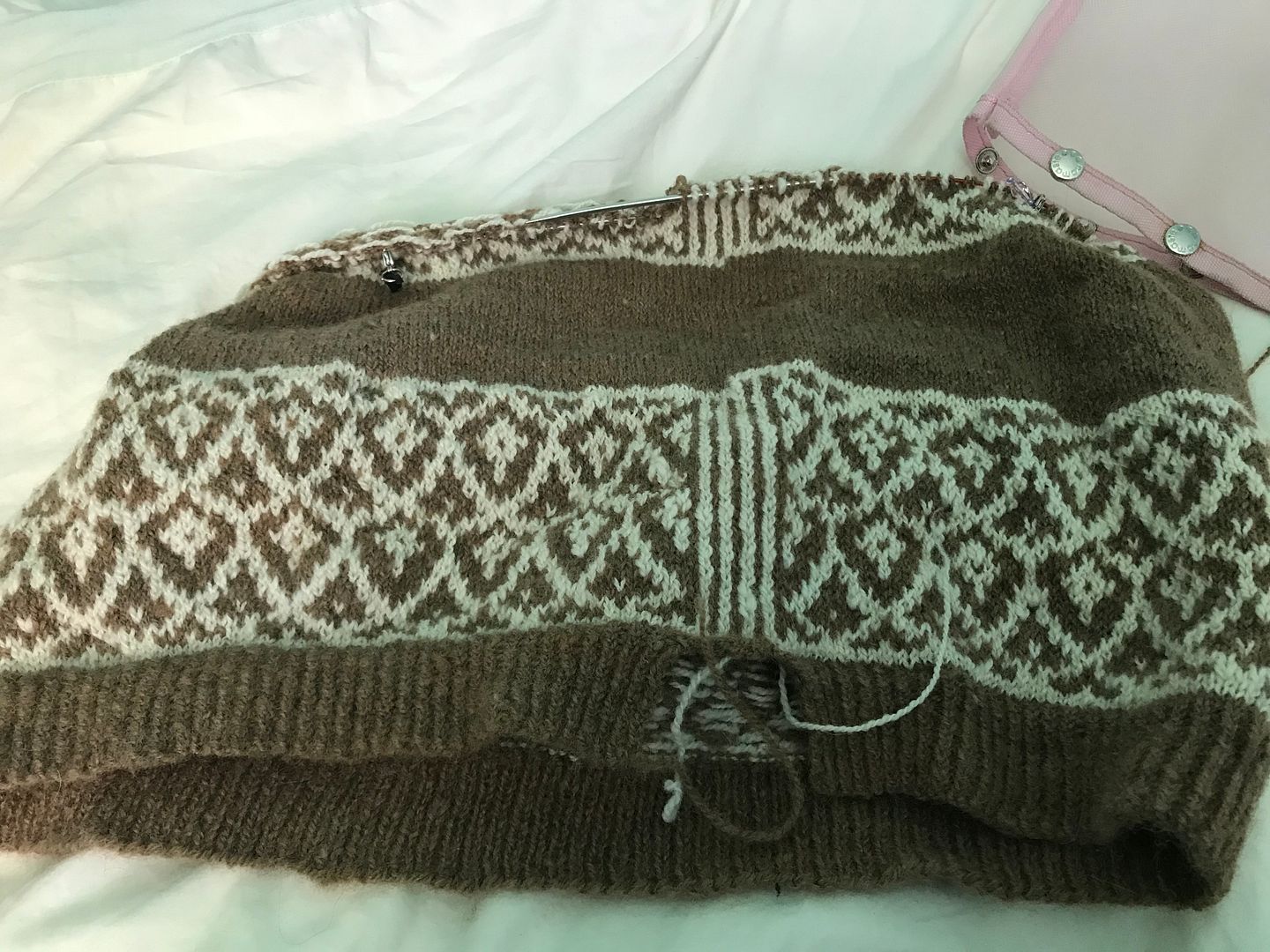 The Chrysler cardigan made it a while ago to the next band of fair isle. It has stalled there, waiting for the next trip to the cabin, which seems to be my only place and time for complex knitting. We have been longing, yea, pining, for cabin time all month, but the weather has been stubbornly making up for the mild December and January we had. Easter week is looking promising, but I hesitate to hope. Anyway, whenever we get out there, Chrysler will come with me.
Plain knitting has had a great deal more success. I knit while I read to Stringbean, which is at least half an hour a day. When Jared was out of town and I was miserable with a cold, even more got done. As a result, my clerical Carbeth cardigan was finished a few days ago, just in time for Holy Week.
This deserves its own post, which hopefully it will get soon.
Before Carbeth was cold in its grave on its blocking mat, I had cast on my next plain sweater. This is a top-down raglan cardigan, inspired by the Comfort Fade cardi. I'm using my handspun, and the gauge for that is nothing like the Comfort Fade, so I'm using another pattern in my stash to actually knit it.
Orange makes me nervous. I don't know if I will wear it. But this morning I caught a glimpse of the sunset-colors of tea in my mug, and it gave me hope. Maybe the yellow-to-brown gradient will look more like that.
Well, I actually DO have an appointment to go work on those kamiks, so I'm off! Blessed Holy Week, friends.