Every fall it seems, I pick up a new hobby. Two years ago, it was weaving. Last year it was quilting. This year, it's dog ownership.
Sisko Kamik Osborn turns eight weeks old tomorrow, meaning he's finally the age that we should be adopting him. That said, we've enjoyed the extra bonding time.
He was 3.5 lbs when we got him, and now he's around 10 lbs. He's grown into quite the ball of spunk, during the four or so hours a day that he's not sleeping. His favorite toy is his mostly-disemboweled stuffed racoon that I found him at the dump (and washed thoroughly). His favorite blanket is the beautiful real-wool tartan blanket that my in-laws brought us from Scotland. He's got his first round of shots. Our girls all love him, though they will love him more when I am successful at my diligent efforts to get him to stop nipping their heels.
My other crafts haven't been suffering too much. Fall is such a great season for digging into some projects.
Knitting
My big accomplishment this month was knitting the holy family.
I haven't started another character since, though I think I'll make shepherds and sheep my November goal. The wise men can wait for Epiphany, thanks very much.
I'll give you another picture of Dooner's shawl, though I've knitted all of two rounds on it this month. Part of me hates to see it languish, but it doesn't need to be a priority. Dooner asked who it was for, and I told her it was for her when she is a grown-up. So she's been telling everyone mummy's knitting a shawl for Grown-Up Dooner.
Spinning
I hadn't been spinning for months. I hadn't been keeping up with Rachel's podcasts. I hadn't been very faithful on the Wool n' Spinning Slack channel. But one fine Saturday morning, I sat down and watched a live episode, and I realized what was wrong. For six months, my wheel had the same half-full bobbin of night-black Corriedale on it. Who could be surprised if I had no motivation to pull it out? The same day that I watched that episode, I finished that bobbin (or rather, spun on it for an hour and declared it done), and pulled out the carrot at the end of that Corriedale stick.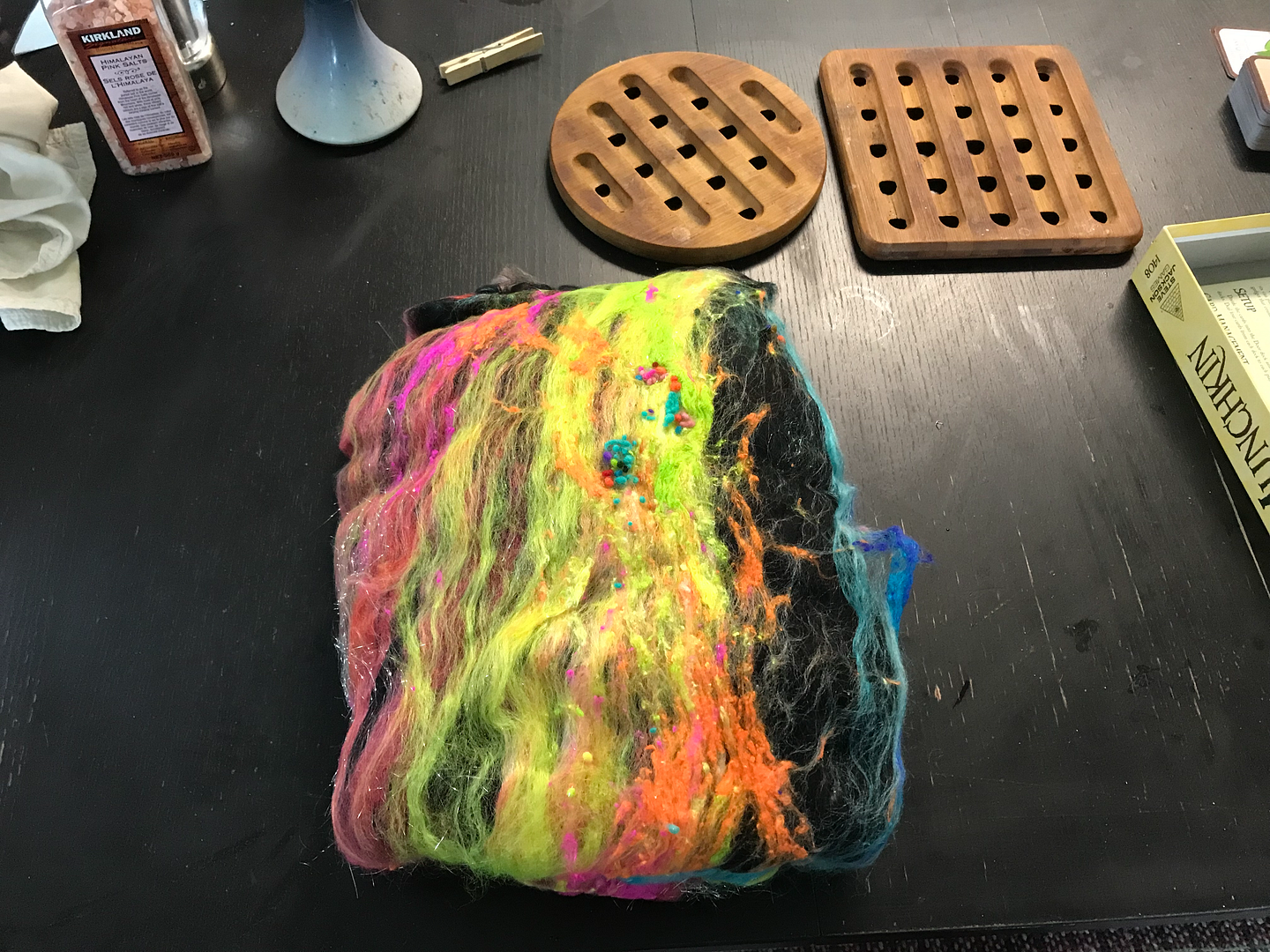 This show-stopping batt was made for me about three years ago by Nicole of Frost Yarn. Nicole will tear out her hair if every she sees this, but my plan has always been to spin this batt into traditional-but-textured singles, and ply them with two plain black singles. The result should be a mostly-black yarn with some neon pops, incorporating that crazy rainbow into my wardrobe in a way that I could actually wear on a Sunday morning.
I Z-stripped the whole thing (I pronounce that "zed-stripped," for the immigration officers reading) and spun 'er up.
Spinning Mojo, you are on notice. You are expected back at my house for the winter.
Quilting
I've made a good start on Dooner's quilt, which sort-of coordinates with the quilts I made for Stringbean and MiniMighty last year. I'm using the "Starry Path Quilt" by Christa Walters, who also designed Stringbean's quilt. It's another Craftsy class. I love her teaching style – so energetic and precise.
The amount of progress I've made so far has been made possible by my new tool, shown at right. It opens up to be a small cutting mat on one side and a small ironing pad on the other. I was just looking for the ironing pad, but this was all they had when I went to the quilt shop this summer. But I'm so glad I got it. The big ironing of fabric and cutting of strips was already done, and with this little tool I can get all the way to finished quilt blocks without ever pulling out my big cutting mat or ironing board. So when I have a little free time, after dinner or something, I can just pull out my blocks and do the next little step wherever the family is. It's amazing, in sewing, how little time is spent actually sewing.
(Omnigrid did not pay me for this post. But if they want to send me some free stuff, that's cool. Quilting has lots of toys.)
Halloween
The month wouldn't be complete without the kids costumes, would it?
Dooner's costume starts by accident. I got from Rachel the idea to make a hat with some sequins in it. But, getting Stringbean involved in the process meant that the project…. evolved.
Specifically, it evolved into a princess crown for Stringbean. A crown that, by the way, is her "birthday crown," and she isn't going to actually wear it except on her birthday?
Meaning it was available for Dooner to borrow it for her costume. She's been saying ever since the summer – when she played a lot of Mario Kart with her auntie and cousin – that for Halloween she wanted to be Baby Daisy.
A crown, a yellow dress, and a giant pacifier (made of a toy pot lid, hot glued to a mask), were sufficient unto the day.
Further edited for outdoor travel, here's Baby Daisy last night before Trick-or-treating, with her sisters the Witch and the Butterfly Fairy.
Happy fall everyone.