Phew! I didn't write at all in November; was too busy living our crazy life to stop and reflect on it. But I know I'll appreciate it more if I do stop for a moment to reflect, so here we are. Even though all I have to show you is progress pictures from my phone!
November saw some huge changes. It saw the weather evolve from the first real snow and circa-freezing temperatures:
To blizzards and whole weeks of 30 below zero.
It saw our neighbor stretching a polar bear skin. Which I just share because it's awesome. I don't know them that well or I'd ask them the story.
It's seen the clocks turn back, and darkness start to descend well before dinnertime.
It saw Sisko grow from a puny pup, still wondering about this white stuff:
To 20 lbs of dog who can drag a sled full of toddler uphill by himself. And who is tough enough to use the outdoors as a bathroom in all weather.
Dog ownership is going pretty well. Sisko is 12 weeks old, making good progress on house training, and we're ready to move into more serious obedience training. I'll let you know how it goes. He's kind of my dog right now, and we have to keep him tied up a lot of the time so the girls aren't terrorized. I put that in the passive tense because I don't think he's terrorizing them; they are just jumpy because I gave him too much freedom at first. But I have hope yet for making him a full member of the family. Just lots of work to go yet.
Spinning
I was super-motivated to finish up my black-rainbow-sparkle spin. I plied up two enormous skeins of black and rainbow:
When those were done, I still had lots of black singles left, since they took up less room on the bobbin than the textured singles. I also only had a few ounces of black corriedale left to spin! I polished that off in a few more days. I still haven't washed and done the specs on the yarn, but it's about 18 oz, and I'm hoping for around 1000 yards. Enough for a sweater for me.
When I get to go to spinning night with my friends, I work on a small purple spin on Doris, my disassemble-able antique castle wheel. That's almost done. It's just a little BFL snack while I figure out what I'm doing next.
Weaving
Some weaving happened this month, and it's entirely thanks to Stringbean!
This kid is in full Christmas Crafting mode, and when she gets an idea in her head, you the best plan is to help her do it or get out of the way. She wanted to make a gift for her best friend, so we warped this up together, and she did all the weaving.
That lit a fire under me to do something I've been meaning to do for ages. I have a bunch of yarn that I've been thinking to make scarves out of, either because I have the perfect project idea, or because it's just an odd quantity of yarn that wouldn't be good for anything else. For a couple of days I got out the warping board, neglected the chores, and just made a ton of warps.
Here are all the warps I have, organized into projects with their wefts.
If I were on my game, these would be Christmas presents, but I know there's no way I'm getting to them this year. They're on January's list. But this is one big hurdle out of the way to getting them done, for sure.
Knitting
Everything else is on hold right now while I try to get the Knitivity done before, well, Christmas! No knitted gifts this year, just this project, which I know will be an heirloom of the house for years to come. Unfortunately I'm not at a good stopping point. I wanted to finish two shepherds, their sheep, and an angel in November, but this is how they look right now:
The pieces are done, but the clothing pieces are the disassembled mess you see in bundles above the naked dolls. It's OK; I know they'll get done. And if the wise men don't get finished before Epiphany, they will arrive at a liturgically appropriate time.
Yesterday was a blizzard day and a sick day at our house, so I ended up banging out two sheep for the shepherds. They only have one leg between them, but they're more complete-looking than their owners.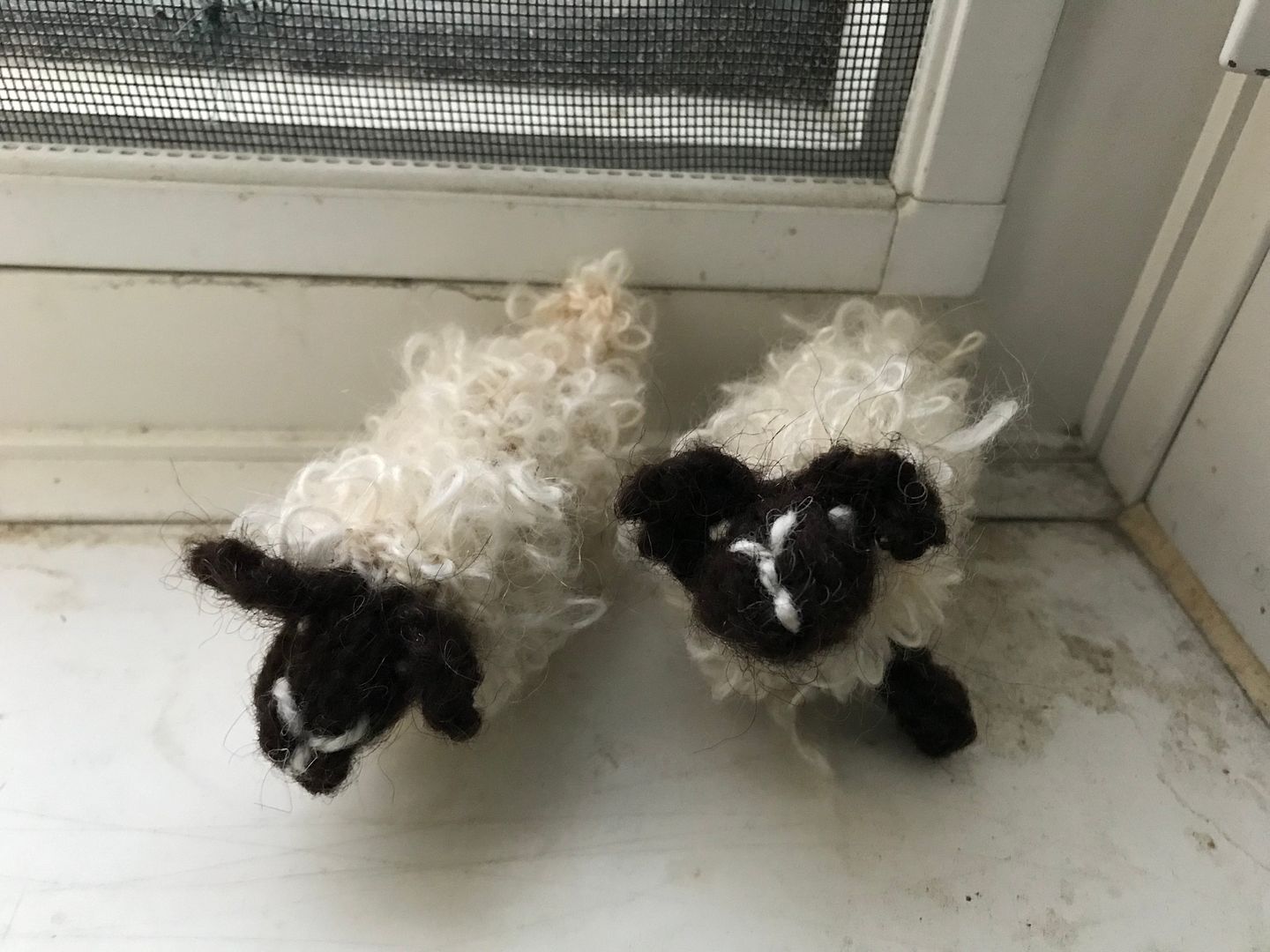 I didn't really mean to make two sheep, they just… happened. They're so cute with their boucle coats!
Sewing
I'm kind of in a sewing zone right now! I put Dooner's quilt on the back burner, because I had a big Christmas project to crank out. My MIL gave me some beautiful fabric to make a Christmas tree skirt, and helped me cut it into strips with her way-cool die-cut machine.
These were sewn into strips, cut into blades, and then sewn foundation-piecing style onto backing.
It's completely finished now, but I'd like to take some proper pictures of it – especially once it's under a tree. The pattern is from a Craftsy class, called Quilted Tree Skirt.
Once I had cut the blades, I had a decent amount of fabric left over from the strip sets. I seized upon an idea to make these into a Christmas stocking for Sisko.
First I took the strip sets and sewed and cut some more, to make them into squares.
With some massaging, these were just big enough to eke out the pieces for the stocking pattern in the Classic Quilted Stockings class. Like a woman possessed, I finished this in a couple of days. It's a bit of cheating to put this in November's post, since I finished it yesterday, but whatever. Here you go.
I'm freakishly proud of this adorable piece of work. I'm just enjoying sewing. I had to tear myself away from cutting fabric for more masks to come write this post!
No post about November would be complete without a note about our American Thanksgiving celebration. We bought a turkey this year, and invited a bunch of our friends, none of whom are American in the slightest, but who were glad to celebrate with us.
This is actually the first turkey dinner I've made since we moved to Rankin Inlet. It was just a grand old time, all jammed into our house, just the right amount of chaos. It makes us miss our family far away, in a good way, and it makes us thankful for the people we've connected with here. We're thankful for so much this year, including the fact that we have no COVID-19 in Rankin right now!
Christmas is looming large on the horizon now, and we're hunkered down for winter. It's nose to the grindstone for a bit, but for a moment, it's good to stop and see where we're at.
Gingerbread, anyone?