What happened to May? It sort of when "whoosh." May – or the turning of spring, wherever you are – is complicated. Winter is cozy, expectations all buried under the weight of cold. But then the warming weather thaws those hopes, and greets them with the discomfort of damp that stiffens the joints, and hunger while we watch for sprouts. For me, I've felt the energy of the sun, and the overwhelm of all the things I want to do.
So…. we lit a tree on fire?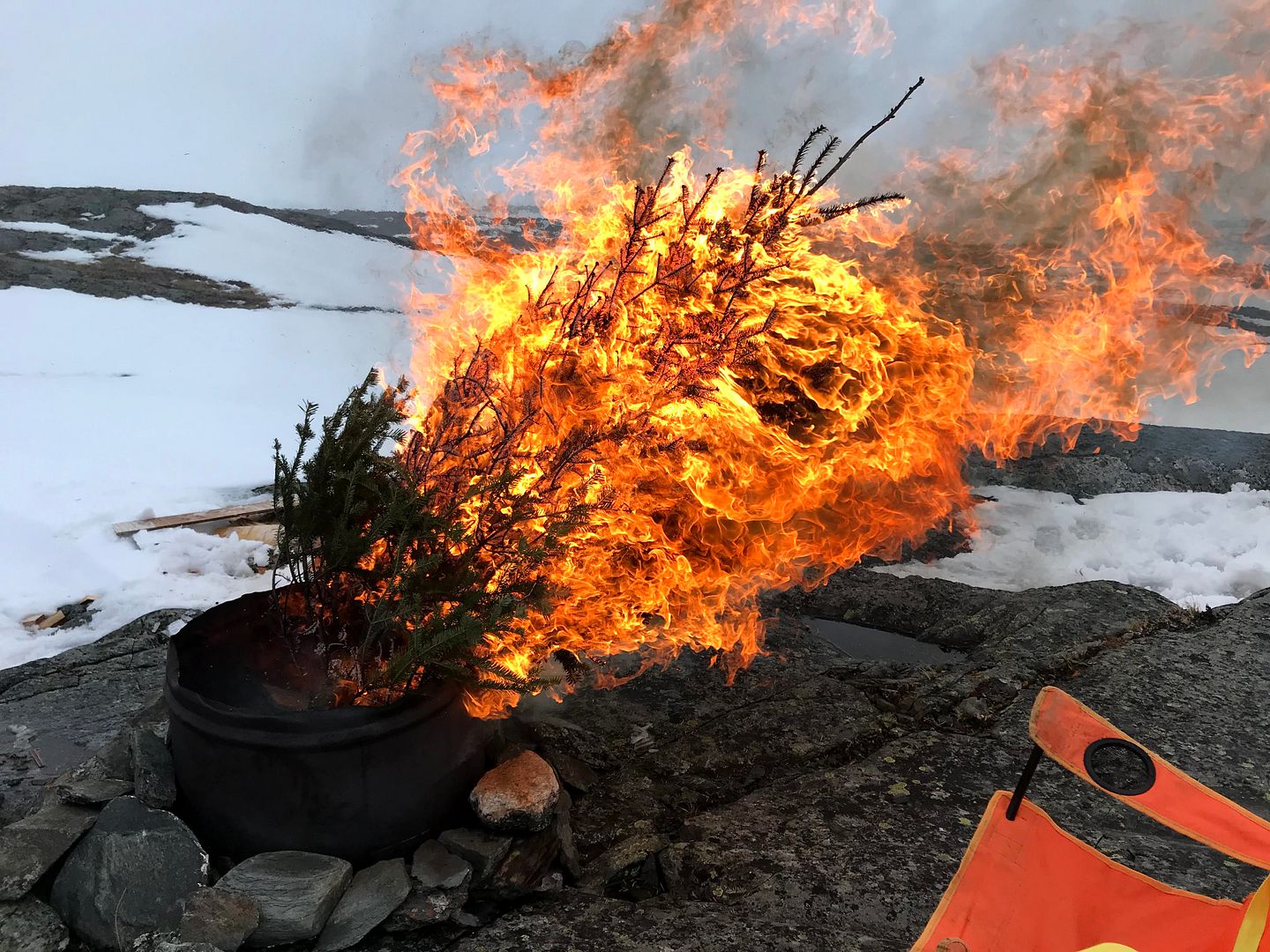 This is Jared's thing. Save the Christmas tree and burn it. There's some vague connection to an Epiphany tradition of some kind, but I think the tradition in our house is really just "man make big fire." Which, you know, I'm down with.
It was a big month for our kids. April is our big birthday month, but what with one thing and another we didn't get around to throwing parties for MiniMighty and Dooner until May. MiniMighty has been talking all year about wanting a "Disco Ball party." Not a dance party, not a disco music party, a disco ball themed party. So I did my best.
This involved thin strips of masking tape and an entire container of very expensive sprinkles (which I'm still cleaning up from corners of the kitchen). The inside was cool too, with options for chocolate, vanilla, or both. It's the first time I've made a heavy cake like this with buttercream frosting where everyone loved it. No leftovers for the win!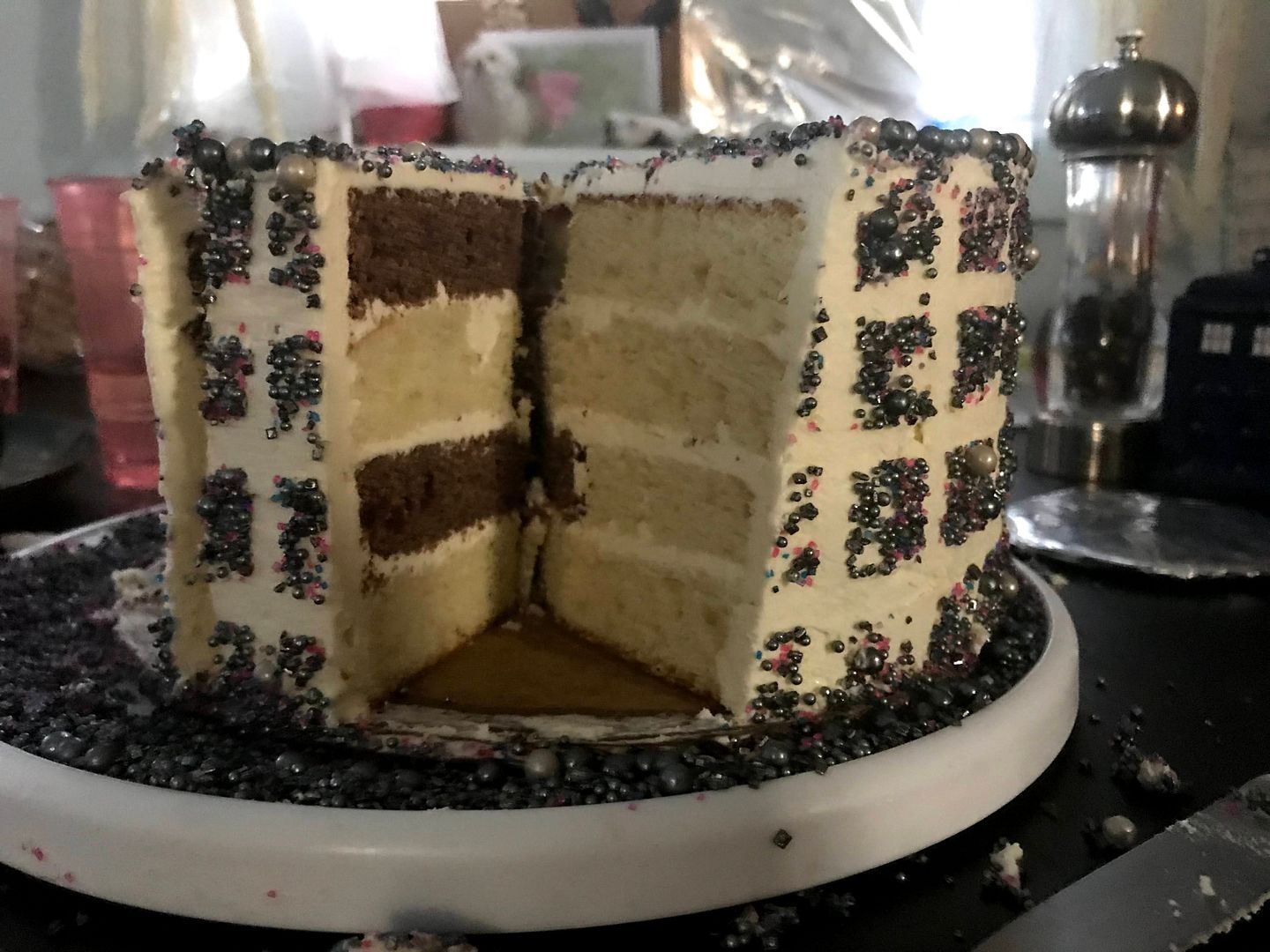 But of course, it's really all about this: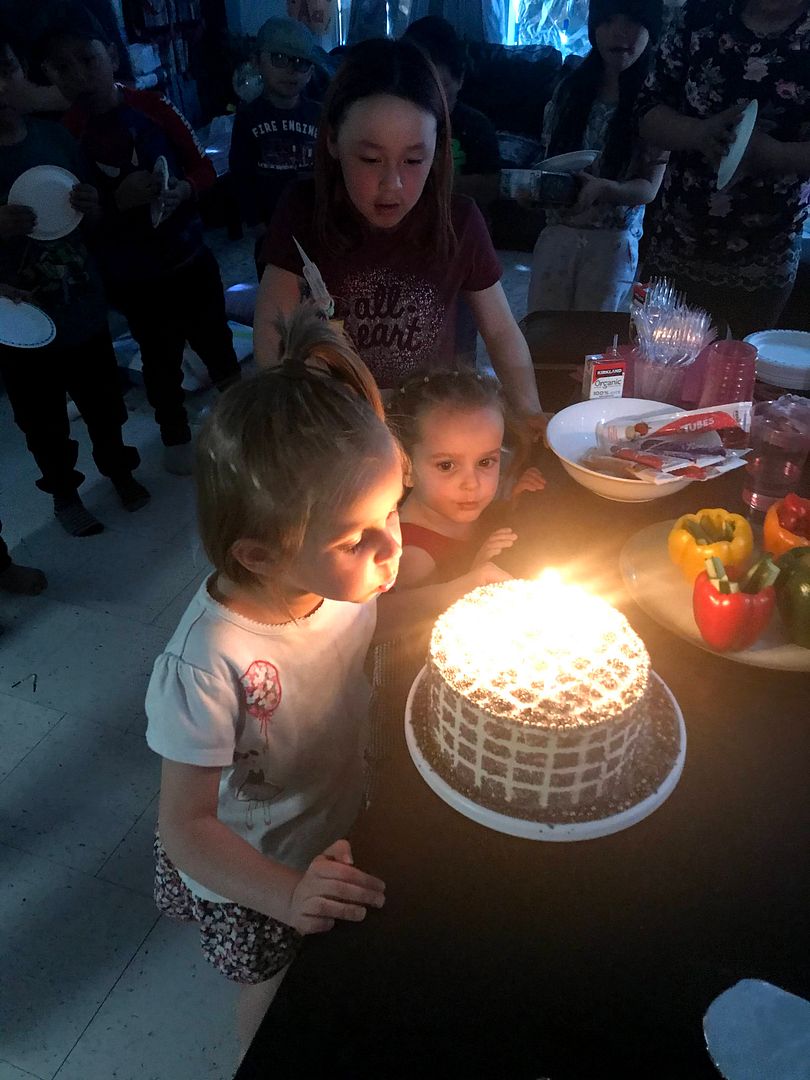 We had a blast. MiniMighty wanted the disco ball, but Dooner has always been the dancer. We made an awesome playlist of all their favorite silly songs, and had a crazy dance. So good!
MiniMighty isn't quite finished with kindergarten, but because of COVID-19 restrictions, they've split up the graduation celebrations over several weeks. The actual ceremony and awards are next week, but they did these sweet pictures and sent them to the parents.
Stringbean finished school as well on Friday. Grade 2 of homeschool is in the books – and that chapter of our life is closing. We will sending her back to public school for grade 3. I might write about that decision sometime; I might not. But it's been an awesome year for her of growing closer and reinforcing her confidence. This card she made for me for Mother's Day sums it up.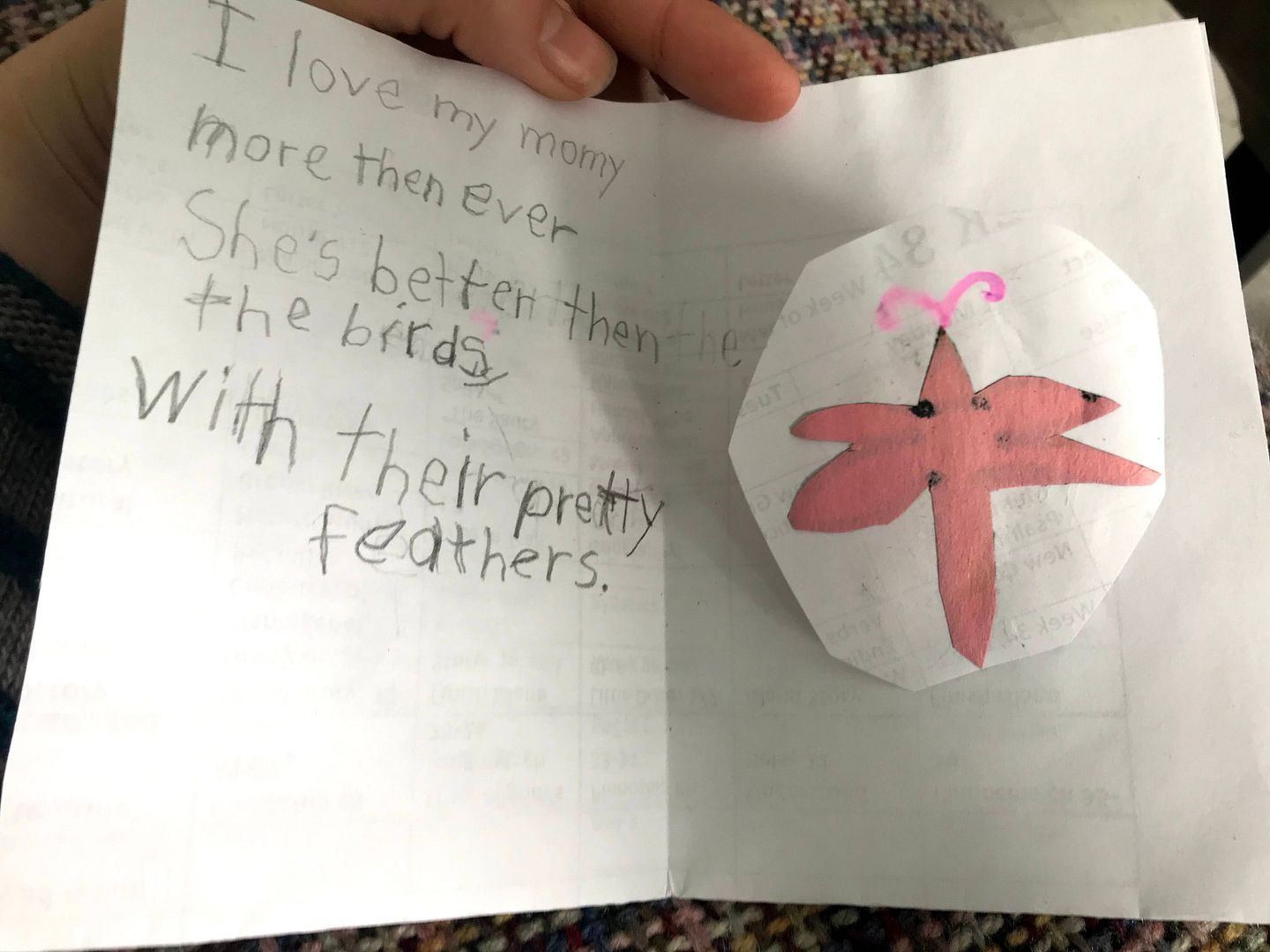 Finally, it was a month for spending lots of time out on the land. We took two trips out to our friends' cabin. We spent time spying on our neighbors: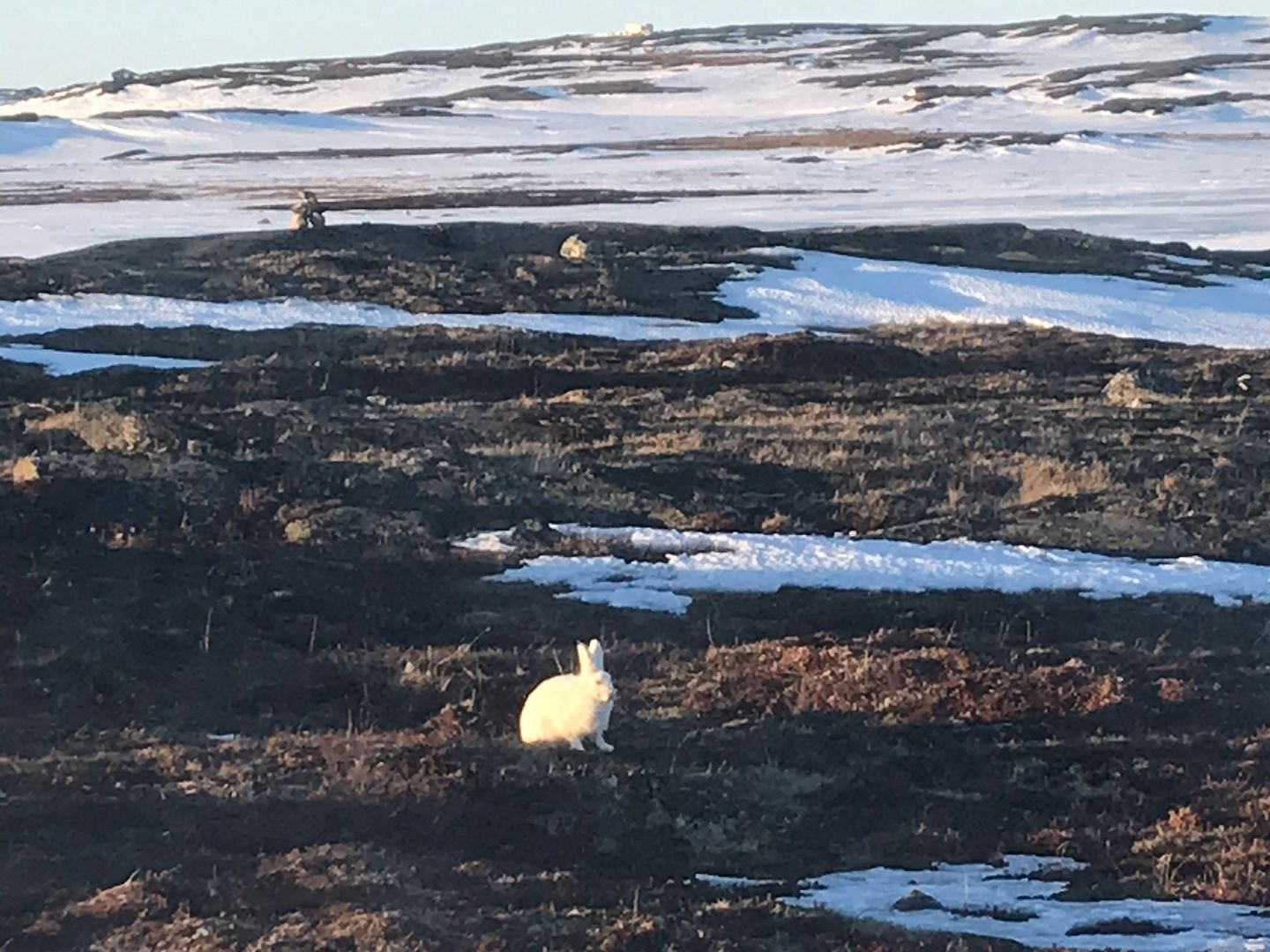 Exploring the area around the cabin:
Ice fishing:
(We haven't caught anything yet, but we're working on our process)
And, with the kids tucked in bed, we've enjoyed many late evenings watching the summer night sky.
I don't know if we'll get to the cabin in June. It's still really better to get there by skidoo, as there's too much snow on the trails for our Honda (read: ATV) to make it. But when we tried to go out last weekend, the skidoo broke – as in I looked out the window while Jared was getting ready, and watched an important part literally fall off. We're OK with that; the skidoo has been making "give me maintenance!" noises for a while now, and we're just glad it broke down while we were still at home. It served us well for a great spring season! And getting the Honda out sure makes it feel like summer.
Spinning
When that spring/summer energy sets in, I find it harder to sit down and spin. I transition more to knitting, maybe because it's easier to take on the go, or maybe because I want to use some yarn instead of making it. Or maybe I just picked a boring spin that I'm not motivated to work on.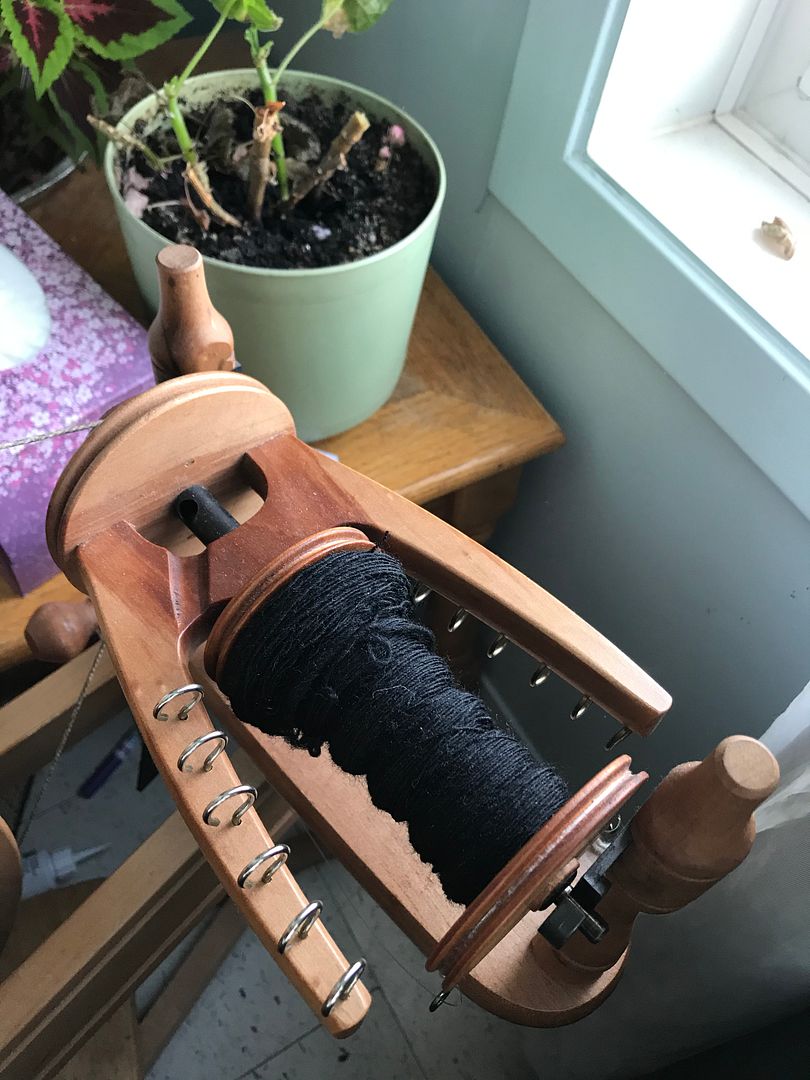 I've finished one and a half bobbins of dyed-black Corriedale. I have almost a pound of it; a sample of it was my second 51 Yarns spin. It is a part of a more interesting thing, and I'll get to the interesting part soon, but it's a little bit ugh at the moment.
Knitting
Like I said, knitting is where it's at right now. May saw me take scissors to hundreds of hours of work: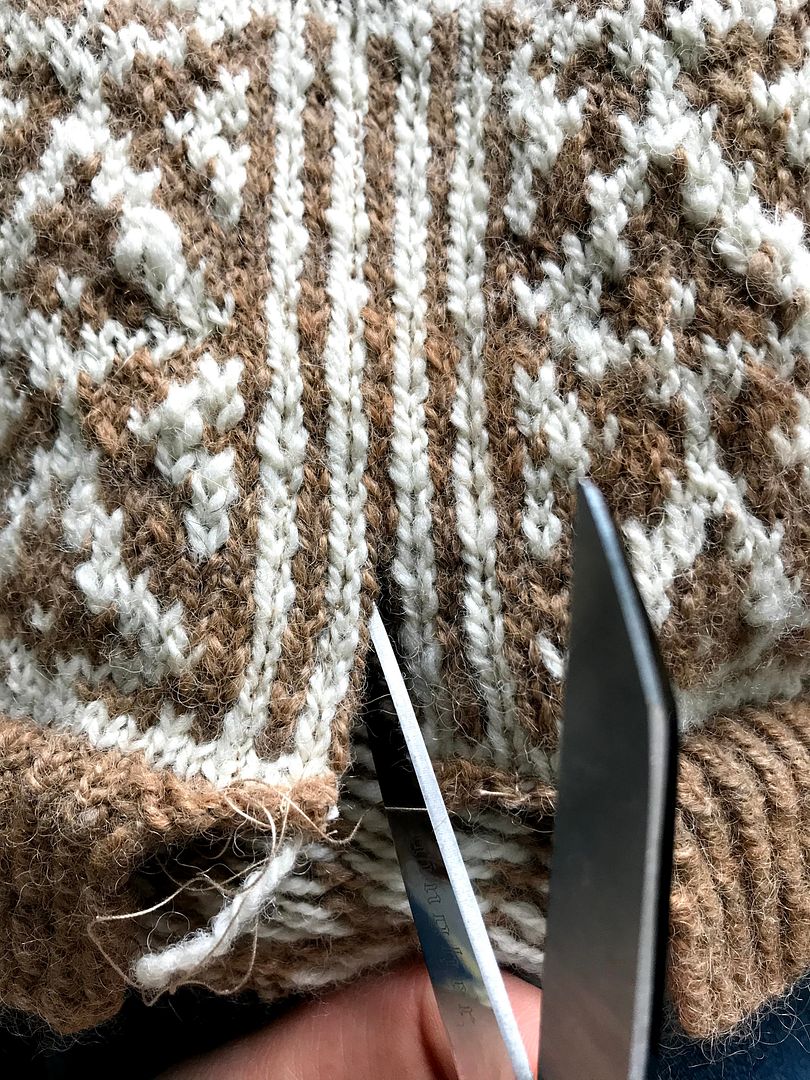 But ended with a result I was so, so happy with.
In the land of plainer knitting, I've been slowly chugging along on my Comfort Fade / Greyling mashup gradient sweater. I've stalled out on sleeve island; sloppy math has meant that I've had two sleeves to rip. The one completed sleeve you see below has to be ripped still. It does go quickly when I work on it! But it's been slightly displaced.
I got completely derailed by the Bluestockings KDD club. The last ten days have been all about knitting the "Elizabeth Montagu" stockings. But really… (a) I need socks, (b) I have sock yarn in stash that needs using, and (c) knitting a brand-new pattern with a big group is super-fun. So, YES PLEASE. I hope to knit more socks as the patterns come out over the next few months.
I'm undecided on whether I will keep these. They did come out quite big for me, and I don't want to re-knit them. So they may become a Christmas gift, for someone with big feet who doesn't read this blog. I have a few of those among my dear ones!
Quilting
I don't want to say too much about the Epic Quilt Project I'm working on right now. It's for my little sister and her fiance, and she knows it's coming, and I don't think she reads this, but I guess I'm a bit superstitious. But I'm comfortable showing you a lousy picture of the gorgeous fabric:
I can't take credit for the wonderful colors. My sister asked for "red and turquoise," and Connecting Threads had a new collection that was just spot-on and dead gorgeous. As for the design itself?
I'm spending a lot of time doing this:
I'll tell you all about it later this summer.
There. It's good to catch a few wisps of the month in my butterfly net before it completely escapes my memory. I need a vacation and better sleep, but things are good. I am thankful to have good work to do. And I haven't even been pining for azaleas.