This post is part of a spin-along through 51 Yarns by Jacey Boggs Faulkner, in the Wool n' Spinning community. For other posts in this series, check here.
Before I complete this chapter on yarn structures, I'm ready to go back and talk about chain ply.
I'm not a huge fan of chain-ply; I always feel incompetent when attempting it, but that's not my real reason.
We usually look to chain ply when we want to preserve the colours as they look in a hand painted braid, instead of muting their brightness by risking their mixing together.
That makes sense, right? We pick a braid off a shelf in a yarn shop because we like the colours; of course part of us wants to keep them the same. That's what I thought, anyway, when I spent a lot of hard work making a gradient yarn from a gradient top I bought from Fiber Optics, years ago.
I put a lot of work into that braid, making fine enough singles for a chain plied fingering weight. But when it was finished, I was kinda… disappointed. It looked exactly like the braid. Like, duh, that was the point, but after staring at those colors for so long, it was underwhelming.
In that way, Chain ply doesn't offer a lot of surprises. If that's what you want, awesome! But usually, my favorite part of spinning is the surprise. I love seeing the new colours that appear when you blend them together. I love trying to minutely guess what it'll look like, and I love being wrong!
But I admit, my outlook has been limited. Very limited. As I've watched other spinners over the years, I've seen some really cool chain plied yarns. Some of my favourites have been made by stripping the fiber down a lot, so that the bursts of colour are very short, and you're quite likely to get lots of overlapping areas in a chain when the colours change. So that's what I went for this time.
Here's my starting point: a very special braid of Arctic Berries on Targhee, dyed by Katrina at Craftyjaks. My picture was chosen for inspiration for this colour way, so it's quite special to me. I chose it for this sample, and most of the next chapters samples, so I can see all the different ways it can shine!
I took a little less than a quarter of this braid and stripped it down into 1/16ths. This was about as small as I could get the strips without just shredding the top.
I spun the singles on my jumbo flyer, for the sole reason that I couldn't find my standard flyer! I've been suffering lately from a bad case of what an old boss called "man eyes." As in, when you can't find something, "quit lookin' with your man eyes!" The ironic point being that it's my husband who always finds things for me.
Ahem. As I was saying, jumbo flyer. It goes down to 12.5:1, which was nearly fast enough, but just the extra inertia of the big bobbin was annoying for spinning so fine. I won't do that again.
Rachel mentioned in a recent episode that she doesn't always tension her yarns she on her lazy late when she plies, but she always does when she's chain plying. "Aha!" thought I, that's probably my trouble. I still use the upright Kate that came with my wheel, not the most beloved of designs. A tensioned one is not on my list of budget priorities. But maybe it's time to figure out how to DIY it. Watching that upside linked above, with Rachel unboxing her new electric wheel, got the mind churning.
In the end, it took two cup hooks and a wooden peg from the hardware store, a spring pilfered from my wheel (which I rigged into only needing one spring), a bit of cotton yarn, and my husband's power drill.
It's very simple, and very similar to a scotch tension system. I made the cotton brake thread long enough that it can snake around all three bobbins if need be, but I haven't tested that function yet.
It worked a treat. I've some fiddling to do with it – it was suggested to me by Diane in the Wool n Spinning Slack group that I should try clamping it to a table or something so it doesn't tip. I think that's a great idea. But even as it was, having more control made a huge difference.
It took some practice to get the movements right, and I started out at my lowest standard ratio. But I did get the hang.
Behold, my wee babby skein, washed and poofed like Targhee does. As hoped for, there were lots of points of overlap, making a skein and a yarn that was much more interesting than any other chain ply I've made!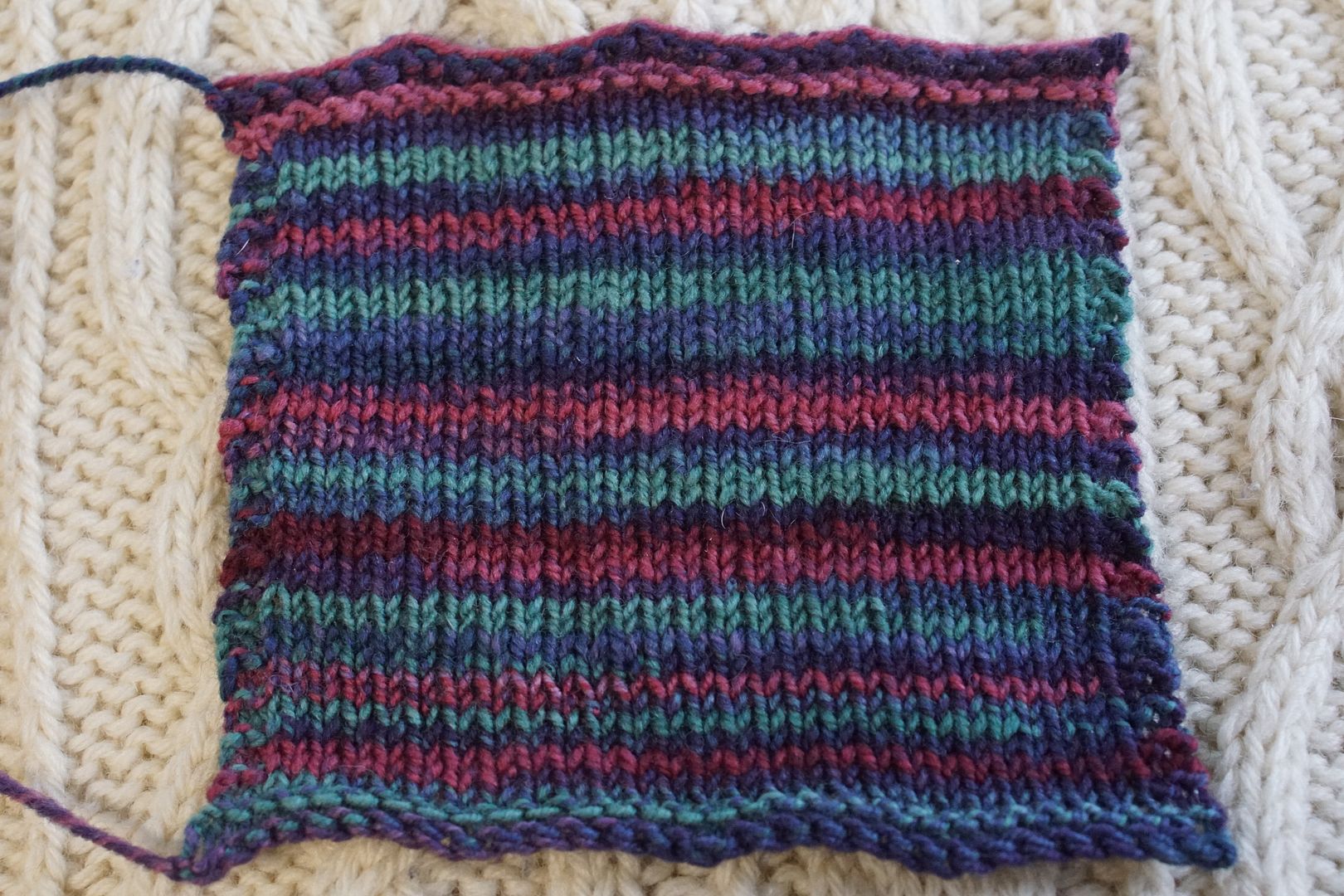 I'll say more about the color results at a later date, but as far as the structure and fabric go, can we all say: ooooooooh! This is a very consistent yarn for me. Short backward draft has really "clicked" for me, and it's just a fabulous way to spin consistent, thin singles quickly. (Especially with a beautifully prepared top like this.) That plus the tensioned kate which made for easy plying made a yarn and fabric that I'm so pleased with.
Where the singles fold in a chain ply, you get little bumps, and some people say they are points of weakness in the longevity of the fabric, or discomfort in the wearing of it. To that I say: phooey. At least with a bouncy wool like Targhee, I didn't even notice the bumps when I was knitting, and I can't feel any in the fabric now. If this were a worsted-weight yarn in longwool, it'd be a different story.
This yarn sits at a comfortable sport weight/light fingering gauge. It's 1449 yards per pound, and knit up at just under 6 stitches to the inch on US 3s. It'd be the perfect fabric for a cozy shawl or lightweight sweater.
I will have much more to say about this colorway and fabric next month, but for now, that's a wrap on the 51 Yarns study of yarn structure. Huzzah!