I usually don't mind January. It's cold, but it's a quiet break after the busyness of the holiday season. It's fun to get so much done in the quiet.
Spinning
So, yeah, this was the month of playing catch up with 51 Yarns! I posted about no less than nine samples this month. A few of them were actually spun in December, but still blocked, measured, knit up, measured again, and recorded in January. This was the entire chapter on structure in Jacey's book.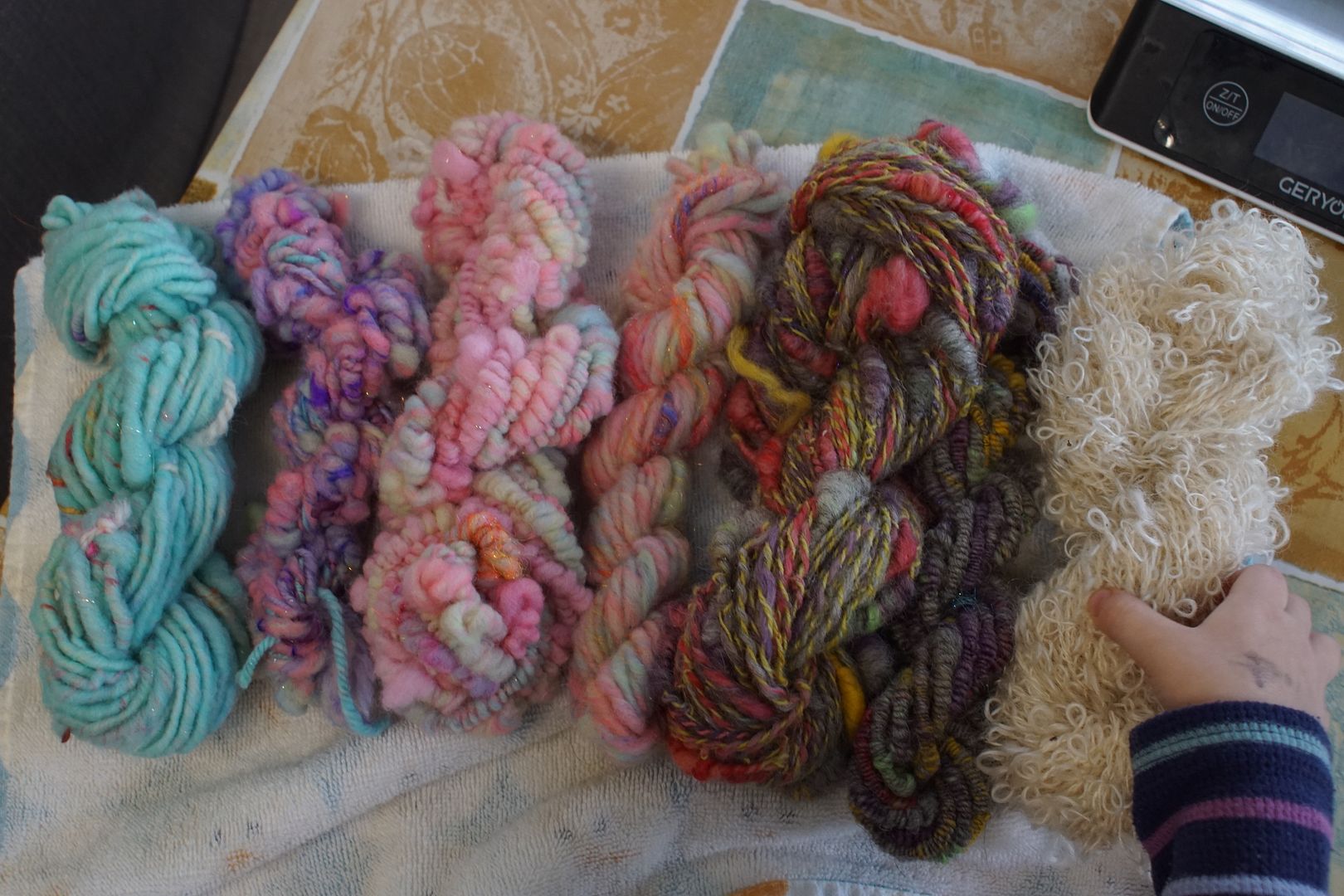 It feels really good to be on target for the new year.
But even more exciting news in spinning: I have a spinning buddy! We're just starting to get together regularly, but we find the time very inspirational. I am thankful for the gift of spinning in person with a friend.
Knitting
I knit on exactly one thing this month. I'm not ready to say much about it yet, as it's so close to being Really Finished, but here's a tease.
And oh yes, I've already cast on another sweater, before the cast off on this one had even cooled down from the warmth of my hands.
Sewing
Ehm… not much sewing this month. I did receive the parts I ordered from the "Canadian Tire" sewing machine, but haven't taken the time to test it out yet. I should get to that soon and bang out the rest of those placemats; they've been sitting too long!
Weaving
I've actually had some quite exciting developments. One is a project I don't want to show you until it gets to its recipient in the mail, but I can show you the other as it stands.
I made a warp chain back in December out of a whole bunch of leftover yarns. It was a bit of a chore, breaking and tying on a new end for 131 ends, but I got into a rhythm with it.
I managed to get it onto the loom a week or two ago. It's my longest warp so far at over 5 yards; I quite ran out of the reclaimed cereal boxes I use as packing material, and nearly ran out of warping sticks.
When we took down the Christmas tree, we moved the comfy chair back out of the corner, and I installed my loom there. There's just enough room for me to sit, and while the longer shuttles do tend to bang against the wall on my left, it's nice that it's out of the way of little hands. And I have this nice sunny spot to sit in the afternoon, looking out the window, accompanied by my long-suffering houseplant.
This is the project that originally inspired me to start weaving. I'm going to make a long piece of fabric that I hope will become one side of a pair of bench cushions for our dining room table benches. It feels so good to be finally using these bits of yarn I've been hoarding for ages.
I saved five colors of which I had larger quantities to be the weft. It's a bit of a juggle but I get a mix of colors this way without having to constantly change the yarns. I sure hope this jumble of colors works out into something pleasing.
Homemaking
We got a bit of a fresh start when we took our tree down. I miss the bright greens, but the space feels more open now. With loom, spinning wheel, and piano set up, and with a good habit of keeping the dining room table mostly clear, it feels like a family studio. Jared has started giving the girls piano lessons, and they're always curling up with a book on the couch or coloring at the table or making something in the play room.
We still have some things to do: we still haven't put up the coat racks, or the play room curtain. The office situation is flowing at the rate of cold molasses. At the moment I am inclined to be patient.
It's January. The back of winter is not yet broken, but we've survived some very cold weeks. We've got the skidoo running, which is a Big Deal. Saturday outings on the land are a highlight of our family life. We look for signs of the life sleeping and hiding all around us. I've started keeping nature journals with the kids so we can observe everything we can, and it feels sacred.
How are you doing this January? Are you antsy? cooped up? feeling low? cozy and contented? busy indoors? braving the outdoors? Is it summer for you? Is it frigid, or wet, or green, or brown? Please share below; I'd love to know what it's like elsewhere!