This post is part of a spin-along through 51 Yarns by Jacey Boggs Faulkner, in the Wool n' Spinning community. For other posts in this series, check here.
I have a bonus post to share, because supercoils deserve their own moment in the spotlight. Clearly someone looked at a coil yarn and said, "what if the whole thing were one big coil?
I made one of these yarns before, and it was beginners luck that it came out amazing. I sold it at an art show as a necklace, and was asked for more, but couldn't reproduce it. No luck finding pictures of it.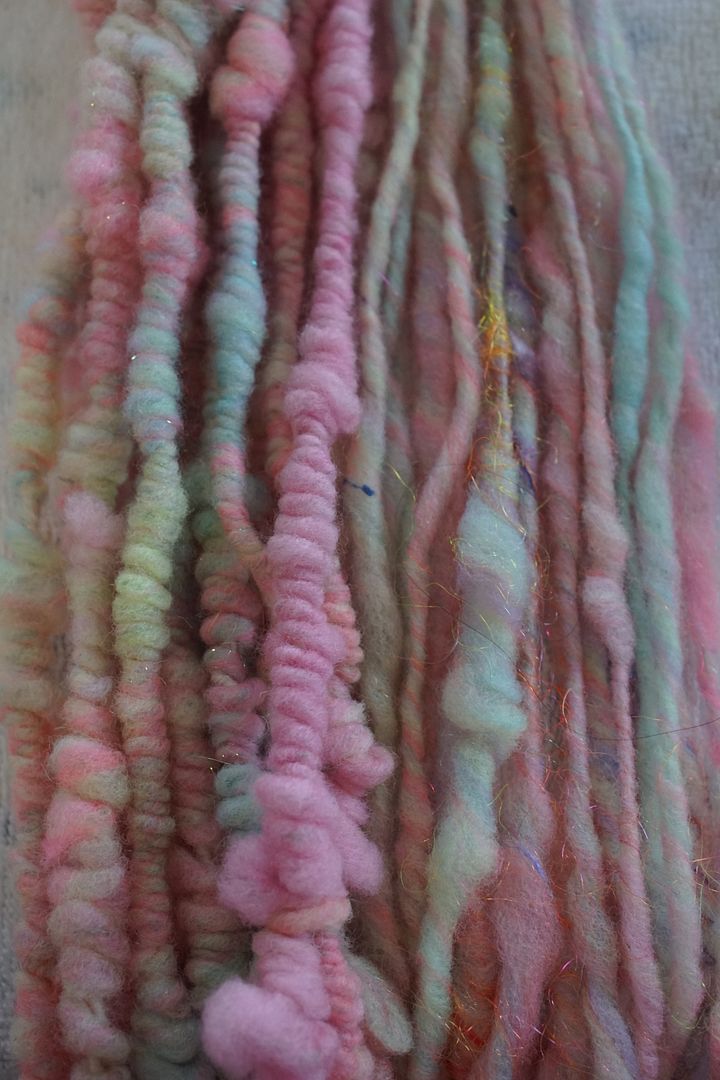 This time around, I started by just playing. I took a corespun yarn that I had leftover from ages ago (above right) and made it into a supercoil (above left) by just corespinning it over some Philosopher's Wool 2-ply. I thought it looked good, if a bit gappy, and it made a fun weft.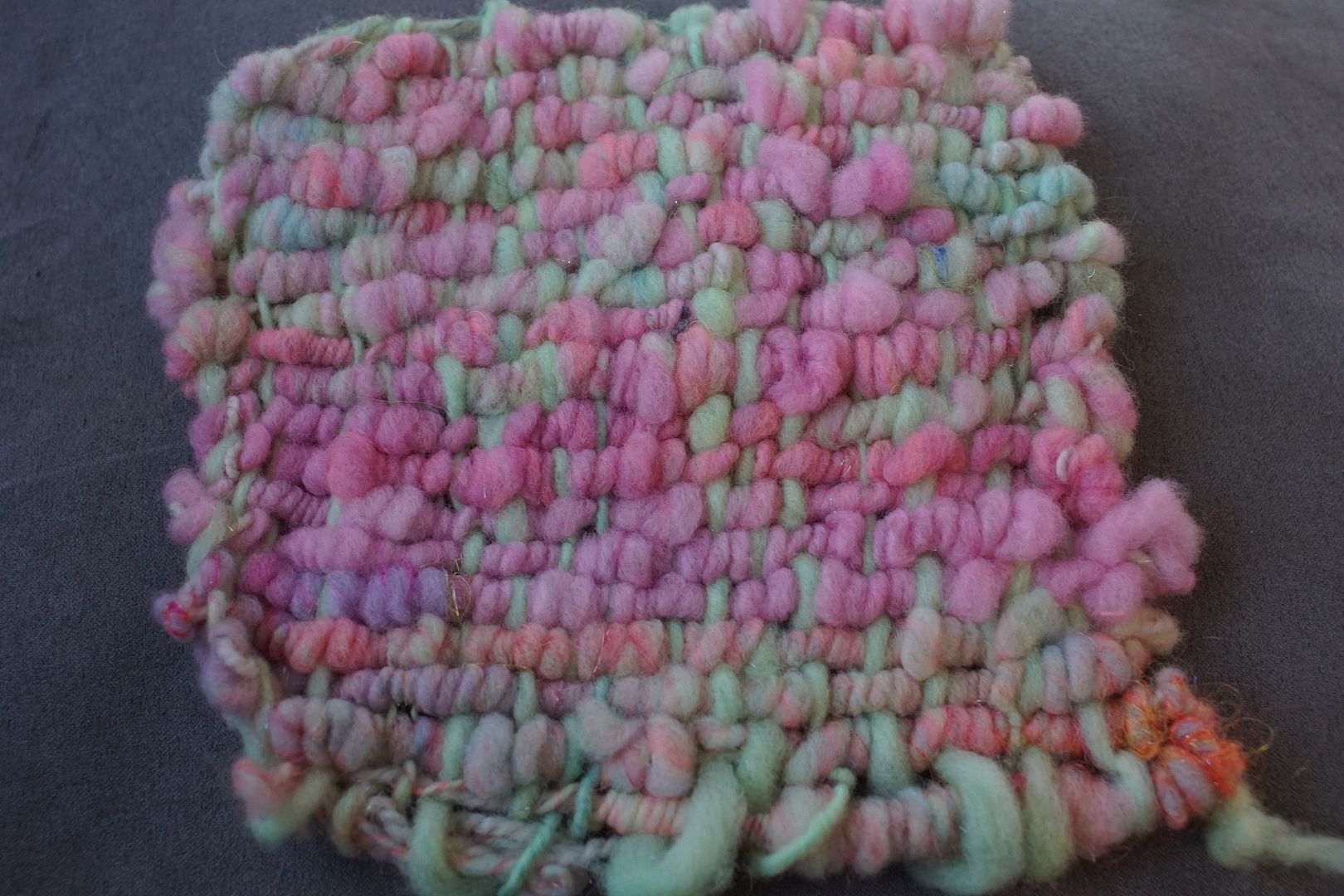 That seemed successful enough to move on, but then I watched Rachel's video for our SAL. It led me to much more success in regular coiling, as seen in the previous post, and inspired me to try again with supercoils too.
I used the same fiber as the coils, but spun a little more evenly and with more twist. I followed Rachel's suggestion of corespinning the singles on with a shallower angle, letting them build up twist for a couple turns, then pushing up. That made a huge difference in making tight, secure coils.
I did something different for the core – sorry I didn't take a picture – I plied the core as I coiled. Meaning I had a centre pull ball of Z-spun singles, attached both ends to a leader, and plied them together while coiling in the S direction.
While this sounded clever, it still built up too much twist in the core for comfort. The fiber was not of the right type to take a lot of twist, so that didn't help, but I don't know what would have.
If you think about it, the core has to have one full twist in it for every single time the coil wraps around it. Indeed, it's the turning of the core that makes it wrap – not necessarily the twist, but the rotation of the core yarn. That means that if your core gets so twisted that it won't take anymore, the yarn won't wrap no matter how much you treadle. So if that happens, you have to take the twist out of your core.
In this yarn, the wrapping yarn goes around 15 times per inch! My fiber would never take that. The main advantage of the CPB, then, is that it was easy to dangle and untwist.
It's like a necklace, and that's how I would really want to use it. I got less than 7 yards out of my ounce of fiber – a grist of 66 YPP! This is a yarn that seems fast in that it's a fairly short project, but definitely slow in yards per hour and costly in yards per pound.
I wouldn't knit with a yarn like this, but was curious to weave it up!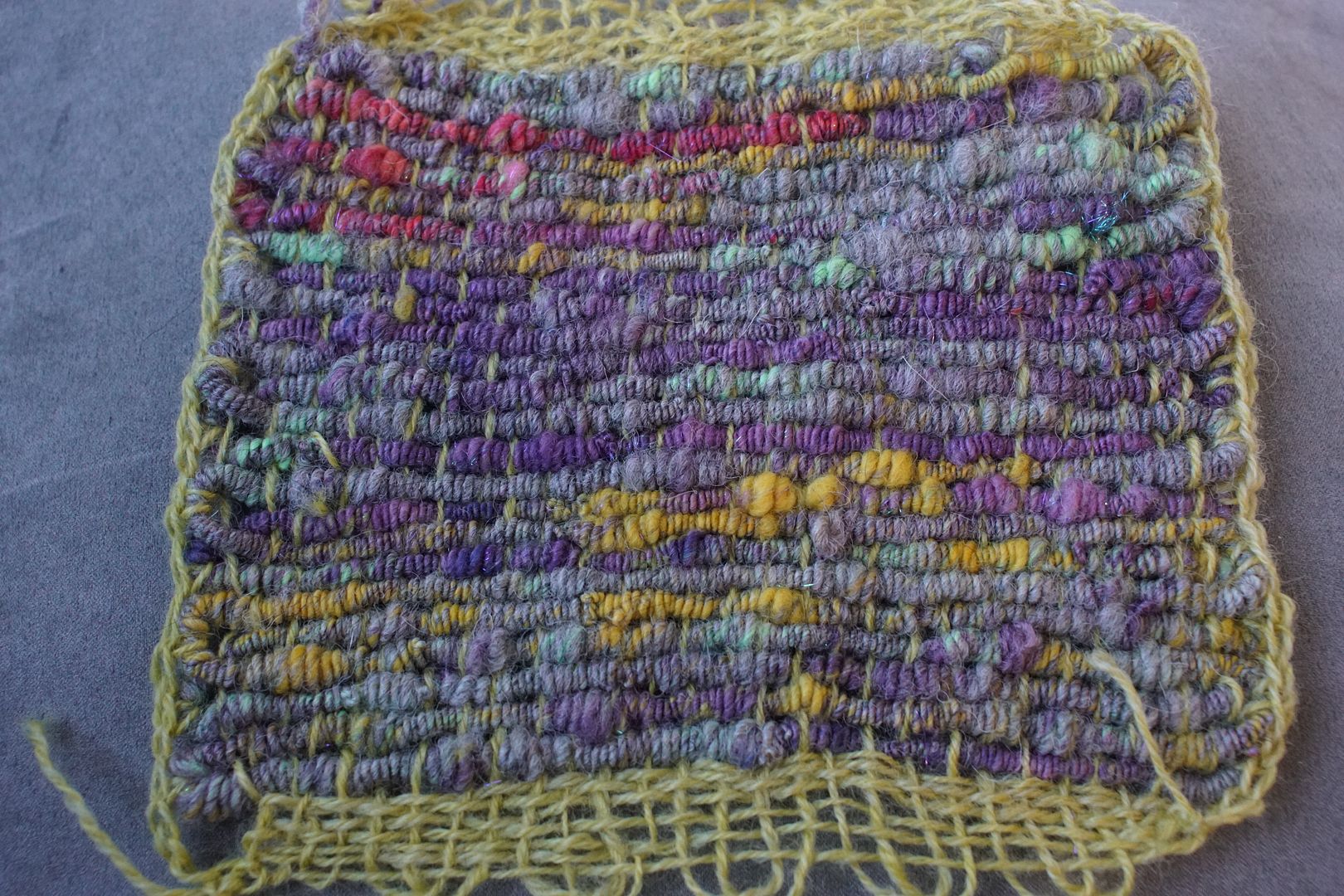 It's just gorgeous. Using it as a weft really shows it off. It would be awesome in a tapestry.
These yarns are a lot of work, but just delightful for a unique effect. Spun jewelry!