I finished a few really pretty things last week!
First I'll show you the Shakerag Top, by Amy Christoffers. This was a design I had eyed since it came out a few years ago, since before the name of the publication it's in was changed to "Modern Daily Knitting." I thought it would be a perfect use to bring together some of my 51 Yarns samples into something wearable, since I had several skeins of unusual fibers at around the same lacy gauge. Things like lace, ramie, cotton and soyasilk. I had spun these all quite fine, because (a) they seemed easier to spin that way, and (b) I wasn't sure when I would ever spin them again, so I put more time into them than in other samples.
I hemmed and hawed about how to put them together in a way that would create a balanced fabric. For my size, I would need about 1200 yards. That meant 800 yards of a yarn that would go all the way up the top, and 400 yards of something that would be held together for the heavier stripes. That fit with the Ramie (about 400 yards) and the silk samples (about 800 yards altogether). To the bottom of the top, I added my shetland samples from the rewinding-and-not samples, as a sort of insurance policy.
This was perfect to really use those yarns up. I used practically every inch of the Shetland, Pedencal silk, Muga silk, and Bombyx silk. I have a small ball of Ramie left over, and a larger ball of camel/silk, which was only used for the very top of the body, and the finishing of the arm- and neck-holes.
When I cast the thing off, it appeared to be a rectangle of the wrong dimensions. A picture in Landscape that I wanted to be Portrait. But blocking set things right. I blocked it long, and the drape of these fibers took over. When I put it on, I literally gasped at how fantastic it looked.
The silk feels amazing. The drape looks amazing. The sillhouette was exactly what I was looking for: it feels mature, and kind to my approaching-middle-age body, without being frumpy. Yes, yes, yes!
I very rarely finish a project and think "I want another one!" But this time, I kept the needles and pattern in their bag so I can cast on another, as soon as I spin up the rest of the cotton and soysilk. Just, yes.
The top goes perfectly with my other FO from last week: the "Teacup Corset Apron" by Meg McElwee from her first book, Sew Liberated. I started this project back when I was making a lot of cakes, and I wanted to have more aprons so I could still have one when another was in the wash. The fabric is from a beautiful collection of batik half-yards that my MIL sent up when I said I needed "a couple of yards of blue" to finish Dooner's quilt backing. (Thanks again!) I couldn't decide between two colourways, so I cut fabric for both.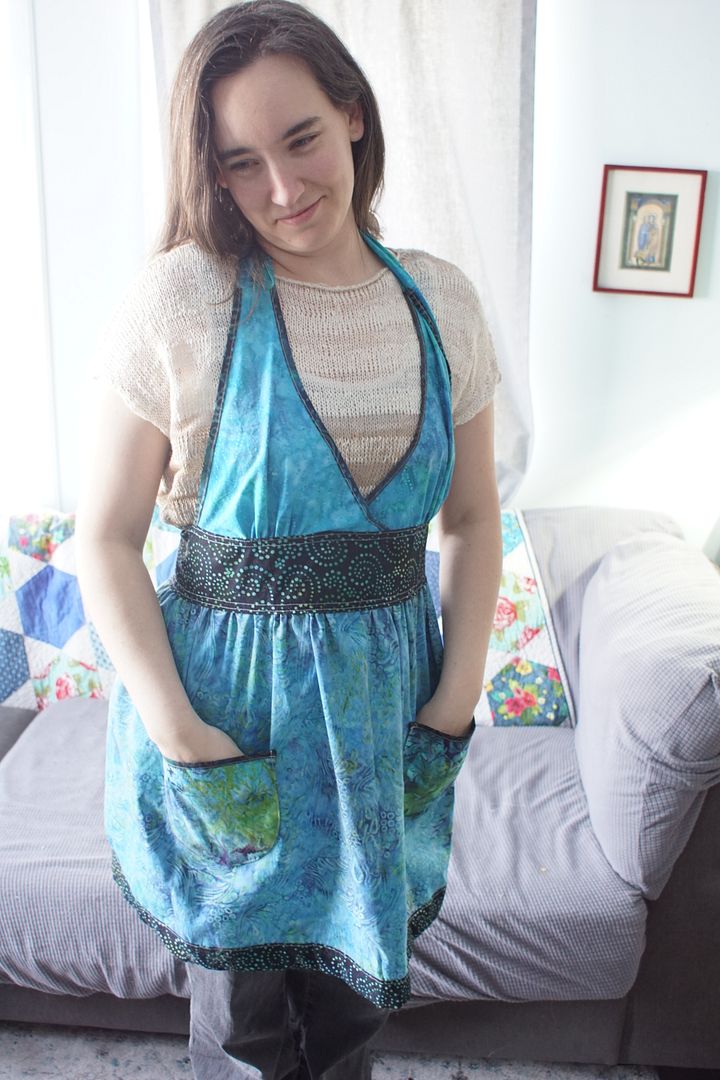 Sadly, cutting is my favorite part of a sewing project. Then my oldest child stood on my sewing machine to reach something and permanently broke something cosmetic but important to ease of use, and I disassembled my sewing area to make a podcasting studio. The apron pieces sat, neatly in a clear bag on my shelf, accusing me.
March has brought with it a shaking off of old projects, a waking up and realizing that I really do have Too Many Things on the Go. I finally sucked it up and tried out the new-to-me machine that had been found and gifted to me, found it worked perfectly on the first try, and had these sewn up in two days.
That's the thing about sewing, man. When your machine doesn't work, you feel powerless, at the bottom of a pit of endless handwork. But when your machine does work, you feel like GOD.
I amended the pattern to remove the ruffles, and did not bother with the applique, because good grief these fabrics have enough interest by themselves. And I changed the laces at the back to just be sewn on, because the way it was designed with a single lace would require me to put it over my head. No thanks!
The question about all three of these finished objects is the same: will I use them?
I love the shakerag top, and it makes me feel fantastic. I can imagine it, and other garments like it in the pipeline, becoming a staple of my summer wardrobe. Believe it or not, with our south-facing windows, summers can get pretty warm in my house.
However, I'm worried about that open fabric getting snagged on things. I can't save it for "nice" occasion: I don't have any of those where I'm not already wearing clericals. I don't want to save it for vacation, to only be used for one or two months in the year. A summer staple has to survive Real Life in my house, with dog claws and small fingers and protruding mess everywhere to get caught on.
I'm going to save it to wear to Grenville Island, because we're going to visit Silk Weaving studio again, and I want to wear it there and say "I made this with your fiber!" And then I am going to let go of its pristine state, and subject it to the brutality of regular use. We will see what happens.
The aprons are hanging on my wall. I tend to be so on-the-go that most of the time I don't think to put an apron on at all. I used to walk around with so much buttercream on my clothes that Dooner's preschool teachers thought I was painting my house. Of course, I'm not baking as much now. I could use them as spinning aprons, again when I think of it.
The trouble is, they're a little too cute. I feel a little silly, especially wearing that bodice piece, when I'm just in my every day clothes. Dressing to coordinate with aprons is silly. They're very cute, but if using them makes me feel weird, that isn't going to work. How clothes make you feel when you're actually in them is important.
The real victory in these pieces is that they used up some precious stash to make beautiful things. If they get used up in the wearing, or if they are better off as gifts, that's just as good.