It just so happens that, at present, I am working on three different quilting projects which are all based around hexagons of different sizes.
None of them are finished, but I'll introduce you, and bring you up to speed.
First is a small English Paper Piecing project that I'm just finishing up.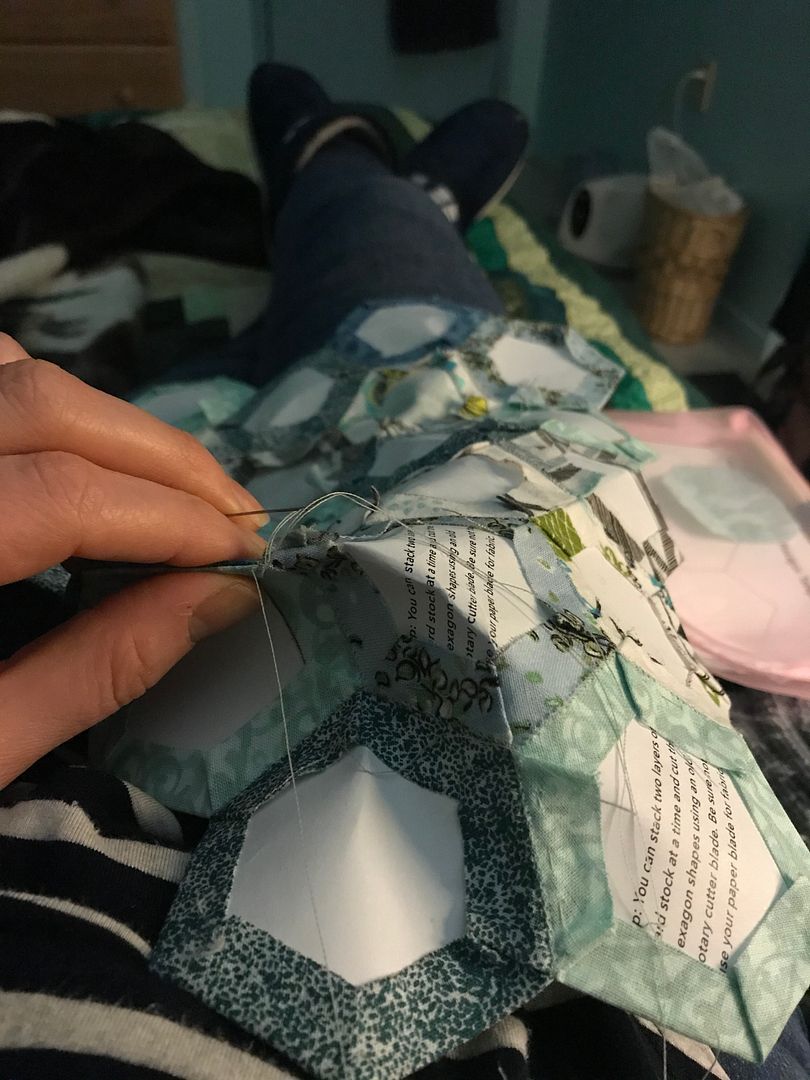 This is my second EPP project. It's made with leftovers from making book covers, bits of fabric found at the thrift store, and other bits and bobs. I got the whole thing sewn together last week and quilted on Monday. I admit to being very proud of putting curves together to make this quilted star design.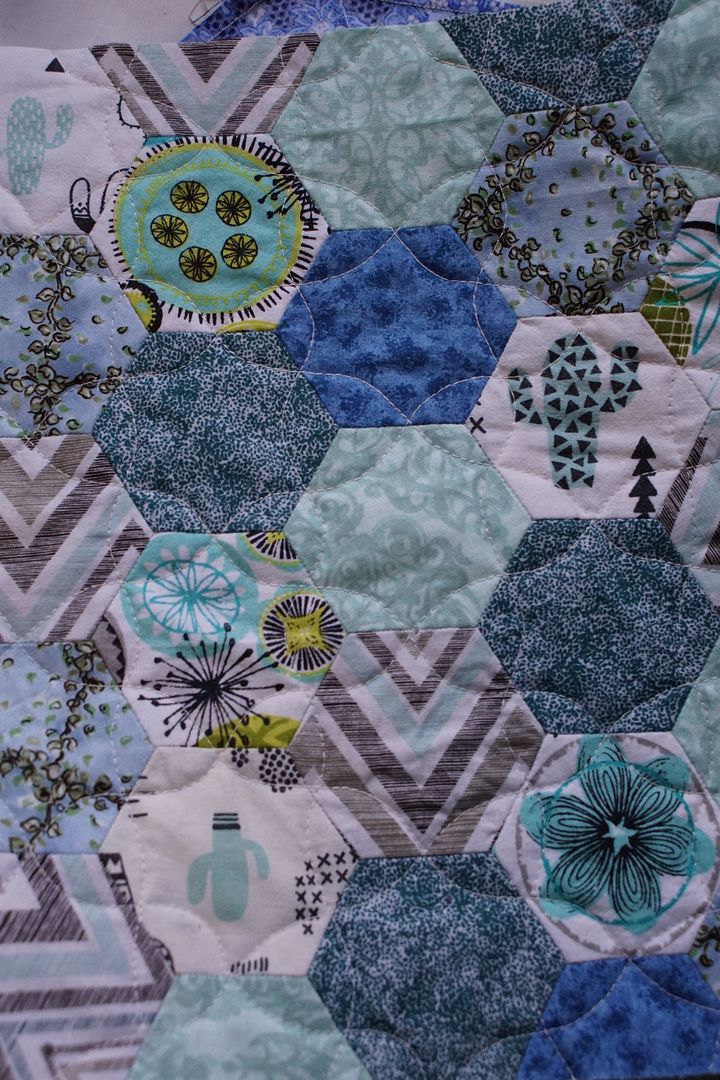 It's just waiting for me to make time to install the zipper and sew it together, and it'll be a little bag. Stringbean has her eye on it (it is her color), but I also need a teacher gift, so… I'm stalling.
The second hexie project is MiniMighty's quilt. It's way simpler than Stringbean's, and consists only of colorful large hexagons joined with white triangles to make all-over stars.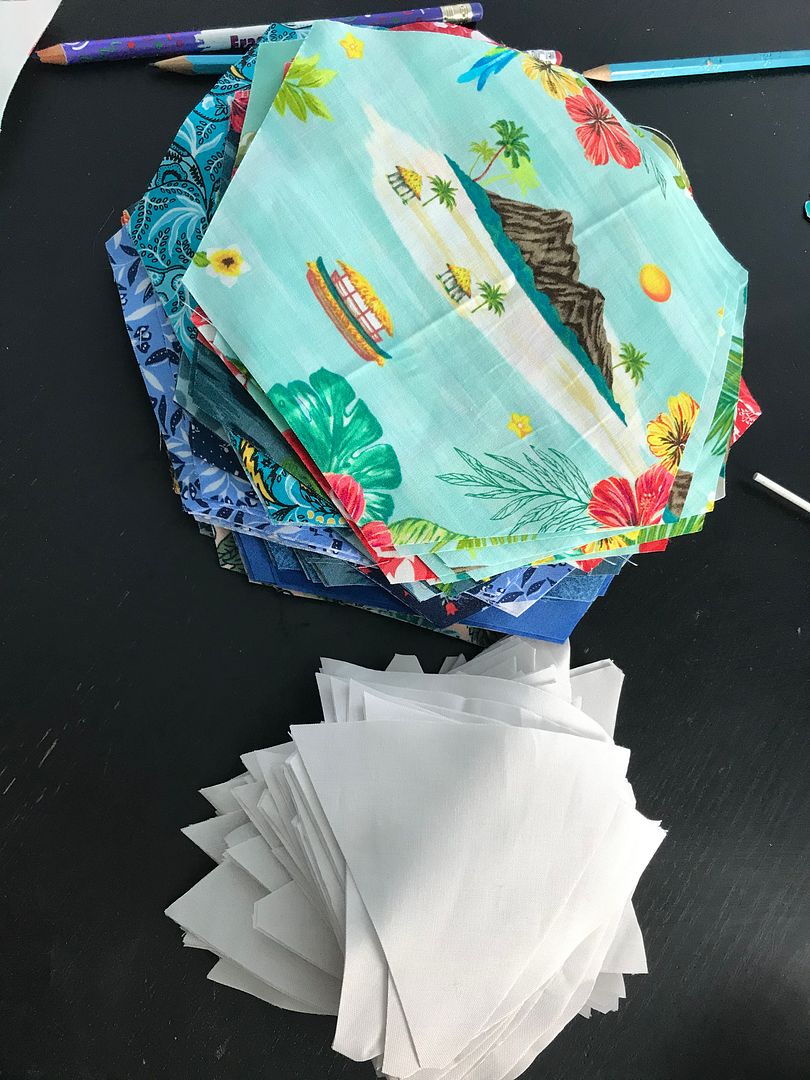 Construction is, theoretically, pretty simple. Step 1, cut shapes. Step 2, pin triangles to the upper right side and the bottom left side, using creases to easily center the trianges.
Step 3, sew those triangles on, using assembly-line sewing. Or as I call it, prayer-flag style.
Step 4: Cut them apart and iron them into diamond shapes. Aren't they pretty?
Step 5 is to arrange the final design for the quilt top, which involves scrambling up all this beautiful order. So what did we do?
We turned that perfect pile into confetti.
I then committed the cardinal sin of forgetting to take a picture of the layout. Ugh. Here's hoping my labeling held out.
Step 6 is to sew the diamond units into rows. This is where things started to get challenging. If I had been more precise with my cutting, maybe I could have followed the Craftsy class's advice and just lined up the units by their dog ears. But my cutting was not very accurate, so the time saved there is now spent in lots of careful pinning.
I think every quilter comes up with their own tips and tricks to get accurate points; this is what I've worked out so far. I liked the advice I got to pin the pieces together exactly through both points where I want to sew them together, so I do that.
I put the needle through the bottom layer a little further in from where I want the stitch to go through, to account for the fact that when I flatten the needle, the layers shift just a little.
Then when I'm sewing, when I come to a point, I shove my seam guide out of the way and stitch right up to that pin, exactly where it goes into the fabric. I usually turn the hand-wheel for those last couple of stitches. It's slow, but anything else I've tried so far comes out a mess.
This approach means that the pinning takes longer than the sewing.
I've now finished all thirteen rows of hexagons, and have started sewing rows together. First though, the pinning. Here are all the rows, pinned carefully into pairs.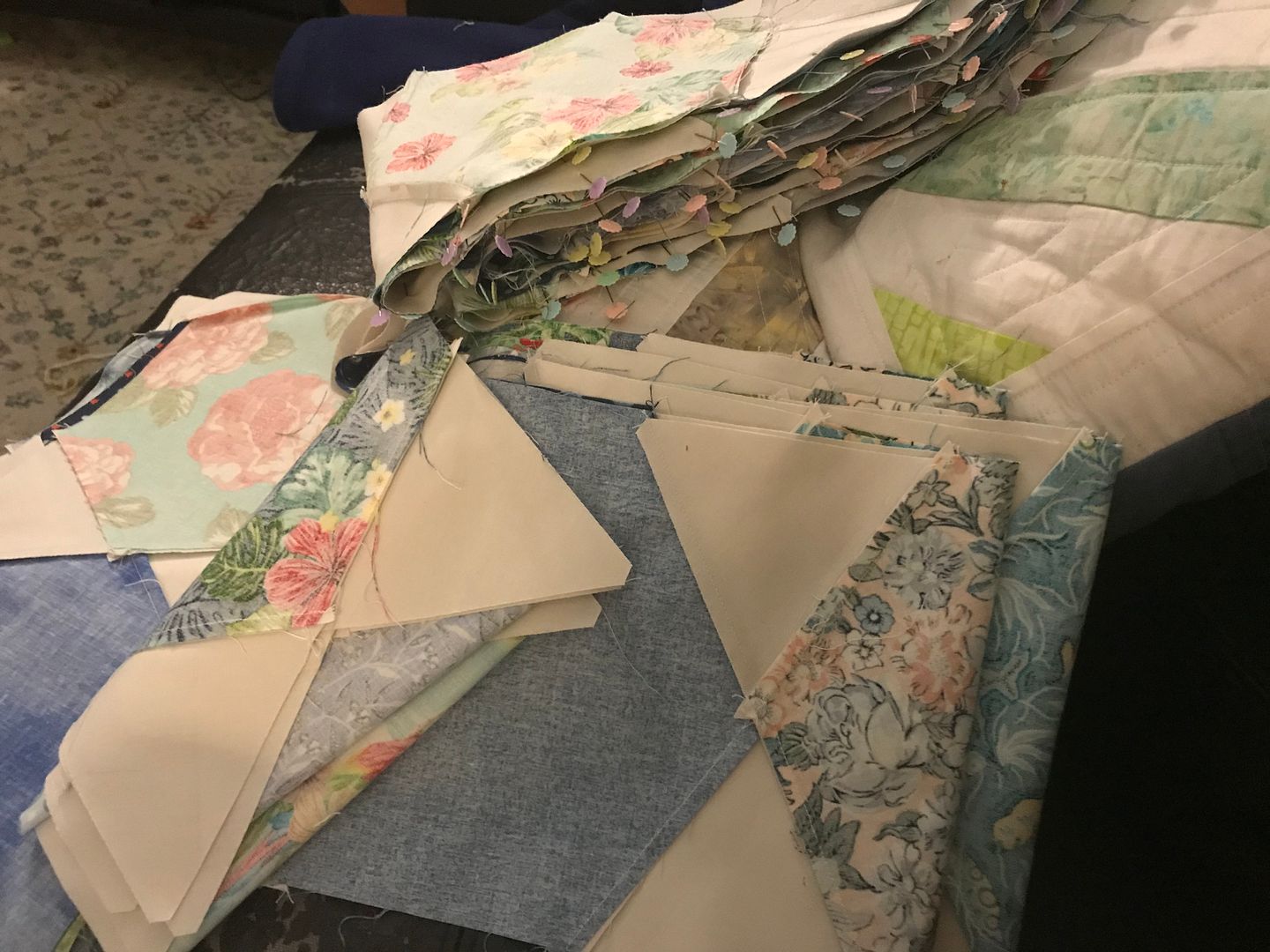 The third hexagon-based project is another EPP project. This one is pure art, not serving any purpose except my own pleasure. The name of the pattern is Lallybroch, and the fabric I found is inspired by Jacobean-era prints. That information might be enough to tell you why I absolutely had to make this. If it's not, I'm not going to tell you.
This project is epic. It's a little much for a third EPP project, but well, just try and stop me.
I'm nowhere near the actual sewing stage. Here's where I've gotten so far.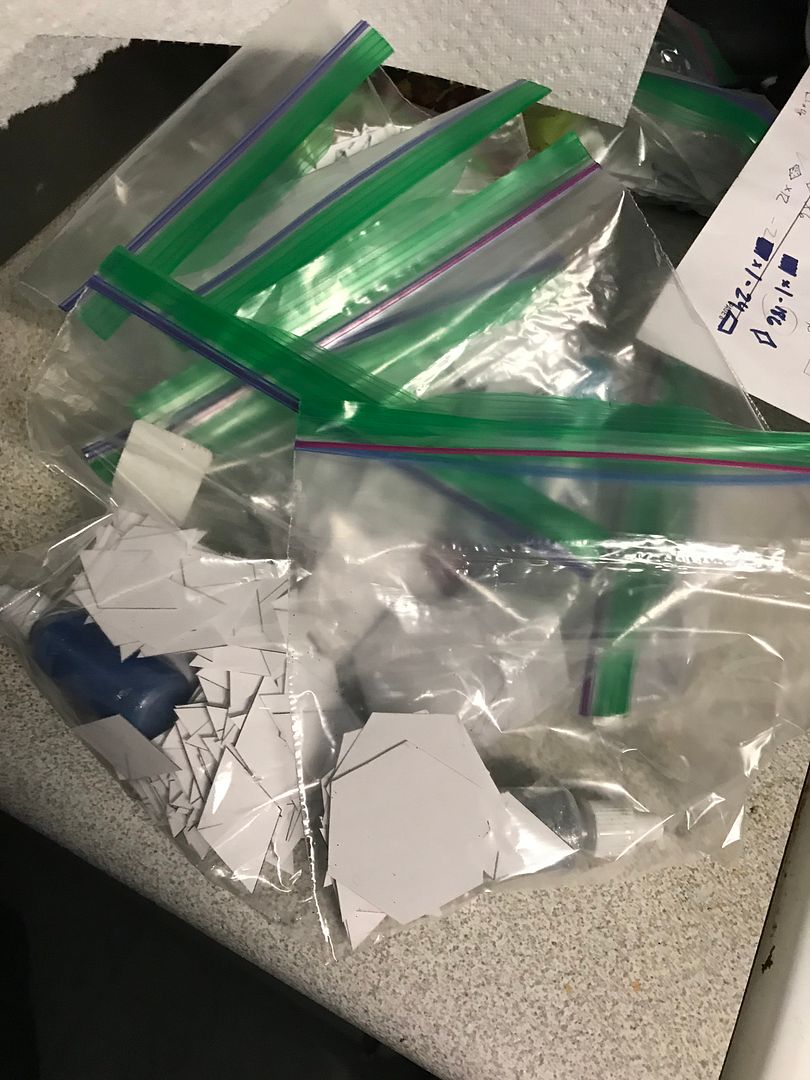 First thing I had to was cut about a thousand shapes out of cardstock. Not all of them were hexagons, but a little over three hundred were. Thankfully, I love cutting stuff out.
Next step was to fussy-cut about a thousand shapes from my bundle of fat quarters. Thankfully, I love fussy cutting.
I did eventually give up on hand-cutting and fussy-cutting when it came to smaller shapes and smaller patterns. How did quilters live before rotary cutters?! Here's my helper learning how to rotary cut.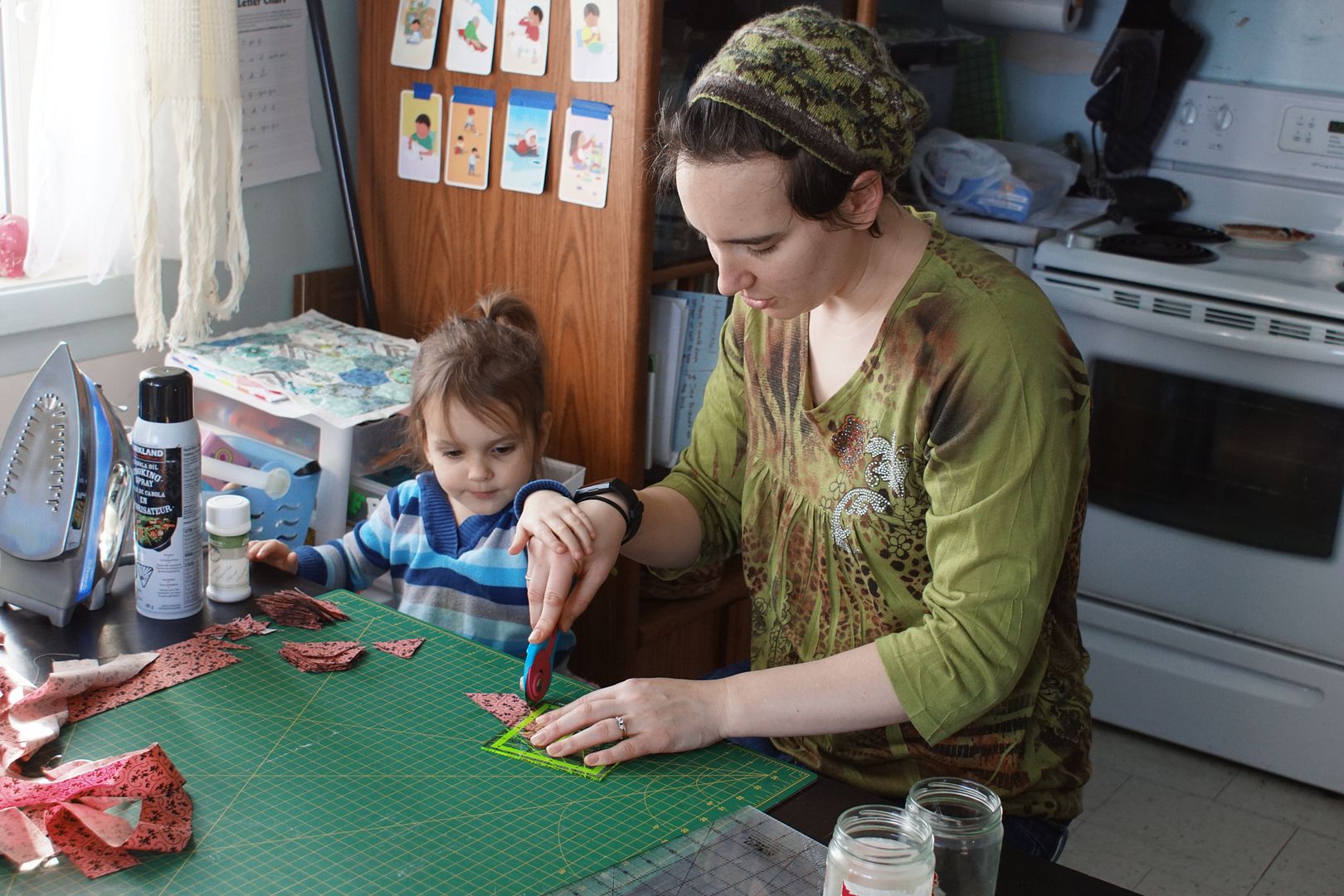 Thankfully, it doesn't matter whether I'm using scissors or rotary cutter, I love cutting fabric.
Next step is to glue these thousand fabric shapes over the cardstock shapes. I thought I was going to find this tedous, but thankfully, I love it. It's the first time I get to see the fruit of all that fussy cutting as I arrange the shapes.
So, apparently I really like hexagons! Next think you know I'll be knitting hexagons, or even weaving hexagons. Can you spin hexagons? That doesn't make much sense. Ah well. Anything to get through February, am I right?