This post is part of a spin-along through 51 Yarns by Jacey Boggs Faulkner, in the Wool n' Spinning community. For other posts in this series, check here.
I actually spun this yarn back in August, but what with one thing and another, didn't swatch it up until yesterday! Here, without further ado, is my first attempt to spin cotton.
Does anyone else remember those cotton commercials? I can still hear the jingle in my head, "The Fabric of Our Lives." I take cotton for granted. It's one of those materials that is literally woven into my life, that I rarely think about. Unlike many other materials that I am unconsciously surrounded by, it's natural. I'm sitting on a quilt made of 100% cotton as I type this. For many people, it's the first fiber they think of as an alternative to petroleum-based fabrics. It's a hugely important material, and it's a fiber. But I, a fiber crafts-woman, never think about it.
As a spinner, cotton never had much appeal because I never much liked knitting with cotton. I had a bad experience early in my knitting career, so I mostly stayed away from it. Wool is what I associate with the handmade, the bespoke, the luxury, the authentic. I'm a wool girl.
This chapter in 51 Yarns is all about testing those boundaries, spinning different fibers. Many of those are unusual or luxury fibers. Cotton, though, isn't a luxury, and it isn't rare. It's a staple, but it's entirely outside my comfort zone.
I sourced my cotton from Heidi at Vegan Yarns in Vancouver. (Though, sadly, she is now phasing out her handspinning fiber.) I bought two colors, the darker "fifo" and the lighter "chocolate." I deludedly thought I would knit up both of these two-ounce bags of cotton for this study – ha! The fifo will wait for another day; this is the chocolate. Though it's more of a "cinnamon" to me.
Cotton is notoriously difficult to spin, at least to the uninitiated. The fibers are short, sticky, and not-crimpy, requiring a lot of twist. The preparation I bought was perfectly gorgeous, ready to spin as-is. Still, it took me lots of practice, probably nearly an ounce, before I felt comfortable enough to say I was enjoying it.
The most helpful internet resource I found was this video from Ashley Martineau about spinning cotton. I learned that there is a "right" and "wrong" end to cotton top, meaning one end is more difficult to spin from. (Presumably the fibers have a direction, from the base of the boll to the top, and it's easier to spin one direction or another? I haven't found that out yet.) Sure enough, a little playing around and I found one side a little easier to spin from.
I tried several different drafts: short forward, long draw, short backward; I tried stripping the fiber into different sized pieces, etc. What I finally settled on was spinning across the top, holding the top sort of diagonally, so that the singles picked up a few of their neighboring fibers. I spun in the short-continuous-backward style that is becoming my default, and is in that sweet spot in between long draw and short draws. I spun on 20:1 with very light tension. It wanted to spin fairly fine; I tried not to overdo it. I made a 2-ply out of it, and it came out around fingering weight, 21 WPI.
I thought I was plying it fairly tightly, but it's definitely softly spun for cotton. As you can see, it's not the evenest of yarns. I had to let that go. Overall it's really not bad for a first go.
Like most yarns, it's a bit more forgiving at a tighter gauge. On a US2 it was orderly enough, with just enough of that organic flow to make a really groovy top. I love that the heathering in this beautiful natural color still show in the final swatch.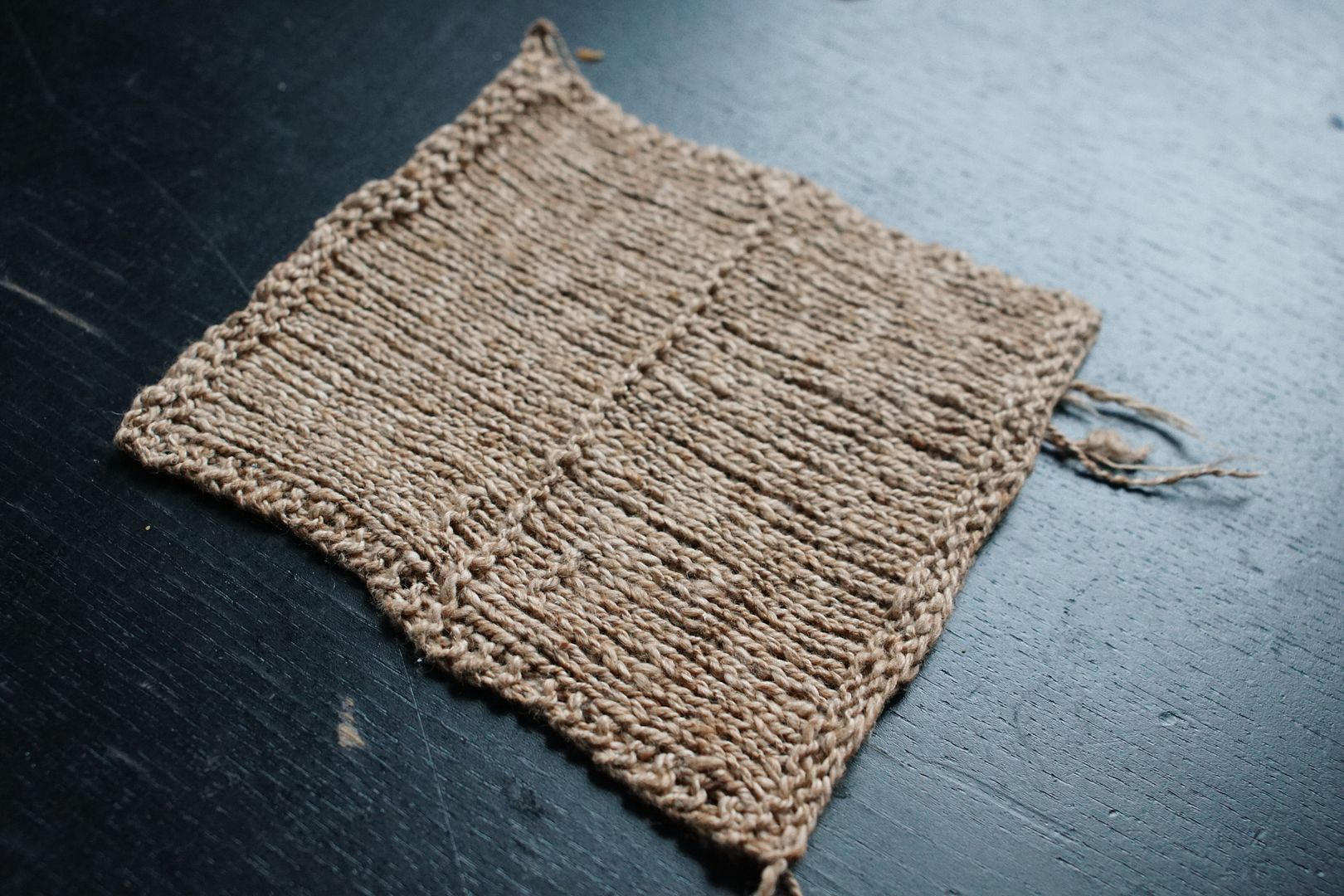 I had forgotten how flat cotton knits up. Knit-and-purl texture in this yarn would be pointless, and cabling would be really different, creating almost the texture of knots in the fabric. I think I'd like it best just like this, in stockinette, as an undergarment. It's so soft.
In the world of sustainable textiles, cotton is a cornerstone. It isn't tempting me away from my lifelong love-affair with wool, but I'm very glad to know I can spin it if I need to. And I'm super-grateful for organic, fair-trade cotton in beautiful natural colors being preserved by fiberists like Heidi. I'm definitely a lot more conscious of the role this fiber has in my life.