I am writing this post on the last day of September, curled up in bed on day 8 of a nasty cold/tummy-bug thing that has me feeling as friendly as a porcupine with a hangover, so I apologize if a dark pall is cast over the last two months. Overall, it's been a pretty fantastic end to the summer and beginning of the school year, so on this gloomy sick day, let me share some of the many things I'm thankful for from the last two months.
Outdoors
I've already shared with you some of the fun we had berry picking over the last two months. Spring is awesome and summer is grand, but fall is my favorite. Berry picking is a part of living off the land that excites me, and that I find easy to relate to. A friend asked us recently whether we felt like Rankin Inlet was home yet. The truth is, as soon as my friend Bernadette took me berry picking a year ago, it felt like home. We've been so blessed to have the opportunity to discover what a beautiful place this is.
We did spend a little time out at our friends' cabin these two months as well. The weather was pretty grey and rainy during our time there, but there were still plenty of opportunities to get out and explore, and for me to pick some berries. Our kids are still young enough that we don't range too far afield anyway, especially now that it's starting to get chilly. No matter what we end up doing when we're out there, it's just nice to get away from the demands of one's own household and chores, etc.
Speaking of household…
The Deckoning
That's what I've been calling the reckoning of the deck. This was more an August thing. Jared decided this summer to build a new deck on the back of our house. He was puttering away on it, highly dependent on materials, guidance, and assistance from our friend Bill, when the weather started to get cooler. The time constraint is that it has to be warmer than 5 degrees C for wood stain to cure properly, and it was starting to dip below that overnight in August.
Towards the end of the job, I got involved with the sanding. We spent a few days sanding deck spindles, then sanding the whole surface of the deck. The whole family got involved with applying the stain. Now we have a beautiful, solid, safe deck. I'm super proud of my husband for making this project happen, and thankful for our friend Bill, who made it possible.
Homeschool
In the middle of August, we started our first term of officially, intentionally homeschooling with Stringbean. We're using AmblesideOnline for history, Bible, literature, and "riches," along with Northwoods Press for Canadian history and geography. I've supplemented with as much Inuit art and history as I can find. We're doing Sonlight for science, and I'm making up a light Inuktitut curriculum, based loosely on my Pirurvik classes and my experience learning Spanish and other languages.
It's a LOT of content, and we don't get to it all every day. My byword for the first month was FLEXIBILITY. I was determined not to let my own penchant to be controlling ruin the entire purpose of homeschooling, which is to enjoy time together and explore our world. We largely succeeded with that in the first month. Now that the weather is less appealing and we're all struggling in turns with sickness, we've settled into a more regular pattern. We have a relaxed morning, with me trying to fit Inuktitut and Bible in with the kids, and maybe some riches, or a trip to the new library if we're healthy. In the afternoon, while MiniMighty is at Kindergarten, Stringbean and I pull out a big pile of books and spend an hour reading together. She does a few worksheets on her own, then gets some nominally educational screentime. As long as Dooner takes a nap, I get some kind of break. Between screens and time with friends, we limp through the rest of the afternoon, and I manage to scrape dinner together. It more or less works, and we've had some really enjoyable days.
MiniMighty is slowly adjusting to Kindergarten. It's hard for me to let her go, not knowing what she's experiencing there, especially since she comes home a reclusive rage monster. I was the same way in Kindergarten, which is part of why I ended up homeschooled myself! But she's slowly coming out of her shell, and telling me more and more of her experiences, both positive and negative. Deep breath, we're gonna make it.
Dooner is a font of words. She is fully verbal, and mostly potty trained, which is so wonderful that I can easily forgive her progress toward 3-year-old intransigence. I've given up my list of cute words she says, because it changes too fast. But our favorite babyism is that right now she transposes "s" and "p" at the beginning of words. Meaning she eats with a "psoon" and dresses up as "psiderman." It's the best.
Spinning
I haven't had much crafting mojo over the last couple of months, but I've chosen to think of it instead as having lots of family mojo instead. Homeschooling takes a ton of emotional energy, both to be creative and prepared with the content, and to be a positive leader in this new kind of parenting. I'm very thankful that I've had the energy to start well, with tons of support from Jared. Between that and the weather being nice earlier in the fall, crafting was just not on my mind, and it was great!
But I did keep spinning, thanks to my awesome friend Alide. Every Thursday night we can, we get together and spin for an hour or two. That kept me going on my cotton and soyasilk spins. A fellow homeschooling mom, I can safely say I would not have started homeschooling without her encouragement and support, and our fellowship has been so life-giving.
Also life-giving: we've spent a few of our spinning evenings in her greenhouse. I cannot tell you how epically cool it is to spend an evening of spinning surrounded by greens, and be sent home with tomorrow's fresh-picked salad. Now it's too dark in the evening to spin out there. But it was sure a precious time.
I'm caught up on August's spins, and still have September's to do. But as I come to the home stretch of the 51 Yarns spin-along, I don't mind if it spills into 2021. I know I'll finish.
Knitting
Over the last few weeks, as we've been indoors more, I've found my crafting mojo coming back, starting with knitting. During those afternoons with Stringbean, I can often pick up my knitting while we read. Especially since I've been sick, I've been keeping my hands busy as much as possible – If only to make myself pick up my knitting instead of my phone.
Last week I completed my "Evergreen Mountain" Pullover, made with my handspun yarn from early 2018. I'm happy with how the sweater turned out. It's the lace and faux-cables are a great stitch pattern, and by switching balls every other row, the color distributed nicely. But I'll be straight with you: I'm on the fence with how it looks on me.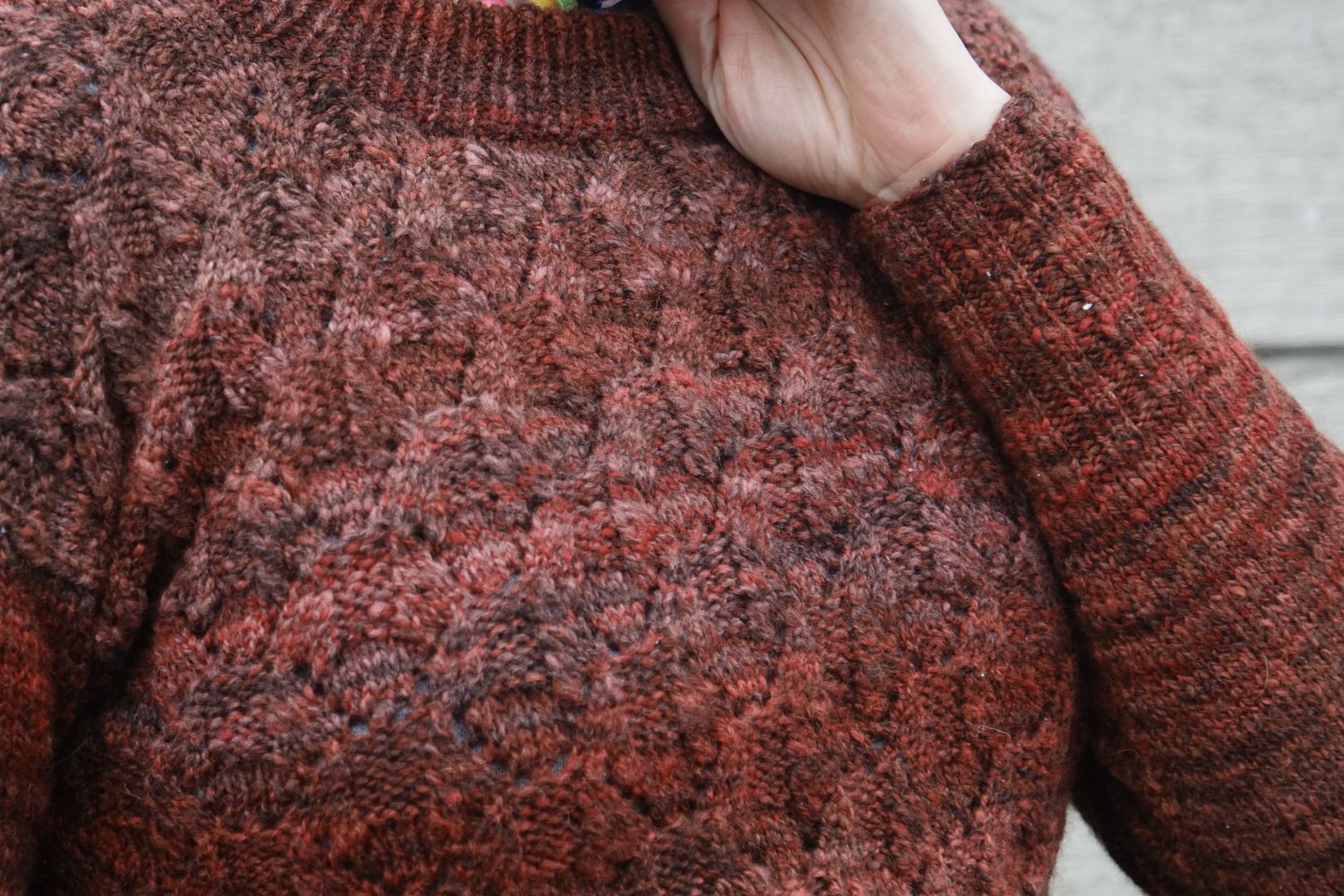 I like pullovers, especially if they're on the looser side. But this one came out more fitted than I expected. Frankly, when I start a sweater, I don't know if I'm going to have the same measurements when I finish it as when I started. Looking at these pictures, I'm not very pleased with the shape of my body right now. I'm trying to be kind to my body – it does a lot of things for me, and I'm so thankful for the health that I have! But these pictures have highlighted for me that I'm not quite where I'd like to be.
These pictures present me with four options: (a) alter the sweater, so it's more relaxed and flattering, (b) alter myself – lose weight until the sweater looks good, (c) alter the sweater for the present, but work on losing weight anyway, or (d) ignore the problem and wear the sweater as is, even though it makes me feel a little dumpy, eventually subconsciously pushing it to the back of the closet.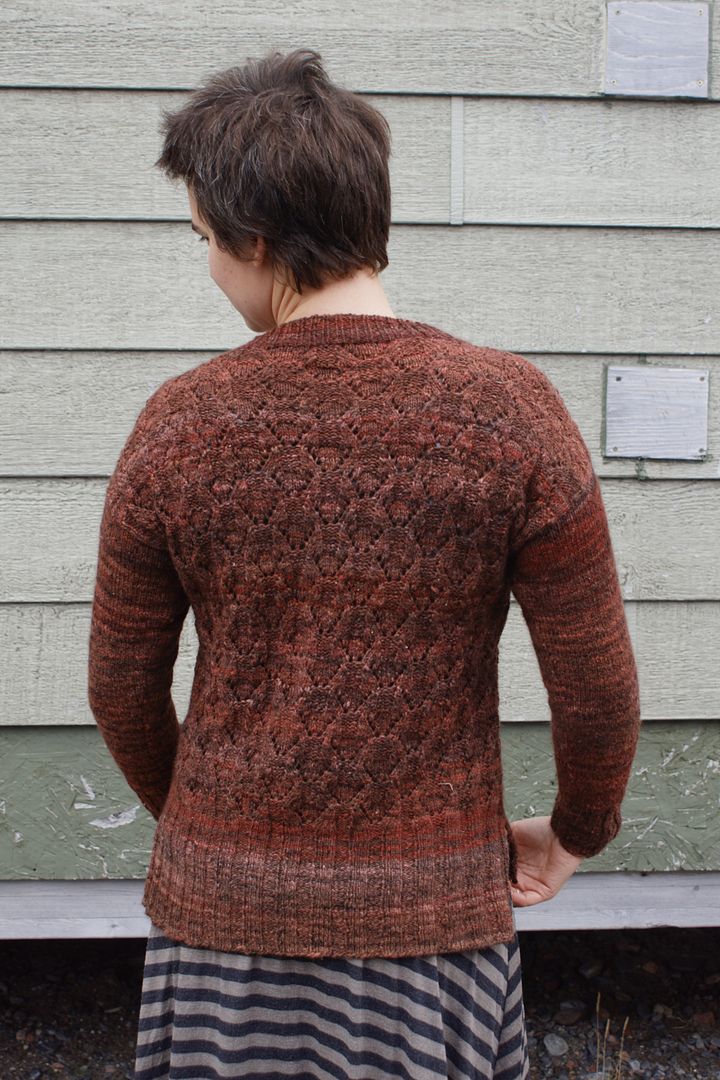 I am thankful for my body, and I would like to be kinder to it, both with how I see myself mentally, and with how I treat myself physically. That's the mission. The "how" is a conversation for another day.
Every time I start a new sweater for myself, Stringbean lets out a moan. She wants me to knit All the Sweaters for her, even though she doesn't wear the ones I've already knit her. Finally I explained the truth: "Kiddo, the reason I keep knitting sweaters for myself is that most of my stash is older than you are. I bought it for myself because you didn't exist yet, and I'm just trying to use it up!" But in the meantime, I managed to adapt a little of that stash into a project for her.
This yarn used to be a vest that Jared made for me, back when I was pregnant with Stringbean. It was cute, but I didn't use it much – it had that shape that makes me look pregnant even when I'm not. Not my favorite. So I ripped it out a few months ago, and after a little trial and error, settled on making the Love Note by Tin Can Knits for Stringbean. This is a superbulky yarn, so I'm using the stitch counts for the 0-6 month size, and it's coming out perfectly. Gotta love a quick knit – this is day 3 of working on it; I'll probably finish it tomorrow.
Sewing
This month has concluded with a spate of sewing. I had been in discussion for a while with our cabin friends about re-covering some of their cabin furniture. It is outdoor wicker furniture that they've had for a while, and the loose-weave indoor/outdoor nylon fabric on the pillows was coming apart at the seams. The back pillows all had gaping holes. They were looking around for someone to sew replacement pillow covers, and eager to contribute, I volunteered.
The only appropriate fabric we could find in town was Commander, which is one of the fabrics used to make the outer shells of parkas. I looked into upholstery fabrics, but they were just too expensive to get shipped up here, and we wanted something washable.
Having settled on a color and invested in 7.5 meters of the stuff, I set to work, only to remember that my sewing machine is giving me fits again. But there was no going back this time. Several hours of tears and YouTube University later, I have reconstructed and adapted the tension mechanism, changed needles, and figured out where to oil the thing, as well as several other minor issues. It still skips a few stitches in difficult bits, but it's working smoothly.
I am SO proud of myself. This is pillow #1 of five back pillows; I finished the fifth a few days ago. Working with a happy machine that I understand much better is actually FUN. So much so that I can't wait to get my hands on the seat pillows next.
Something else weird happened, in this week of illness. Craftsy is back, and I clicked on a FB ad and snagged a year's subscription for $2.50. I'm… a little obsessed. But, of all things, I'm watching quilting videos! Hold my hand. I'm not sure I'm going to make it through this illness without ordering some charm squares.
Ah well. This too shall pass, like all things. Jared has made a new spot for my loom, so I'm going to set that back up as soon as I get a chance. And there is a long list of happy projects to keep me busy. In this COVID-tide, we have so much to be thankful for.