Ringle is finally finished! I started wearing it right away. It's comfortable and "me" and is the first sweater I've made that just feels like wearing a warm shirt. And I've finally used some of my favorite handspun yarn.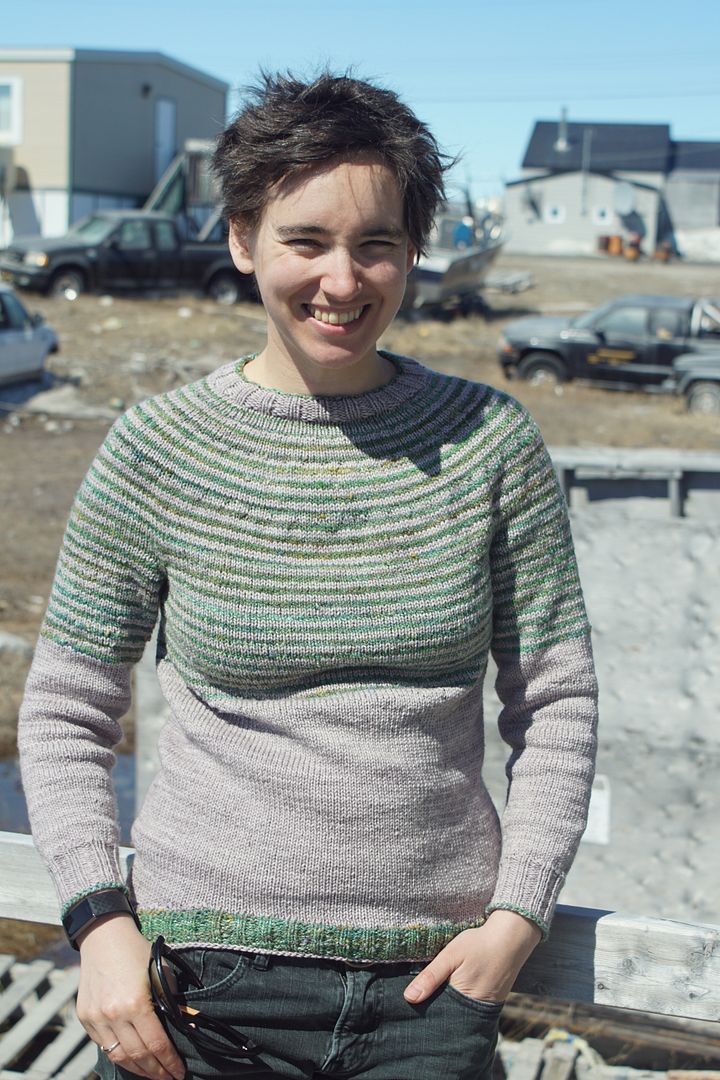 The pattern is Ringle by Kate Davies. Now, mods!
I changed it from bottom-up to top-down. I did this so I could maximize the handspun I was using, but it turns out that yarn went a lot further than I expected, so that was unnecessary. However, working top-down did allow me to fit as I worked. This was my first time really doing this successfully, making use of the needle extenders that came with my Addi Click set, and ripping back until I was confident it would fit.
2. Slight gauge issues. It turns out that the grey commercial yarn I used, Malabrigo Rios, knits up at a not-insignificantly smaller gauge than the handspun, even the handspun striped with the Rios. I compensated for this by (a) adding a few stitches discreetly right after the striped area, and (b) on the sleeves, I didn't start the decreases for quite a while; I let the color transition be the first set of "decreases."
3. Sleeves. I had to add several more stitches to the tops of the sleeves. Whether that's because I had smaller gauge on small-circumference needles (supposedly a common issue), or because my upper arms are disproportionately large compared to the measurements used by KDD in pattern scaling (an issue others have run into), I don't know. Working top-down was so instrumental in allowing me to fix this easily.
3. Hi-lo hem. I have a slight problem that when I get down on the floor to play with my kids, one of my other kids walks behind me and has a good laugh at my exposed bum. I realize the long-term solution is to get some jeans that actually fit me, but in the meantime, I decided to let my sweater give me a little rear coverage. I completely winged this – squatted down and used my fingers to measure how much more fabric I wanted, measured that against the sweater to count the rows needed, guessed that a 3-stitch gap between turns was about right, and positioned the slanty section to be centred over the side. I really like it.
4. Colours. (a) Obviously I ran the stripes a good bit lower than in the pattern. I really like the look of Lovage by Marie Wallin. Letting the yoke run much deeper draws attention to my actual waist, which is very high, and avoids the unfortunate look which KDD once described as "waistboobz." I realize a longer patterned area also looks much more casual, but that suits me just fine right now. (b) I added a contrasting hem. I wanted to use up a bit more of my handspun, and at the length I was going for I figured it would look rather belt-like. But I kept the detail of binding off in the opposite colour.
You know, I haven't actually blocked it? I just threw it on, and it was so comfortable I kept wearing it. That's a testimony to having knitted a sweater that actually fits, in a fabric that's actually wearable.
Hopefully when I do wash it, those increase rows won't look so noticeable, but that's probably also the strong light I was photographed in. Here I am looking forward to putting my sunglasses back on. It is SPRING here!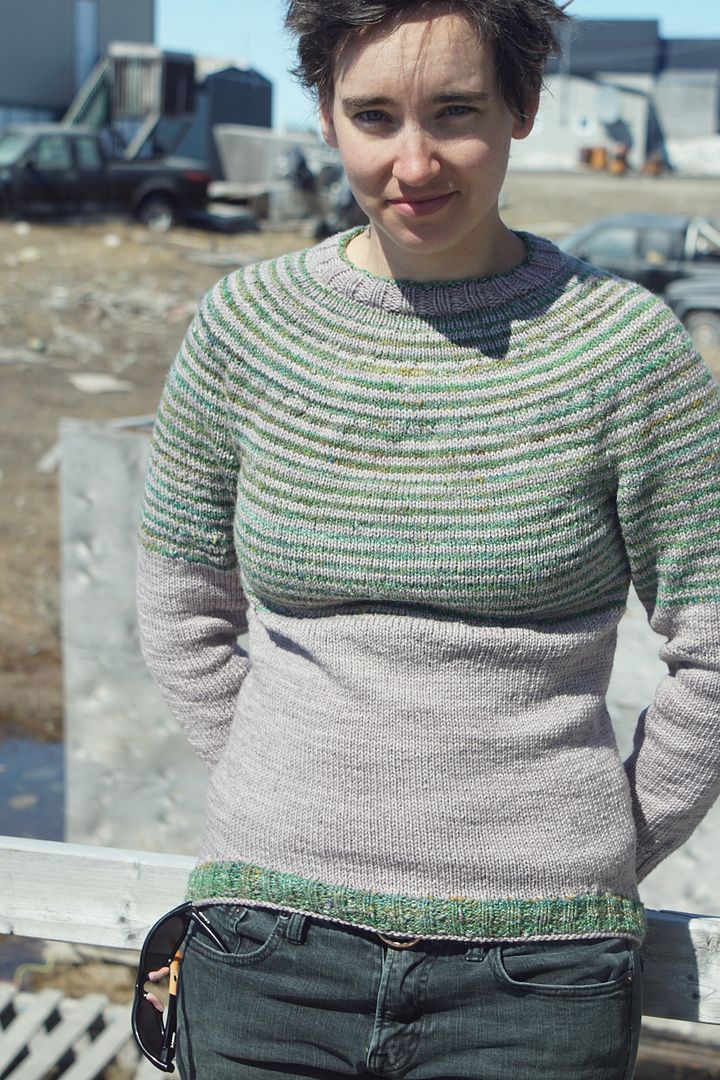 I'm so glad I gave up on Keith Moon and tried another pattern. It was a long time coming, but so worth the wait. I'm thankful I live in a place that this is still great to wear in June!