This post is part of a spin-along through 51 Yarns by Jacey Boggs Faulkner, in the Wool n' Spinning community. For other posts in this series, check here.
If I felt tentative and insecure about the first singles I spun for this study (below at left), I felt much more comfortable with the energized singles (below at right).
I wanted my energized singles to be very different to my my soft singles, so I changed it up. I spun closer to my default singles for the spindle, and I added as much twist as I could stand. Like, I spun it what felt right for a tight two ply, then added more twist.
From reading Jacey's book, it sounds like the main point of energized singles is to use them before blocking. I broke my fiber in half, spun half of it to the bobbin, and wound that half into a skein for measuring. Then the other half I wound into a ball right off the bobbin, and used it to knit.
As you can see, that's a pretty advanced degree of bias! Mission accomplished.
What happens with energized singles in knitting (or any unwashed or overspun yarn, meaning one with extra energy) is that the energy has to go somewhere. A knit stitch has two legs, one of which curves around to the right, and one to the left. As the yarn tries to unwind itself, it tightens one leg and loosens the other. Hence, each stitch is hobbled, making a fabric that leans in the opposite direction that the yarn was over twisted. You won't get biasing in, for example, garter stitch, because stitches leaning in opposite directions are stacked on top of each other. You'll still get it in rib.
I have so many questions about these singles. What happens if you knit with the singles after you wash the skein? Does the twist dissipate in the wash with the swatch as well as the skein?
I couldn't answer all the questions, but I had a go at one. My knitted and woven swatches were both made with the unwashed energized singles, and then I washed them to see how they changed.
Above you can see the post-wash knitted swatch. I didn't pin it straight, just massaged it as straight as it wanted to go and left it. I figure that even if I pinned it, it would end up around this biased after every washing. It's definitely less biased, but still plenty.
I also wove up a little sample with these singles as warp and weft. The fabric didn't bias, but right off the loom it did want to curl.
This calmed down substantially after a bath.
What I didn't mention on either of the posts about the other two singles is that on their woven samples, I used these energized singles as warp.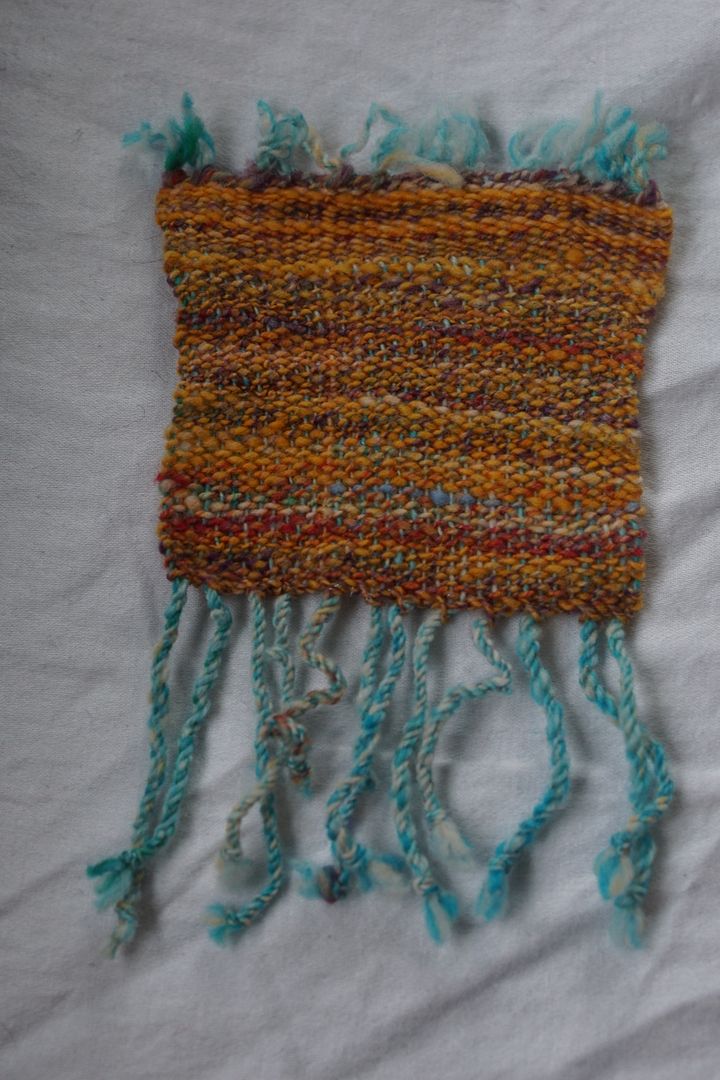 I did this sample on the tapestry loom. Do you like my improvised apron rod? This setup worked very smoothly. On the rigid heddle loom…
…not so much.
The difference, of course, is that in warping the tapestry loom I could keep the singles under tension. On the rigid heddle, I attempted to use the direct warping method. As soon as I finished beaming on and let the ends go, I got a hot mess. I'm sure there are better ways to do this; I just don't know them yet. The singles made such a great warp on the tapestry loom that I can see it's worth trying again.
Energized singles was an awesome experiment. They're part of a larger question of how excess twist works in spinning and transfers to other crafts.
These singles were a joy to make and sample. There's so much more to the world of singles yarns; I could spin nothing else for years and not exhaust their possibilities. But this was an awesome little foray.