My second weaving project is done! In this episode I focus on my planning process, going from a color gamp sample to finished pillows. The stripes appear random, but they are actually the name of our new home in Morse Code. The blue background says "Kangi&iniq," the Inuktitut name for Rankin Inlet, and the purple background says "Rankin." (The & stands for a q+l sound which is in the local dialect of Inuktitut but not in the dialect where we came from!)
Resources:
I got the opportunity to sign up for Liz Gipson's patreon, and watched all of her Weaving 101 class in between the last weave and this one. I had thought, "Oh, I've seen lots of beginning-weaving videos on YouTube; I don't really need this course." But I was wrong. Liz is super-detailed in this video, and because she takes you so incrementally through every step, you get all those little in-between bits of knowledge that make the whole process easier. Like an understanding of how to angle weft properly, and how to fix accidental floats. I'm such a beginner that I still don't know what I don't know, so I appreciate a thorough approach.
I used Syne Mitchell's "Morse Code Scarf" pattern for inspiration, from her book Inventive Weaving on a Little Loom. I've recommended this book and I'm sure I will again.
I wove this piece on my Glimakra Susanna 27″. It was 238 ends in the 13-dent reed. The yarn was fingering-weight from Colorstorms yarn, which is my mum.
Uf, talk about your series of learning experiences! Can you tell that my warp is on the loom backwards? Obviously I couldn't either. I did not figure it out until I sat down to start threading. Thank goodness for removable apron rods. Additionally, the wonky tension that resulted made for a great opportunity to learn how to weight loose warp threads (I used pens), and fix undesired floats (there were many.)
You may also notice how un-centered my loom is in the above picture – at the time, that's the only issue I thought the picture contained! I learned I need to put a bag of rice or something on the crossbeam of my loom stand so it doesn't slowly slide towards the warping peg, and not wrap so tight when I'm direct warping.
It might seem trite, but it meant a lot to me to be weaving this message of thankfulness over the last couple of weeks. Our sea can arrived a week ago, right after I had started weaving. It was like moving in all over again, except this time we were unprepared for the chaos. It was hard not to freak a little bit. The downside of the minimalist movement is that all my possessions felt like an accusation.
It was deeply good to sit down at the loom for a short time every day, and weave thankfulness. Thankful for where I live, thankful for our family, thankful for our health, thankful to use my hands. Sometimes not even that articulate: just breathing, throwing the shuttle: thank you, thank you, thank you God.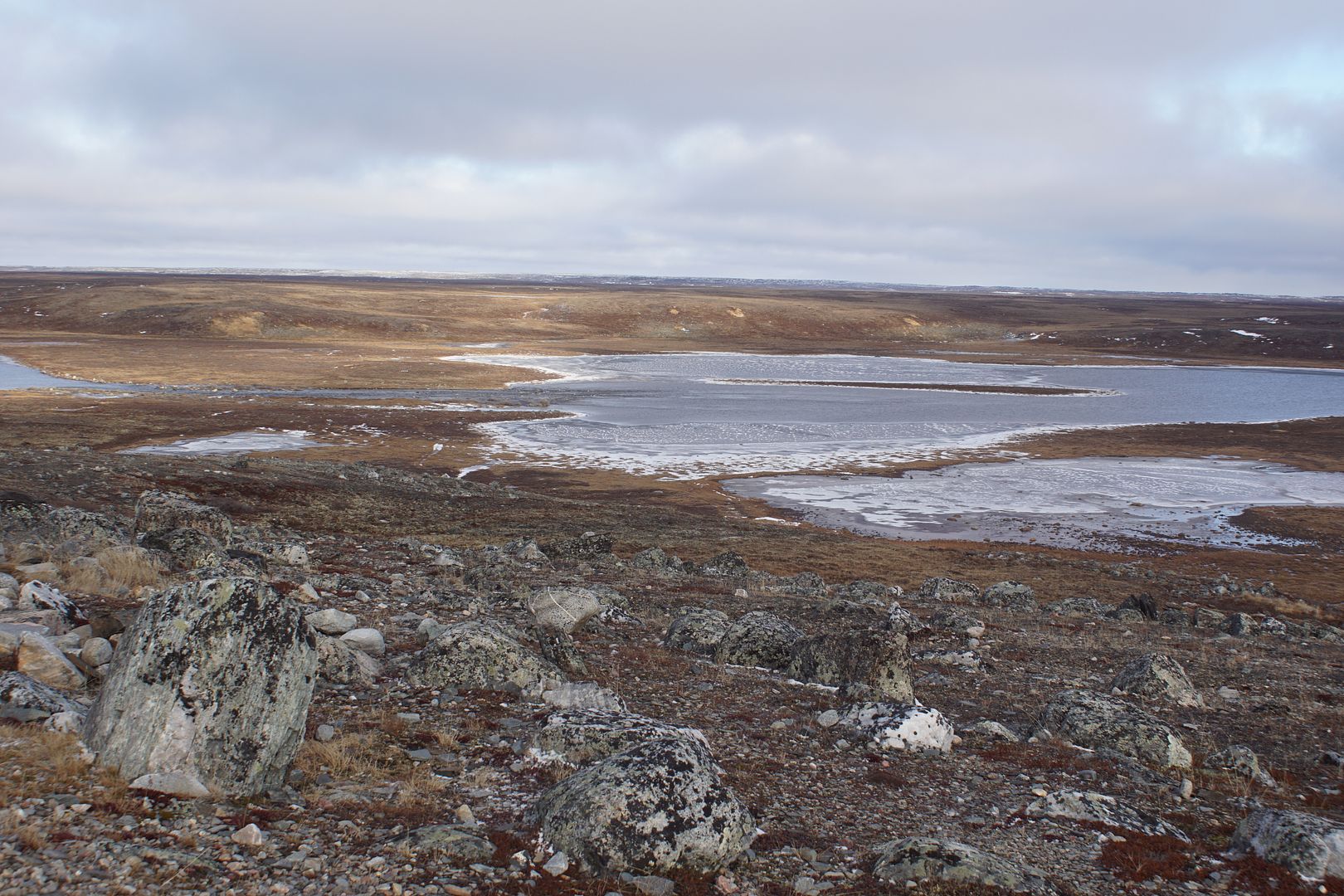 From Iqaluit to Kani&iniq, or Rankin Inlet. We are home. Happy Thanksgiving where you live, whether it's early or belated!