Happy Canadian Thanksgiving everyone!
This is my last post about my knitting through the Bluestockings book by Kate Davies and Nicole Pohl. It came out a few weeks ago, and my copy arrived in my hot little hands this week! As usual, it's a beautiful book, this time with lots of full-page historical reproductions and long articles.
And you guys, I can never get over the paper Kate's books are made of. It's just so… sexy. You just touch the cover and it's like…. oooh. Yeah, OK, I'm weird about paper. But you have to understand, I don't buy physical books anymore. I have literally made more books than I have purchased in the last two years. I buy these because they are worth it.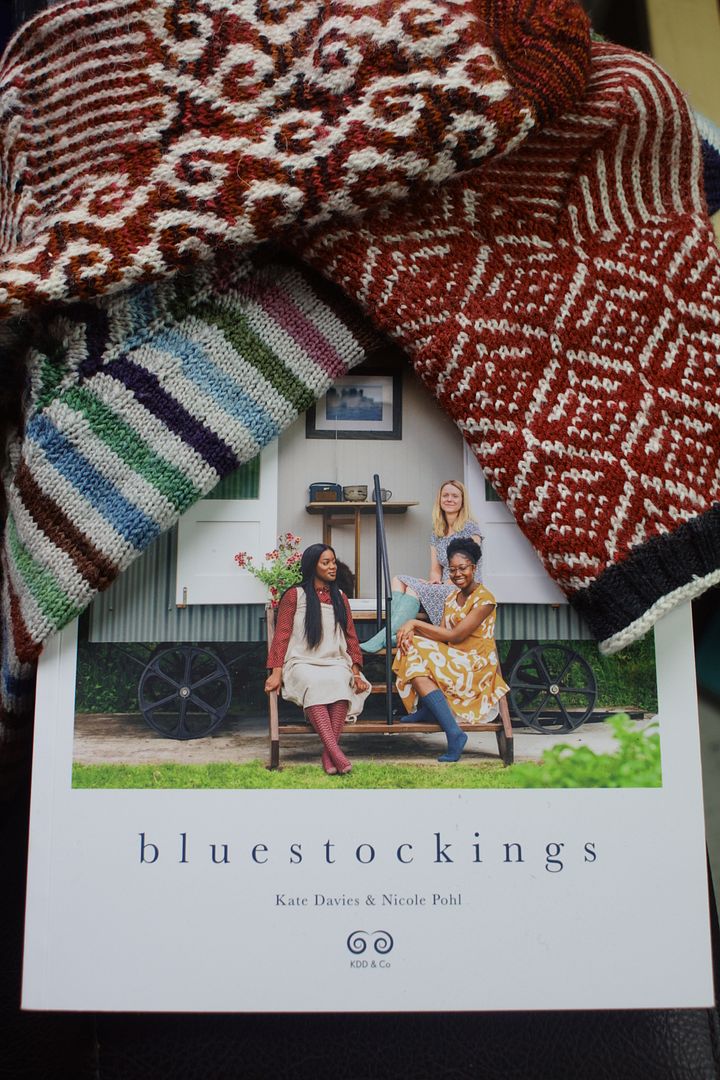 Anyway, I finished my last pair of blue stockings back at the end of July, with just enough time to photograph them in my mother's garden.
The main yarn is one that my mom dyed herself and gave me for Christmas a couple of years ago, belonging to her "Playful Pairs" line. She's done amazing work mastering multicolored dying with natural ingredients. For the contrast yarns, I used some nondescript white sock yarn I had with me (also used in Mercy Otis Warren and Mary Delaney) for the flowers, and a green leftover from Phillis Wheatley Peters, also dyed by my mom.
After the all-over patterning of the last several pairs, Sarah Scott knitted up in a breeze. The bands of patterning were nice additional benchmarks in an otherwise plain pattern.
As for the woman herself, Sarah Scott makes a nice bookend to the personalities profiled in the Bluestockings book. Sarah Scott is the sister of the first woman profiled, Elizabeth Montegu, but she had a much poorer marriage which ended in separation. As a result, she did not have the wealth and influence her sister commanded, but she had the same talent. She wrote novels, both of the sentimental type to sell and make a living for herself, and of a type presenting a picture of egalitarian ideals. She is humbler in status than her wealthy, magnanimous sister, but her determination and productivity are even more remarkable.
I knit these seven pairs of socks entirely for fun, to use up stash yarn, and to engage in the online KDD community during a new release, which is just a good time. Unexpectedly, Kate asked me to write an essay about my experience of knitting all seven Bluestockings patterns this summer, which you can read here.
While that article was paid for by Kate, these posts about the Bluestockings and my blue stockings are in no way renumerated, and come solely from the enjoyment I had knitting them and my desire to share the interesting stories they communicated. This is my very most favorite kind of knitting: an invitation into participating in an art form, which creates an artifact, which in turn makes you part of a bigger story. I highly recommend the book just for its essays, which are the larger part of the book, though the socks are all lots of fun too. As the weather turns colder and our thoughts turn inward, I will be wearing my blue stockings and knitting away at my own industry!