I've tried to say a little something about each of the ladies who inspired the Bluestockings patterns. It was easy for me to speak a little to each one. Except one – Phillis Wheatley Peters. Here I put a few words in my flawed way to honour a woman whose story silenced me.
Mrs. Peters was a slave woman who managed to free herself using the proceeds from her own published books of poetry. She became the first woman of African descent to become a published author in either the U.K. or America.
I can state these bald, stunning facts. Within them is a complex story of an incredibly bright woman who suffered the terrible injustices of her age, but who found a faith and a voice to express and support herself.
Almost everything I know about Mrs. Peters I credit to Kate Davies' essay about her, which was part of the Bluestockings series of educational emails, and which I believe will be a part of her just-published book.
The rest I am learning from reading Peters' poems.
O Thou bright jewel in my aim I strive
To comprehend thee. Thine own words declare
Wisdom is higher than a fool can reach.
I cease to wonder, and no more attempt
Thine height t' explore, or fathom thy profound.
But, O my soul, sink not into despair,
Virtue is near thee, and with gentle hand
Would now embrace thee, hovers o'er thine head.
Fain would the heav'n-born soul with her converse,
Then seek, then court her for her promis'd bliss.

From "On Virtue"
The book of her poetry that I am able to access is entitled Poems, on Various Subjects Religious and Moral. You can access it for free thanks to the Gutenberg Project.
She was clearly influenced by the earliest evangelicals, such as George Whitfield. This is bittersweet to me. That early legacy of Evangelicalism was where the anti-slavery movement was born in England, as well as the international missions movement of whose complex history I am a part. This was the movement whose driving passion was to see the gospel of Jesus and a personal relationship with God accessible to persons of every stature. This was the movement that put God's vision of the equality of human beings above society's view of them, and that birthed so much of the social programs that continue to benefit so many today. May we remember, not to honour ourselves, but to see how far we have fallen, and honour God by doing better.
Many of Mrs. Peters' poems were written as eulogies to people she admired. One of them was George Whitfield. This is what she had to say about him:
Thy pray'rs, great saint, and thine incessant cries
Have pierc'd the bosom of thy native skies.
Thou moon hast seen, and all the stars of light,
How he has wrestled with his God by night.
He pray'd that grace in ev'ry heart might dwell,
He long'd to see America excell;
He charg'd its youth that ev'ry grace divine
Should with full lustre in their conduct shine;
That Saviour, which his soul did first receive,
The greatest gift that ev'n a God can give,
He freely offer'd to the num'rous throng,
That on his lips with list'ning pleasure hung.
"Take him, ye wretched, for your only good,
"Take him ye starving sinners, for your food;
"Ye thirsty, come to this life-giving stream,
"Ye preachers, take him for your joyful theme;
"Take him my dear Americans, he said,
"Be your complaints on his kind bosom laid:
"Take him, ye Africans, he longs for you,
"Impartial Saviour is his title due:
"Wash'd in the fountain of redeeming blood,
"You shall be sons, and kings, and priests to God."

From "On the Death of the Reverand George Whitefield. 1770."
Poetry is a fickle muse, one I have been too terrified to court. I find poetry intimidating both to read and to write, and so am not as knowledgeable in the subject as I could be. But I am impressed with Mrs. Peters work. I mean, anyone who can write flowing, rhyming verse has my profound respect. Phillis Wheatley Peters writes about her time from a perspective I cannot ever understand fully, but because we share theological ancestry, I can both relate to her work and appreciate the completely unique perspective she writes from.
One short poem, called gives a stark and challenging piece of her perspective.
'Twas mercy brought me from my Pagan land,
Taught my benighted soul to understand
That there's a God, that there's a Saviour too:
Once I redemption neither sought nor knew,
Some view our sable race with scornful eye,
"Their colour is a diabolic die."
Remember, Christians, Negroes, black as Cain,
May be refin'd, and join th' angelic train.

"On Being Brought from Africa to America"
On the surface, this looks like an approval of the terrors she suffered, but many of her other letters and poems show how deeply she felt both the collective injustices her people suffered and her personal loss of home, family, and culture. What this poem shows is her doing her own profound theology. She sees God's hand in her history, sees herself in the Bible, and knows that God values her people as equal. It's a quiet rumble that the captors who brutally enslaved so many, also brought them in reach of a faith that became the foundation and fuel of their fight for freedom.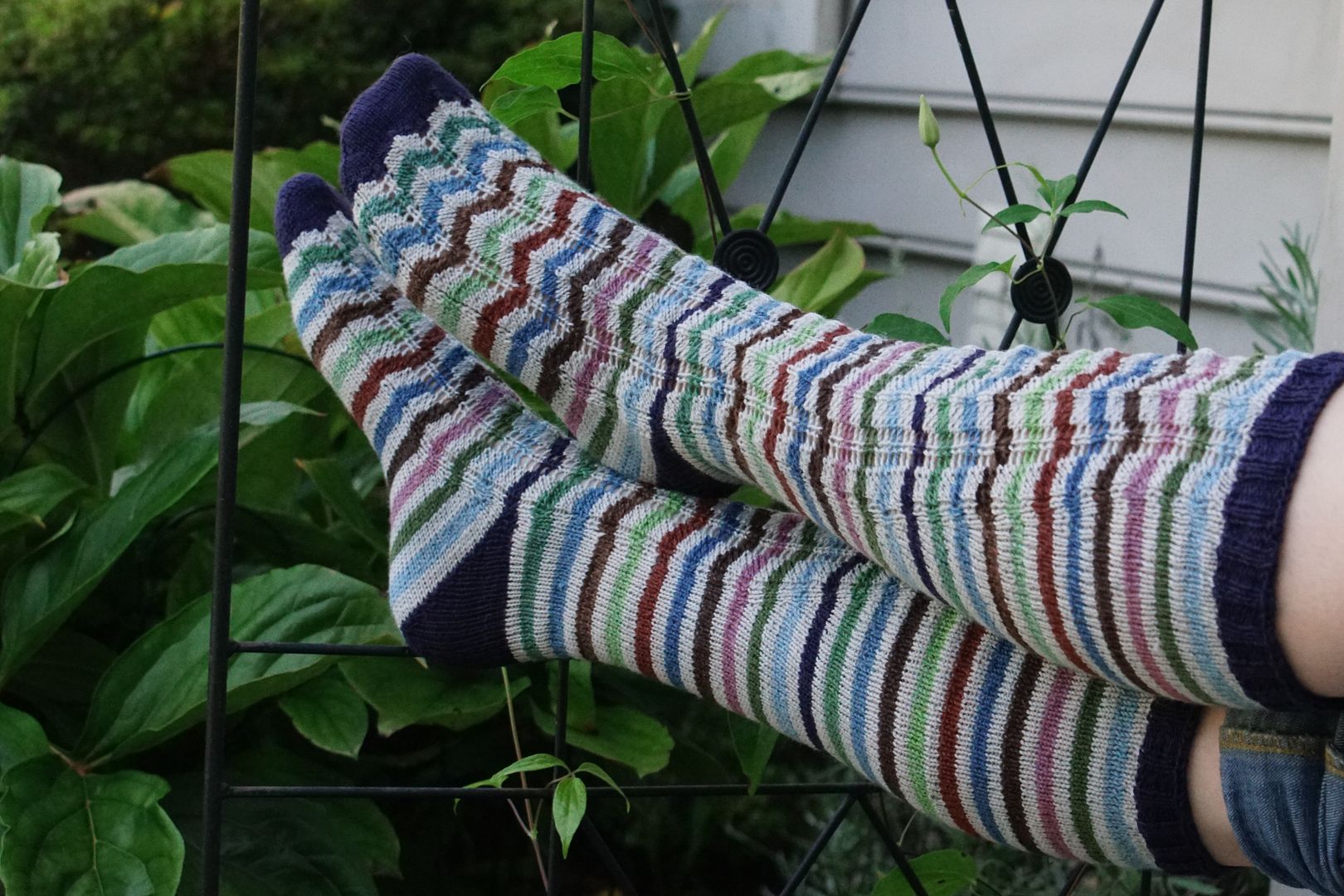 I learned about Phillis Wheatley Peters because of a pair of socks. Although it took me a while to find words to attempt to honour her, in the meantime, I did my best to honour with the longest pair of socks in the set.
They are knit out of yarn dyed by my mother, lots of leftovers from two different projects. I lined up all the leftovers I had and chose the ones that pleased me to make a sequence. I then used that sequence as the contrast color. By pure good fortune, the sequence exactly fit on the foot of the sock. One sequence was not quite long enough in the leg, but two repeats were just right to make a full-length stocking. These were the only stocking-length socks I made for the club.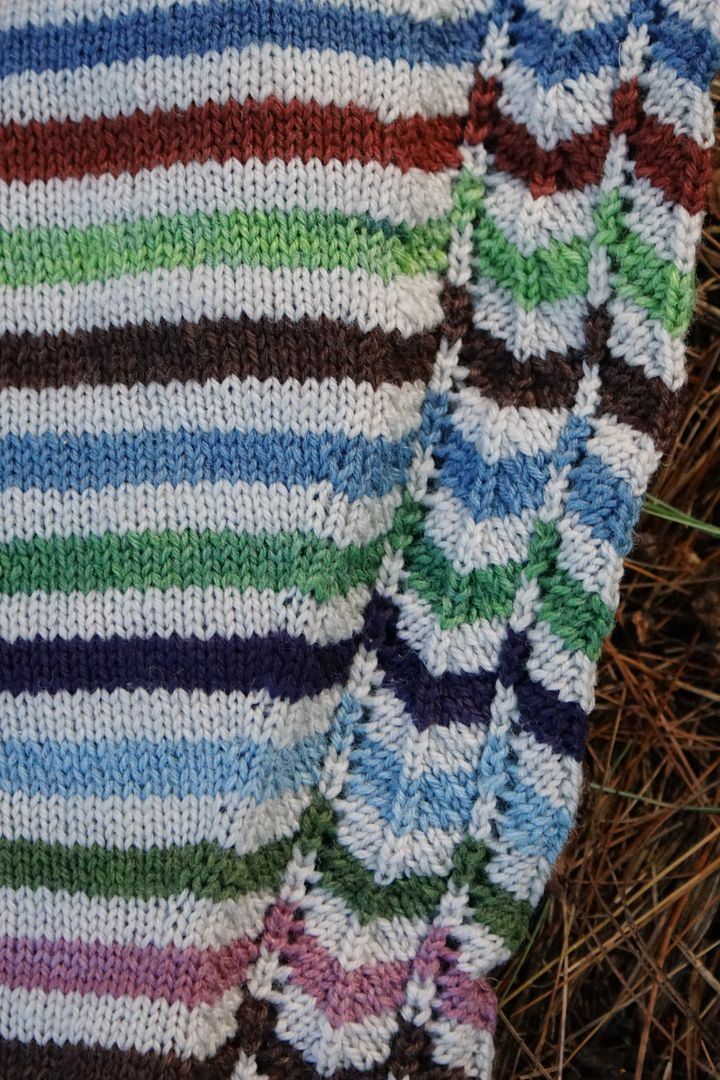 The technique I used did result in an absolute shag carpet of ends inside the stocking. It took about six hours to weave in all the ends. But it was worth it.
I am thankful for Phillis Wheatley Peters' faith and work. I'm thankful she got to spend the last twelve years of her life a free woman. I pray that those of us who share her theological heritage can do better. A lot better.