April is always odd and overwhelming, since four of our family's five birthdays are in April. This time, though, this mostly involved a series of desserts and gifts wrapped in copies of the Nunatsiaq News.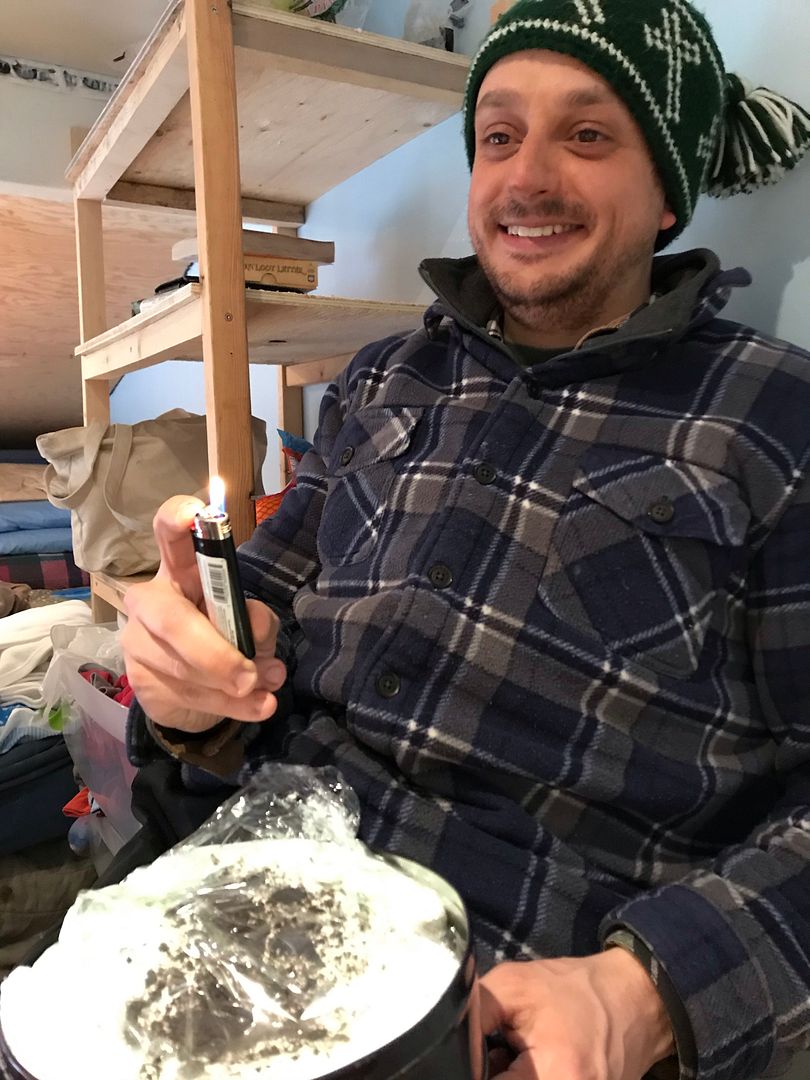 MiniMighty and Dooner were supposed to have a shared birthday party, but life happened, so the party hasn't. If I can remember to send MiniMighty to school with invitations, we'll have it next Saturday. I type this in order to brace myself emotionally.
What we have had this month, making it special and odd, is lots of travel. Jared's birthday present was a trip to Iqaluit, where he went fishing with friends. That was ten days of the month, and we've spent another third of April out at our friend's cabin. More about that in a minute.
When we were home, there was lots of ice skating, friend time, and crafting. The hamlet makes ice rinks out on the pond in the middle of town, which is just a grand time. There's nothing quite like being blown across an ice rink!
While Jared was gone in the middle of the month, I dedicated myself to finishing Stringbean's new kamiks. I've already written about making the other layers, along with the other bit of sewing I managed this month. I'm pleased with how these kamiks turned out, though (accidentally) they are rather a mix of regional styles.
[[NOMES W KAMIKS]]
The other big thing that got done at home was the Great Natural Spin, finished earlier in the month. I am so chomping at the bit to cast it on! But, two other handspun sweaters to finish first.
Cabin time was extensive and lovely. Everyone I've spoken to this spring knows how much we've wanted to be out on the land, but were prevented by weather and trips until now. We are making the most of it.
After Easter, we went out for four days during spring break. While there, we celebrated both my and MiniMighty's birthdays. (She is SIX and I cannot deal with that.) That trip we had good weather on travel days, but cold and windy days indoors. We didn't mind; it was just so good to get out.
Cabining has been my designated time to work on complex knitting projects. That first trip saw me finish the second fair isle band on the body of Chrysler.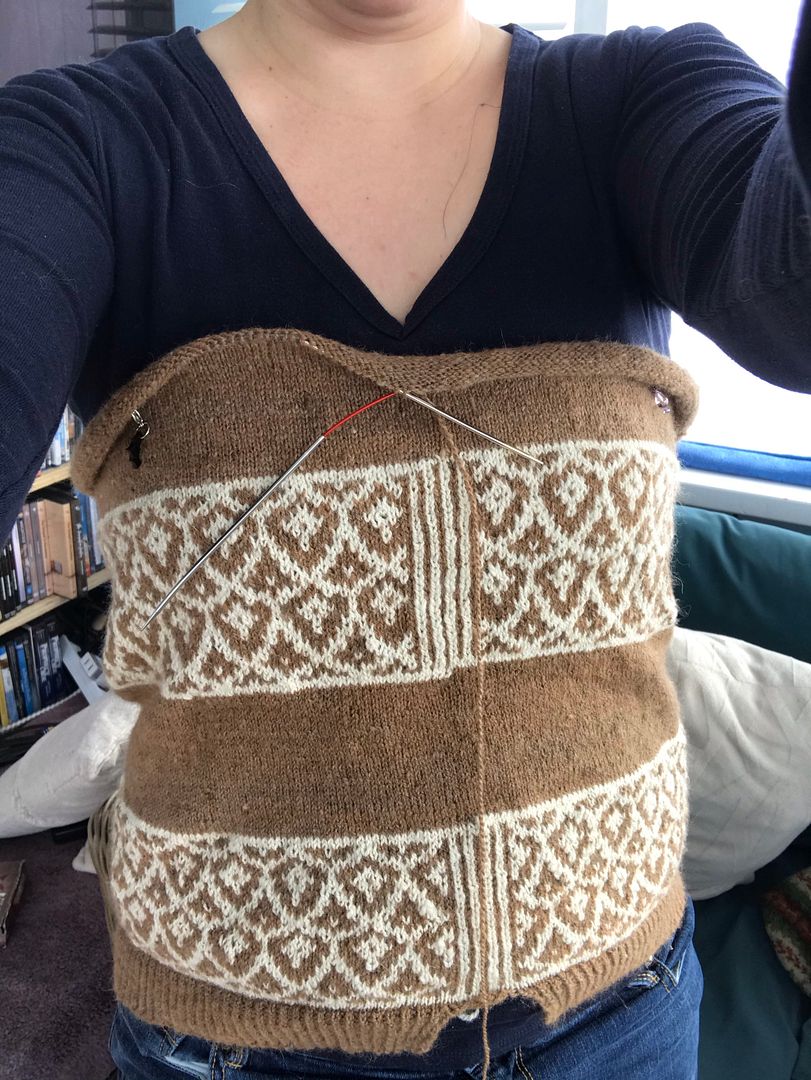 The second trip was a bit of a surprise. While Jared was in Iqaluit, a COVID-19 outbreak started that is ongoing. Because of that, Jared had to quarantine for two weeks on his return, which means quarantine for all of us. We decided to spend most of those two weeks out here.
This trip has been different. It's meant homeschooling in the morning while Jared tries to work. It's meant laundry and baths with water from melted snow. It's meant recording church services on Saturday so Jared can skidoo back to town and upload them. It's meant untold rounds of Mexican Train Dominos and Munchkin in several varieties.
I feel incredibly fortunate that our family can spend this time together practicing simpler ways, away from our usual set of distractions and responsibilities.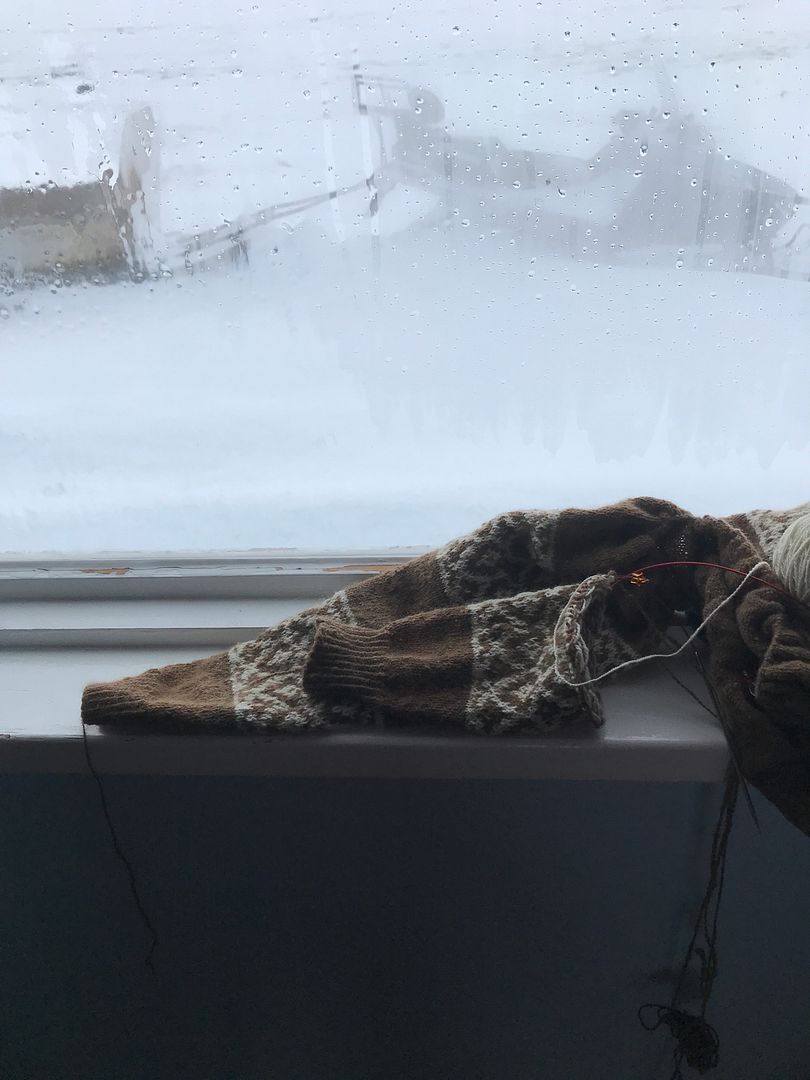 While out here, I've done one and a half sleeves of Chrysler. It would be magical if I could finish the second sleeve before we get back. I appreciate that the design breaks each sleeve into five chunks, one of which I can manage each day.
The orange sweater is done through the yoke, but I don't have a new picture of it. You'll just have to believe me.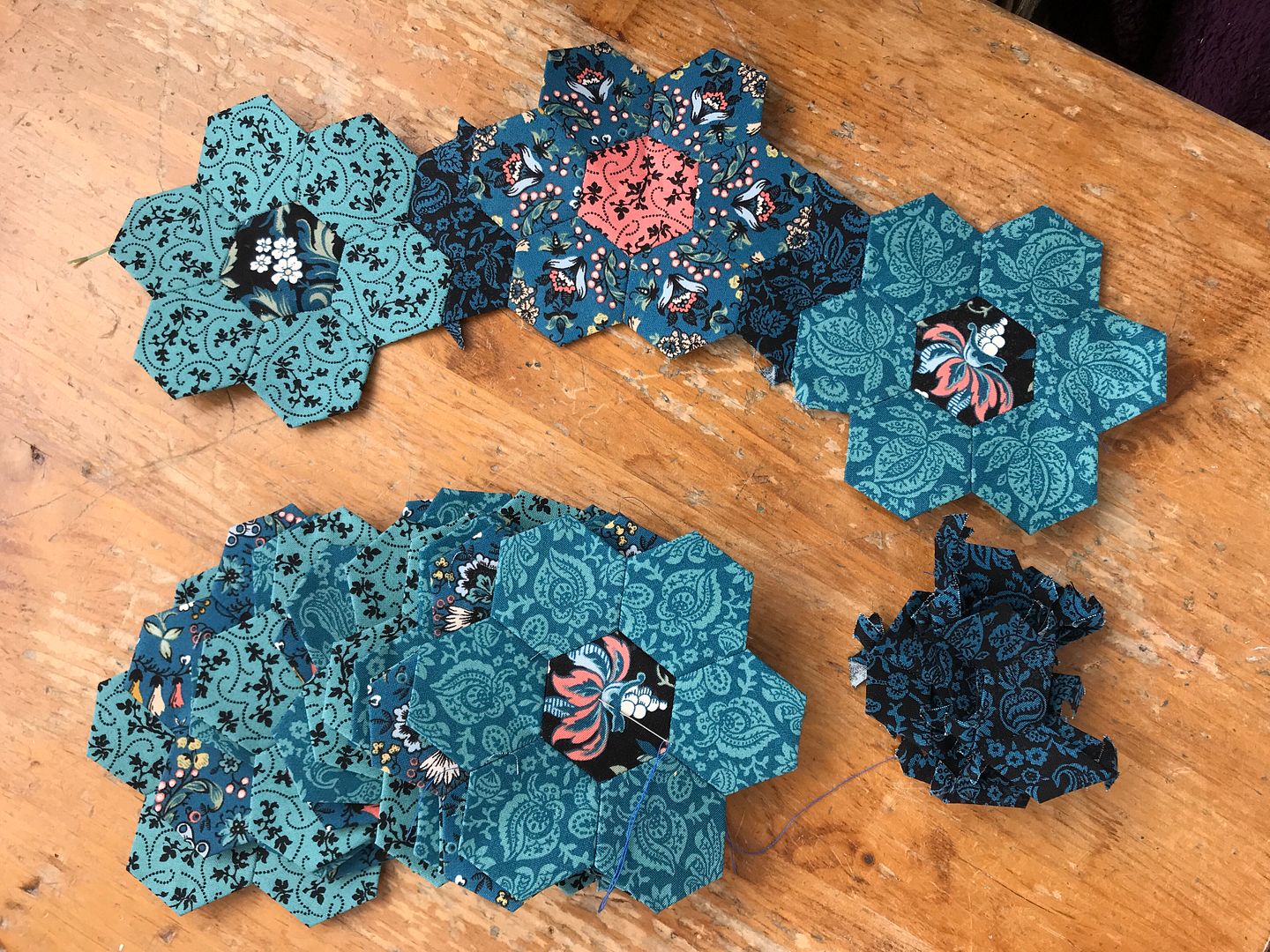 I've also been working on something else… remember those thousand or so EPP shapes I prepped earlier this winter? Well, on days I couldn't work on the kamiks, but didn't want to start something else big, I started poking away at sewing wee hexagons together. It goes loads faster than I thought. 1" seams are, in fact, very short. I'm already through the first set of eighteen flower shapes, and I'm sewing them together into the first set of completed units. This project can keep going on in the background for years, to come in and out of my attention. I just needed something to work on that wouldn't be too demanding.
Project wise, it's been a month for completing and making solid progress on things that I value and care about. Handspun projects and traditional projects and upcycling projects. Checking boxes which are important to me, clearing the way for more new things. It's felt like discipline. It's felt good.