Do your projects ever come and go in groups? It seems like I start several things at the same time, and finish them around the same time. Projects associate themselves across different crafts, which I suppose helps me to keep moving in all of them at once. Anyway, I am in a finishing-things stage right now, and I just finished a few sewn things.
I got pretty excited about the camisole project I started last month. It took a bit of doing, but I made ten thrift store shirts into eight camisoles for myself in total.
The Basic Tank pattern from Halfmoon Atelier was very nice to work with. I made nearly all of them longer, simply starting them at the shoulders of the T-shirt, then extending down to the hem of the shirt. This made the camis much longer, useful for me, and saved me the trouble of hemming on nearly all of them.
I'm really happy with how they came out. This pattern just fits my body so nicely. The T-shirt material has a bit of heft to it, much more substantial than the elastic-infused stuff in most of the camis I have owned. It's not as body-hugging as those are, but it follows my curves just the way an undershirt should. The neck is rather low for me to show you a modeled photograph, but as I'm still nursing my toddler, this is a necessary feature. Though if I just shortened the straps a bit, a couple of them are nice enough to use as summer tops on vacation.
This one is my absolute favorite. It was made from a polo shirt. It has that polo-shirt fabric that was a little different from regular jersey. This project was a great opportunity to mess around with different fabrics, which also made me realize I do not know the names of said fabrics. "Polo shirt fabric" is that knitted fabric that seems to have lots of tiny slipped stitches, every other stitch slipped in alternate rows? And then there was this one, which I think of as "wife beater fabric." Someone please tell me what it's really called, and rescue me from ever having to type that again.
It's a sorted knitted waffle weave, like thermal underwear but lighter? I made this one from an XXL women's thermal shirt.
I was careful to select shirts that looked not too worn, that had fabric with plenty of structural integrity. Still, about half have little logos on them, or a paint splotch here or there, which relegate them to underwear-only. The other half came out really spiffing. I made contrasting bands on some of them out of necessity, but I like how sporty they look.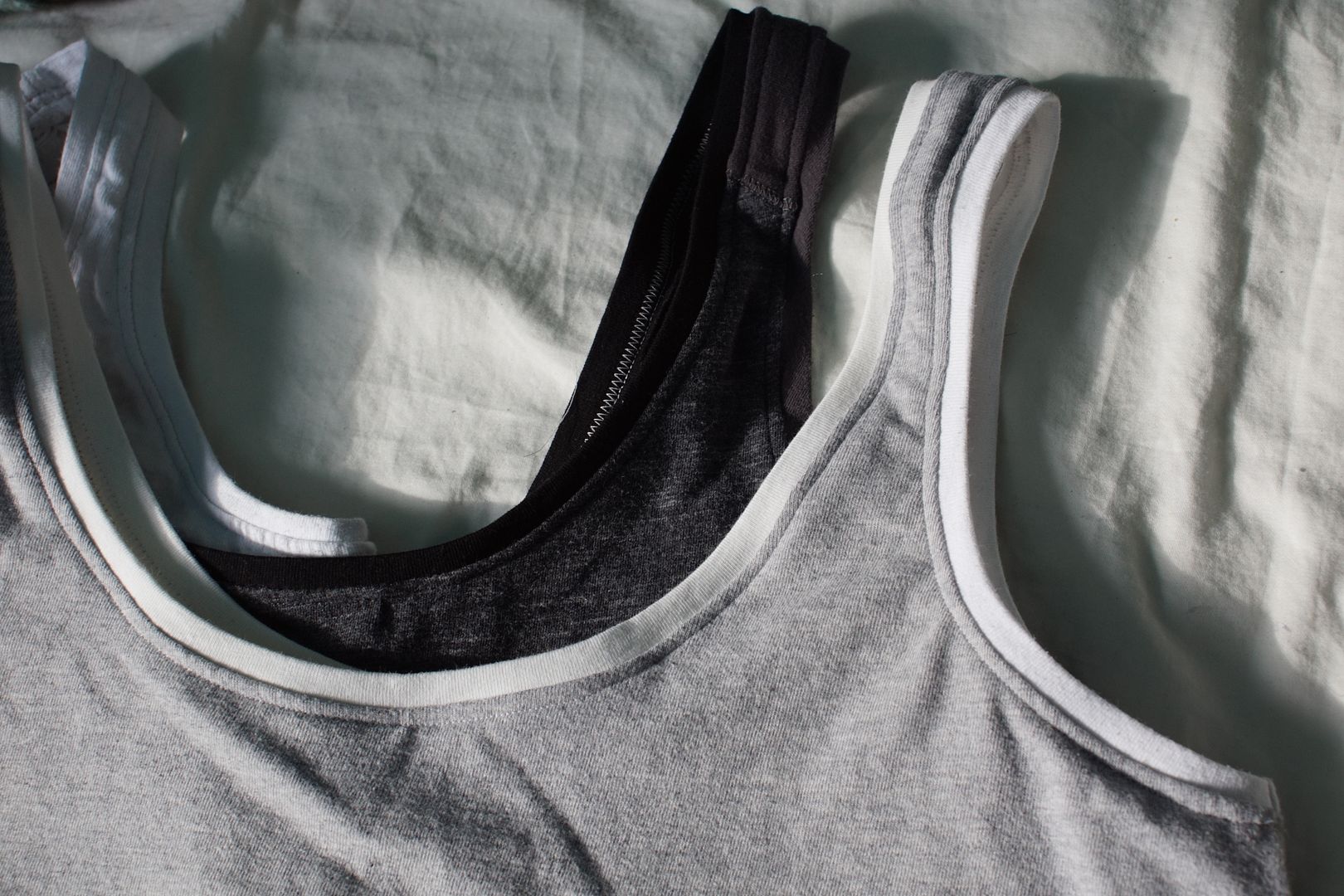 And this one's a bit of a joke. Jared has a Sriracha shirt that he loves, so when I found this XL one on offer, I made myself a tank to match.
This was definitely a practical project rather than a passion project, but I'm very happy with it. 10$ and a handful of hours, and I've restocked an essential garment without adding any more waste to the world. Not something any of us can do all the time, but I'm very thankful when it works out.
Further sewing! You thought this post was over, didn't you?
Well, I have lots of big projects waiting in the wings, but I'm making myself wait to start them until Stringbean's new tuktu kamiik are done. I was going along like blazes, forgetting the whole time that I hadn't yet made all the other layers for the kamiks. There's the aliqsiik, or duffel socks, which in this region are called kamikpaks.
The top of these beautiful duffel socks, the dark blue with yellow roses, were given to me a while ago by the late Uliipika Nooshoota. I realized that I could make them a bit narrower, then they would be perfect for Stringbean. Doing so cut out one of the rose motifs. I kept them very long, as you see, because when my kids wear their kamiks they are usually not wearing snowpants. They wear them to church or to go visiting. So it's handy to have the kamikpaks go all the way up over their knees.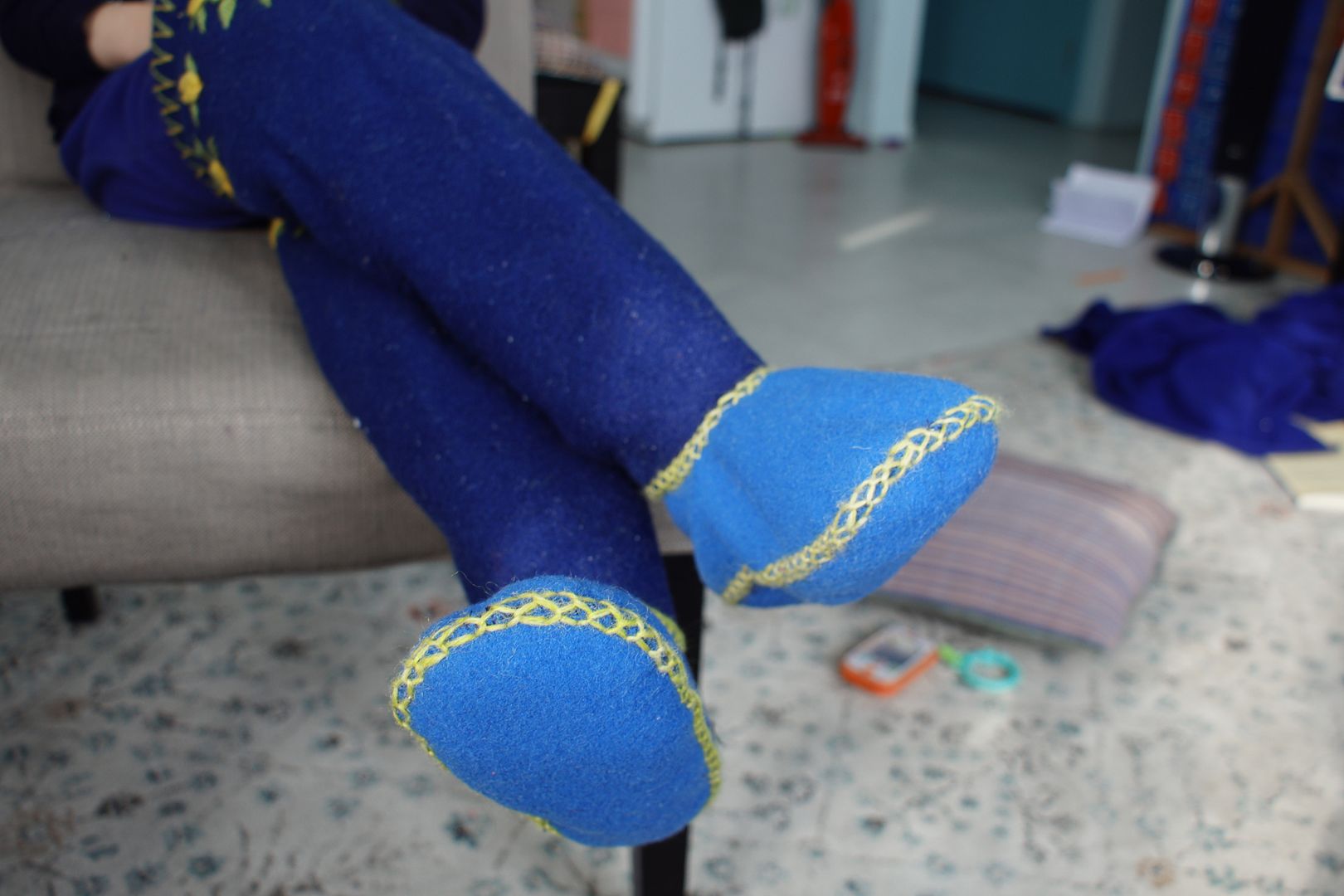 I bought some duffel and made the feet with a pattern I already had from the last round of kamiks. I stitched them all together in a couple of days, then stayed up far too late finishing the decorative stitch. For that decorative stitch, which serves to protect the connective stitching and help shape the seams flat, I used some leftover handspun. It's Lincoln wool from my Oran do Chaora sweater, and it should wear like iron, though I confess I picked it for the color.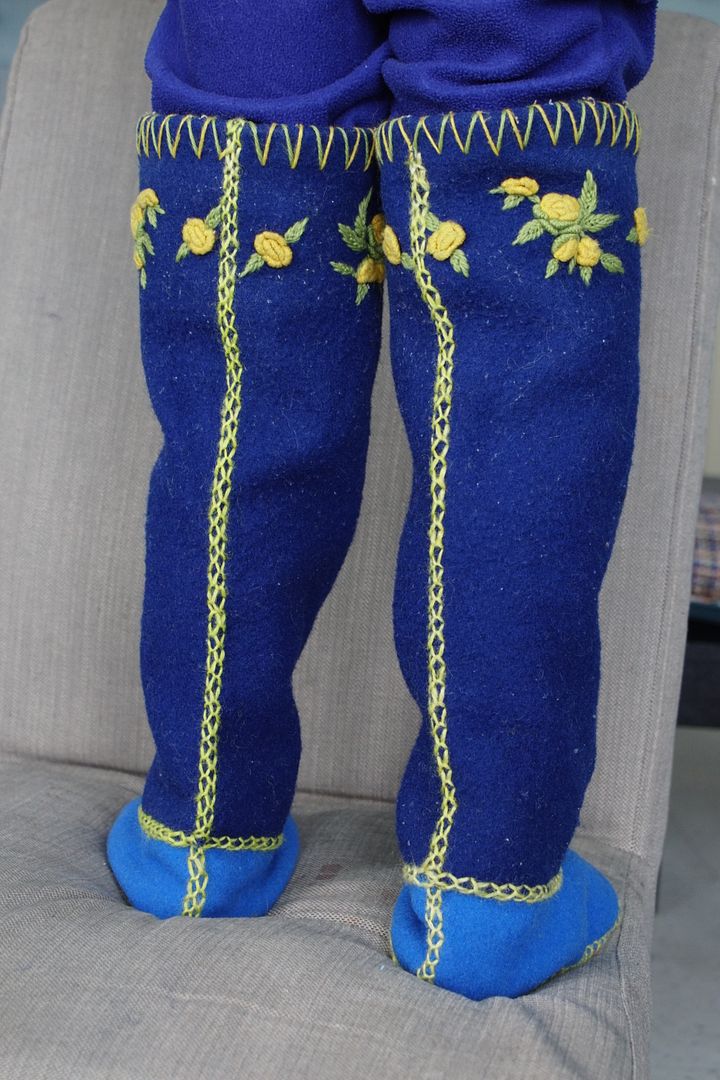 Getting going these layers has been gratifying, because I have gained so much skill since the first time I made kamiks. When I first made Minimighty's wee kamiks, which Dooner now wears with pride, I had barely sewn anything before, and had no sewing confidence whatsoever. I had to have my hand held just to whip stitch two pieces of duffel together. Now, with so much more under my belt, including some EPP hand sewing, I feel so much better about just cutting carefully and sewing things together. Going through that valley of awkwardness was intense and interesting, and coming out on the other side with a little bit of confidence is heartening. Granted, I still only know enough to be dangerous, and fully intend to go to Rosie and have my hand held to get the soles of the kamiks started. But man! I made kamikpaks in three days! And it was fun, and not stressful!
Last night I finished the inner layers by stitching up a pair of sealskin slippers to go over the kamikpaks. That was fun and quick too. I just have a couple more things to sew onto the caribou legs, and then soles, here we come! Definitely worth all these exclamation points!