I got this wool eleven years ago. Eleven literal years. I don't even know if the sheep I got it from is still alive. It started on a sheep at a farm in Maryland where I volunteered in exchange for veggies. My volunteering involved helping to process their wool, and in that process, they let me keep one of the fleeces. It was a two-color icelandic. I separated the colors as best I could, and made batts out of them in three colors: Black, white, and grey from the portions that couldn't be divided. I washed the fleece (poorly), carded them into batts (that poor carder), and there they sat in my stash for ten. years.
51 Yarns got me finally spinning it, and Zero to Hero got me spinning the rest of it. After so long sitting, it was embarrassing how quickly it spun up – like a week – and I thought it would be truly excellent if I could get it knit up this same year. It was dicey for a while – I knit the yoke back in October, and I've been stuck on sleeve island for like a month – but I was determined. She got done on Monday. I blocked it overnight, put it on for pictures, and didn't take it off till bedtime.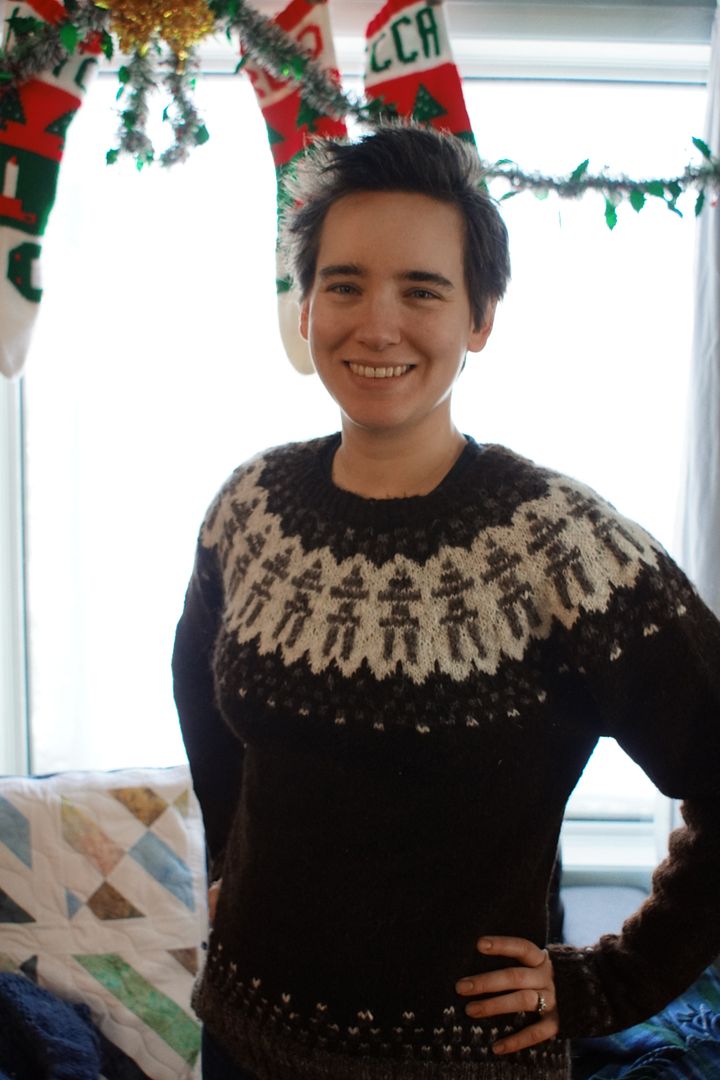 This is a highly improvised pattern, but the starting point I used was the Grand Forks Pullover by Cheryl Crow from the Winter 2018 copy of Interweave Knits. I used it because it has a yoke of about the right size, and it's top down. I took the chart from the pattern and fit an inukshuk into it. Using my 51 Yarns swatches and some math, I used the stitch numbers from the largest pattern size, since my yarn knits up 5.5 st/in and the pattern gauge was 4 st/in. For once, swatching actually got me the right size of sweater! With all the changes I made, this was probably mostly luck, but I did choose to make it top-down so I could make sure all was well along the way.
I finished the bottom with a little color work to echo the yoke, and some deep ribbing in the grey contrast color. That allowed the black to stretch through the full-length sleeves. I didn't intentionally make them extra long, but I'm happy today for the extra coziness.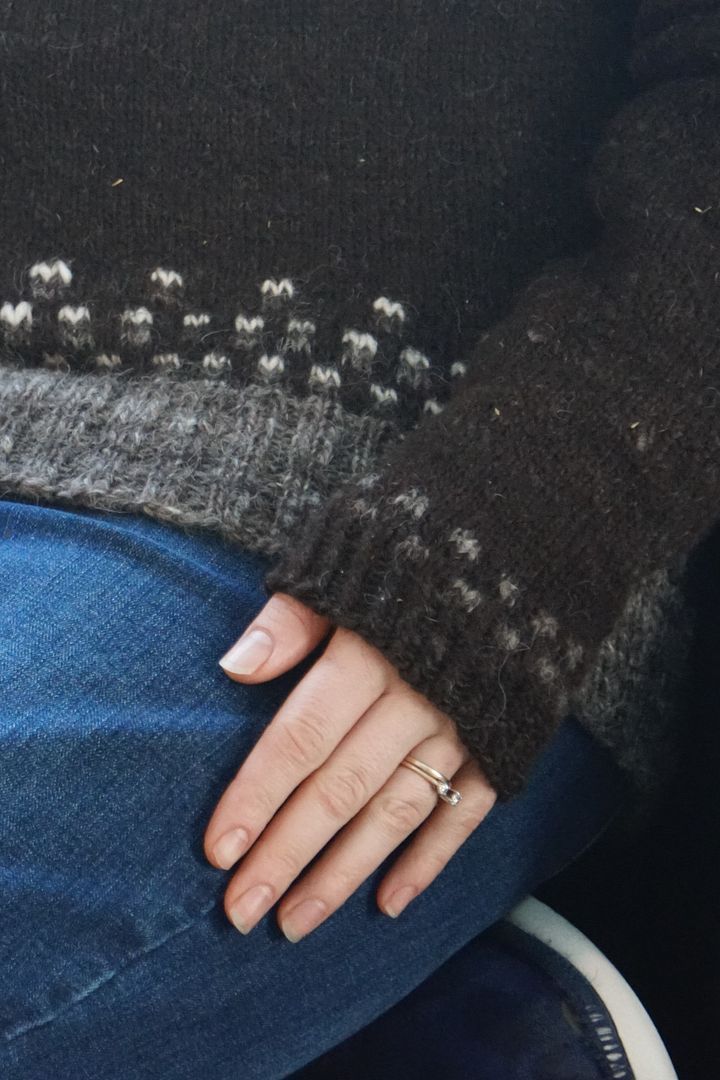 What is an Inukshuk, you may ask, and why did I put it on my sweater?
An Inukshuk (also written Inuksuk) is some kind of cairn or mound or figure built out of stones, used by Inuit as land markers. The most common use, I've heard, is to mark where caches of meat can be found. They are not always in the shape of people. Indeed, it's a little controversial that person-shaped Inuksuit have become such a symbol of the north, because a person-shape Inukshuk might have been a warning, or a marker of a place where someone died.
But regardless, the Inukshuk is a symbol of the north. Vancouver adopted it as a symbol of the 2010 winter games. And in Rankin Inlet, an enormous inukshuk stands watch in the middle of the town. That inukshuk is a symbol of Rankin, of Nunavut, and of the Inuit who stand strong here. According to the Rankin tourism site, it is 15 feet tall, and was "designed by Joe Nattar and built by Inuit in 1991."
I'd known for a long time that I wanted to use this yarn to make some kind of yoked sweater, but didn't have a specific design in mind. After I made my Iqaluit sweater, though, I rather wondered what I could make to knit up my new home. The inukshuk yoke sprang to mind immediately. I had the germ of the idea before we even moved.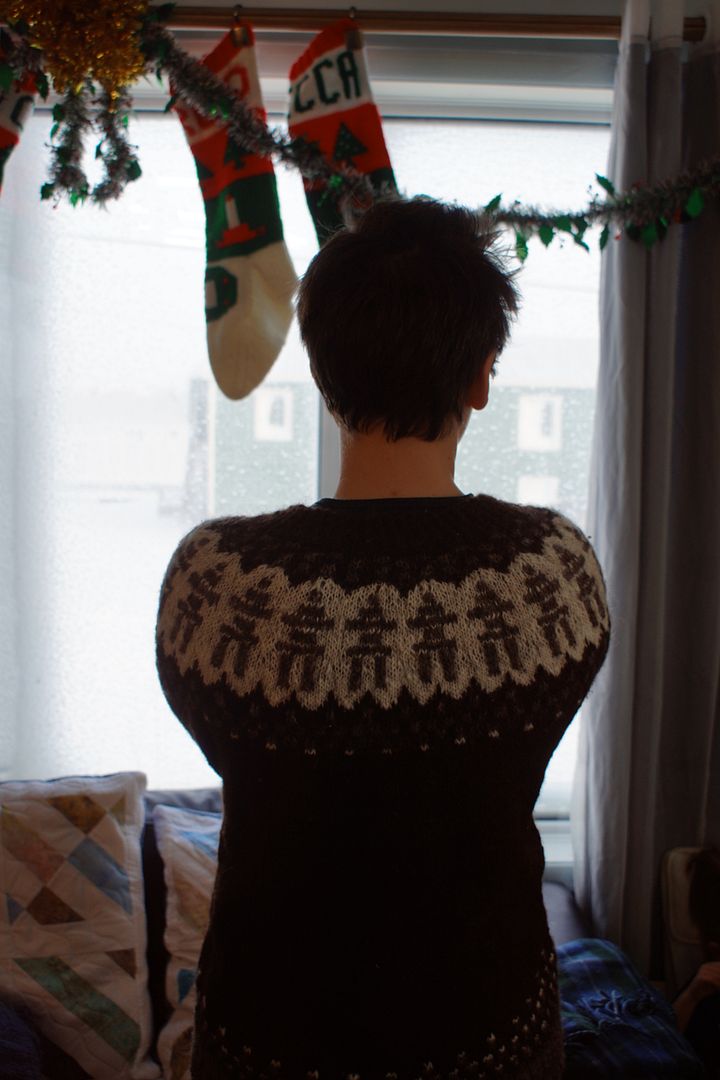 It took me a while to get around to actually knitting the thing. I knit the yoke one cozy October weekend at our friends' cabin, which has been a defining part of our time here. Soon after that, Rankin Inlet got its first case of COVID-19. I believe I was knitting when I got the news.
Suddenly, those rows of Inukshuks looked different to me. They weren't just a northern symbol arranged prettily in a yoke. They were a rank of Rankinmiut, together standing against COVID-19, even though we are physically separated by it.
It's fitting that on the day I am writing this post, the news has come through that Rankin has been COVID-free for long enough that we can go back to church without masks, and resume singing. Social distancing will be our reality for a while, and I'm sure we're all cautious about gathering, but it will be so good to see people again. We are so privileged to get to live and work here, and hope to have many years to continue getting to know this cool place.