This post is part of a spin-along through 51 Yarns by Jacey Boggs Faulkner, in the Wool n' Spinning community. For other posts in this series, check here.
The opposite of fine yarn is, of course, bulky yarn. It might surprise the non- or new spinner that, at a certain point, bulky yarn can be more difficult to produce than fine yarn. I have never put time and effort into the art of producing super-bulky singles. Indeed, I still have not. In the attempt to produce my superlative bulky yarn, I cheated a bit. First, I used an art batt.
The impossibility of being consistent when faced with such a variety of fibers does help one make a yarn that is overall more bulky. Still, I am in the habit of consistency, and the instinct when aiming for consistency is to go smaller. I fought tooth and nail at that inclination, without much success. In an hour or two, I ended up with a jumbo bobbin full of beautiful, disorderly singles.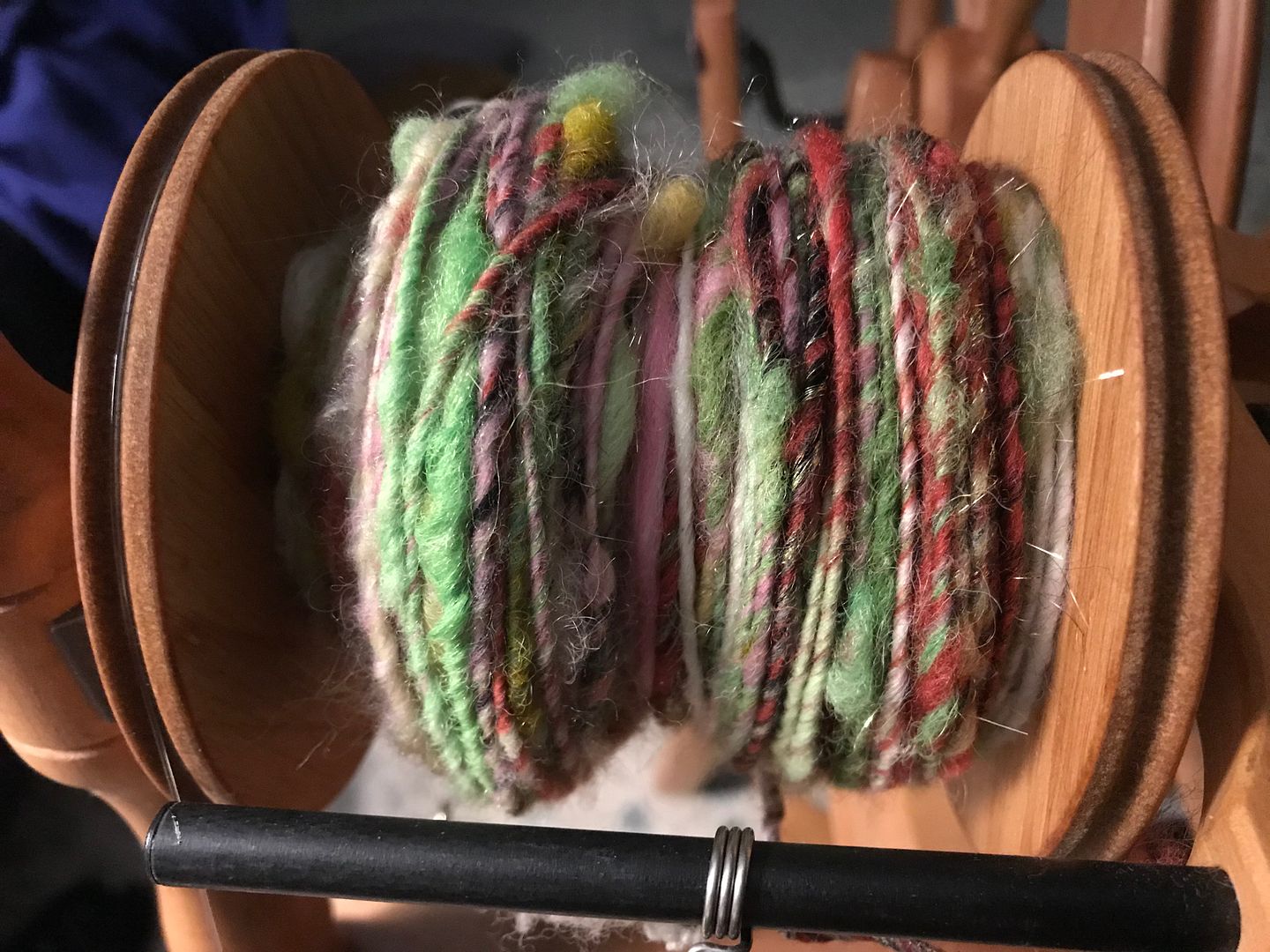 I wound this bobbin into cakes and three-plied it. More plies than 3, thought I, would really be cheating. This is what resulted.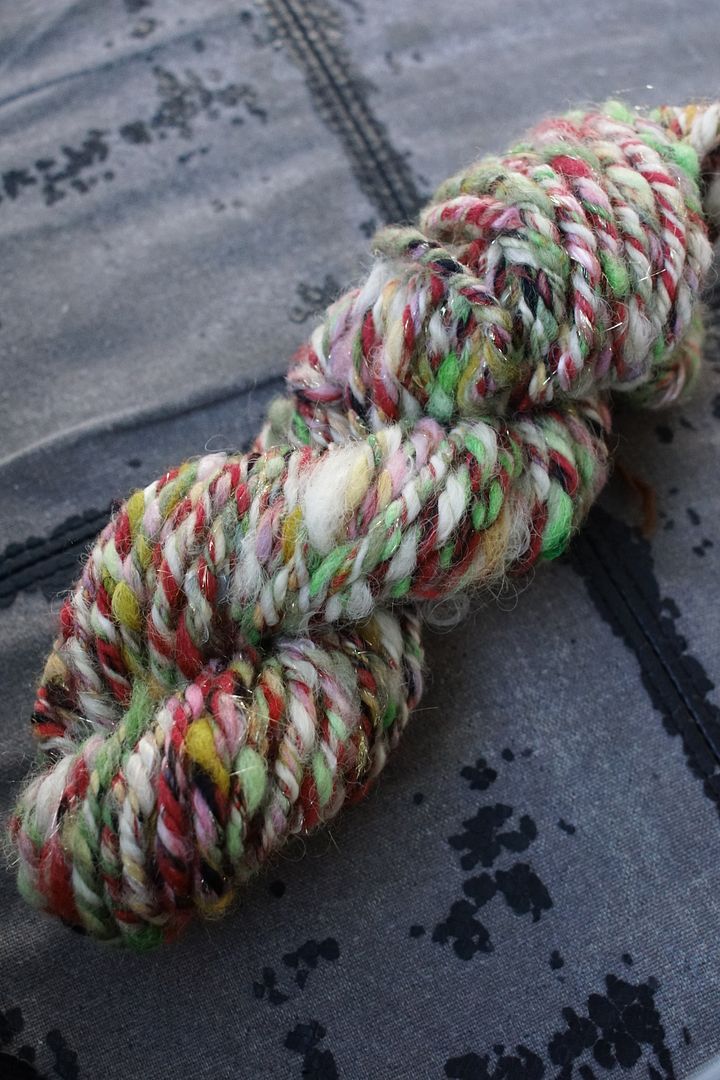 It is successfully bulky, without being too heavy. Even allowing for the slubs, I could only place four strands of it on my WPI tool, placing it firmly in the "jumbo" category of yarns. I am happy enough. I would like to learn to make those amazing yarns that have singles this size, but I did not have the headspace for that at the time.
I didn't knit a sample with this because it is just too beautiful. A swatch would eat it up too quickly. With a yarn like this, I want to buy a foam wreath and wrap it around to make an artsy fartsy Christmas wreath. The colors seem Christmassy to me, with the red and green and sparkle, though it didn't at all seem that way in the batt.
Big, bold, and beautiful. I love making yarns like this. They are a treat in themselves, even if they don't fit my idea of the practical. And after the fine yarns I'd been spinning lately, it was a treat to spin 3 oz so quickly.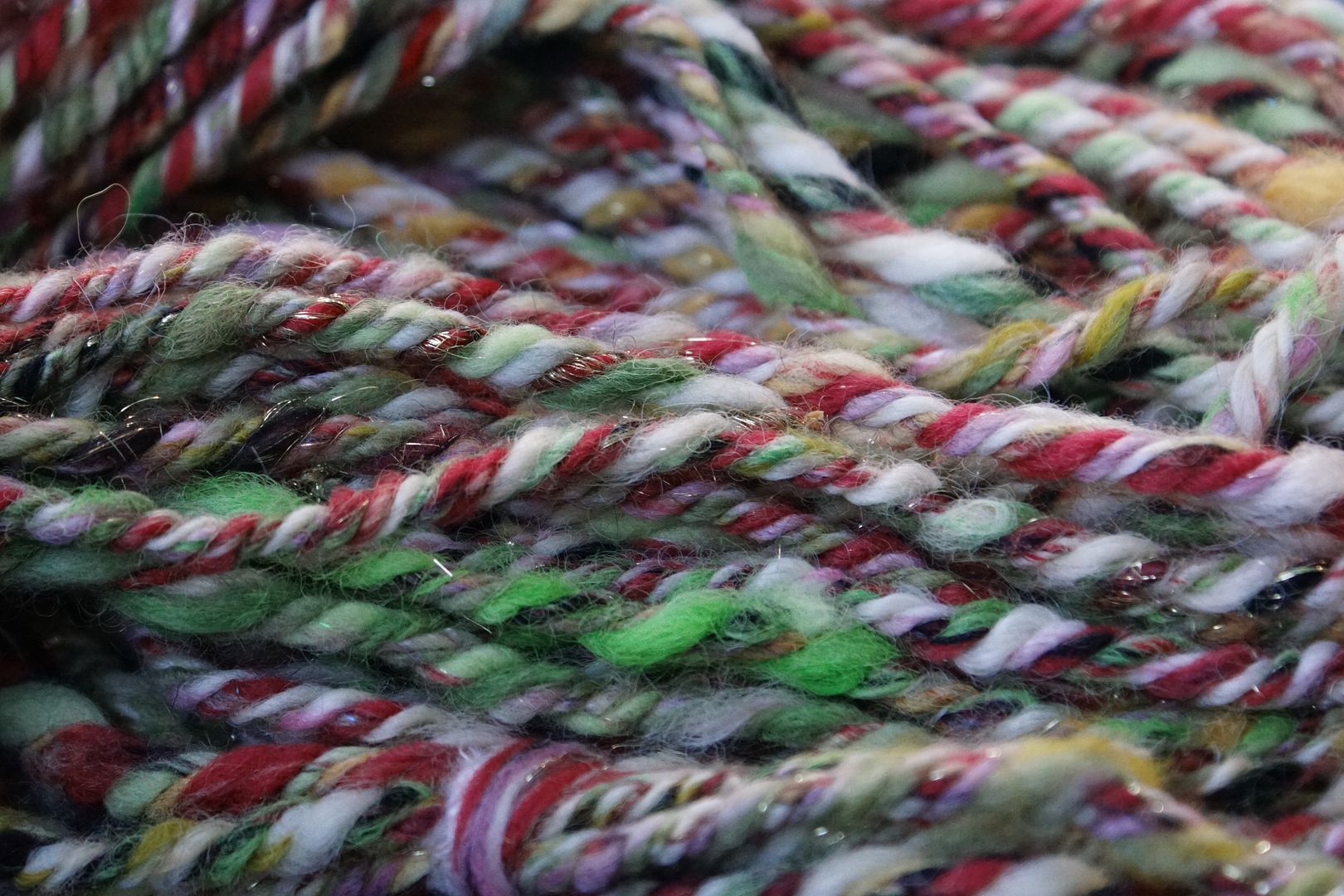 One more shot for luck. And one more yarn for me. Merry Christmas!