This post is part of a spin-along through 51 Yarns by Jacey Boggs Faulkner, in the Wool n' Spinning community. For other posts in this series, check here.
Home stretch! The last three yarns in the book are "personal bests," or as I've been calling them in my mind, "superlatives." These yarns are also a great way to explore how my skills have grown over the last two years of study.
Spinning fine yarn isn't the highest sign of spinnerly achievement, but it is one measure. We all start spinning art yarn, hoping to spin finer yarns. Me, I've spun lace weight yarns many times; lace was some of my earliest handspun. But this challenge is special: how fine can I get it?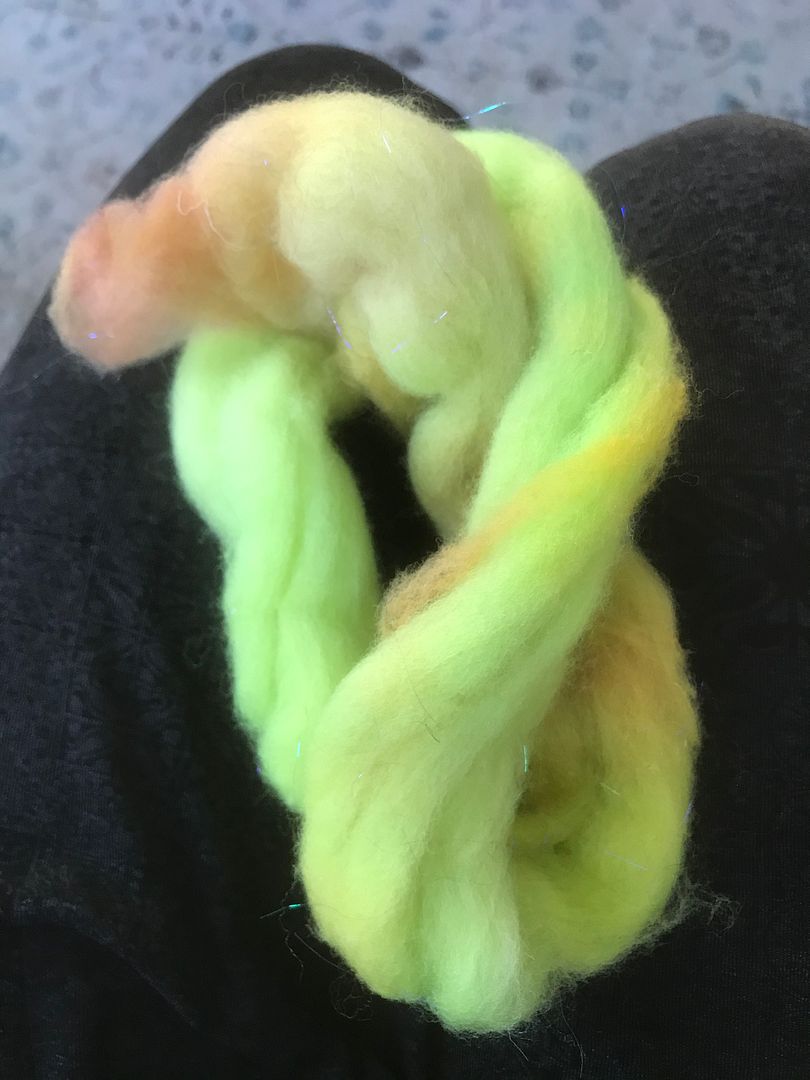 For fiber, I selected a small chunk of pure merino. This is the last in a small batch of fibers that I won as a prize a few years ago, all of which I've used up in this study. Many wools are suitable for lace, but fine wool is especially good for micro-fineness. The crimpy fibers grab onto each other, even when there are just a few of them, and of course the fibers themselves are super-small.
This was the typical size of my singles. Not invisible, like the frogs-hair of the expert Shetland long-draw lace spinner, but awfully thin.
I have not yet sung the praise of my high-speed flyer. This lovely has made the fine spinning of the last many months possible. I spun this at my highest possible speed, a nominal 40:1 ratio, in reality more like 30-35 once it gets going. Spinning at 20-40:1 has made it possible for me to spin sock spins quickly, to spin silk and ramie and cotton without much trouble, and to spin this super-fine yarn without much thought.
I didn't break my brain trying to make every inch as fine as possible. I still wanted it to be fun. I just tried to make the finest consistent singles I could.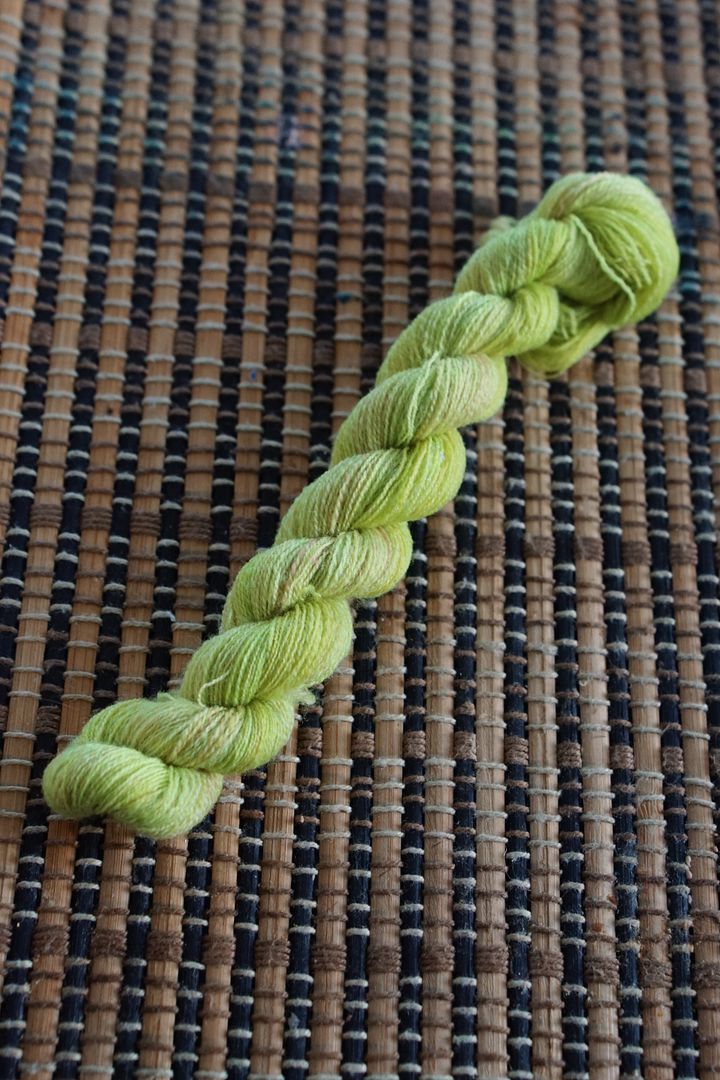 Even after the poofing up of finishing, this yarn is small. It is difficult to communicate scale in pictures, so I've added a variety of objects to try. Here's a strand of finished 2-ply with a defunct Canadian penny:
A handful of peppercorns:
My wedding rings:
And my ubiquitous companion: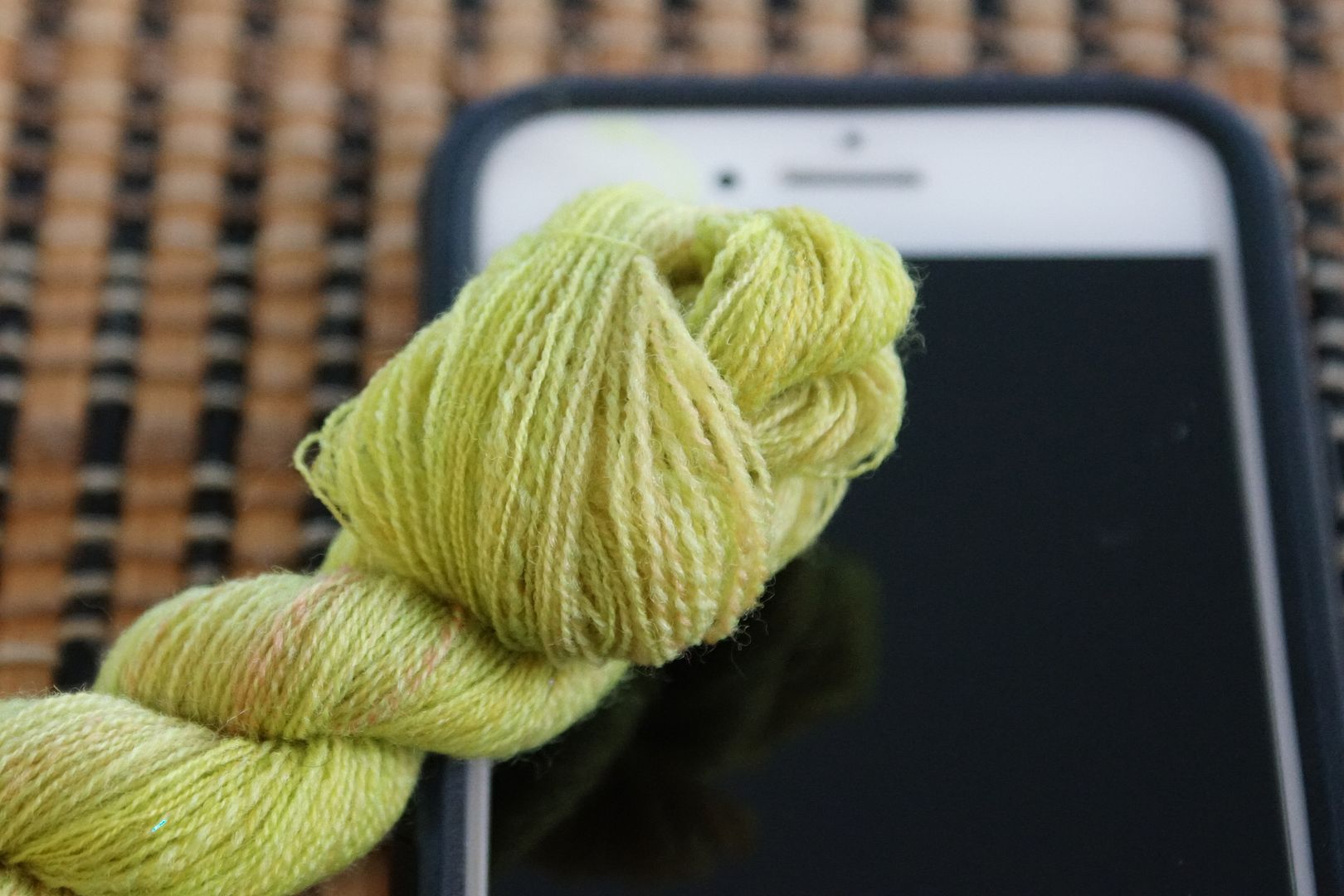 I have no doubt that this is in fact the finest yarn I have ever spun. The grist is approximately 9100 yards per pound. To give a comparison, the fine 3-ply sock yarns I have been spinning lately are around 2200 YPP, meaning a 2-ply from those same singles would be about 3300 YPP. Thus I can guess that these singles are about 1/3 the volume of my finer "default" spinning.
I knit up a swatch on US 0s, and it blocked to about 9 st/in. I could have knit it much smaller, I suppose, had I used knitting "pins," but I was not inclined so to do. The inconsistencies are pretty glaring in the stockinette fabric, but would erase themselves in garter stitch or lace. Again, with the phone for scale: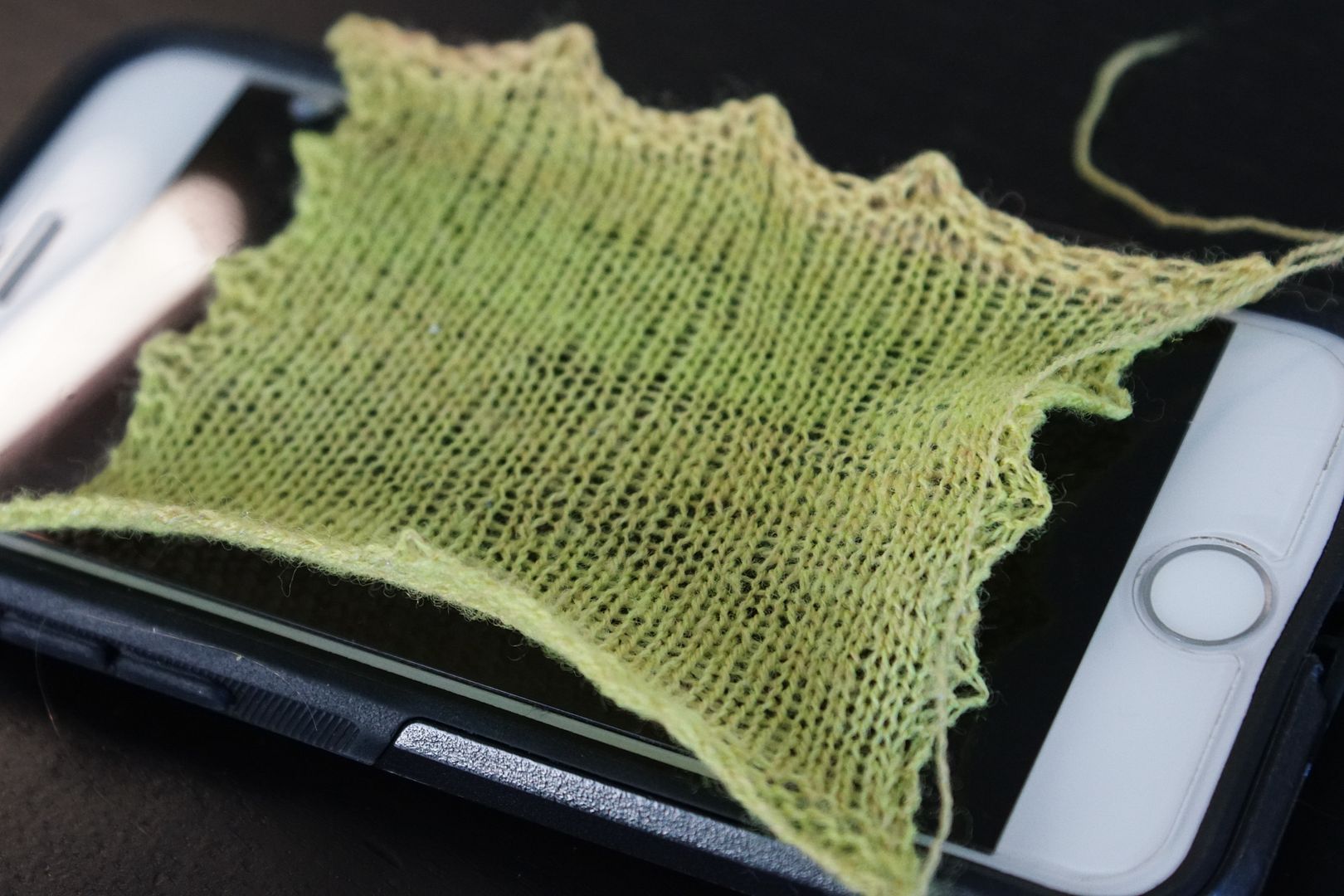 I don't find I often use very fine yarn, as I do not at present knit or use fine lace of any kind. These days, even "lace" is usually knit with fingering-weight yarn. Nor am I inclined to spend the time it would take to make such fine yarn in a larger quantity. But it is good to know what I am capable of.