This post is part of a spin-along through 51 Yarns by Jacey Boggs Faulkner, in the Wool n' Spinning community. For other posts in this series, check here.
OK, my last batch of spins are done, as my last round of washing, measuring, photographing, swatching, measuring, and photographing again. I'm ready to share my last five yarns of 51 yarns with you over the next week!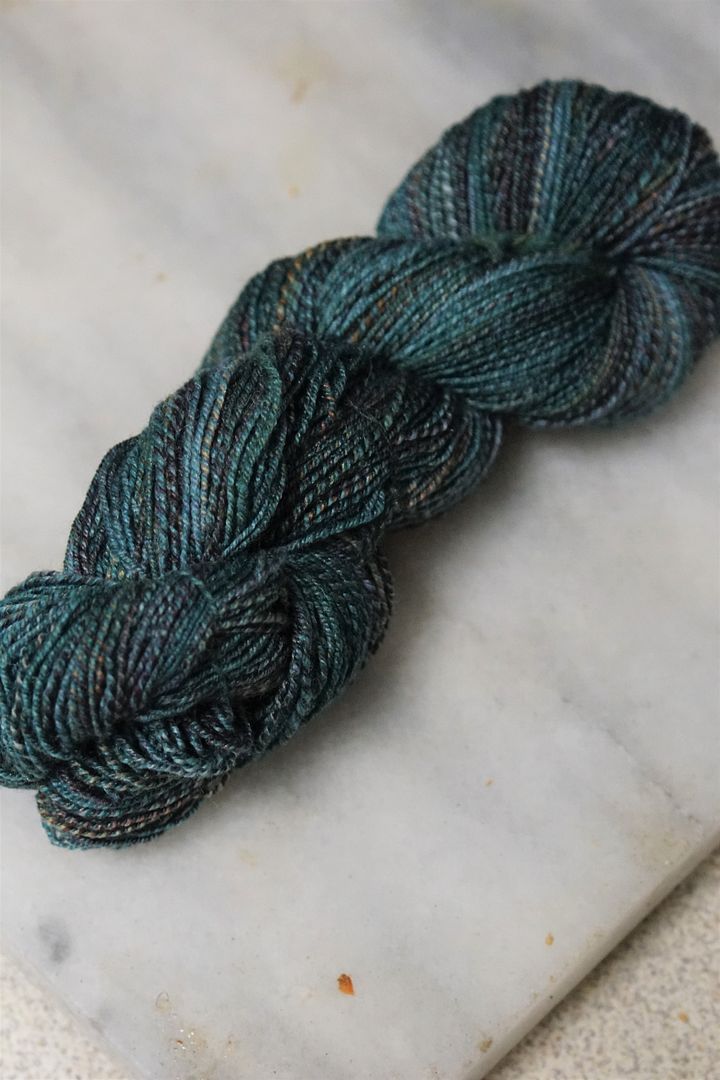 Many spinners say they have a "default" yarn, meaning it's something they sit down and spin without thinking too much about it. It's often the same kind of structure, the same family of fiber, the same basic result.
I came to the issue of "Default Yarn" with a bit of a question mark. This is a good yarn for me to come to at the end of this study, because I honestly am not sure that I have a default yarn. I don't spin huge volumes of yarn, since I have a busy life and many other crafts. I can't say that I've spun a whole lot of any one kind of fiber, or even any one type of structure. I am just as likely to spin a 2-ply and 3-ply yarns. I'm not sure I could go to my handspun yarns, pull out a skein, and say "this is an example of my default yarn."
So I came to this question from the perspective of, what do I want to default to? In all the choices one makes in spinning, with this yarn I tried to take the road more traveled at every branch.
When it came to fiber, I didn't have much direction, except to pick a braid of hand-dyed commercial combed top out of my stash for which I didn't have any other plans. In this case, it happened to be a braid of 80/20 merino/silk from Hobbledehoy.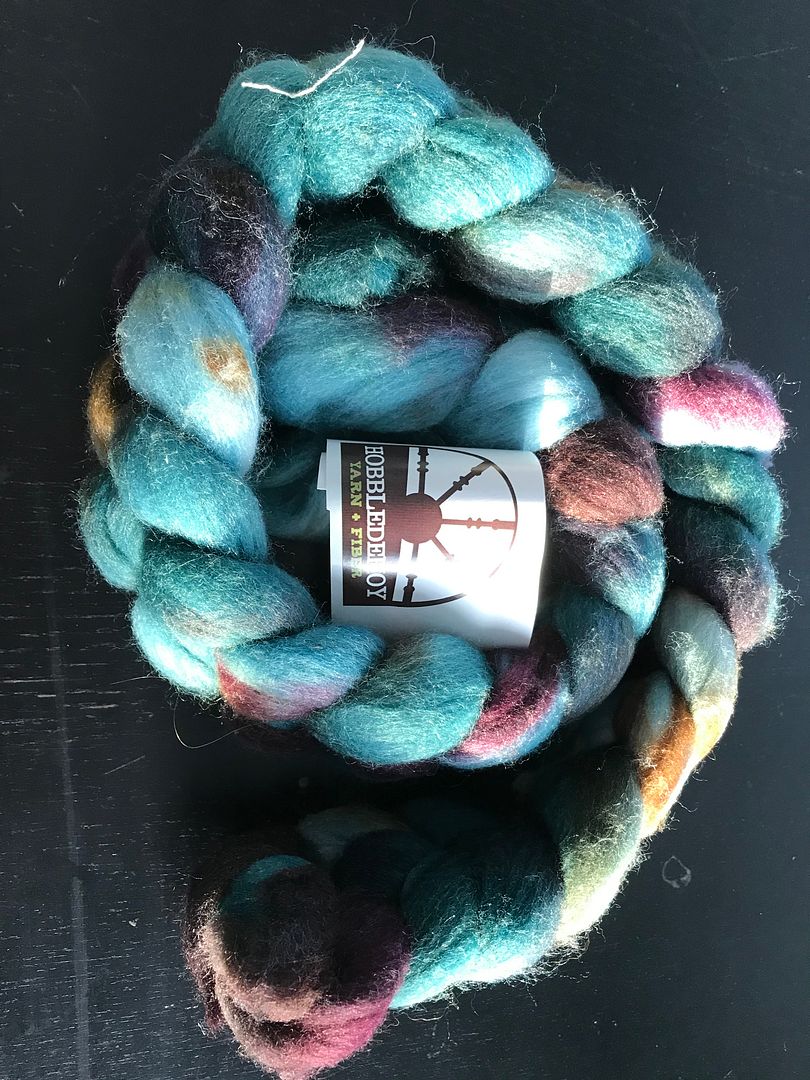 The addition of silk is hardly "default," but it was blended very thoroughly into the merino, so it added shine without adding any complications to the spinning. Otherwise, merino is a pretty typical fiber for me, one I can say I've worked with a number of times. It also happened to be space-dyed without any particular pattern, which is really lovely.
I've only done this a couple of times so far, but this is going to be my "default" with many of the braids currently in my stash: I stripped off an ounce or so from the whole length to be saved for combo spinning at a future time. Then I broke it in half in the middle to spin for two sock yarns, two different ways.
The most important part of "default" spinning for me is the method. My road-most-traveled is to strip the fiber down into manageable widths – in this case about 8ths. I wound those into nests and spun them in the short-continuous-backward method I've glommed onto in the past year. At the start of this 51 Yarns study I never did this method; didn't understand it at all. But now it's absolutely my default. I blame Rachel entirely.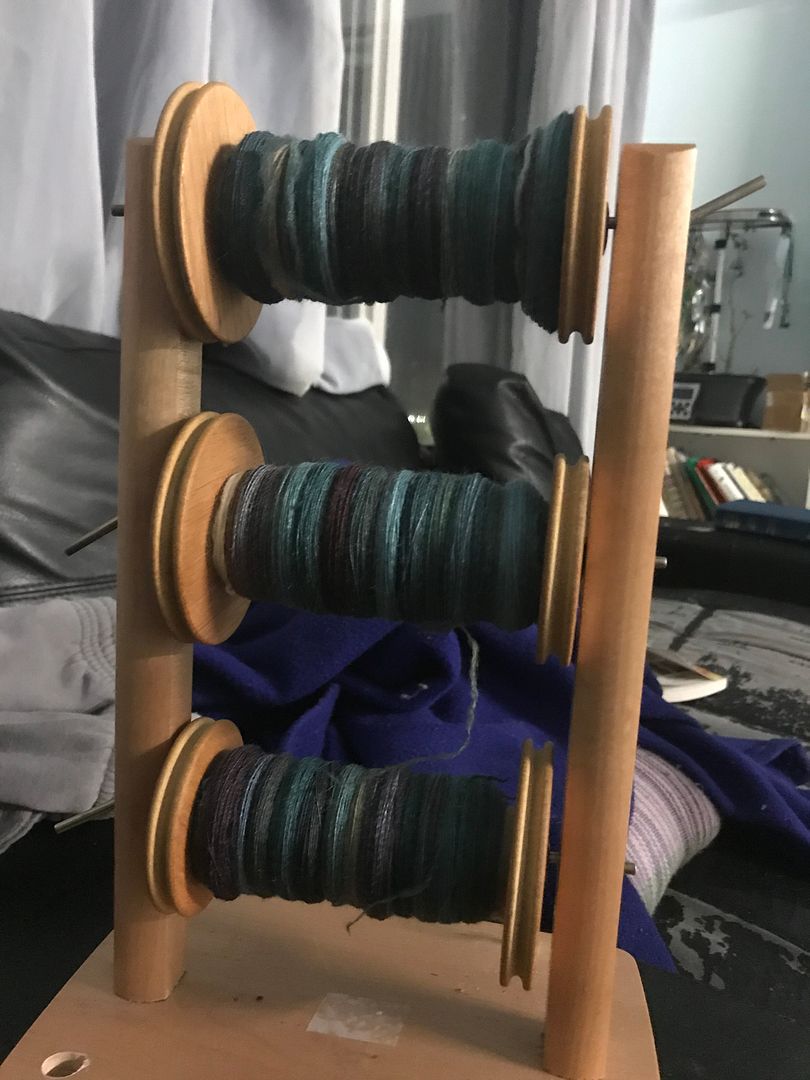 My default method of plying would be spin the singles to three separate bobbins and do a traditional 3-ply. This blends the space-dyed colours and makes a more tonal yarn with less noticeable stripes.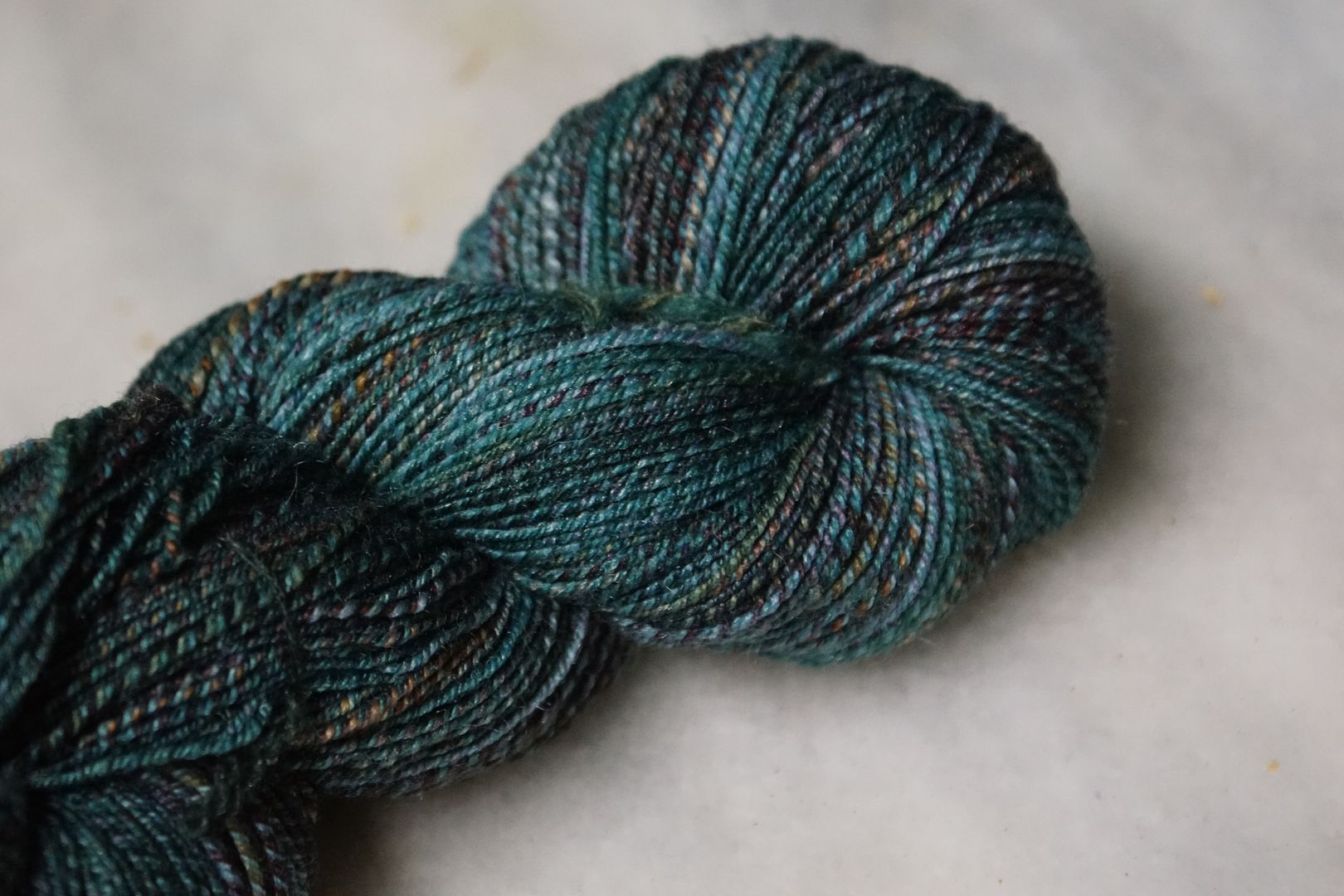 Now, it still seems strange to me to say that a 3-ply fingering weight yarn is any kind of default for me. But when I think about it, this is my third time spinning this kind of yarn this year. The first time, I spun a 3-ply sock yarn by accident; the second time, I spun it in just over a week. Between all the silk, soy silk, and faux cashmere I spun this summer and fall, I spun a solid ten ounces of 2-ply yarn that had very similar singles to this yarn. So, stripped down and spun short backwards, it's not as surprising as all that.
Spinning from stripped-down nests also mixed the colors up in a way that I think of as fairly "default". It allows the hits of complementary orange and purple to deepen the teal tones without taking over. It still stripes, but gently.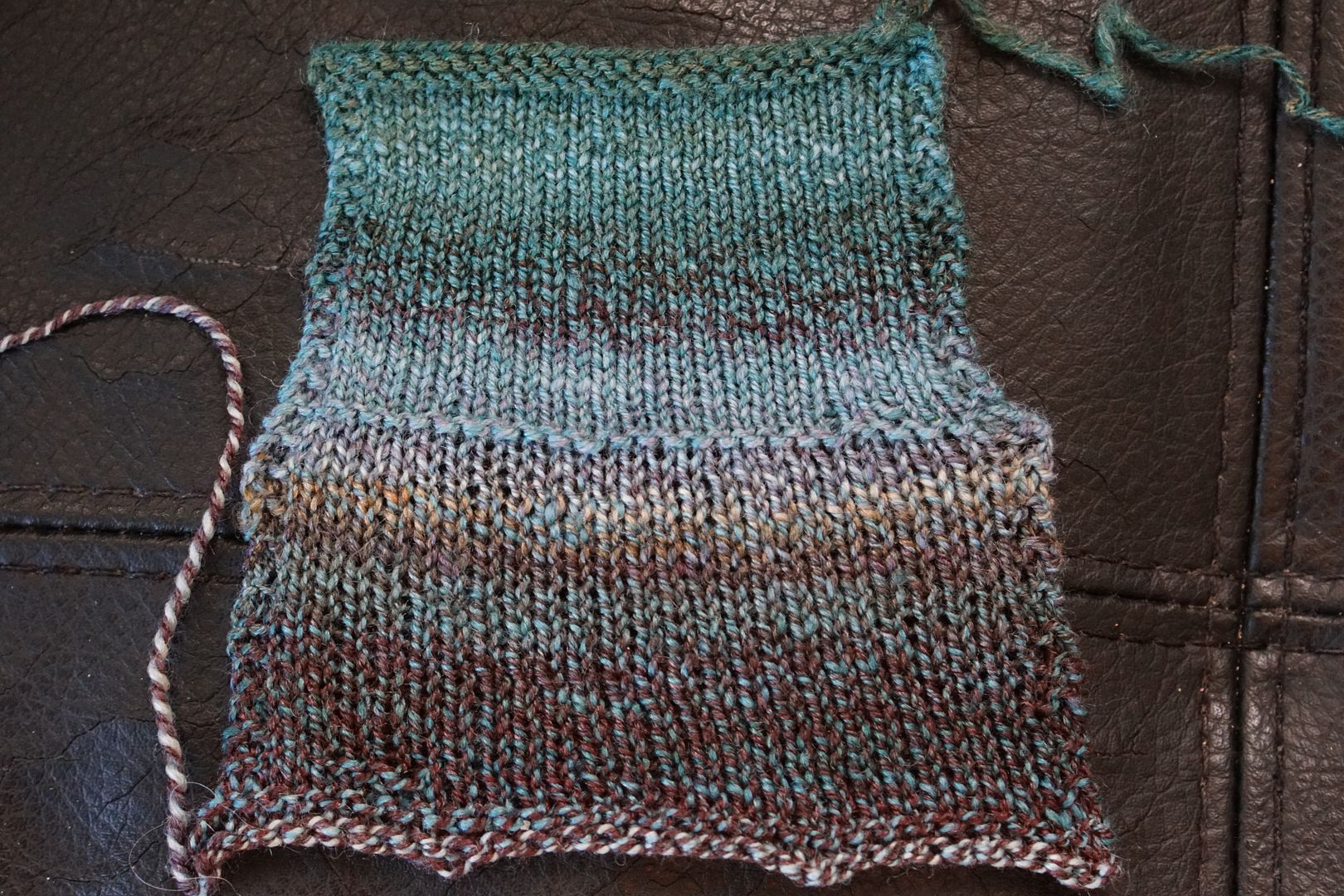 This has been a "spinner, know thyself" sort of moment. When it comes to spinning, I tend to understimate my abilities, and the yarns I can make. I can spin pretty excellent yarn when I take the time to do it.
My handknit socks are all wearing out, so… I'd better get to it.