It made me so happy to find this. If you'd like to listen to it while you read, or just go listen and forget about this post, I wouldn't blame you!
As I mentioned before, my weaving project of late has been to take the above bounty – a generous gift from the local thrift store, who wanted to move it along – and turn it into cheerful scarves to share with our littler friends. Weaving these scarves has been a mission for me these past few weeks. I had a helper for some of it:
Stringbean helped me get started. My first scarf was hopelessly wide and dense. Here much more relaxed beat made a much more pleasant fabric, leaving the fur room to move around. I made the rest of the scarves more like her tension.
Dooner liked to help sometimes too:
I made three main types of scarves. The largest number were of pompoms mixed with fur. I had to try all the color combinations, then repeat a few of our favorites.
After a dozen or more of these, I was getting pretty sick of weaving with the pompoms. They make a great effect, but they are pretty laborious to get through a shed. I could only wrap a few yards at a time around a shuttle, so there was lots of starting and stopping. So next I went through a lot of the pom pom yarn by making some straight pompom scarves, knitted this time.
These worked up in about two hours apiece, once I got the hang of knitting with giant pom poms. The woven ones took about an hour a piece in weaving, and an hour per warp to take one down and set another up. I put two scarves on a warp, measuring the first to be about 60″, then weaving the second without measuring – usually a little longer.
The third type of scarf was just fur, with some sparkle thrown in on some of them. I tried a couple with sparkle in the warp, but discovered afterwards that it's kind of scratchy. Stringbean picked two of her best friends to receive those, because they love fashion so much that she didn't think they'd mind a little discomfort. After that I only put sparkle on the ends. These were my favorite to weave up; everything is easier without those pompoms!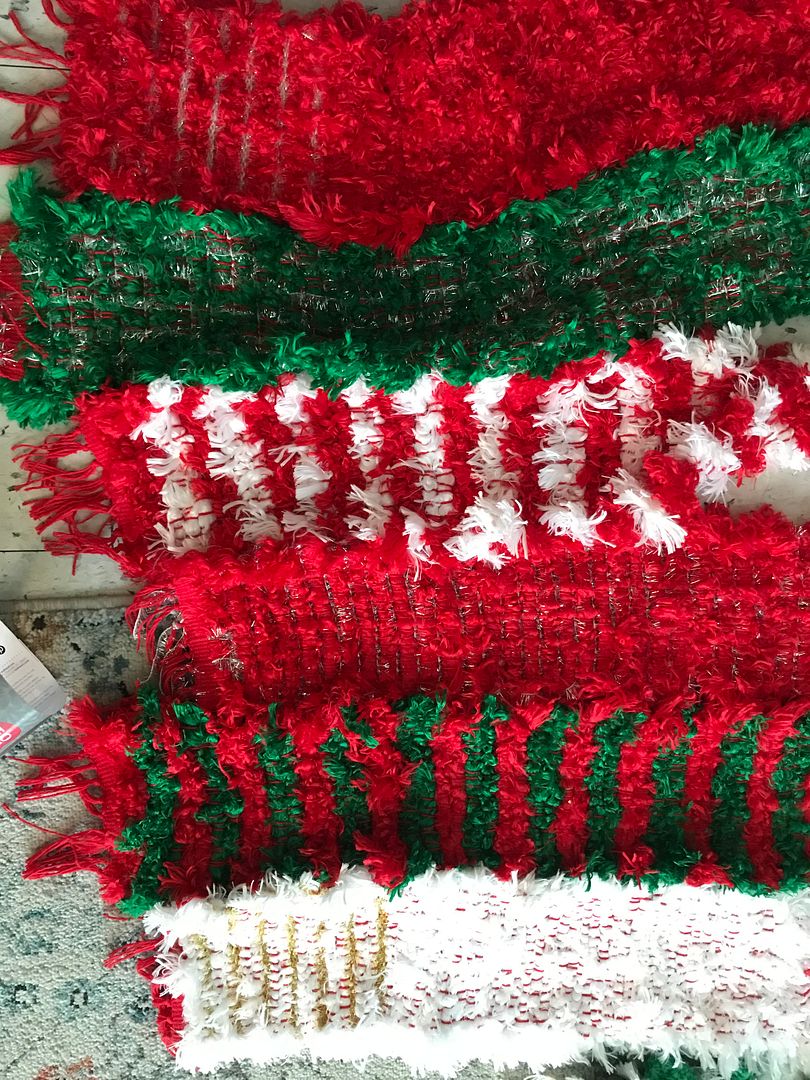 Between knitting and weaving, I made 30 scarves total, in addition to the few testers we made at first. Last week we shipped several off to cousins, and this week we laid the rest of them out on the floor to decide which friend gets which.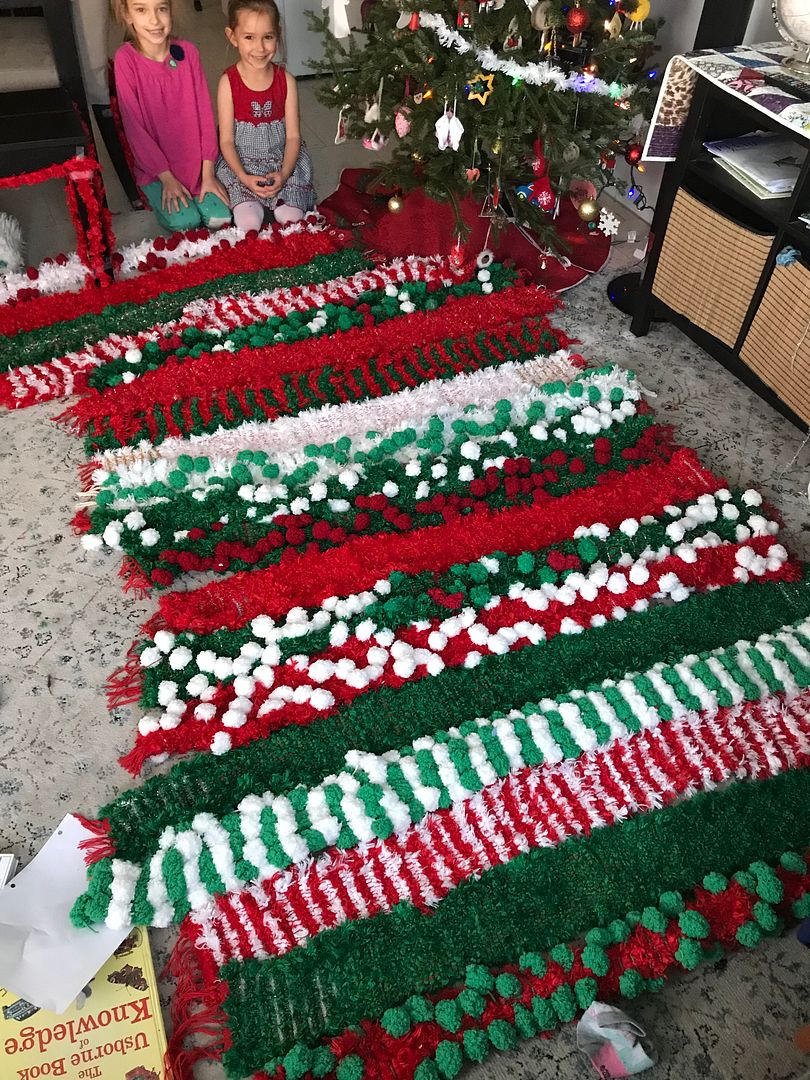 I'll admit, when I saw them all laid out like this, I had half a mind to just stitch them together into an insane holiday blanket. I mean, look at all that fabulous mixed-up colour and texture! I love it.
But go away they must. So we labeled each, and then, to wrap them. Little problem: we are out of Christmas wrapping paper, and I have trouble bringing myself to buy it, so a quick google and…
We found ourselves making wrapping paper. We used a roll of paper and paints that our friends gave us, and enormous sweet potatoes made into stamps using cookie cutters. I used this excellent video, very simple and straightforward; I was shocked at how simple it was. I only have large cookie cutters, hence the use of enormous sweet potatoes.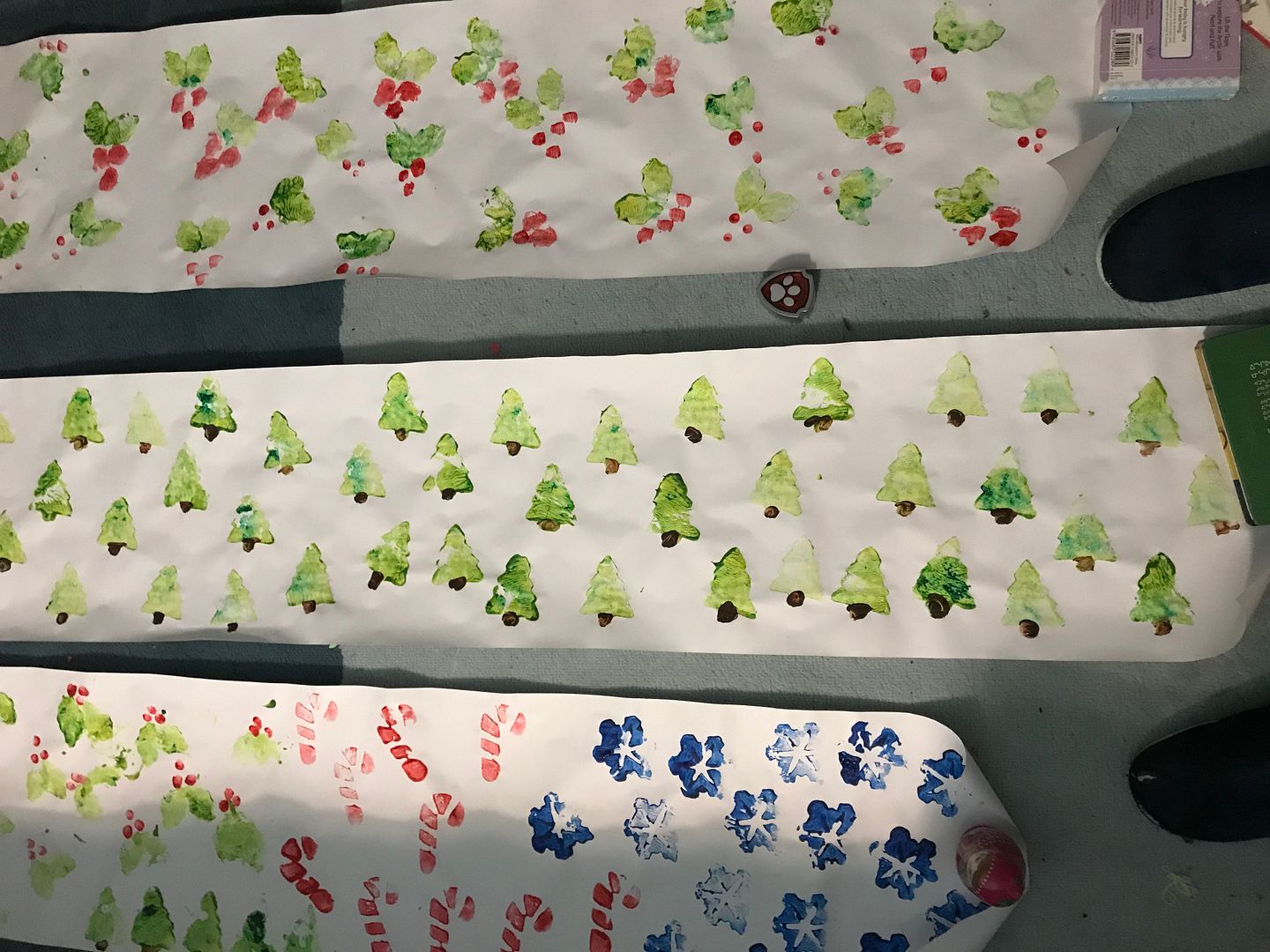 Once the paper was dry, we were keen to get them wrapped and passed out to our friends. We spent a fun hour one afternoon driving around dropping off parcels in a contactless, socially-distanced fashion. I only mixed up two packages in the dark (headdesk).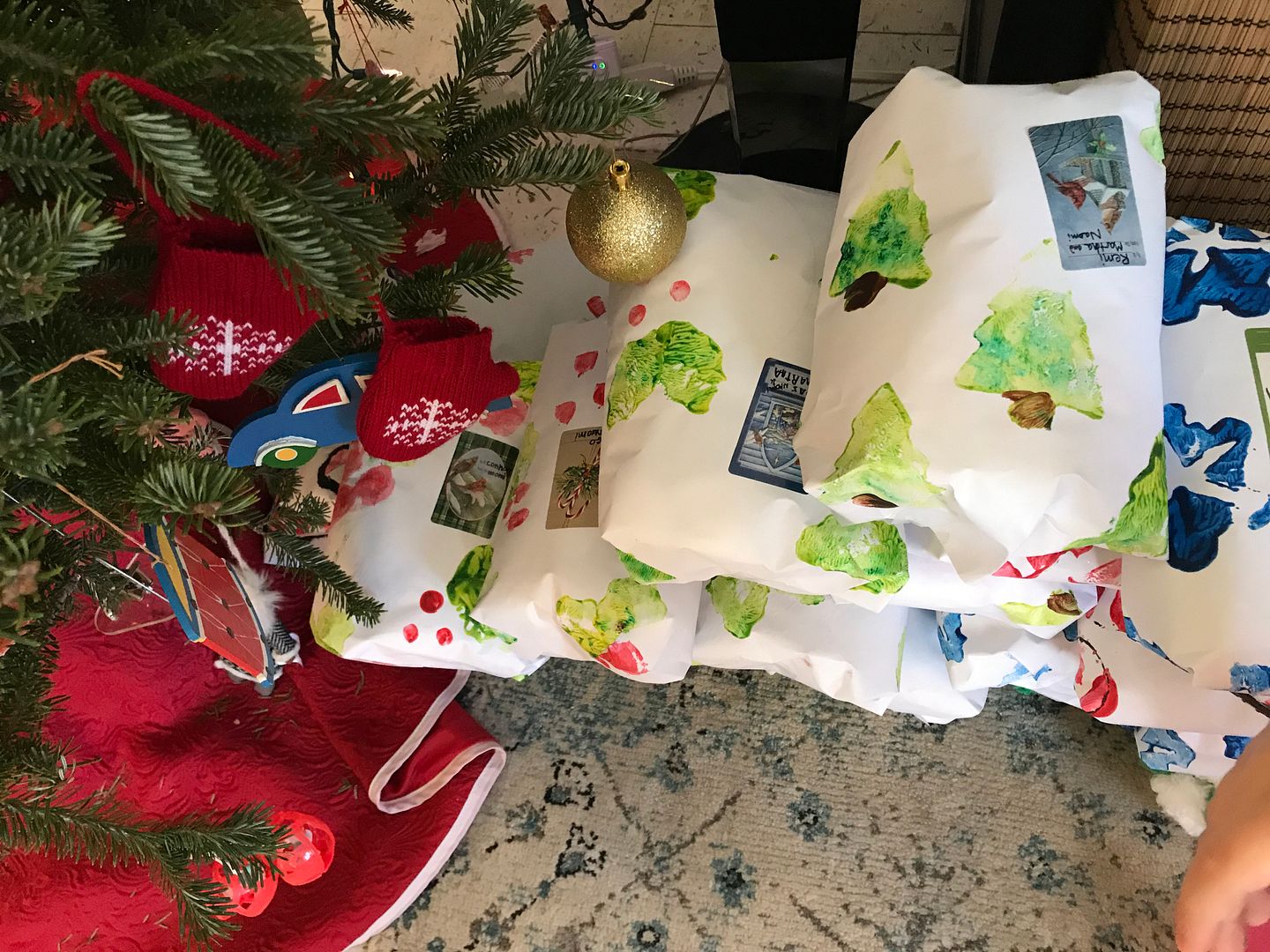 Believe it or not, even though I used up all the warps I wound, there's still more yarn. No more scarves for me, though. Stringbean made me promise that when the warps were woven, she could have the rest. Because the decorating of every surface is well underway. Some of it made its way to decorating a fairy house she made:
The rest of it is, well… everywhere.
This was a much-needed chance for our kids to do something to reach out to their friends. MiniMighty is at school two days a week, so she at least gets to see some of her classmates, but no luck for Stringbean. And two of their closest friends moved away, so she was feeling pretty sad. This pile was a great reminder of just how many friends she does have, even though she doesn't get to see them right now.
Happy Adventing and Merry-Making, friends!