This post is part of a spin-along through 51 Yarns by Jacey Boggs Faulkner, in the Wool n' Spinning community. For other posts in this series, check here.
I'm going to jump ahead here for a bit – yarns 44 and 45 I'll come back to later – and share the yarns from the Community chapter of 51 Yarns. This has been my plan, but it's especially appropriate now, since our community is now on total lockdown! All of our communities have been disrupted and changed at every level, and community will doubtless mean something quite different to all of us at the end of this COVID-19 pandemic than it meant two years ago, when I started this study.
This yarn, #46, is called "Spinning on a Retreat." This past March, I had the closest thing possible to a spinning retreat these two years when I spent a week in Vancouver with Rachel.
It's completely insane to me to look back Eight Months Ago to this week, and to be looking back at it right now. That week was the exact time that North America began to realize just how serious COVID-19 is, and we processed that together, while I was far from family, and while Rachel was juggling many changes and a guest in the house. Now, it feels like we are going through March all over again, since in Rankin Inlet schools have just closed for we know not how long, church will go back to online-only, and we're all refreshing our handwashing skills. I know that what we are going through in Rankin (and elsewhere in the north) is what everyone in the south has been dealing with this whole time, and is now dealing with more intensely than ever. It's just interesting to me to be brought back to that week in more than one way.
When I went to Vancouver, it was for a festival called Fibers West, and I was supposed to take a class there. Rachel let me use her Lendrum DT spinning wheel while I was there, and to let me get used to her wheel, she gave me some spare fiber that she wasn't going to use. It happened to be some beautiful wee battlings from the fiber club she briefly had back when she started on Patreon. How funny that I remember those battlings, since that club ended right after I joined, and I was bummed to miss it! So here I was, full circle.
When the class got cancelled, along with the rest of Fibers West, I kept spinning. That's all we can do in moments like this, right? Just keep spinning, just keep swimming, just keep praying, keep calm and carry on, do our bit. Take care of ourselves enough to be able to care for others.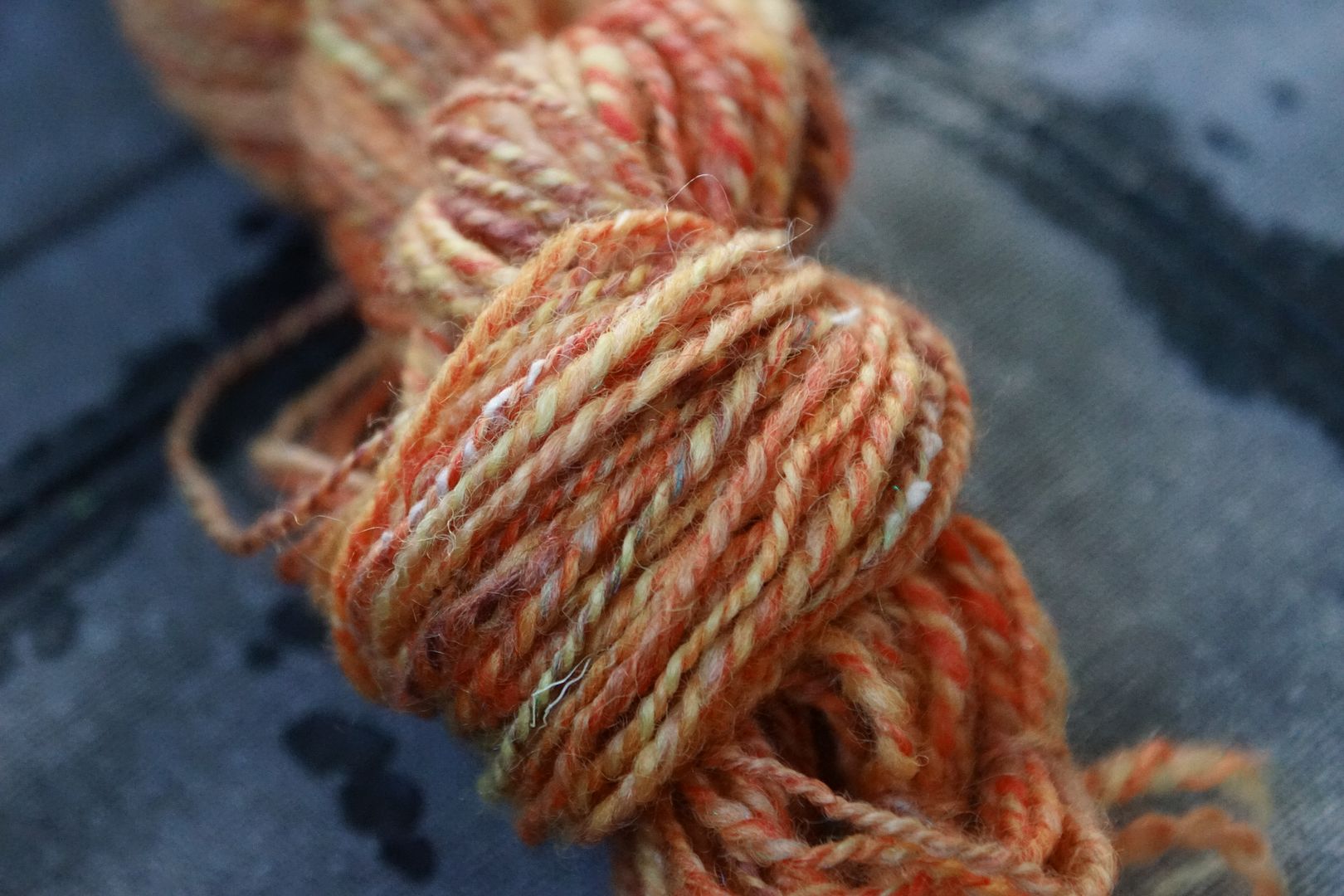 I spun this into a 2-ply, just spinning it how it wanted to be spun. I enjoyed the pops of texture and variations of color so much. It came out around a heavy fingering/sport weight.
While I was spinning, in the middle of the insanity, a baby niece was born. My sister-in-law had her first baby right in the middle of covid-crisis. It was a big bit of good news. So I immediately cast on the "Barley" hat by tin can knits for the Sunflower Baby.
I cast off the hat at a restaurant with friends – the last time any of us would be restauranting with friends for a while. I remember because Rachel happened to need the size needle I was using, and I happened to be just finishing up, so I handed it across the table.
Retreats and classes are special experiences, "mountaintop" moments to keep coming back to and reflecting on. They are times to get away and rest, to let a change of scenery bring refreshment. My retreat was not a conventional one, but it did all those things.
Now we are in the valley, and this is the time to look up at the mountains. Which makes me think of the Psalm that says "I lift my eyes up to the mountains, where does my help come from? My help comes from you, maker of heaven, creator of the earth." The point of looking to the mountains is that they lift our eyes to the heavens, where the real help is. Because, as I read this morning in James, "every good gift and every perfect gift is from the Lord, coming down from the father of lights, in whom there is no change or variations." I am thankful for those gifts: the experiences, the relationships, the makings, the reflections, and the providential arrangements that have directed my gaze upwards these eight months.
God promised a hope and a future to the Israelites when they were exiled under judgment. I trust that God has not forgotten us. We don't know what it will look like, but I trust that whatever God has planned for us, a hope and a future are included. Through Christ the Lord, my friends.