This post is part of a spin-along through 51 Yarns by Jacey Boggs Faulkner, in the Wool n' Spinning community. For other posts in this series, check here.
Ugh. Emotions! For someone who has a lot of them, I'm not very good at them. And I don't know about you, but so far November has been a highly emotional month.
The day I spun this yarn was last Saturday, after we heard about the election call. The mix of emotions, both relief and anticipation of struggles yet to come, processing the "over but not over"-ness of the current struggles, took a lot out of me. Sitting with uncertainty is draining.
My emotional yarn's story starts about eight years ago. One of our professors at seminary, Martha G., was working on her DMin, and she invited several of us students and their spouses to participate in a study group exploring Trinitarian prayer. That weekly group was the beginning of several friendships and the strengthening of others, and a precursor to the reflective ministry internships I would have in coming years.
Every week that summer, Martha would make us an enormous fancy dinner (she was quite the foodie), we'd we'd sit together and talk on her porch, or in her living room. She was also a dog person, and had just acquired a second standard poodle to be a companion to old Gracie. His name was Samwise, and she was letting his fine puppy fur grow long and fluffy. Every time I saw him, I reminded Martha that when she finally got him trimmed for the first time, to save me his fur! And she did.
That super-soft stuff was beautiful, but it was pretty doggy-smelling. I took it to my mom's one summer and tried to wash it like wool, but that was before I really knew what I was doing. I boiled the pot for too long, and what came out was a horrible matted mess. I was so disappointed. I tried carding it up in my mom's drum carder, but it was too tangled. I managed to tease enough out to blend with some black cormo cross wool, but it was far too much work. I threw out the poodle fur eventually, but did keep that one batt of cormo/poodle.
Fast forward several years. While I was taking a mentored ministry class with her, Martha was diagnosed with an extra-bad strain of leukaemia. About a year later, after I had graduated, she passed away. At the time I was pregnant with our second kid, who we named for her.
I managed to hold on to that one wee batt all these years, though it took a few days to find it! But find it I did, on that emotional Saturday when the election was finally called. I made MiniMighty cuddle with it, then spun it up.
I spun the singles up thick and thin. Martha loved all things natural and wooly and earthy – she managed to knit with wool in the 70s and 80s! – but she had lots of personality. So this wool has both.
The brown needed a pop of color, so I spiral plied with these purple singles I had leftover from making another art yarn. They were originally dyed for me by Wooly Witch, who does all Harry Potter colours, and these were inspired by McGonagal. Martha dressed up as McGonagal at our seminary's Christmas party one year, and her long kilt made regular appearances in her ordinary wardrobe.
A simple spiral ply, holding the textured singles at 4 o'clock or so, gave me the look I wanted.
I am very pleased with the bubbly spirals. This yarn captures the feeling I wanted it to: Natural but quirky; novel but classy.
I'll just let this yarn be for now. Emotions are best sat with, not rushed to be done with, right?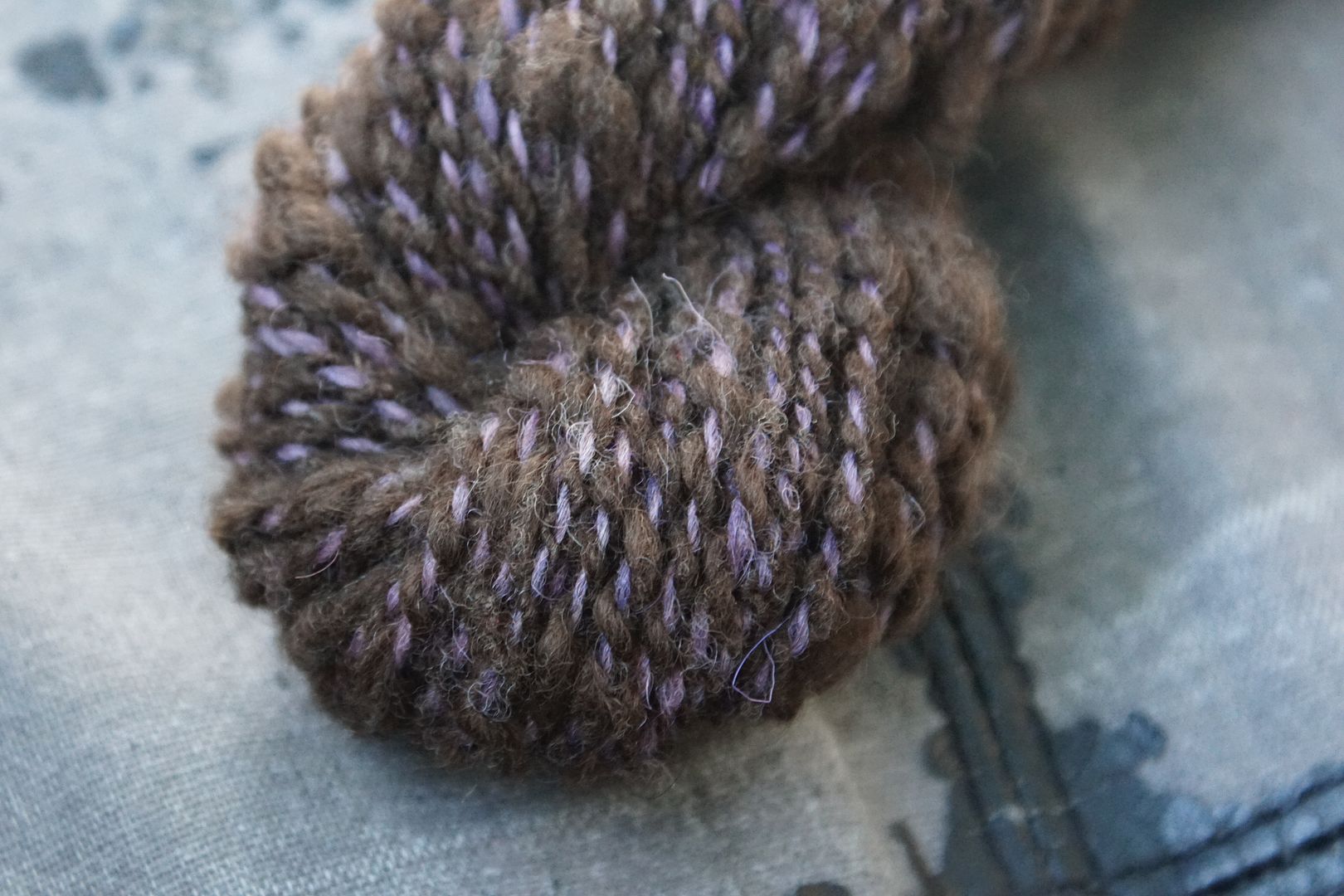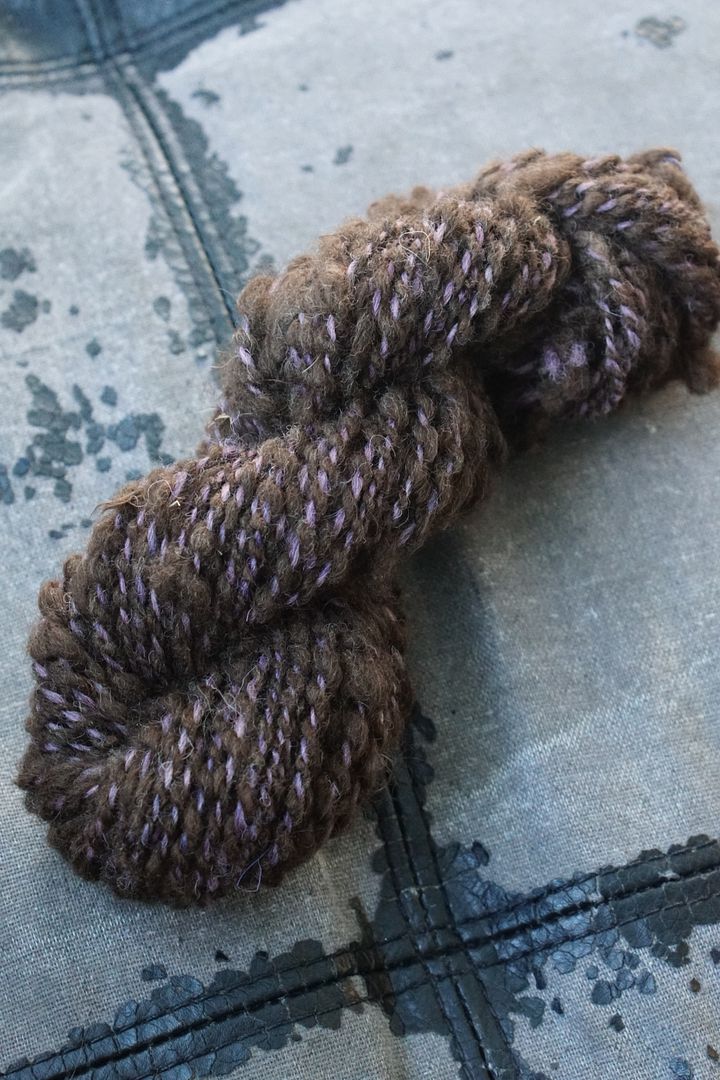 Of all the emotional days we've had, this is another one. We got the news yesterday that Rankin has its first COVID case, and the town is locking down. The town is well prepared and the territorial government is taking things seriously, for which I am super grateful. It's just another change and disruption: at least two weeks of no school, and this time we're definitely in winter.
I think processing the emotions around these times is very important in order to find the resiliency to face them. That's something Martha G was never afraid to do, so I hope I'm willing to do the same.