This post is part of a spin-along through 51 Yarns by Jacey Boggs Faulkner, in the Wool n' Spinning community. For other posts in this series, check here.
This is the last yarn in the chapter that led us to explore non-wool fibers. I've spent a long time and a lot of yardage in this chapter, exploring silks, faux-silks, even dog hair. I'm finishing with another new yarn for me: a bast fiber, Ramie.
Bast fibers come from plant stalks which are somehow processed to make their core, or bast, into flexible fibers. Linen is a bast fiber, and I'd love to spin some of that one day – or a lot of it, if I like it! Hemp would be another. Ramie is interesting because it is not part of Western textile traditions; it comes from Korea. This fascinating video shows the traditional processing and weaving of Ramie. It looks like hard work!
My ramie came from Louet. It was a gift from Jared, when he was trying to find something really different for me to spin. He bought this seven or eight years ago! I shared some of it with other 51 Yarns spinners, because I couldn't imagine ever spinning all eight ounces of it, but I still had four ounces for myself.
I found the spinning surprisingly enjoyable, which is why in the end I opted to spin all four ounces over the course of the last two months. Somehow over that time I didn't manage to take a single picture of myself spinning. Oh well.
The processed Ramie fibers are incredibly compact. When I had finished the first bobbin, I held up the second two ounces of fiber to the bobbin, and the fiber actually appeared smaller than the spun singles. I don't mean that the fibers are compacted, like when wool gets smashed together and loses its loft. This fiber just had no loft to lose. The fibers are completely straight, no crimp here, and so the fiber takes up no more volume than the yarn.
I wet spun this fiber. At first I thought I would try both, but I found the dry fiber too slippery for me. I just took a shallow bowl of water – one that would fit on my mother of all, sitting under the spinning flyer – and I'd dip the fingers of my drafting hand in it regularly. This helped the singles hold together very easily with not very much twist. I just broke off a chunk, split it into three strips, and spun without thinking too hard about it.
In fact, it didn't seem like enough twist. After I finished the singles and looked at my plyback test (something I should have done at the beginning of the spin!) the singles looked so relaxed that they were only twisting around each other a couple of times in an inch. I could have just made a tighter ply twist with softly spun singles, but as this would most likely be used for lace, I wanted tighter singles. So I up-spun them, putting each bobbin back through the wheel. I added enough twist so that the singles wanted to wiggle with the tension, often corkscrewing and pigtailing. Below you can see the difference between the singles spun at 11.5:1 (top) and the singles up-plied at 15:1 (bottom).
I definitely overdid it. The singles were not happy while I plied them. Sometimes the pigtails were so tight that in trying to untwist them, the singles broke. Oh well – a little water on my fingers, and it was easy enough to re-attach a broken single with a little overlap. The singles had some gently thick-and-thin areas as it was, so I didn't stress. The resulting yarn looks just how I wanted it.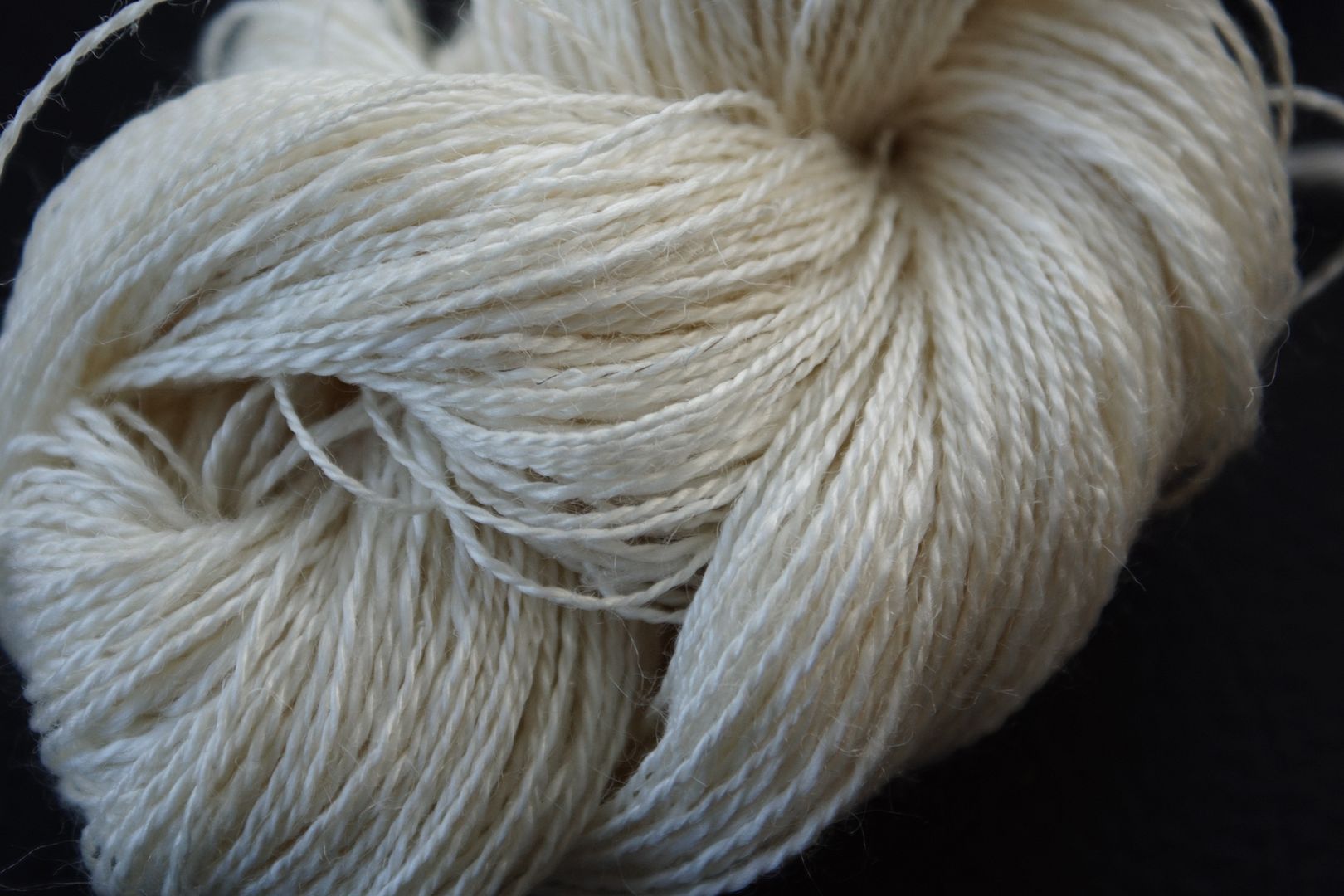 This yarn is – there's no other word for it – crunchy. I've had bamboo yarn that crunched like this when it was wet, but this is just incredibly crisp. It looks beautiful, but I'm not sure I would describe it as soft. It's very cool, though.
It's very fine – I measured 17 WPI – but does not have a particularly high grist. It's around 2000 YPP, more of what I would expect for a fingering weight if this were wool. I presume that's because the fibers are so straight and crimp-less, and perhaps also because I smoothed them down with water. The yarn is thin, but dense on the micro-level.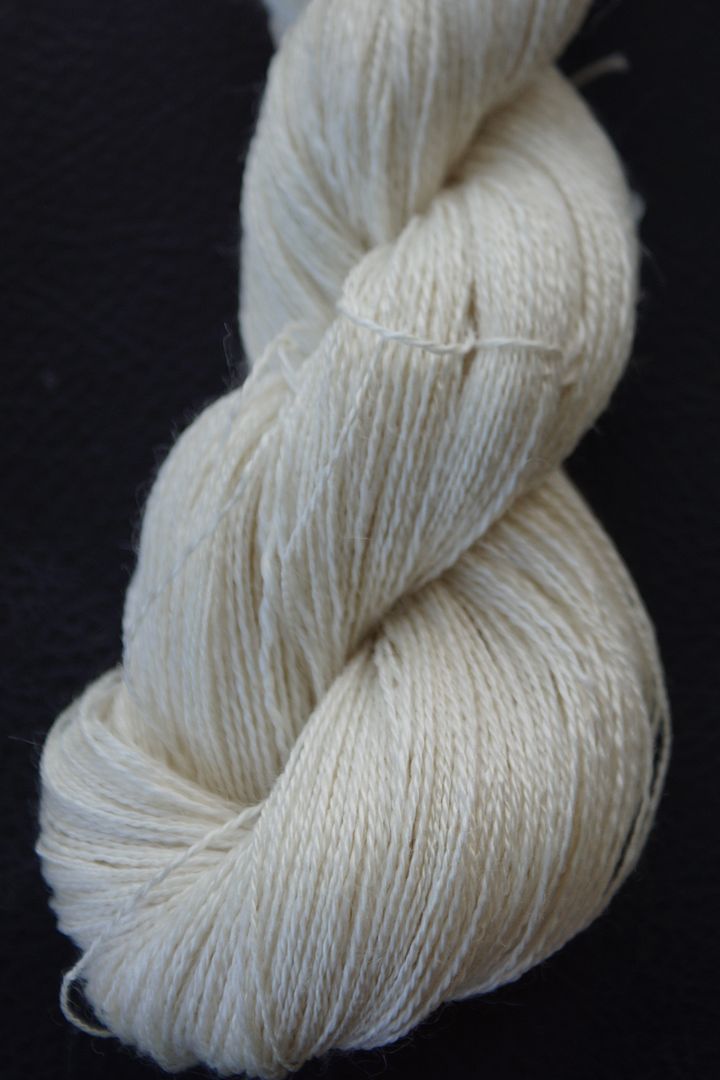 It's dense, but I wouldn't say it's heavy. The swatch has some structure to it, even knit on a fairly open US 3. The knitted fabric feels almost like netting. I'm not sure what I would want to make with it, using 100% ramie.
The thick-and-thin-ness of my yarn shows in the stockinette portion of the swatch, but not at all in the lace. This would be a fab lace yarn. Like most of the other non-wool yarns I've made in this chapter, I'd love to knit it up as a lacey tank top, though this one should definitely be a cool summer top rather than a warm undergarment like the silk. Also like the other non-wool yarns, I would like to see it woven. I dream of putting this whole chapter together on the loom. Wouldn't that be fun?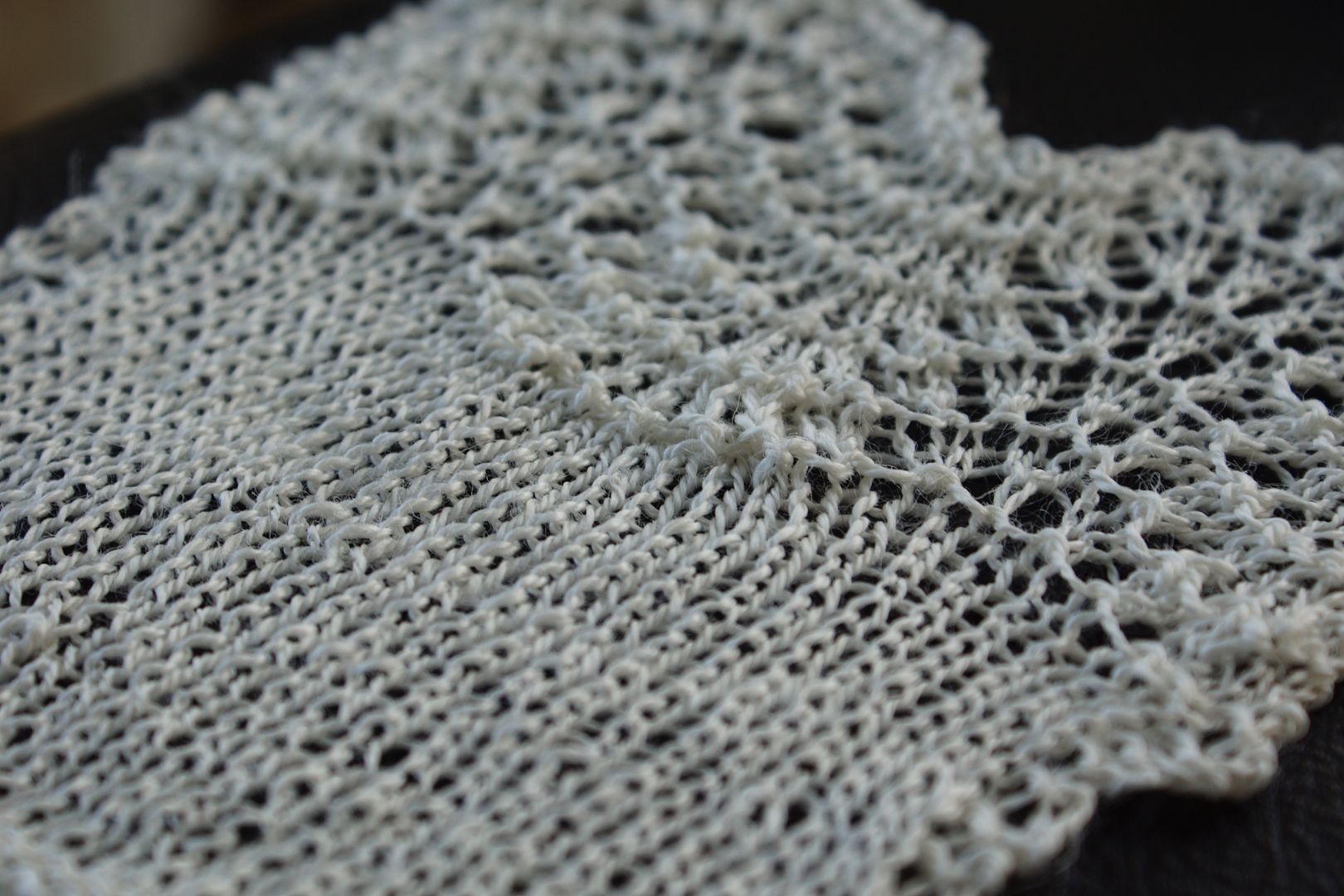 Ramie is so different that I've explained it more in terms of what it isn't than what it is. I'm not sure what I expected it to be like, but it was so much more! I feel as if I've been introduced to someone from another culture that I know next to nothing about. I can be polite and respectful, but we'll have to be friends for a much longer time for me to appreciate all that it has to offer.
How is it November already?! I can't believe I'm putting "11" in for dates already, long as this year has been. But, speaking of 11, after this post I only have 11 more yarns to share with you before the 51 Yarns SAL is DONE. Eleven seems like a lot at my current rate, but of those eleven, three are already spun, and five will spin up very quickly (in the course of an evening or less). I'm going to do my best to make and/or write about those fast or finished spins this month, and leave the last three longer spins for last. If they run into next year, nothing bad will happen! It is so crazy to be coming to the end of such a long group project!