This post is part of a spin-along through 51 Yarns by Jacey Boggs Faulkner, in the Wool n' Spinning community. For other posts in this series, check here.
Greetings! It's been a busy season here; I've been doing lots, but haven't been so inclined to write about it. So much for excuses. Now for silk! July's assignment in the 51 Yarns SAL was silk and luxury. While in Vancouver, I picked up this beautiful sampler of silks that checks both of those boxes.
First, I spun the Bombyx silk. I think of Bombyx as kind of the "traditional" silk spinning experience. It's made from the cocoons of silkworms that have eaten mulberry leaves, been killed in the cocoons, and had the cocoons reeled off. I believe that in order to make top for spinning, the fibers are carded and combed.
I spun this way back in June! But I still remember the sticky feel of Bombyx on my fingers. Every time I sat down with this fibers, I filed my nails and moisturized my hands thoroughly first. That was enough to keep it from being too sticky, but it was still a challenging spin.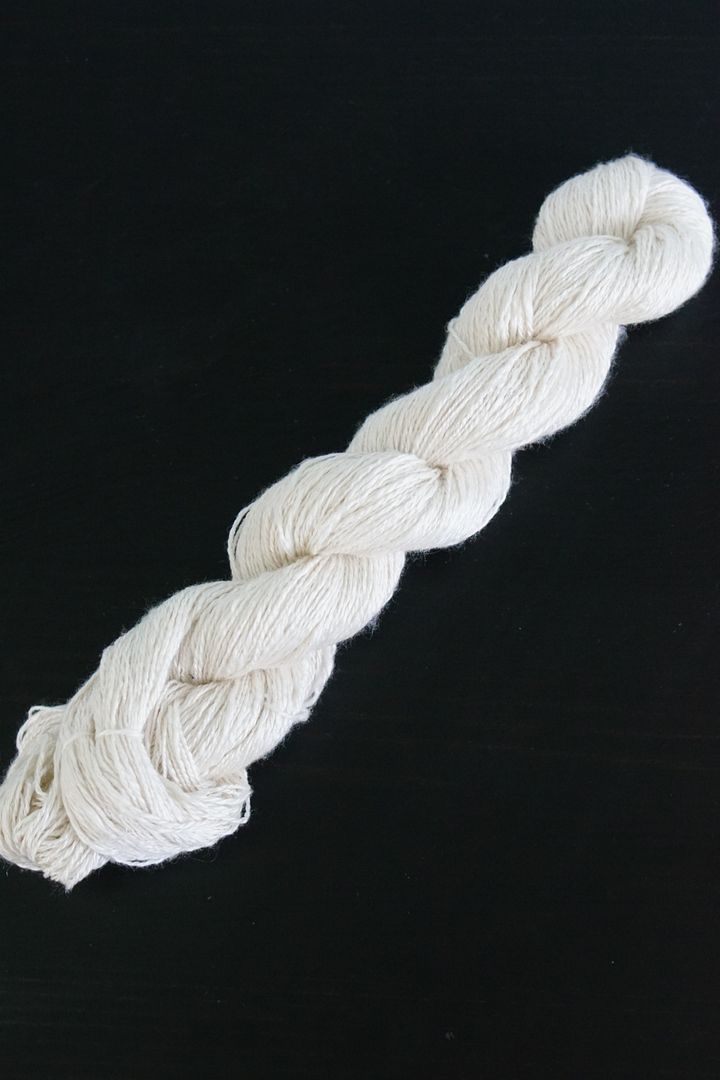 I followed Rachel's advice and tried spinning over the fold. This definitely made drafting easier, but seeing as I don't have a lot of practice with this kind of spinning, my singles were not very even. On top of that, I was getting used to my high-speed flyer (more on that another day!) and when I was plying, I didn't realize it, but my drive band was slipping a good bit. So it's rather underplied. But with those long, long fibers, underplied is OK.
I spun up all my silk samples into fine, 2-ply lace. I knit them all up in both stockinette and lace.
The stockinette highlights the unevenness; this would be less obvious on smaller needles, but I was not about to knit up a sample on US 0s. It's less noticeable in the lace, which is gorgeous and open. And oh, the sheen!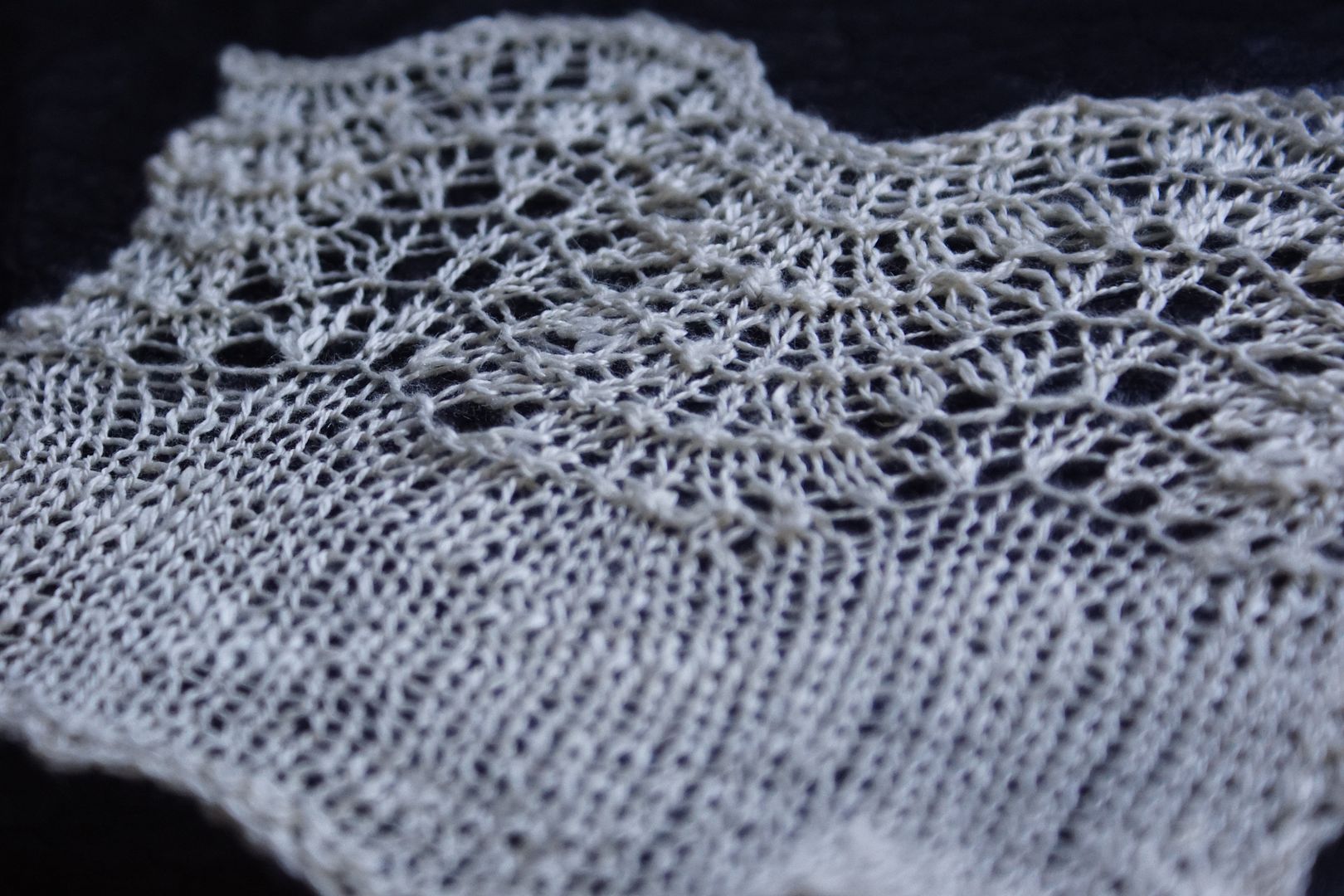 Silk is famous for being shiny. And Bombyx is the shiniest. It practically glows.
It blocks beautifully. Texturally, silk has a nice feel to it, slippery, and with a certain heft and drape. Bombyx is the silkiest of silks in all of these ways.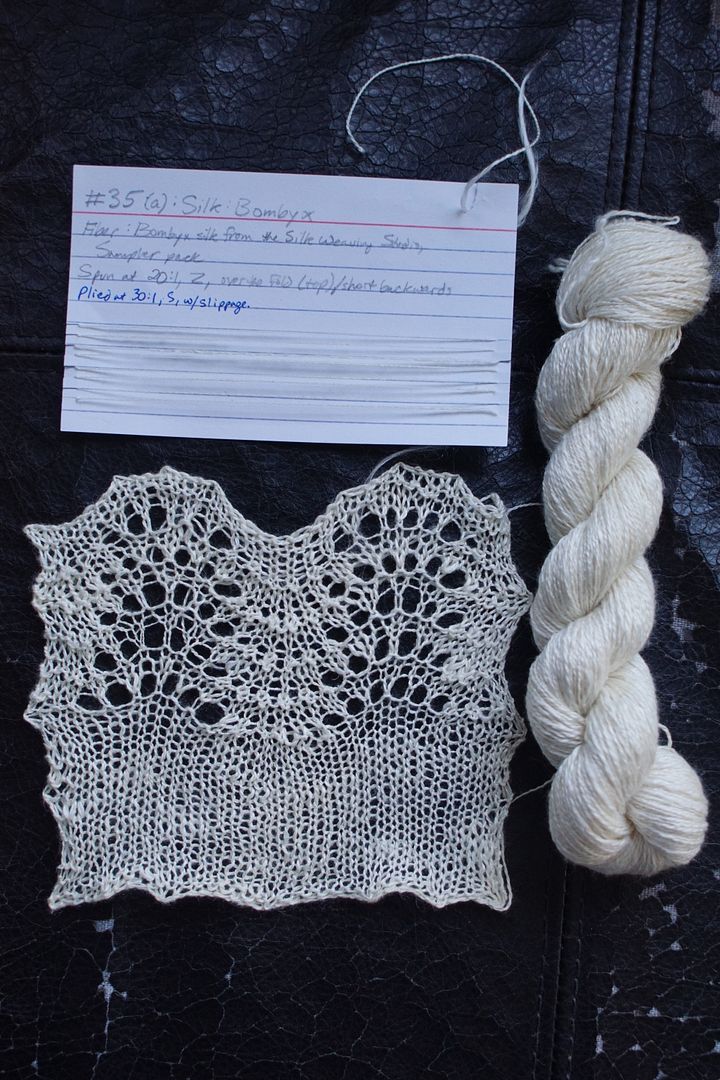 I would be interested to try spinning it again with other drafting techniques to see if it is any easier to make it even with more practice. But honestly, I don't see myself spinning a lot of pure Bombyx silk; I'm not the fancy shawl type anymore! But for experimenting with the wide variety of fiber types, I think this is an important benchmark.