I was going to write this post yesterday, but yesterday was really difficult. Writing yesterday would have cast a pall over the month of July that didn't belong there. Because July, quite frankly, has been wonderful.
The weather has been grand. In the teens most days, sunny most days. Some days the bugs are bad, but I think of mosquito bites as the northern equivalent of sunburn: theoretically preventable, but just the price of being out during gorgeous weather.
Like an enormously upscale version of the best kept gardens of perennials, one set of summer flowers is replaced by another. The rhododendrons are gone, supplanted first by the little snowballs of Labrador tea (above). Then there are the mounds of miniature purple flowers, whose name I haven't been able to look up yet:
And these, which are a kind of vetch, I think, but deserve a much better name. Yet another, taller kind of vetch took over the tundra a few weeks later:
And adorned the scene where we got our first good look at a herd of caribou.
Pretty much the coolest thing ever. What a wonderful time of year.
Spinning
Obviously, the big craft this month was all the spinning I did for tour de fleece!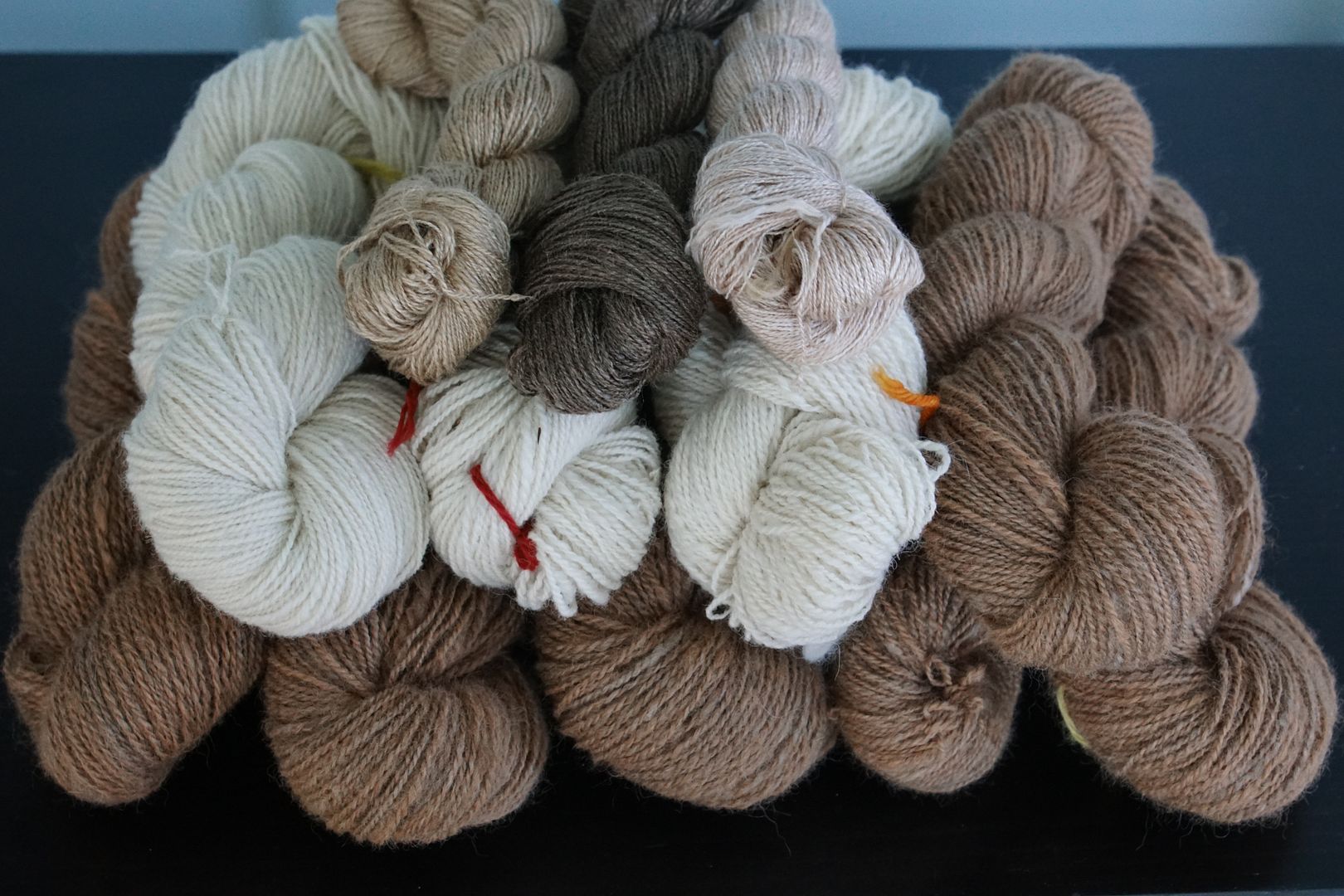 You can read about that in the previous post. I'm slowly swatching my silks so I can do my 51 Yarns reflections, but I've been much less inclined to knit than spin!
Also under spinning, my friend Lorraine made a couple of wonderful Muskox discoveries at "canadian tire" for me. The first skin was in great shape, but after I went to a lot of trouble to get the hide stretched and soft, we discovered it had no qiviut on it. Someone else probably harvested it, which is why it was in such good shape! Duh.
But a couple weeks later, Lorraine found a second one. It was in nasty shape – I think it was used as a dog bed – but it had tons of qiviut that was very easy to harvest. I got the bulk of the guard hairs out; now I'm slowly washing it and pulling out the remaining guard hairs. It's just fantastic stuff.
Knitting
There has been a little knitting – well, not such a little. At the end of June, I cast on another handspun sweater, and now I am nearly done the back:
It's a pullover with a textured lace pattern, and the yarn is my alpaca shetland blend that I made while I was pregnant with D. Sorry for the awful pictures today; I promise the color is not so barfy. At least you can see the lovely stitch pattern, since I went ahead and blocked it to get an accurate gauge. It's the Evergreen Mountain Pullover out of Interweave Knits. Thus have I ended my KDD streak and finally realized my desire of knitting something from this favorite magazine of mine that I've been collecting for years but never using.
Sewing
I sewed one mask.
This is an artifact of our church's reopening a couple weeks ago, with many restrictions. I had a bunch of them queued up to make and share, but by the end of this one the machine I was using developed some problems. This one is Jared's, but I have to eke another one out tonight, because I'm leading church tomorrow.
Bookbinding
I could have also labeled this section "homeschool prep," because that's what all the book making is for. I also spent a lot of time with spreadsheets and order forms, but this is the more visually interesting part for you.
I finally finished the literature books I had lying around for weeks, shown at the bottom of the photo. At the top you see one more last minute project – some nature notebooks and a copy book. These last have involved playing with some different – and faster – bonding techniques, which was very cool.
School starts in two weeks for MiniMighty, who is entering Inuktitut Kindergarten, and I'll start grade 2 with Stringbean either just before or after that. Homeschooling full time is something I've wanted to do for many years, but it's surprisingly scary now that the time comes to pull the trigger. Oh well; we've decided it's what's best for our chickadee for this year.
How is your summer going? Has it been blistering hot where you are? Or is it winter? How is your relation to the schools going? Our prayers are for God's mercy and justice, and for the glory of his name in all this. I hope you are well.