This post is part of a spin-along through 51 Yarns by Jacey Boggs Faulkner, in the Wool n' Spinning community. For other posts in this series, check here.
This has happened to me more than once: I think I know what something means, and it doesn't occur to me to find out more. I don't know what I don't know, and I act confidently out of ignorance at my ignorance.
My logic: tweed is heathered yarn with blobs of colour (nepps) in it. It should be carded and woolen spun, and traditionally plied, but other than that, I could make an excuse for anything. To me, the important part was the handcarding and blobs of colour.
I didn't have any silk at that time; many use sari silk to add that little bit of contrast in colour and texture. I didn't have any actual wool nepps, nor was I willing to make them.
What I did have was a little leftover nest of Arctic Berries Targhee from the rest of the colour chapter, and some leftover singles from the traditional three ply.
These I cruelly hacked to bits, then attempted to card them together with some leftover down wool and some cormo cross fleece that I still have.
I tried to card these together sandwich style, but the colourful scraps didn't incorporate very thoroughly.
As I should have expected, what didn't blend well together on the cards did not stay together in the yarn.
The yarn I made was… interesting? And attractive, in a way, though I suspect all those bits are destined to fall out of the yarn sooner or later. But it's definitely not a tweed. Time to try again!
I dove back into the deep recesses of my stash, where I have been keeping little bits and bobs of this and that for just such occasions as this. Here's what I came up with:
From top left, clockwise: Icelandic Thel leftover from 51 Yarns spin #6, combing waste from 51 Yarns spin #9 & #11, little junky bits and bobs from the last few years of spinning (mostly the unspinnable ends of braids), and a little merino top that came with my spindle.
All together it was about 1.5 oz. My previous attempt had at least taught me that 1 oz makes about 8 rolags, so I divided all the ingredients into 12 tiny piles.
Each pile fit nicely on a handcard. I sandwiched the combing waste and bits and bobs in between thel on the bottom and merino on the top. Three passes seemed about right.
Spinning these with a regular ol' long draw gave me a singles that immediately looked exactly like what I think of as tweed. Extremely heathered, with those all-important (to me) pops of brightness.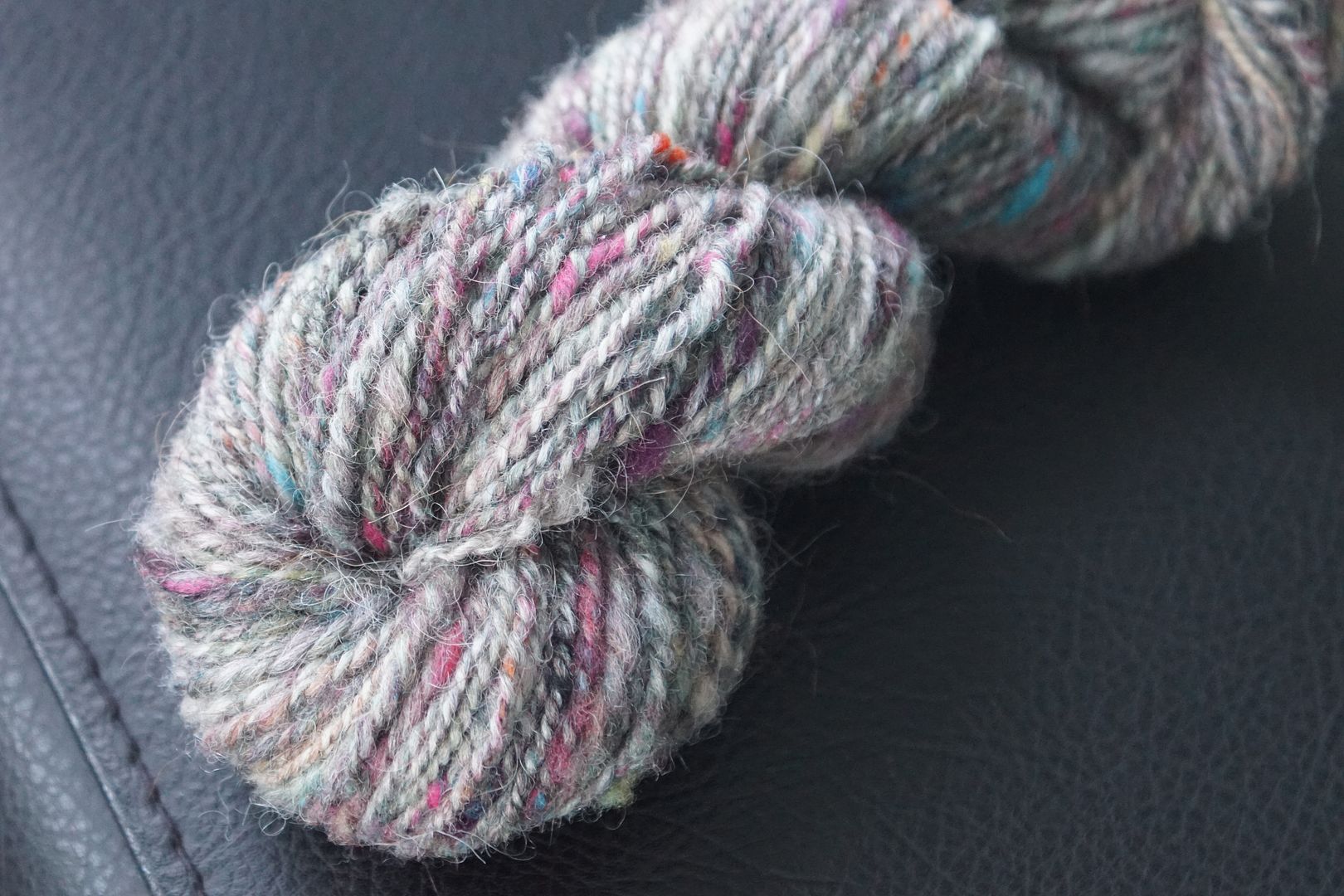 The singles ended up fairly low twist. I wound a center-pull ball and plied fairly tightly. It has a 45-50 degree angle of twist after finishing.
I heart it. The thel gives it an absolute glow. Some parts have more of a pink tone and some more of a blue, and these combine into a yarn that looks like so much more than just grey.
The fabric has all the delightful unevenness and character that woolen-spun yarn should, and tweed should be woolen-spun. I knit it up on US 8s/5mm and US 6s/4mm, and weirdly my stitch gauge didn't change much, just my row gauge. *shrug* that's me.
Since "tweed" as a term refers more to a woven fabric than to a yarn, I wanted to go ahead and weave a wee swatch. I borrowed my kids' potholder loom again, which I've been using as a makeshift pin loom. It doesn't weave up tightly enough for this yarn, but it gives a general sense of how the colors work together in a weave.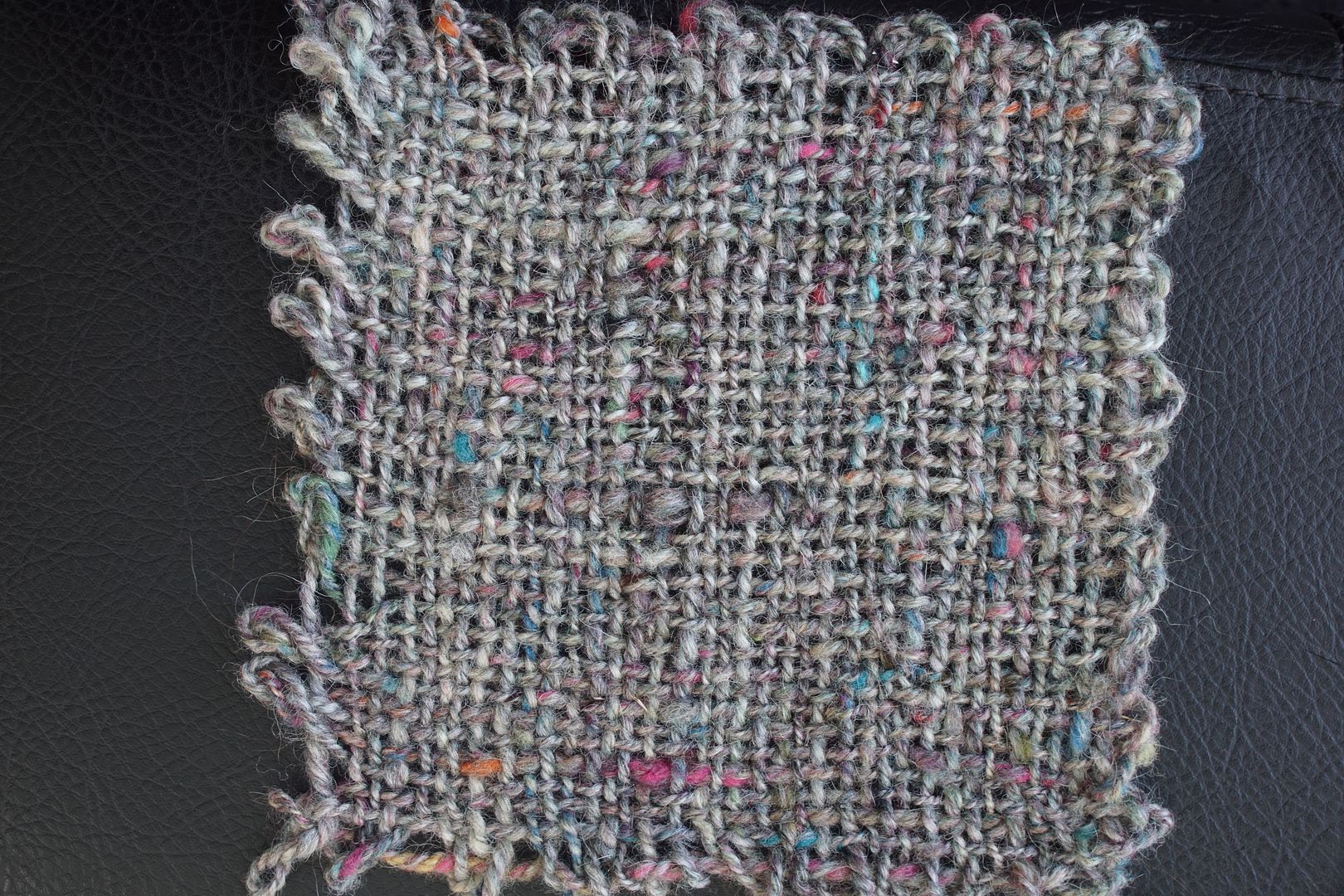 I don't know how you are doing right now, but I've had a tough few days. I find a lot of comfort in playing with pretty fiber and using my hands, but it's no substitute for taking the time to be present to my feelings. This article about grief helped me work things out. This article by N. T. Wright resonated with me, as I've been finding a lot of meat in the Psalms.
I hope you're finding your way. Much love from up north.