This post is part of a spin-along through 51 Yarns by Jacey Boggs Faulkner, in the Wool n' Spinning community. For other posts in this series, check here.
OK, It's catch up time! Here we go.
In this study, it's fun sometimes to group several samples together and spin with the same fiber for direct comparison. That's what I did for four of the yarns in the "Structure" chapter of 51 Yarns.
I bought this batt around 9 years ago, when I was first getting into spinning and buying too much fiber. It was 8 oz, and cheap for that quantity. The label has no info on what kind of fiber it was or where it's from. I thought the layering was pretty interesting. It was from a small farm stall, my fuzzy memory tells me. I nabbed it on a whim, but Orange isn't really my colour, though, so I never got around to spinning it.
I separated the layers, very pleased with how smoothly they separated and how light and fluffy the wool still was. (I stored this batt pretty carefully for those 9 years, and it paid off!) I ripped off some of each layer (not the same amount if each) then added a bit of dark brown from another old stash batt so I had 5.
These five colours would become five woolen-spun singles. These became the 2-ply, 3-ply, 5-ply, and cable-ply yarns. The singles were the same, obviously, and all were plied to a twist angle of around 40 degrees.
The 2-ply yarn was spun last, with the leftovers from the others, which is why you see some colour changing. You will not be surprised that two plies together took the most twist to get a nice twist angle. They knit up to a pleasant fabric on US 4s.
When I was first learning to spin on a wheel, my friend who was teaching me said she is not a fan of 2-ply yarns because they look "jagged." I know what she means, and the colour twisting emphasizes that in the swatch. It'll be interesting to compare this to the other swatches.
I did not test these yarns in cables and lace. 2 ply is supposed to be better for lace because the two plies push away from each other, opening up holes. I wonder if this also true in stockinette? Meaning, do you have to knit it more densely to get an opaque fabric? That would be a little more difficult to quantify, but now I'm curious.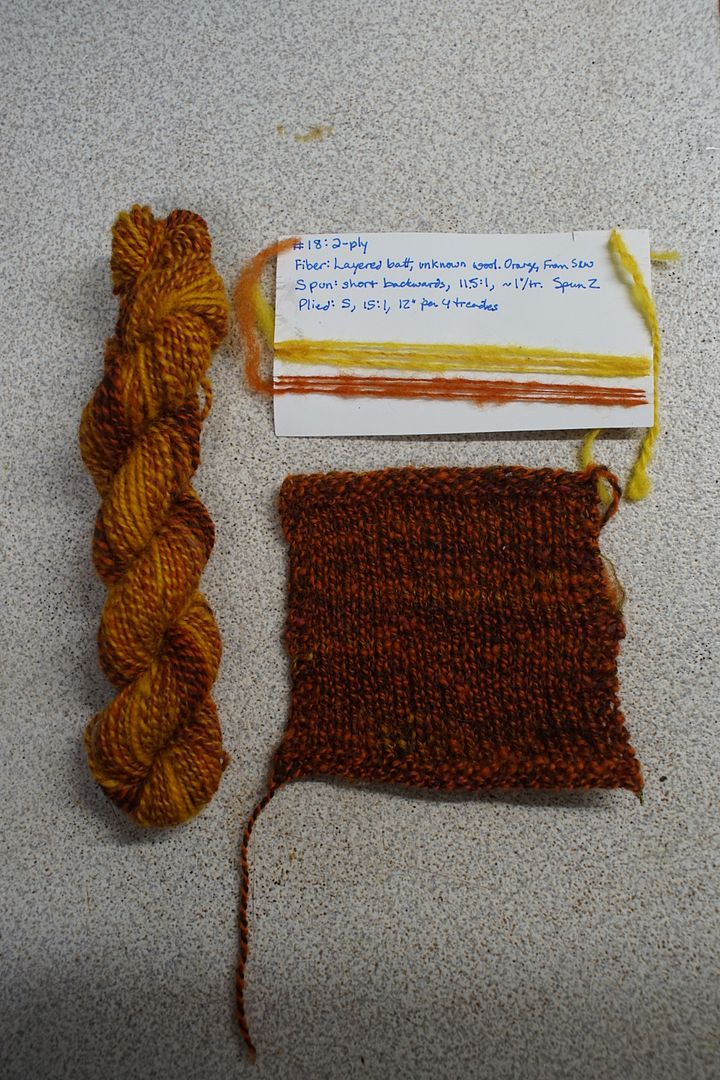 2-ply is a comfortable, standard sort of yarn. I've not ever gone to the trouble of finding a "default" yarn, but this or the 3-ply would be it!