Having reflected on what 2019 brought, what am I hoping for during a new year? A new decade? Not goals or aspirations, per se, but starting points: hopes, dreams, and prayers.
I made a list of "make 9s" in my journal, and almost immediately trashed it. It made me hyperventilate a little. There's no way I'm going to get to all that stuff. I don't even really want to.
I need to organize my priorities less with a plan and more with a vision and values. Good grief; I sound like a corporation, but that's not what I mean.
If I learned one thing last year, it's that "making" isn't just about my official list of hobbies. It's about everything that takes creative energy, heart energy.
Three Main Values
Gather Ye Rosebuds
My kiddos are young, and it's finally sunk in that they won't be young for long. When the oldest were 4 and 2, I thought I would be raising tiny demanding people forever. But I'm learning.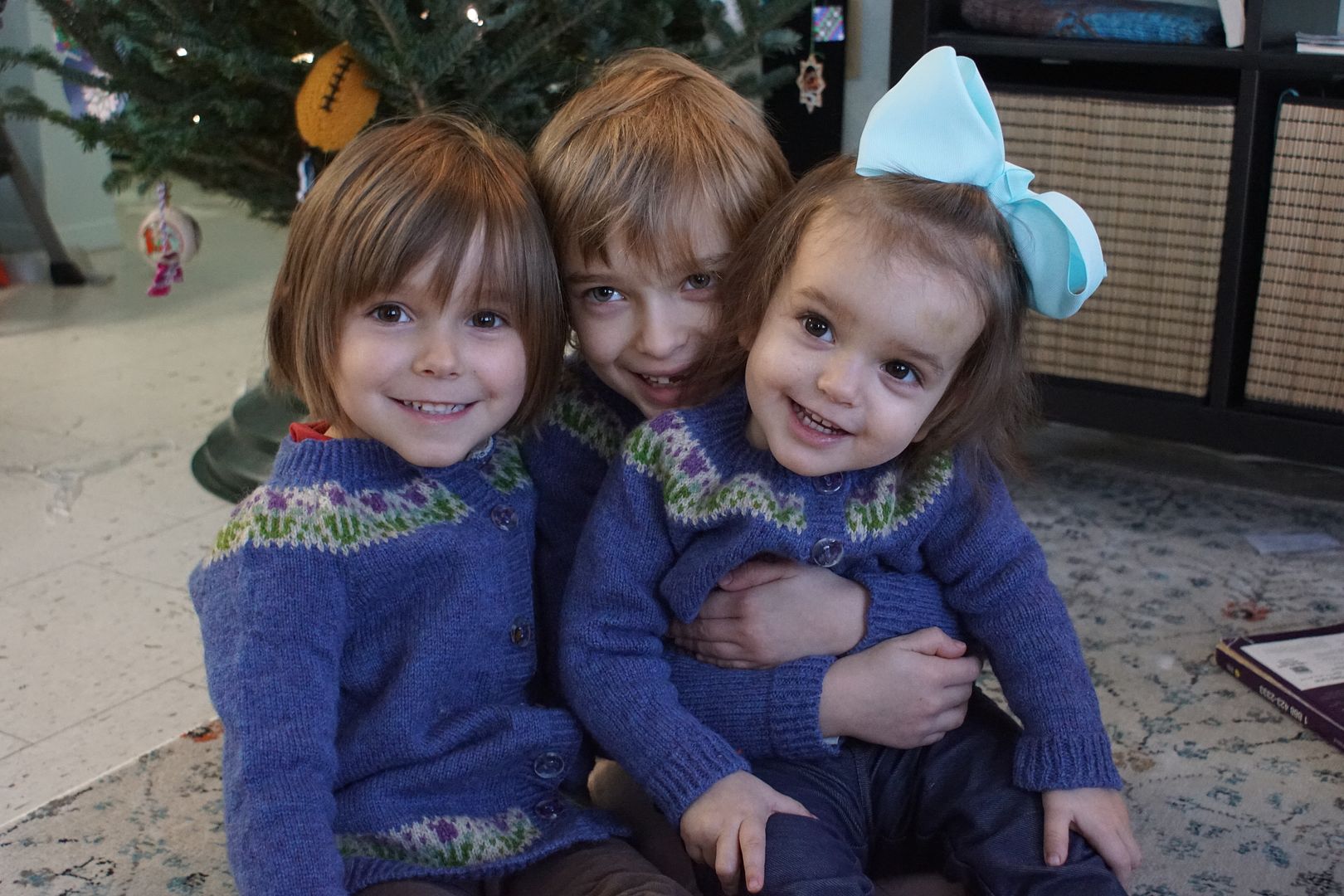 In my making, nothing highlights this more than how much they love their matching sweaters. How long before they want to do their own thing all the time, before the need for individuality precludes being matchy and sweet? So I'd say my first solid "goal" is More Matching Sweaters.
This year has seen a new growth in not just making for my kids, but making with them.
Stringbean in particular has great ambitions, even though she turns to me 10% into every project and wants me to finish it. Riding that line between pushing and guiding and empowering and taking over is tricky, but interesting. We're navigating the push and pull, and the successes are so sweet: like when I organized all the LEGO, and now she can build all her Arctic City sets.
Mini-Mighty sat down with me to knit for the first time this year, and she's starting to get into LEGO. But mostly, she loves books. How many four-year-olds read chapter books? Ok, her dad did, but that's beside the point. This is my last full year with a half-day at home with her, so I want to make the most of that by sitting down and reading with her. We may not be making with our hands, but we're making knowledge, forming character, building on the inside.
Dooner fell in love with books this year too. With her, I have all the delight ahead of us of learning letters and coloring. And what Dooner loves to make most of all is dances!
Then there's my dear hubs. We've so enjoyed making our home together this fall and into the winter. I pray very much that we continue to grow as a team.
Freedom to Pivot – Stashing Down
The awesome thing about last year is that I felt free to take some exciting new directions. The truth is, I have no idea what is going to come up this year. Something that turns up at a thrift store, or a suggestion by a new friend, can turn into a massive project or creative collaboration. Not that I want to be open to chasing all the squirrels, but if I didn't have some freedom to pivot, I wouldn't have started weaving last year.
For the past several years, I have prioritized Working from Stash, largely because I want that freedom. When I keep buying fiber and yarn and material, it becomes a weight on my mind. I don't want that.
I started more intentionally stashing down about three years ago. For several years before that, I rarely bought commercial yarn unless I was going to use it in the next few months. That has continued, and between using and giving away yarn, I can now fit all the yarn I own into my cedar chest (including my collection of leftovers). That feels pretty awesome.
My fiber stash is a little hairier, since I specifically asked a couple of birthdays ago for more fiber, and my mom graciously gave me lots! But somehow fiber stash is different for me. Having those small amounts around gives me the freedom to experiment and learn. But I have to be careful. Definitely no more sweater quantities of fiber until I get through the 7 (choke!) that I've been sitting on for an embarrassingly long time.
The 51 Yarns SAL is helping. In the process, I'm using up several small quantities of fiber, and I'm sampling for the larger ones. I'm also trying to be less precious about those large quantities. For example, there's a bundle of a 1.5 lbs of orange and brown things that I had wanted to use together, but I broke them up and pulled off about 5 oz for several samples (which you'll learn more about very soon). The same is true of yarn: I broke down and used up one skein of a three-skein set of fingering-weight yarn in a scarf I made recently (more on that in a day or two). There is no "optimal" use of a thing if its only current use is warming the inside of a cedar chest.
By 2030, I would like to have next to nothing in my yarn and fiber stash. By that time, I'll be in my 40s, my kids will all be well into school, and hopefully I'll have some idea of what the next stage of my life will look like. I have no idea what place making will have in my life then; I make no assumptions. But should I still walk this earth and have the use of my hands and wits, there will be some making, and I'd like to have that freedom of just discovering an idea, shopping for it, and making it.
What Would Jesus Make?
Tongue in cheek a bit, but really. I'm a priest. It's no surprise that what God wants should be a major shaping force in what I want. That's true of every believer just as much. That's certainly played out in the big-picture parts of my life, even the medium-picture. But in the day-to-day grind, my flesh still tries to take over. I want to curve in on myself, worship idols, and resent my calling.
This might sound existential, and it is more of a personal growth goal, but it's directly related to my making. I tend to think of my handwork hobbies as "me time" that competes with "God time" – devotions, Bible reading, sermon writing; or, in a different way, with serving him by serving my family or my church.
I want to get out of this tug-of-war. It always seems to end in guilt and resentment.
The truth is, God blesses my making. It makes sense – Jesus was a carpenter, he hung out with fishermen, and he understands better than I ever will the connection between human handwork, our identity as mini-creators in the image of the Creator, and our spiritual thriving. He also was tempted just as we are, so he understands how that same nature of being sub-creators turns so quickly into idol worship under the influence of the world, flesh, and devil. This tangle is fundamental to human existence, spirituality, and the Christian walk of sanctification. And I run slap up against it every day, between laundry and LEGO and loom.
Not that I always have to spiritualize my making or find some "moral" in it. That's part of why I stopped vlogging for a while; I felt as if I had to justify each post with some kind of profound reflection. That felt all kinds of contrived. Things that are good, true, and beautiful are enough in themselves.
Finally, brothers and sisters, whatever is true, whatever is noble, whatever is right, whatever is pure, whatever is lovely, whatever is admirable – if anything is excellent or praiseworthy, think about such things.

Philippians 4:8 (NIV)
The truth is, I don't have a plan for how to do this. What I do know, practically, is that I see God at work most, and get into tug-of-wars less, when I spend most of my creative energy on serving my family. My friend Carrie calls this "turning my heart" towards them. That is my main calling right now, and I really am thankful for it. Last year I started out making a bunch of plans for how I would get a bunch of hobby-type things done, but I'm not going to do that this time. I trust there will be enough time for enough life-giving work and fun of various kinds, and it is enough to observe and reflect what shape that takes.
But You're Going to Make a List, Right?
Yes, for the sake of my own sanity (so I don't try to keep track of it in my head) and curiosity (because I want to compare again next year), I'll append a little list, based on those values.
Knitting

3 Wee Sweaters
Sweaters for me from stash

"Oran do Chaora" with handspun (finish)
"Keith Moon" pullover with Green Dragon handspun
Cardigan with red handspun

Maybe: Fancy shawl for Dooner's hope chest
Maybe: 3 pieces for a Nativity set

Spinning

51 Yarns, part 2
Lopi sweater spin (finish)

Weaving

Weave from stash
New techniques from Inventive Weaving on a Little Loom
Christmas gifts (TBA, obvi)

Sewing

Bench cushions
Catch up on mending
Very maybe: Kamiik for Stringbean

Dreams and Prayers

Cook through my stash of cookbooks
Keep up with Monthly reflection blogs

Craft and learn with the kids
Pray for a partner in kids ministry or women's Bible study
Exercise/get outside
Make music & dance!
It'll be interesting to see what shifts and changes, grows and shrinks over the year. I think it's going to be a good one.
What are your hopes for 2020?