What I neglected to mention yesterday is that the log cabin pattern is part of a family of patterns called "color and weave." Whenever you use changing colors in the warp and weft together to make a pattern, that's color and weave. I think it has to be plain weave? I'm not the expert here. Anyway, the final chapter in Liz Gipson's Weaving 201 Colorwork class is all about color and weave.
(p.s. I know the last several posts sound like an ad for her class, but it's not. I am just writing this to share my learning process with you.)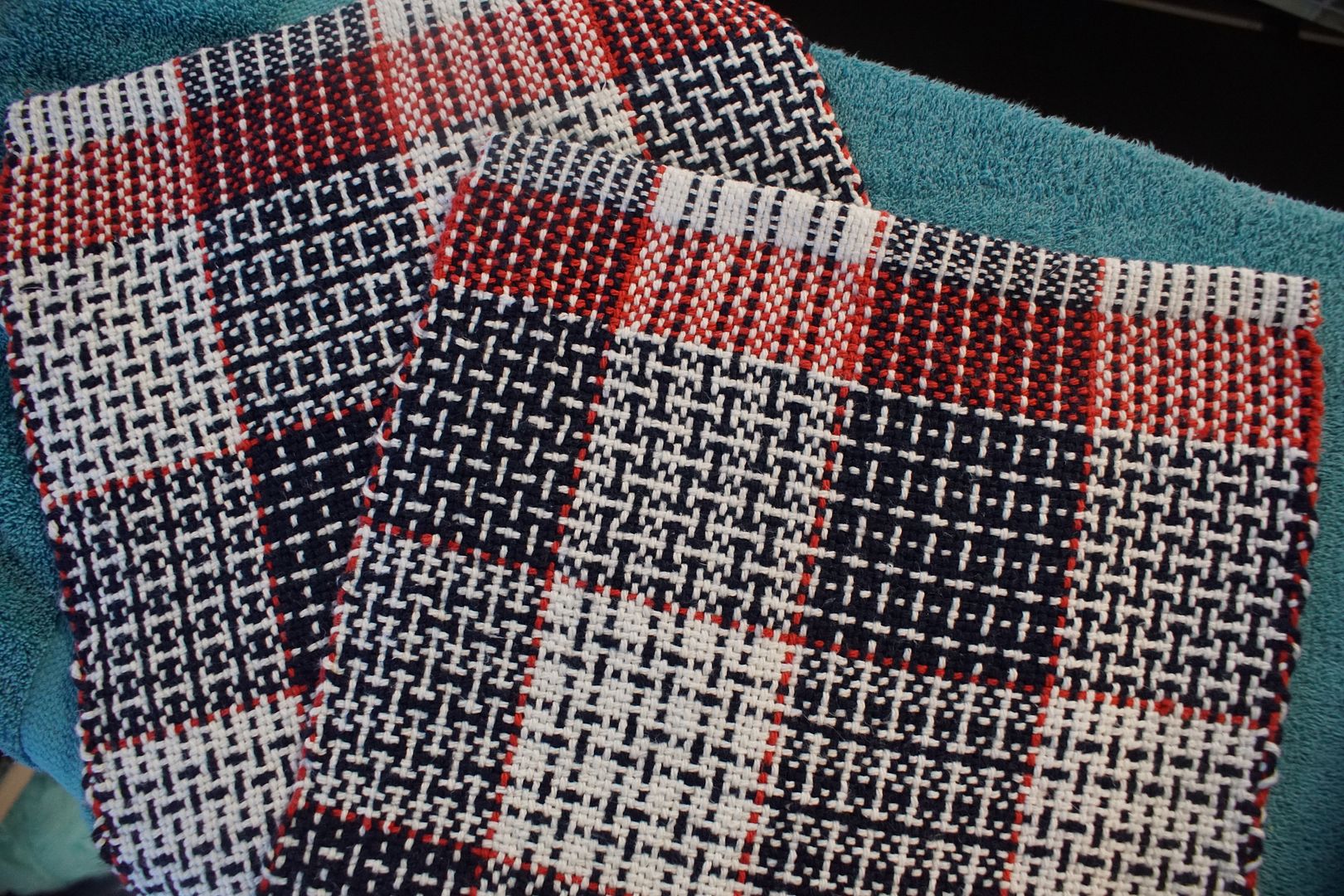 If you think yesterday's towels were intense, look at these bad boys! They are successfully towels, but they are also a gamp for color and weave. I thought gamps were just for testing how different colors looked together in a plain sort of way, but this pattern uses different threadings to make different patterns. Again, all in plain weave.
Each column of warp strands, separated by one red strand, is threaded in a different pattern – whether 2 dark, 1 light; or another is 4 light, 1 dark, 2 light, 1 dark – etc. There are four patterns. The towel is then woven in four horizontal sections, with the same pattern going on in the weft. That lets you see how the different combos work out. And each combination is different, making for sixteen different patterns in one piece of fabric. Here are a few of my favorites: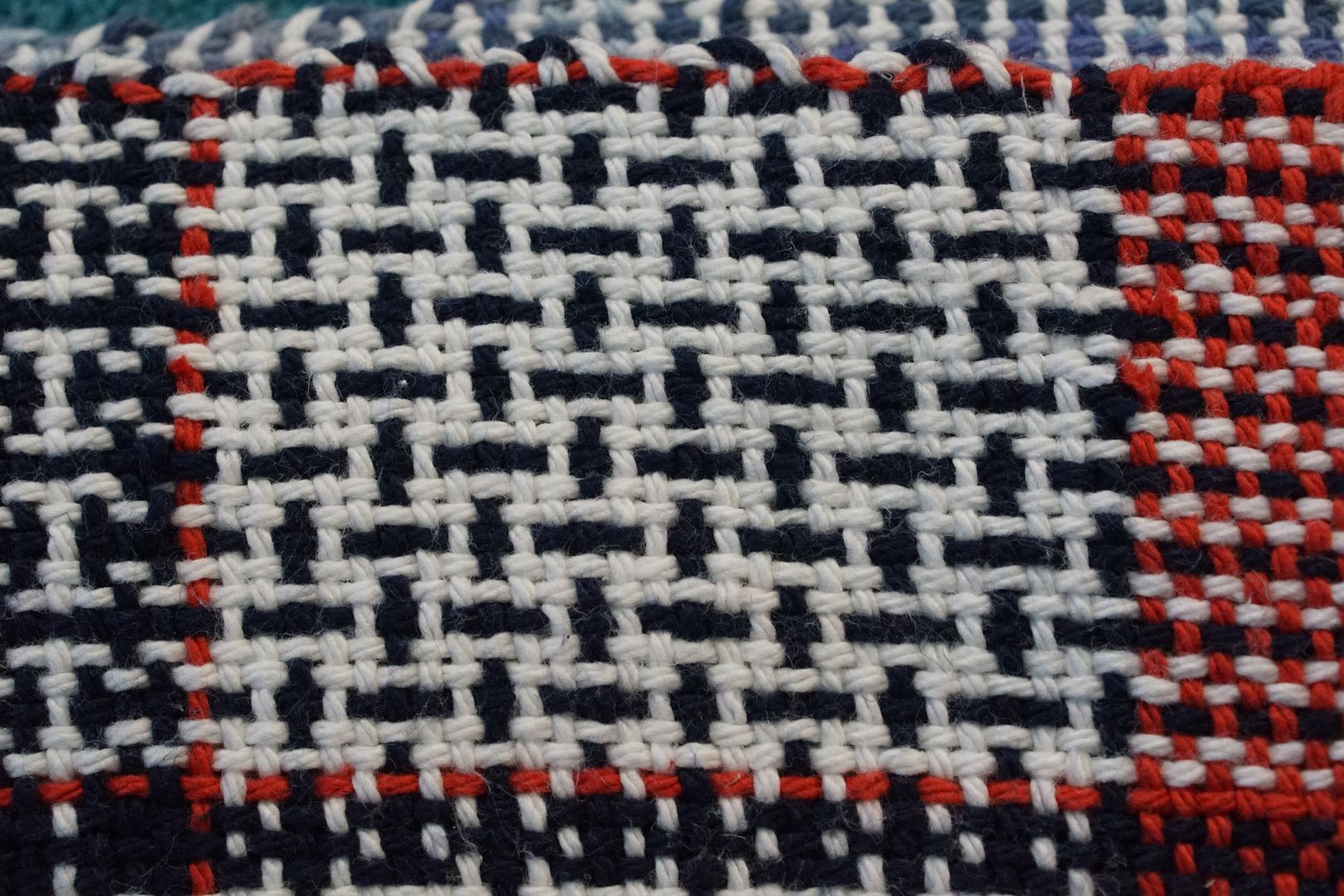 I could easily see doing a whole set of towels – or even a bath sheet – with just one of these patterns all-over.
What blows my mind about weaving is the possibilities. It's not that knitting had grown stale or anything; it's a really broad field. But there are lots of textiles that are just not practical for knitting, or you could knit them, but it'd be a stretch.
As I learned about the breadth of possibilities with weaving, I had a moment when it struck me: all those things I can't knit? They're all woven. Bath towels? woven. Carpets? woven. Jeans? Flannel shirts? Curtains? Lampshades? They're all woven fabric. There are looms out there making all of those things – some of them run by computers, but all operated by people. The gauges might be finer and the patterns more or less complex, or printed afterwards, but they're all the same idea: perpendicular warp and weft, and over-under.
For a long time I didn't want to get into weaving because it seemed too big. I've had that reaction many times in my life: something seems overwhelming, so I put it off. Even pooh-pooh it. I don't like those reactions I've had, but I can forgive it, in myself and others. It's a defense mechanism. Like the green girl in Inside Out, the "ew" reaction is about protecting yourself. From overwhelm, from envy, from failure, from FOMO.
But there's another reaction I can have: "wow!"
In knitting, I tend to deceive myself that I can do everything. I can try all the new designers (ha!), try all the new yarn brands (ha ha!), knit all the patterns in my books (HAHAHA).
With weaving, there's no confusing the point. I read about pile loops, leno lace, overshot, weaving four-shaft patterns – and that's just on a rigid heddle loom. I can never do it all, because as soon as you try one thing, you discover that within that tiny sub-sub-genre (for example, color-and-weave), the possibilities are virtually infinite. But it doesn't bother me, because just seeing how it's all done is so amazing.
People have this reaction to our handwork all the time: "Oh I could never do that." That's obviously untrue. If you can do something as complex as learn to read, or drive a car, let alone do your taxes, you can learn to knit. You just have other things you want to do. The accurate statement is "Oh I could never do that;" it's "I can never do it all." There are lots of amazing things that I would love to do, maybe that I would even be good at, that I never will. That doesn't matter.
But life is a little more fun when, instead of saying "I could never do that," I say, "That's so amazing that you did that! Can you tell me more about it?"
I am so thankful for the things I can do. I'm so thankful that I get to weave. Weaving a little bit has sparked my curiosity and appreciation of the textiles all around me. And that curiosity and appreciation has let me be multi-craftual by being at peace with having my toe in several things instead of being super-obsessed with one thing. All the better when the things I can do let me see several possibilities at once, which is why I love a gamp!
These lovelies now have a home with my mother-in-law. Every summer when we visit she has up her fourth-of-July themed quilts hanging up in cool vintage colors, so these reminded me of her.
Speaking of Fourth of July, I am typing this up while listening to fireworks outside. I hope you had a delightful New Year's celebration, and that you're relaxing on this first day of 2020, doing something you want to keep doing all year.
I think I'll warp up my loom.
(p.s. sorry for all the italics. feelings!)