Plaid was on my bucket list. I think plaids are fantastic. They make me wish I was even slightly Scottish. So I was pretty excited to try them in Liz Gipson's Colorwork class.
First, the warping. The threading was complex, but in her videos Liz walks you through every step of the process, and gives alternative methods. I'm sure I could manage the number-crunching to figure it out myself, but it was really nice not having to do that on the first project.
The weaving though! That was challenging. Liz teaches a clever technique to change colours in this context, but it's slow going changing colours so many times. I did get faster, and the results were so cool. I guess it's just like knitting colorwork: when it's complex, you have to pay attention and go a little slower! The results are worth the effort.
But after the first towel, I couldn't bear the thought of doing another one the same. The pattern suggested doing the second towel with just one colour of weft (good call!) but the only colour I had enough of was white, and I didn't want to do that. So I did some cool stripes, inspired by some similar towels in Liz's book "handwoven home."
The two towels make a fun study of how the same colours can combine differently.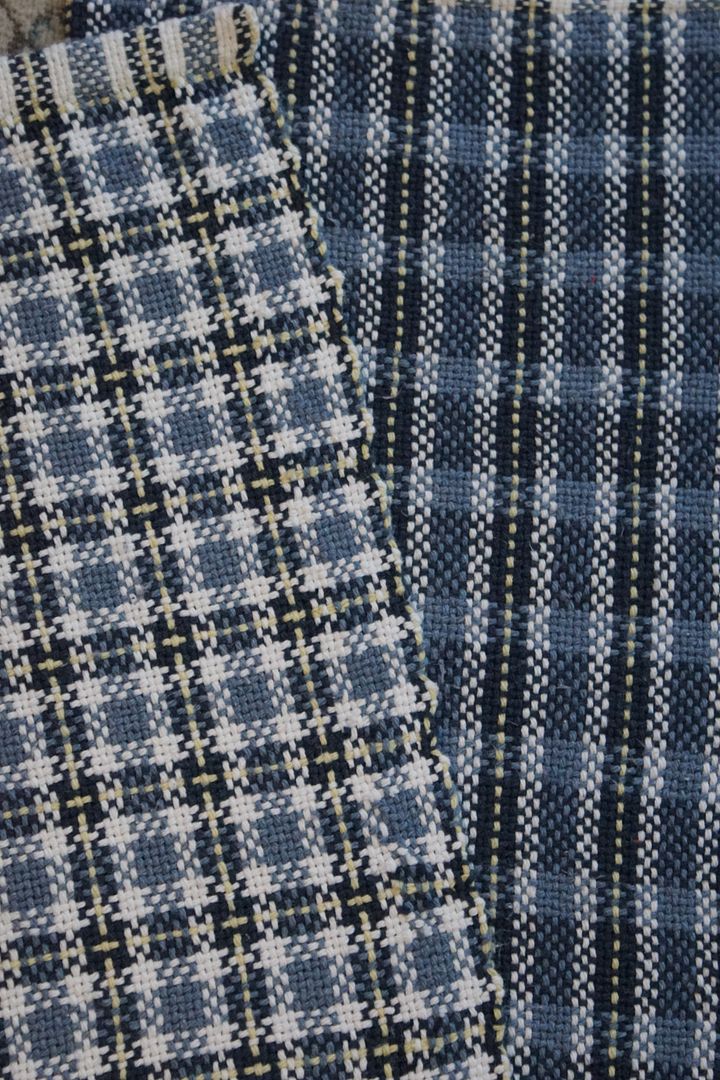 These towels were a bit of a doozy for the first time learning to use more than one colour of weft. But it was an effective way to get really good at changing colours by the end! Now that I've adjusted my expectations regarding the amount of work required, I'm keen to try more plaid. Because plaid is the bomb.
These towels are now living with Jared's grandparents. They aren't any more Scottish than I am, but they have had some awesome traveling adventures, especially in Europe. I'm sure they'll enjoy them.