This post is part of a spin-along through 51 Yarns by Jacey Boggs Faulkner, in the Wool n' Spinning community. For other posts in this series, check here.
Ok, here I am, catching up! As I mentioned at the end of last month, I did manage to spin the September assignment in our spin-along. However, just as important in this process is the sampling, measuring, and reflecting.
September's assignment was singles, three-ways: soft, thick and thin, and energized. These are "Gemmy Batts" from Hobbledehoy, mostly merino, entirely wonderful.
I had hoped I would have my wheel for this, but thank goodness I packed these battlings with me just in case, and that I accidentally had my old 10$ spindle with me. I took them with me to Iqaluit, not really thinking I would spin, but they turned into the perfect down-time project.
I stripped this battling down a good bit, but not too far because I wanted my singles to be thicker than spindling default.
I felt very awkward getting used to spindling again, and spinning at all after over a month without spinning. I find that I have a default yarn with spindles that's pretty fine. Last summer I accidentally made a 2-ply fingering! So I intentionally tried to spin these thicker, but it felt like it wasn't going very well.
Rachel at Wool n' Spinning had mentioned in her vlog about these yarns that handspinners who sell their yarns will often market their singles as "gently thick and thin" just because it's next to impossible to be perfectly consistent with softly spun singles. While I was in Iqaluit, spinning these singles during my down time, I also visited a friend who has a couple of cats. D was with me, and we kept telling her to pet the cat gently. Her version of "gently" was to poke the cat in the eye and smack him in the nose. I kept thinking, my singles yarn is "gently" thick and thin in the same way!
One improvises while traveling. No niddy noddy for me, so I used two legs of an upturned coffee table to make a skein 49″ around.
The yarn was not consistent, but it was gorgeous. I just love these gemmy batts. I had bought them for myself for a treat and been hoarding them. Now I want more!
The yarn was definitely energized. I attempted to spin them low-twist, but I didn't go super-low, since this merino is short-stapled and I knew it is high-crimp and would be able to absorb a lot of twist.
After washing the skein, it was quite balanced. I knit it up on US 8s. You can see it does have a very slight biased, but that's less bias than most of my T-shirts. It knit up into a wonderful soft fabric that feels just a little bit nubbly. It definitely seems "gently" thick and thin now!
I had extra yarn, so I figured, why not try weaving some up? Woven on a thinner warp, so it's very weft-faced, the thick-n-thin-ness of it is much more evident. I wonder how it would look woven with itself. I don't have a sample loom yet, and I did need to stop sampling at some point!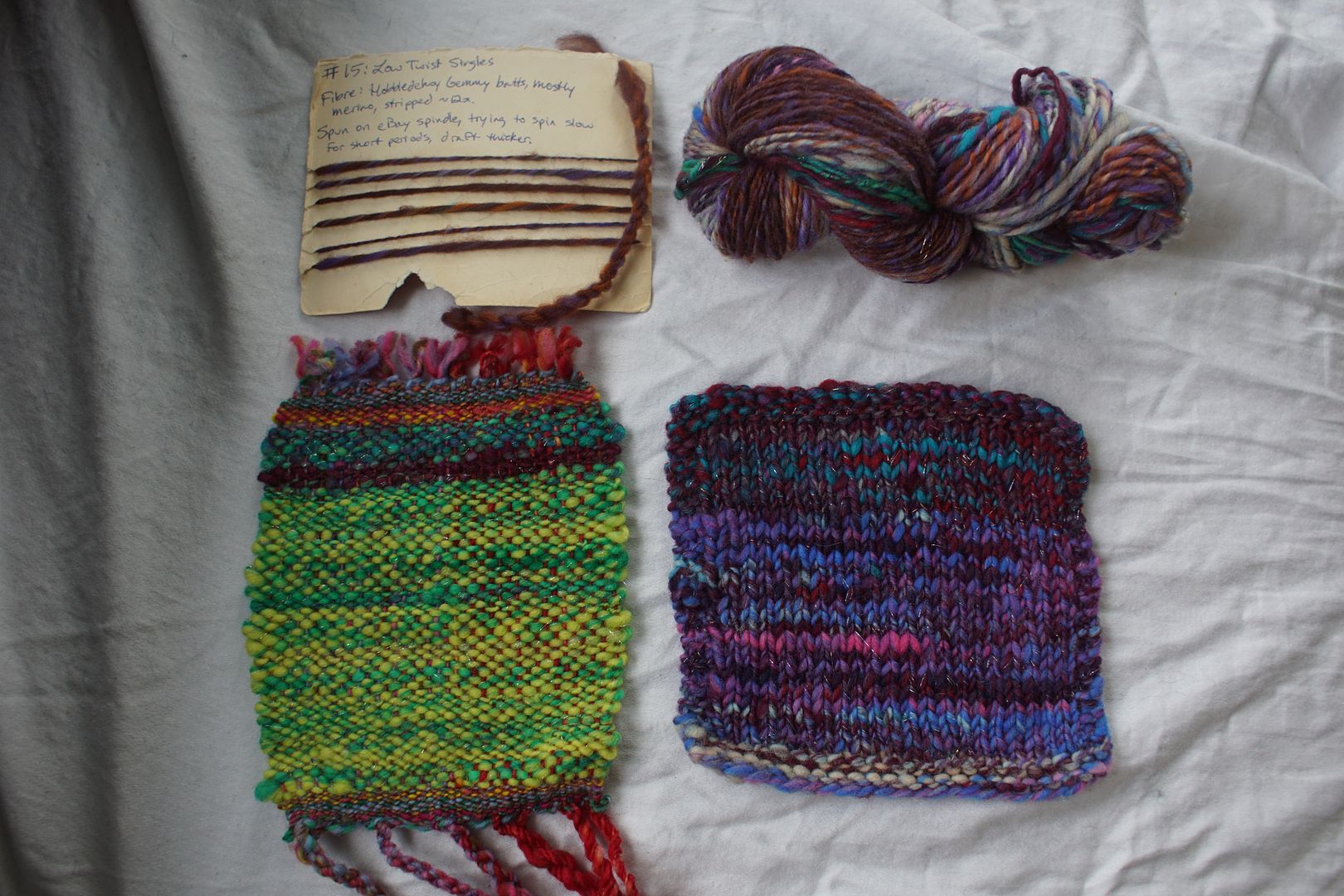 Singles are so fast and beautiful. I was insecure about spinning them at first, but they were easy once I got into a rhythm, and the yarn is surprisingly forgiving. They were the perfect way to use up these blended batts.
All the stats on this yarn are on its Ravelry page here. Some measurements are approximate since I am separated from some of my tools (most notably my scale).