On a mid-December day in 2002, a few friends and I went to an opening-day showing of The Lord of the Rings: The Two Towers. But we didn't just go: we really went. We'd spent the previous several months deciding on characters, making costumes, buying accessories.
It was the first and almost-only time I cosplayed. We were homeschooled, we were nerds, we were glorious. And we were by no means the only ones who went all-out. I'll never forget a middle-aged paunchy fellow who I think was supposed to be Aragorn, who approached me to show me his Nenya ring. I was mostly terrified of him; I don't even remember if I said anything.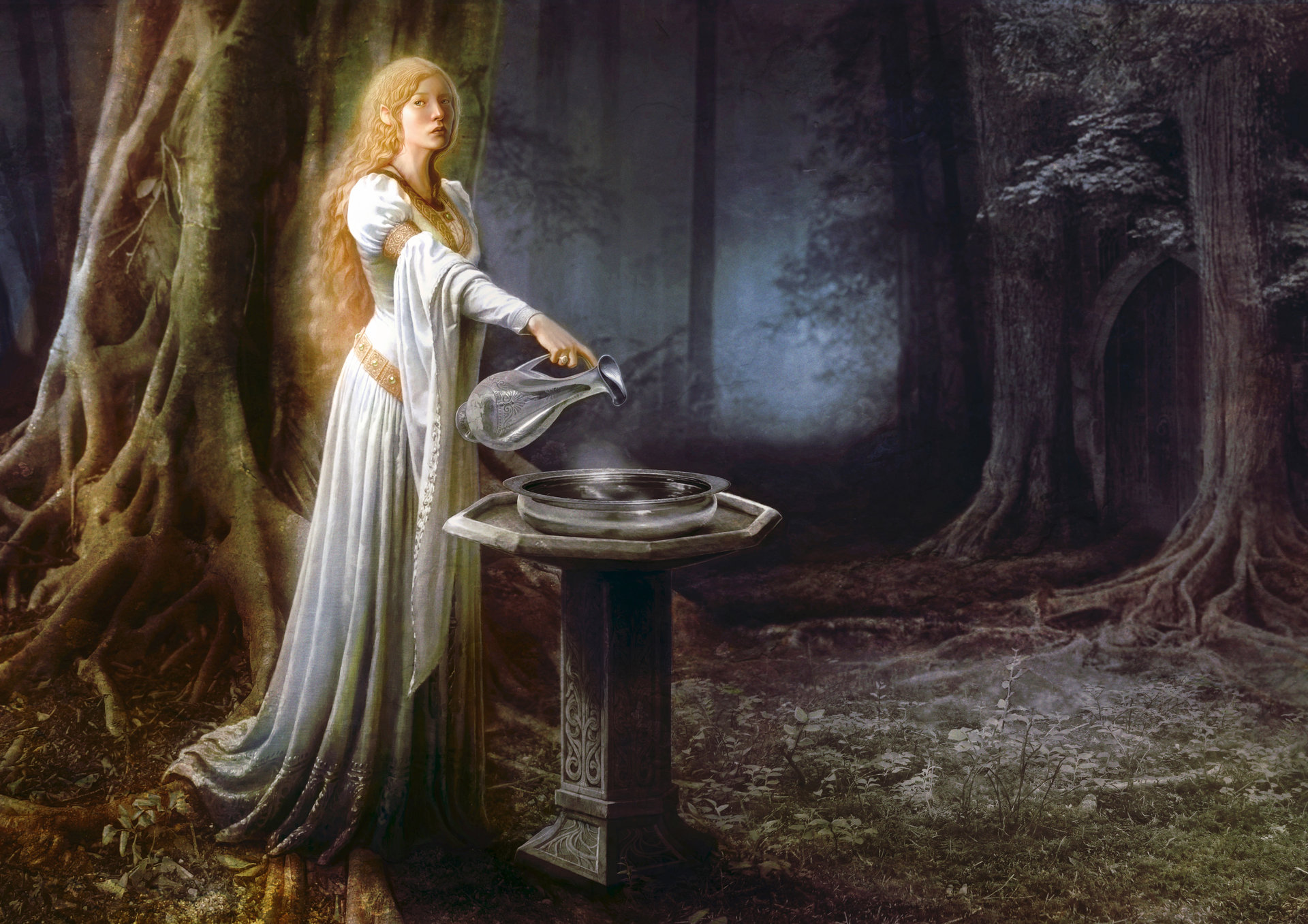 For reasons I forget, I dressed up as Galadriel. Probably because the other two girls in our group wanted to be Arwen and Eowyn, and that was the extent of the female cast. One of them was the sort of ridiculously talented person who could measure me, freehand a dress pattern on some butcher paper, and produce something that would fit. Her mother donated lace she had used to make her wedding dress. The rest was down to me: I bought liner fabric, sewed the thing together, even hand-beaded the belt.
I had a really good go at unearthing the incriminating picture. I'm almost sad I failed.
2002 was the year I got into the Lord of the Rings. I saw the first film and read all the books before the second came out. As I've gotten deeper and deeper into the books, I can appreciate their maturity more and more, and the ways that the films' attempts to make the characters more relatable made them profoundly less mature. But the experience of the books and the movies remains intertwined in my mind, and I will always look back at that December day as the moment when my devotion went over the top and never looked back.
"Galadriel's Mirror" is the penultimate pattern in my knit-through of Susan Pandorf's Fellowship of the Ring series. I confess, I've really struggled with some of these knits. Usually because of my choices, many of them have come out wonky or unusable, and all of the best ones I've given away to some special people. I was determined that Galadriel's Mirror would be different. It would be a wearable piece, and it would be for me.
I started it back at the beginning of Lent, in the fool's dream of completing it by Easter. After a few weeks I realized I would not be able to continue knitting it at all. There is just no time in my life for this kind of intensely intricate knitting, requiring a chart and a couple hours of time to make any appreciable progress. I set it aside, and committed it to be my vacation knitting.
That was definitely the right decision. On vacation, I have one thing that I never have in the arctic: lots of time in the car. In airplanes and automobiles, I clocked in hour after hour of knitting time. On my solo trip to Yellowknife, I even had time in airplanes that didn't involve entertaining a small person! I haven't had that since 2009!
Just for this project, I developed the unusual habit of marking off my rows with a different color every time I sat down to work on it. You can see the sessions getting shorter and shorter as the shawl grew, then really take off again on Chart 3. That's when vacation started! The really good day from Charts 3-4 was, I think, our five-hour drive to Pittsburgh. The last several rows are all different colors, because that was after we got home.
By the time I landed back in Iqaluit, I had maybe a dozen rows left. That meant a dozen hours, but I was determined to fit that in. I even overcame running out of yarn twice, contacting Ravelers who had used the same yarn, and who sent me their leftovers for the cost of shipping.
On a chilly August day, probably not much warmer than that first day in December, I used nearly every straight pin I own (I had six left) so she could reach her final shape. It blocked to about six feet wide, though I didn't measure.
This is one of the most beautiful and taxing patterns I have ever tackled. Susan's patterns are always lavish, intricate, original, and tasteful, and often quite hard. This one, with its combination of twisted stitches, bobbles (how I dreaded the bobble rows!), odd wrong-side things going on, wrapped stitches, and complex increasing areas, was intense. It wasn't difficult to execute, per se, but it demanded attention. It took 'till chart 3 for me to even sort of memorize the main motif, and I was still checking the chart every row.
If this sounds like a criticism, it isn't. Someone should be making things this amazing. I just have to accept that it isn't usually going to be me anymore.
Water is everywhere in these stitch patterns. The main motif, in the sharp relief of twisted stitches, looks like sinuous ripples interrupting each other at the wrapped points. There are droplet bobbles.
The ripples eventually branch out and join together as the energy disperses.
Towards the border, the ripples deconstruct and re-form into leaves, maybe mallorn leaves that have fallen on the mirror's edge.
And finally, additional in-repeat increases and merciless twisted-stitch openwork create dramatic undulations along the edge.
The way these complex patterns emerge from the center in a large triangle remind me of the endless complexity that can be created by a single disturbance at the edge of a quiet pool.
There is sharpness there, too – a reminder of the hidden strength Galadriel represents, and the fall that could have been if she had taken the ring.
The yarn I used was Araucania Huasco, also known as Botany Lace. Mum had bought it for me when I specifically asked for a blue fingering weight for Christmas, maybe four years ago, hoping for something to make this very shawl.
What made this yarn an excellent choice was its roundness. It's a superfine Merino, spun into a three-ply light fingering, and it's very bouncy. This would normally be a terrible choice for lace, as it would erase most of the openwork. But for this pattern, I was more interested in a round yarn that would make the texture stand out than a flat two-ply that would open up the yarn overs. I may even get the best of both worlds, as the yarn overs are quite visible after my severe blocking.
Dressing up as Galadriel felt impossibly pretentious fifteen years ago. I was an insecure high school student pretending to be the last representative of the Noldor race of the Eldar on the eastern side of the sundering seas. One who had lived in the undying lands. I went with it, but I in no way inhabited that character.
In the intervening years I've read the books another half dozen times. I've tried to understand the Eldar as Tolkein wrote them. I've become convinced that their ancient mystery, which seems so glamorous onscreen, is not more important than their inherent playfulness. They were sometimes quite serious, but only the worst of them took themselves very seriously, and they don't desire power like men do. As for Galadriel, what her agelessness gives her is an unconscious inner strength, a perspective and presence bordering on timelessness. What outsiders call "magic" is just the inherent power of her integrity.
I still can't pretend to inhabit that kind of character. But wrapped up in intricate merino, which seems now too intricate to even be something I made myself, who knows. Maybe I will remember to lay aside the insecure sixteen-year-old, and inhabit instead the ageless future I look forward to in undying lands.