This post is part of a spin-along through 51 Yarns by Jacey Boggs Faulkner, in the Wool n' Spinning community. For other posts in this series, check here.
Weeeeee've got butts and tips and tips and butts, we've got butts and tips and tips and butts, we've got butts and tips and tips and butts, we've got butts and tips and tips and butts and…. criiiiiiimp.
(If you don't get that reference, which you likely don't, go listen to this. Essential listening for this aspiring Canadian citizen.)
Today continues yesterday's discussion of directionality in spinning wool from locks. For this sample, I switched it up, spinning from the tip of flicked locks.
It looks ok, but you know that sound of nails on a chalkboard? This was like that, but with my fingers on the scales. It was… squeaky. Like my teeth after I drink grape juice. eeeeegh. If you or a person close to you has long, straightish hair, try running your finger up a single strand of hair. Maybe you'll feel what I mean.
I blame this unpleasant squeakyness for the unevenness of my singles. Regardless of my judgment of the final texture of the yarn, I would not spin from the tip on purpose again! It just feels ick! And you can see easily that there are plenty of thick-and-thin bits from my spinning just being lower quality. Swimming upstream, I call this. Okay, enough metaphors.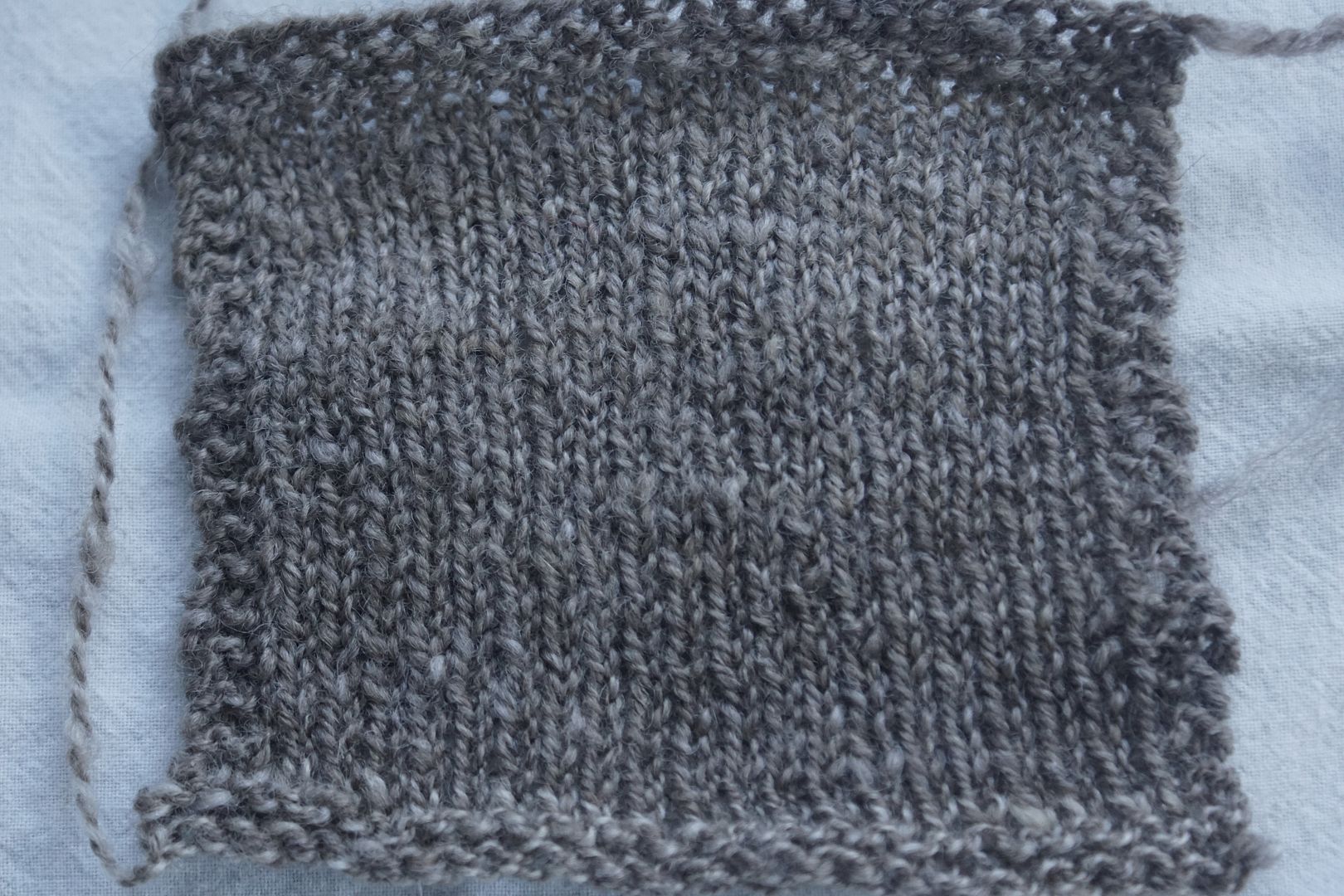 Okay, so more pictures of grey swatches isn't going to tell you much. Let's compare.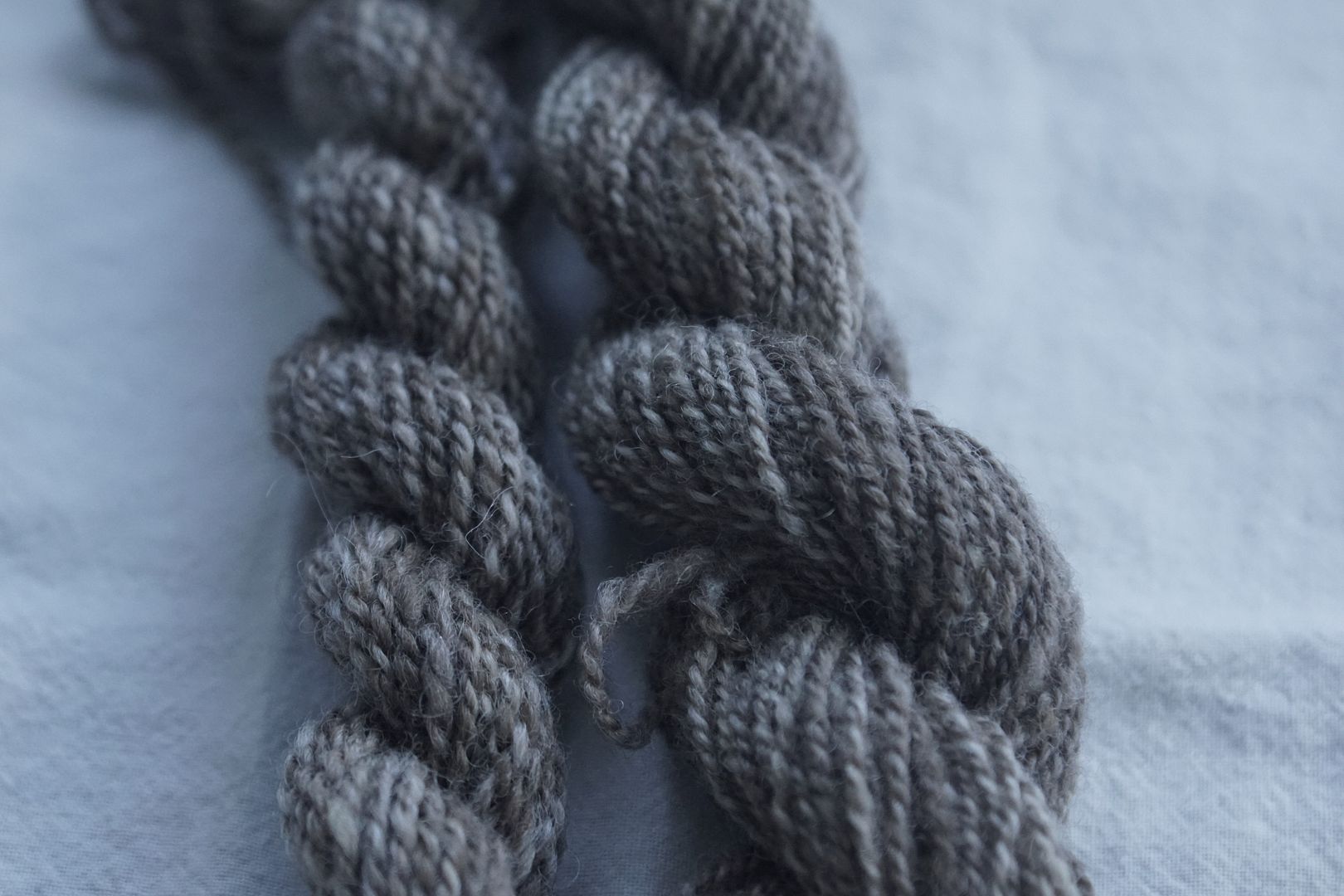 The first sample, spun butt-to-tip and plied opposite, is on the left. This sample, spun tip-to-butt and plied opposite, is on the right. The difference is too subtle to see in the picture, but when holding the yarn you can see that the butt-to-tip yarn is a bit fuzzier. That's because that final step, plying, went in the tip-to-butt direction, and roughed up the scales a little bit, while the scales that were roughed up in the singles on the second yarn were smoothed back down in plying.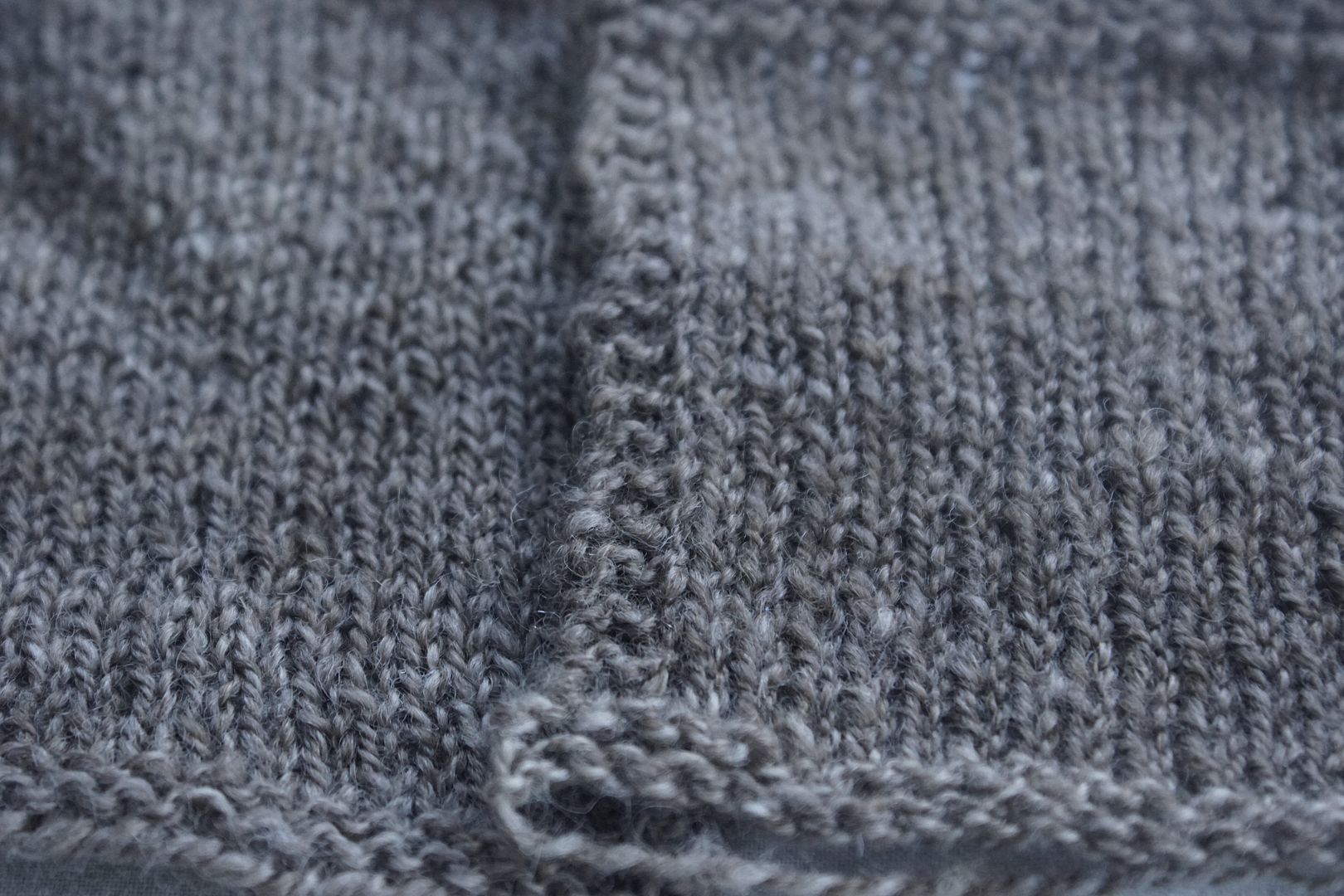 However, in the swatches even this subtle difference in fuzziness was not noticeable at all. So, as far as this fleece is concerned, directionality made no difference in the final knitted product. It did, however, make a difference in the spinning experience and the evenness of the yarn.
Tomorrow I add the final variable: does it make a difference if the yarn is rewound, so that both steps are from the butt end?