This post is part of a spin-along through 51 Yarns by Jacey Boggs Faulkner, in the Wool n' Spinning community. For other posts in this series, check here.
Corespun is one of those delightful things that should be hard but really isn't. You take a core yarn, point it straight at the wheels oriface (yes, that's really what it's called), then lay some fiber on top of it at a nearly-90-degree angle, then watch the core slurp it up as you gently draft. There's more to it than that, and if you're doing it yourself for the first time I suggest you watch a few YouTube videos, but I've found it pretty intuitive.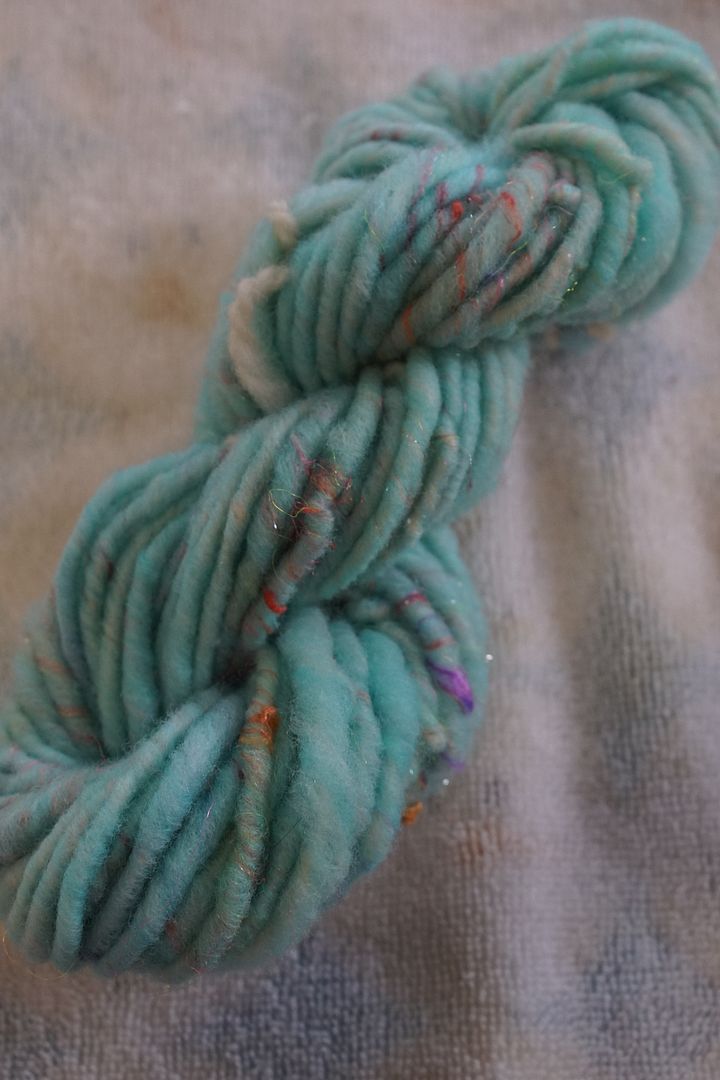 I did an absolutely enormous corespun project about three years ago. I'm very proud of it. It turned into a vest, which I published as a free pattern.
That corespun was intentionally thick and thin, spun over a fluffy core of Rowan Kidsilk Haze. I had some of the original fiber left, and I wanted to try my hand at making a more consistent corespun.
I know the blue still looks pretty inconsistent in the skein, but wait until you see the swatch.
My main strategy to get a more consistent corespun was to use a very different core: some Philosopher's Wool 2-ply, a worsted-weight wooly-wool. Consistent and toothy.
I found that changing the core changed the feel of the spinning process. Corespinning adds a bunch of extra twist to the core, and Philosopher's Wool doesn't take nearly as much extra twist as Kidsilk Haze does. I tried loading the core onto a spindle to let it untwist some, a suggestion in the 51 Yarns book. But this did not help me – I need to research this technique better before trying it again.
The final yarn was quite overtwisted, but amazingly, it balanced enough in the finishing that it did not skew the swatch at all.
In the skein, you can't tell how much more consistent the new corespun is than the old, as the new still has some not-so-gently thick and thin spots. But in this woven swatch you can see it – the warp (vertical threads) are all more consistent blue threads, but the weft (horizontal) changes. The top portion came out relatively square where the blue is both warp and weft, while the thick and thin weft in the bottom part has some fabulous undulations.
I appreciated Jacey's comment that "Your corespun yarn will feel to your skin like whatever the wrapping fiber is; however, it will drape and work up more like the core yarn." That makes so much sense with my swatch: the pink thick-n-thin is light and flexible, and those thick spots of wrapping fiber got caught in the weaving and got even thicker. The blue wove up evenly not just because I wrapped it more evenly, but because it has a substantial, even core that has structure under the thin layer of fluff.
I wanted to save some yarn as an unused sample, and that meant I didn't have enough for a knitted sample. Oh well. One thing hasn't changed: corespun does go through a good bit of fiber fairly quickly, though I tried to use less here!
To me, making art yarn is like making a fancy dessert. I don't find it super practical all the time, but as a sometimes treat, it's the spice of life!