I'm not sure exactly how this project happened. As so often happens in my life, I made a series of decisions that seemed logical at the time, which turned into a train of events that took me somewhere completely unexpected.
This journey started with a beautiful woven Oscha babywearing wrap that a friend generously gifted me back when M was born. It's woven from linen and wool, and she found it too scratchy. I have a high scratch tolerance, but I honestly found it too warm to use for babywearing – there was never a season that was cool enough to need to be wrapped in layers of such a fabric, but warm enough that I didn't need to wear a heavy coat over me and baby. It just never got used. But the fabric is so completely gorgeous that I couldn't let it go. It's got a linen warp and wool weft in a double-sided design that features Celtic braiding in a subtle double-sided texture.
I finally hatched the idea of making the wrap into something for myself.
My starting place was this, my very most favorite top. I found it at the thrift store in Iqaluit and I wear it as often as it's clean. I didn't wear it all summer because it needed some repair, and when I finally got around to fixing it, I was reminded how much I love it. And could probably never afford to buy a piece like this new. But I would absolutely make ten more like it, if I could figure out how.
Lots of googling eventually brought me to this tutorial for making a simple shift dress. It's nothing like as complicated as the linen one above, but I needed this one to be simple: I'm a pretty amateur sewist, and here's the real kicker: I don't have my sewing machine with me yet. I wanted something simple enough that I could stomach doing the whole thing by hand.
I somehow forgot to take pictures of the entire process. I guess I was having too much fun. Drafting the pattern based on my measurements and the dress I liked was very empowering, and learning new techniques was exciting. You wouldn't believe how much I enjoyed the miles upon miles of backstitch.
Since this woven fabric is thick and tends to fray, and I love it so, I encased every raw edge in bias tape. I made full Hong-Kong seams down the sides and shoulders,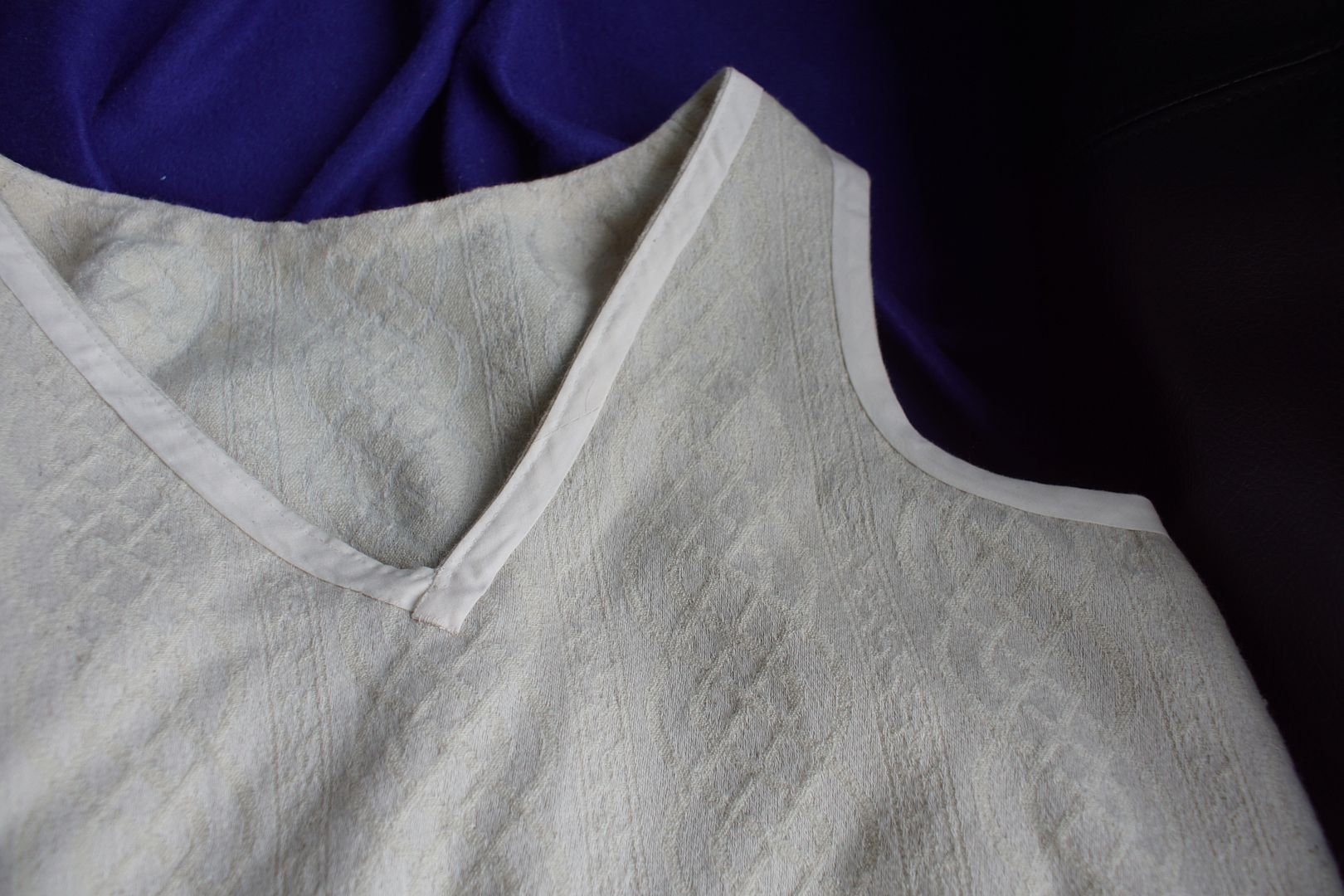 and turned facings on the neckline, armscye, and hem.
I improvised pockets based on the linen dress. I love the deep pockets, but found the positioning odd, so these I worked into the side seams. I used the already hemmed edge of the wrap for the top of the pocket to avoid another seam, which had the fetching affect of turning the design sideways.
The final fit is, I would say, pretty good! Since the fabric has very little stretch I made it on the wider side and left out the waist shaping, but without sleeves that makes it very smock-ish. Next time I might try making it a little more fitted and add a side zipper. I liked the idea of sleeves, but they added significantly more complication, and I think that would make the dress too warm. (Plus, this way I have enough fabric left to make another whole shift!)
What I'd really like to do is dye the fabric. The off-white is beautiful but doesn't really go with my wardrobe. Maybe I can find someone next summer who has an indigo dyepot going and wouldn't mind me throwing this in. I think the linen and wool would take up dye differently and make the braided design stand out more.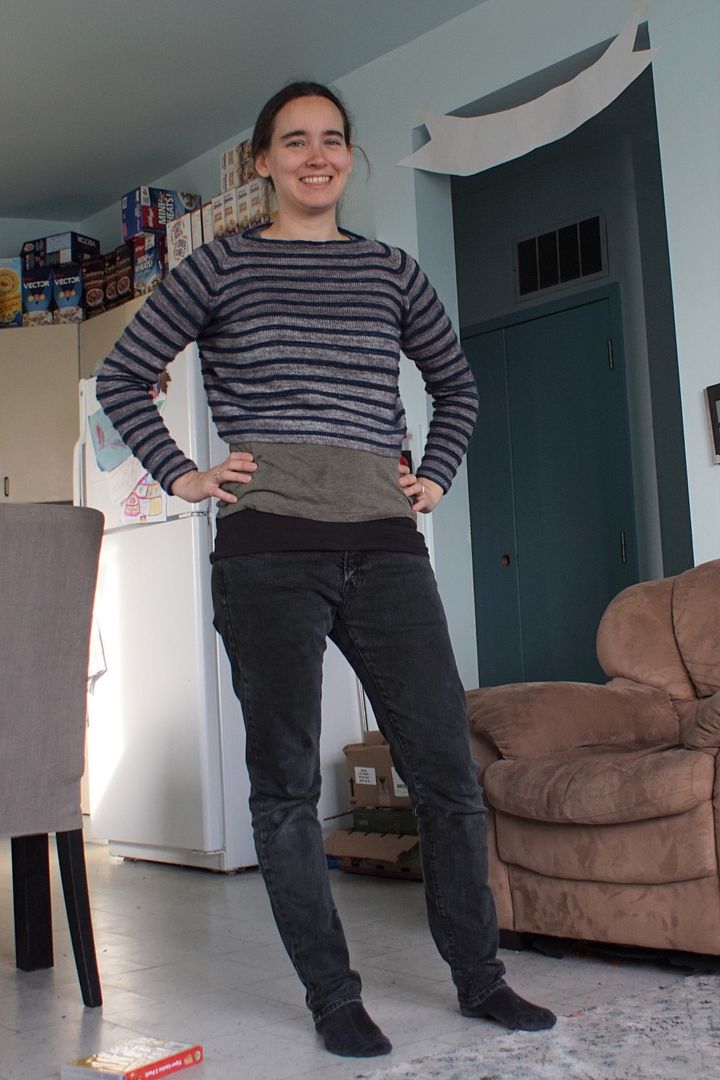 While I'm here, I might as well tell you that Strodie has been absolved. I ripped out the garter stitch collar and redid it in the main needle size, then did the i-cord bindoff in a MUCH bigger needle size. Thanks to everyone's (generous) positive feedback, I'm feeling a bit more courageous about wearing this style. It's also much more comfortable, oddly, if I wear it with a sleeved shirt underneath. I think I just get sweaty if there's anything other than cotton against my armpits.
Putting them together kinda works too! Strodie provides some illusion of a waist, and the dress makes the cropped length work.
But this is my favorite: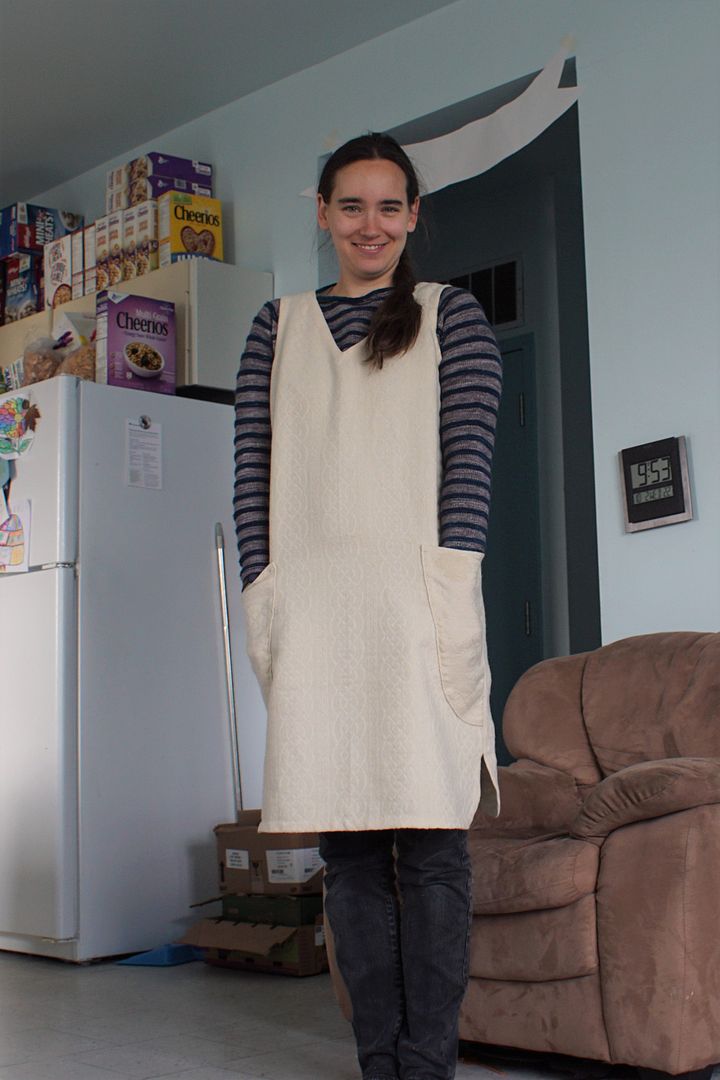 Strodie underneath. Soooo cozy, and very warm. Enough to make me want it to get really cold!
I ended up in a very unexpected place in September: doing a whole bunch of sewing, by hand, for a garment. Also unexpectedly, I enjoyed pretty much all of it. I embraced the ironing part of sewing process, which usually catches me off-guard as an inconvenience, and every completed seam provided a lot of satisfaction.
Additionally, this piece serves as a sort of wearable muslin for other such dresses. How fabulous would it be to weave a big piece of linen fabric in the finest sett I could manage and sew myself a dress to replicate my favorite one? That's very much a someday-dream, but one that seems a lot closer now.