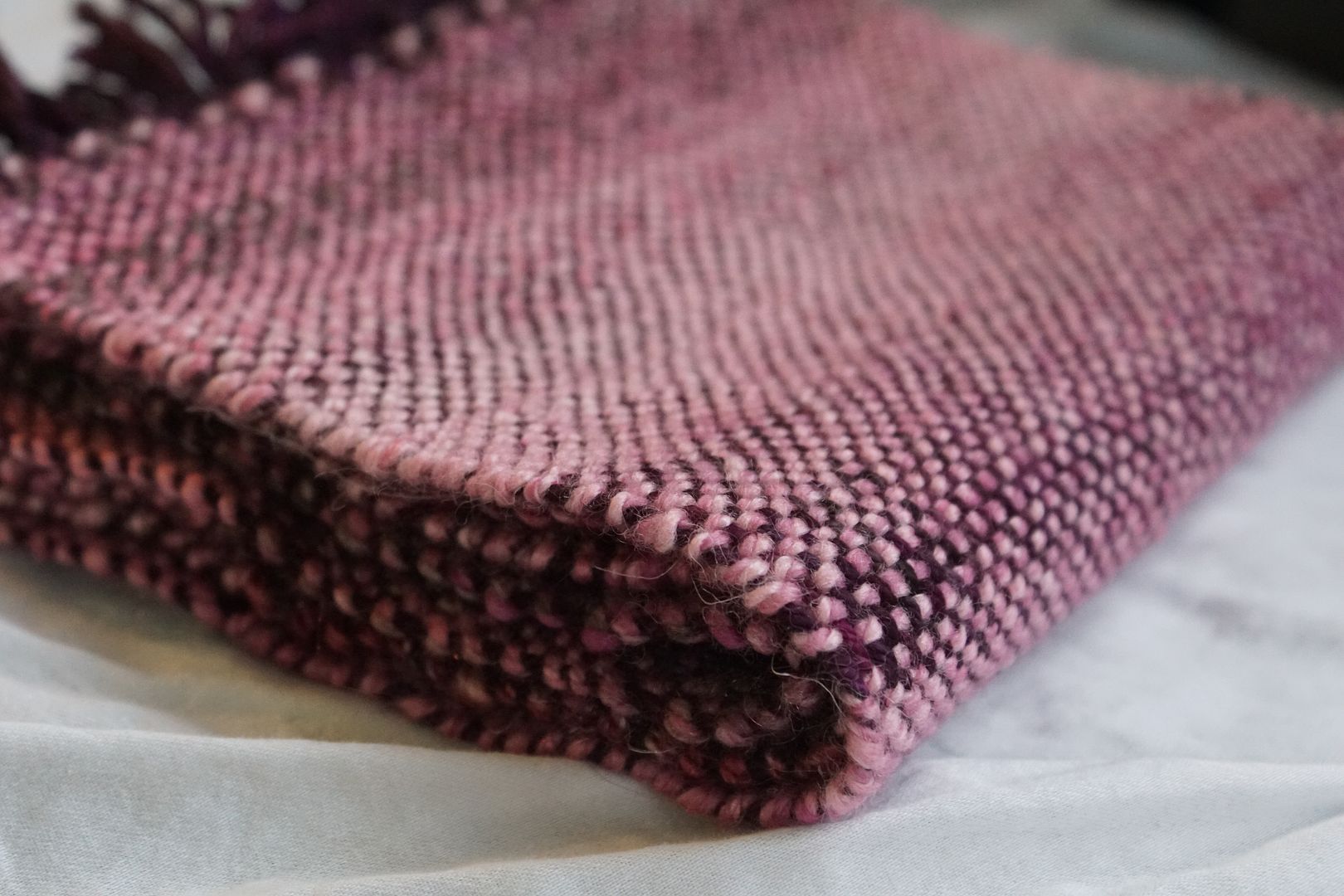 I finally got around to making another video! With the weaving bug, the video bug came back. Since I'm starting a new learning process, how fun would it be to document that journey with some videos? I've gotten lots of joy in recent years from crafting podcasters, so for me to share my process by video feels like participating in that conversation. Thanks for joining and watching along.
Resources
#1 The main resource I am using right now is Inventive Weaving on a Little Loom by Syne Mitchell.
Allow me to wax poetic about this book: It starts you from complete zero, teaching you the parts of a loom, and ends up having taught you how to convert 4-shaft patterns to 3-heddle weaving. This book covers a lot of ground. I bought the e-book version, because it was inexpensive and I am impatient. I usually can't stand having reference books as e-books, but this is probably the best designed reference e-book I have ever used. It's full of links between chapters, and has a very thorough table of contents. (One caveat is that it does not convert well to an e-paper screen; it's best on a color screen.) This book rocks and I'm hoping to spend lots of time working through it.
#2 The other main resource I'm drawing on right now is Liz Gipson's Yarnworker School.
This is a truly impressive resource that uses the Thinkific platform to convey lots of information in bite-size chunks. The classes are expensive, but I had the opportunity to join Liz's Patreon at the highest tier, which includes all the classes. So far I've completed watching the 101 class. I was mostly done this project by the time I started that, but it definitely filled in a lot of gaps and answered my questions on that first project. The cowl project it comes with is super cute though; I want to make it sometime!
(Also, she explained angling the weft in a way that a lot of sense to me. I'm trying it now on my next project [yep I'm warped up again already] and it's going much better.)
#3 I would be remiss if I didn't once again mention my friend Rachel Smith Anderson. Rachel has been the inspiration for me to start this journey, and the Slack community I am a part of through her Patreon is invaluable to me as I get started.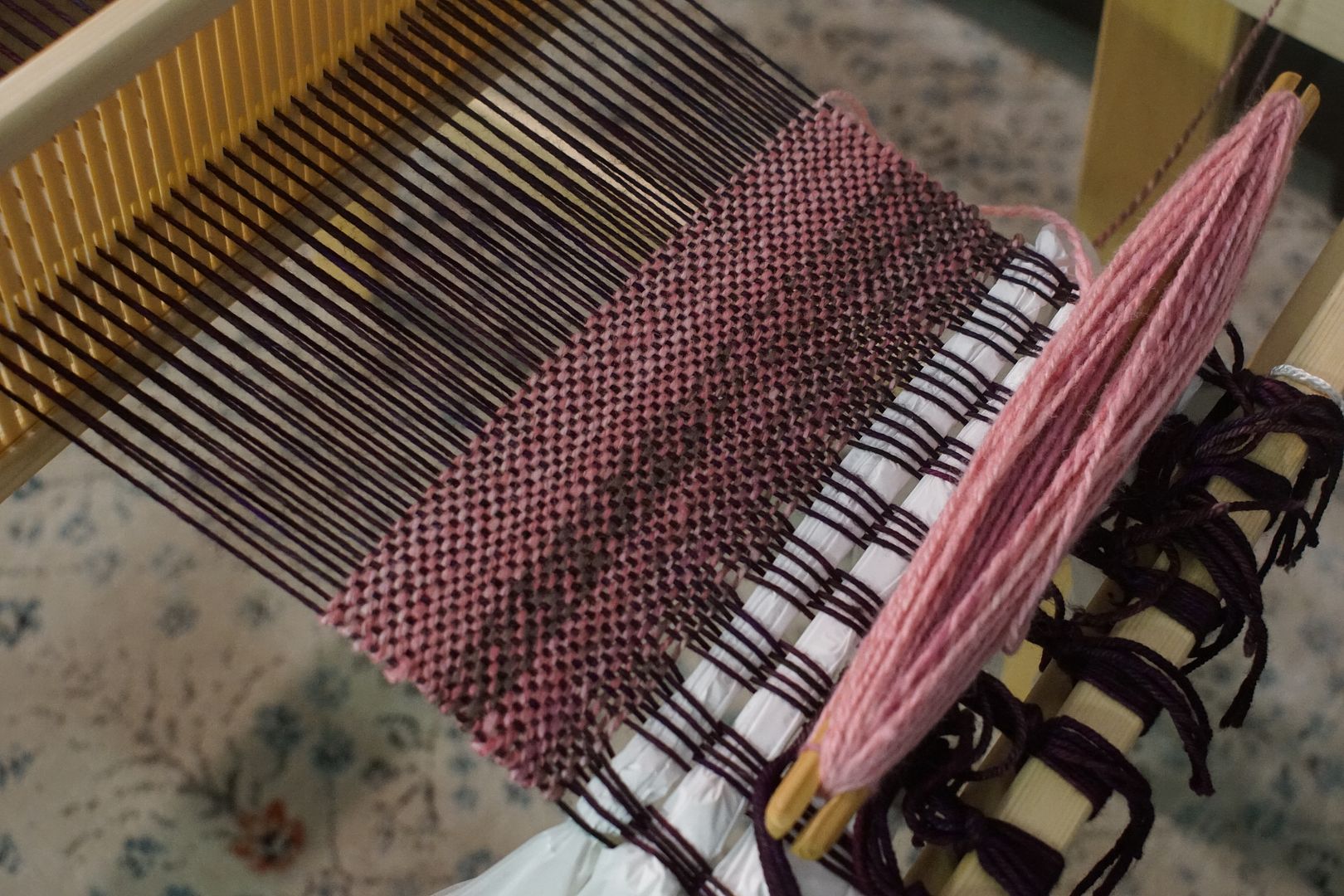 Other Notes
My loom is a Glimakra Susanna, which is a 27″ rigid heddle loom. I have the stand as well, obviously, and used an 8-dent heddle.
My warp was Malabrigo Rios (100% superwash merino) in color 186 Sabiduria. (That means "wisdom," which makes me awfully happy, as the color reminds me so much of my anaananguaq.)
My weft was handspun, these singles which I put on my spindle and made into a softly-spun two-ply for this project. It's mostly BFL and Cormo, with a sprinkling of silk and firestar.
You may have noticed my super-awesome measuring tape that was clipped to my work. It's made out of masking tape doubled back on itself, and I marked out the inches with an ordinary ruler. I don't know how accurate it is or if I am using it correctly. It was interesting that I wove to (I thought) 66″, and when I took the work off the loom it immediately sprang back to 60″. Either I was measuring incorrectly on the loom, or that's just how much spring is in that superwash merino. (It is very sprongy.)
I wove at around 10 picks per inch, or at least that's what my ppi ended up being; I just beat what seemed to make sense for the yarn and then measured. *shrug*
The fabric came out super-gorgeous. It's nice and soft to wear. It's already getting some use as a driving scarf on our ATV, as we've had some nasty winds this week.
I should trim the other fringe to match the too-short one, but I can't quite bring myself to do so. It's part of its wonky charm now.