After plugging away at this background project for a while, I found myself unexpectedly in a position of having a completed black sweater just in time for Holy Week.
Staging a photo shoot with three children and a tripod has a few challenges, but we did our best.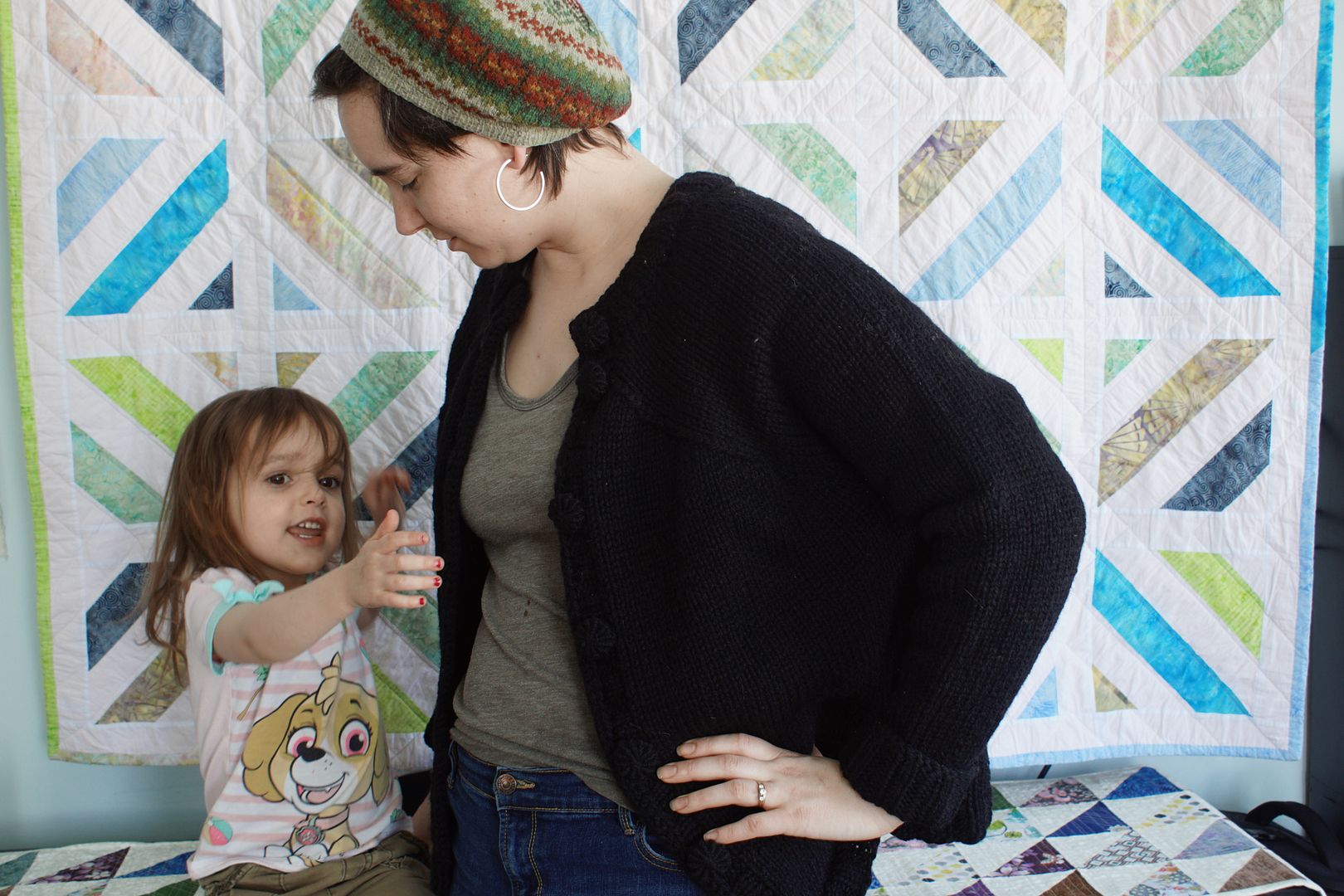 One-piece yoked sweaters work on the principle that, between the widest point around body and upper arms, you can decrease any way between there and the neck to make something that will more or less fit the human body. Raglan sweaters work because, as it turns out, if you decrease eight stitches every other row, that's about the right rate of decreasing in most cases. This makes a nice angled look you are probably familiar with. But those decreases don't need to be centered like raglan decreases – you can move those decreases around to create the illusion of a set-in sleeve, to add a saddle shoulder, or even make the line zig zag.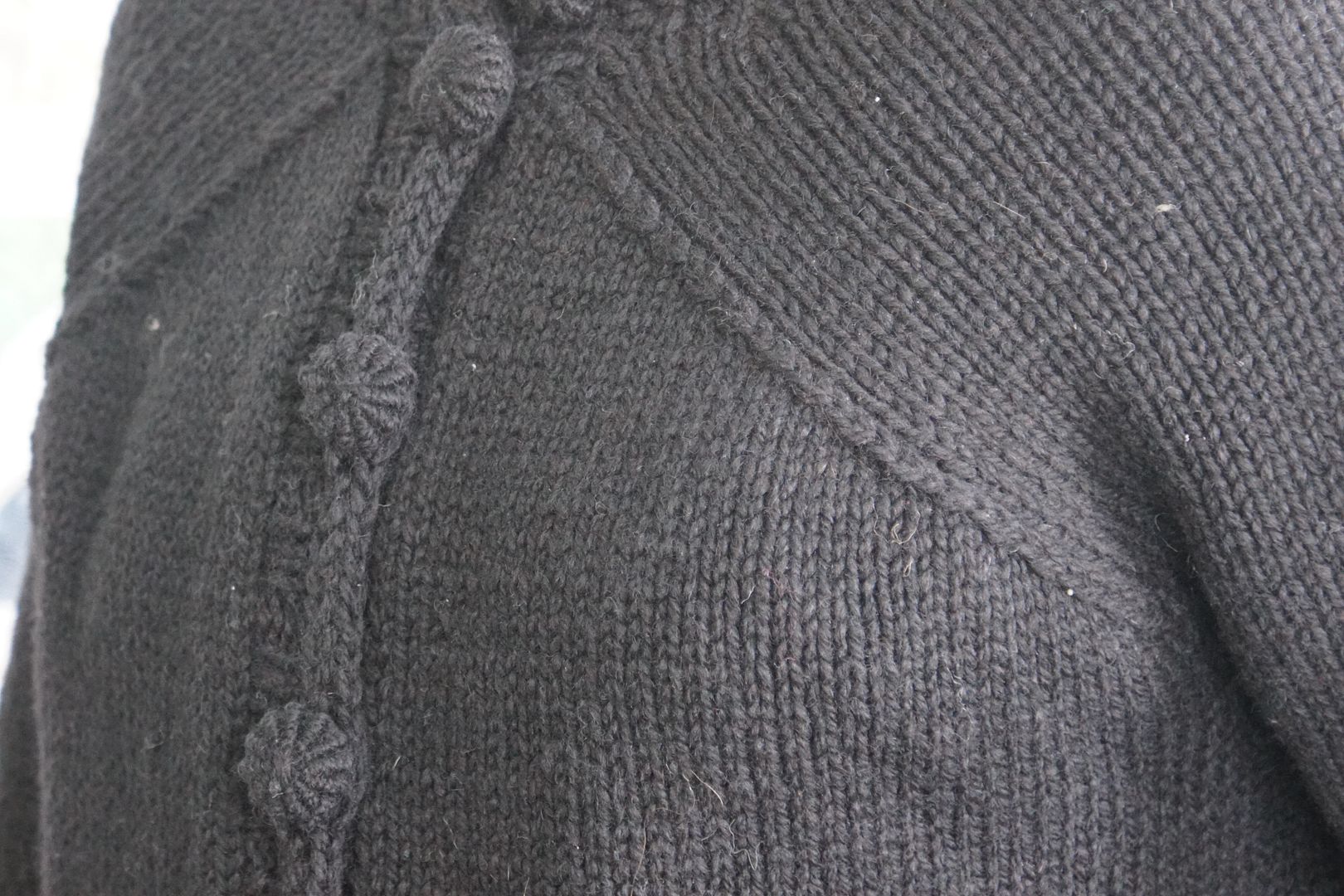 The Carbeth Cardigan and Pullover by Kate Davies take this idea to its extreme. Instead of decreasing eight stitches every other row, you decrease four stitches every row, only eating up body stitches. This creates a dramatic line which works very well with bulky yarn and a loose fit. Elizabeth Zimmermann, the original explorer of all things Yoked, pioneered this idea with her "Hurry-Up Last Minute Sweater," published umpty-five years ago. Kate took this idea and made it a very polished idea. Many, many people have knit this, and I've wanted to give it a try, so I was stoked when it was included in the 10 Years in the Making collection.
The only meaningful change I made was to lengthen it just a bit, and make a short, simple round collar rather than the large stand-up collar. The reason was that I didn't have quite enough yarn.
The buttons are wheelhouse buttons, which I've been wanting to try ever since I read about them in Colors of Shetland, Kate's first book. They are temporary; I was going to put bits of plastic in them, but they were just too light that way. So I went into a board game Jared got me a few years ago, and stole a handful of the real pewter game coins that were a Kickstarter bonus. (If you don't know what that means, roll your eyes; that pretty much covers it.) Anyway, I can't keep the coins forever, so I'll buy some plain black ones of the right size next time we're down south.
The yarn in question was a mystery yarn that I was given by the thrift store. I have needed another black sweater for quite a while; it's just one of those clerically necessary garments. I'm interested to see how it wears. Not meaning to be critical – I was thrilled to receive and use this yarn! – but the feel of it raised my curiousity about something.. I've noticed with a couple of cheaper wools that they are scratchy in a way that feels over-processed. I suspect that there was nothing wrong with the wool, but that the wool was starched and treated and bleached and dyed within an inch of its life, and the fibers are actually slightly broken down. The last sweater I had out of wool that felt like this pilled terribly and felted quickly. So, time will tell. I will report back if anything noteworthy happens. Anyone who knows more about this process, I'd love some input; this is just a suspicion, not based in research.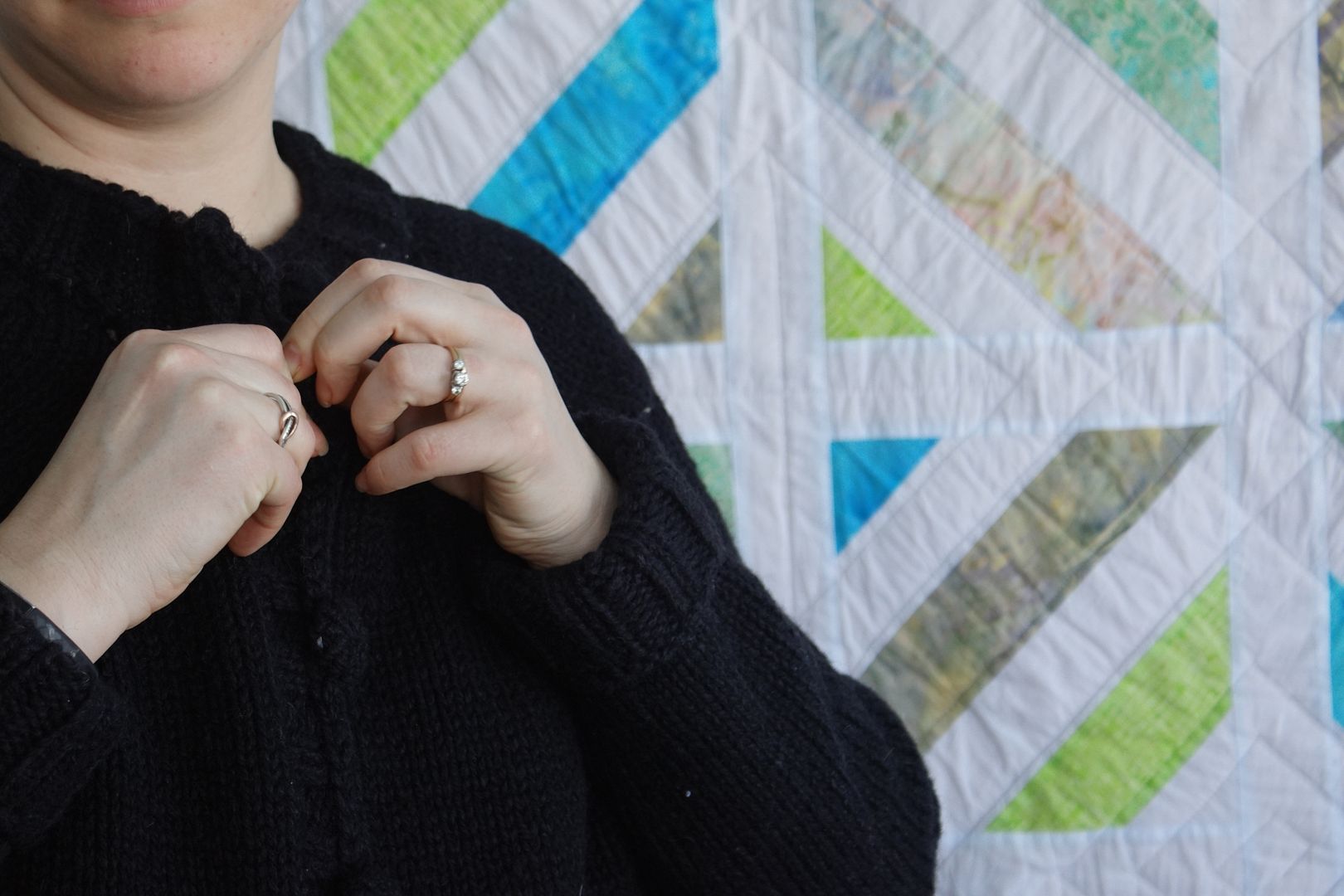 One shouldn't be quite so excited about one's Lenten garments, but I was very thankful to have a new black sweater to be part of my Holy Week uniform. Pieces like this are helpful when one would like to be mindful of one's attire without being preoccupied with it. Every priest should have a Clerical Carbeth!