One of the (few) disappointments of my trip to Vancouver was that, with the cancellation of Fibres West, I missed out on a class I had signed up for. Rachel was going to do an all-day workshop on her and Katrina's book, Unbraided: The Art and Science of Spinning Colour, which is all about managing color when spinning hand dyed braids.
But, you know, I was staying with the instructor, I met the dyer, I bought the book, and I got to pour over alllll the samples (from the book and the class) in person, so… I'm not about to say I missed out! Far from it.
With the book in my hot little hands, as I did my in-person shopping at Katrina's house and Felicia's studio. It was the melding of a few ideas that had been ruminating for a while. I really wanted to start spinning for socks (and unbeknownst to myself, I already had), so why not combine that with studying color?
Hence the pile of braids that came home with me – rather more than I had expected. Why not take a couple of years, and – in between spinning down my older stash – spin lots of sock yarns? I'll get good at basic 3-ply sock yarn, maybe expanding from there as I build the skills. At the same time, I can explore color on a variety of differently-handdyed braids.
The first braid up was this beauty: Into the Deep on Targhee from Crafty Jaks. The first section of the book is all about analogous colorways, and this is indeed the colorway Katrina developed for the class. (Also? It's the same exact fiber as my last sock spin – figured I'd double down on success to confirm my learnings in that corner.)
Analogous, if you didn't know, means the colours come from side-by-side on the colour wheel. No complements allowed; no more than two primaries present in any form.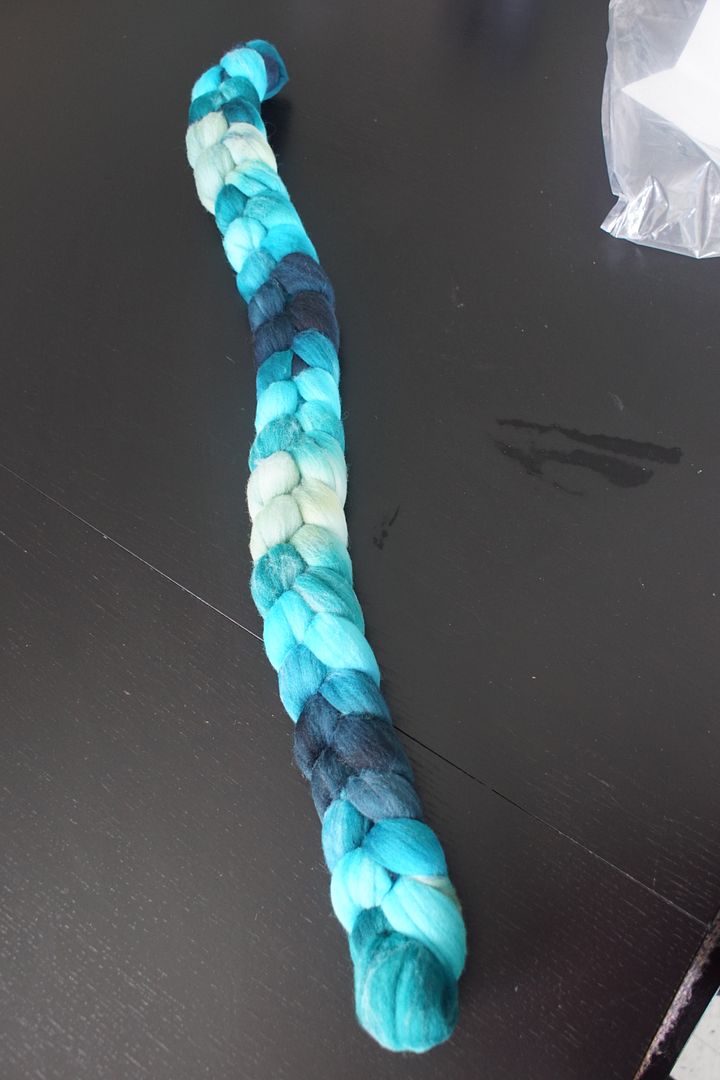 This one fits the bill, and even looks like shades of the same hue, but that's just because I don't know how to photograph it properly. I count four distinct shades: navy blue, bright aqua blue, a deep blue-spruce green, and a light minty green.
I followed Rachel and Katrina's advice and: unbraided it!
Yum.
I count slightly less than five repeats of color, or two and a half, depending on how you count it.
My first step was to peel off a strip from the whole braid of slightly less than a quarter of the total. I set that aside for future experiments, muahaha.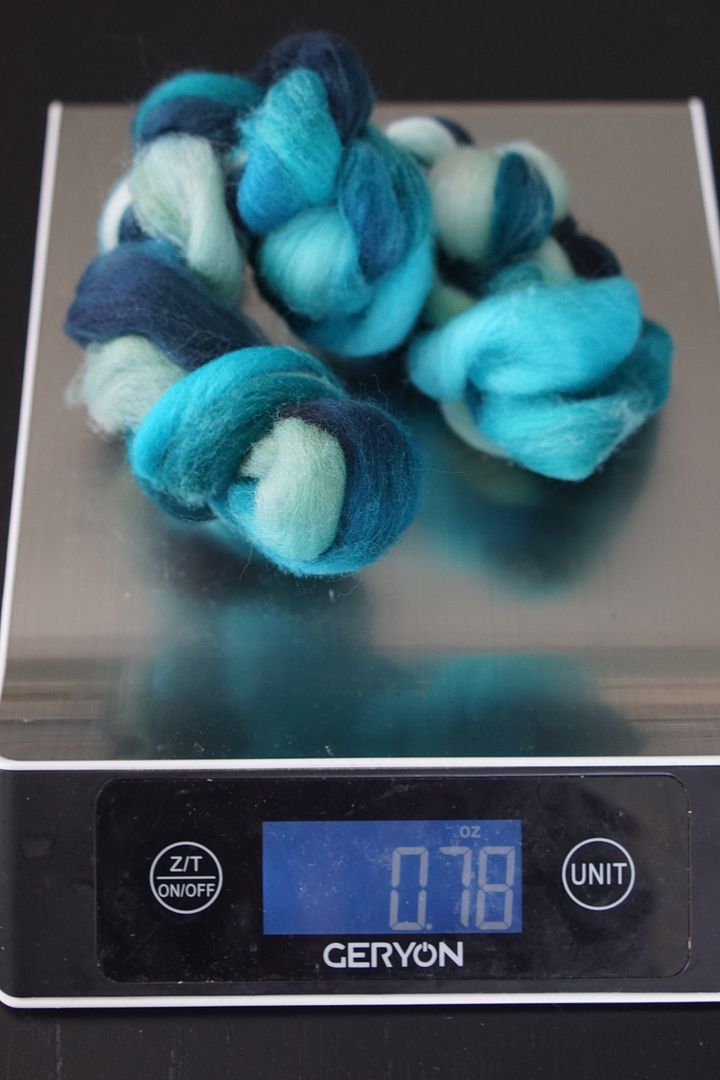 I took the remainder, and it wasn't entirely obvious how I should split the rest for two socks spun with two separate colour management methods. So I just started splitting and splitting and rearranging things on my scale until I had what I wanted.
These are the three plies of sock #1, a fractal.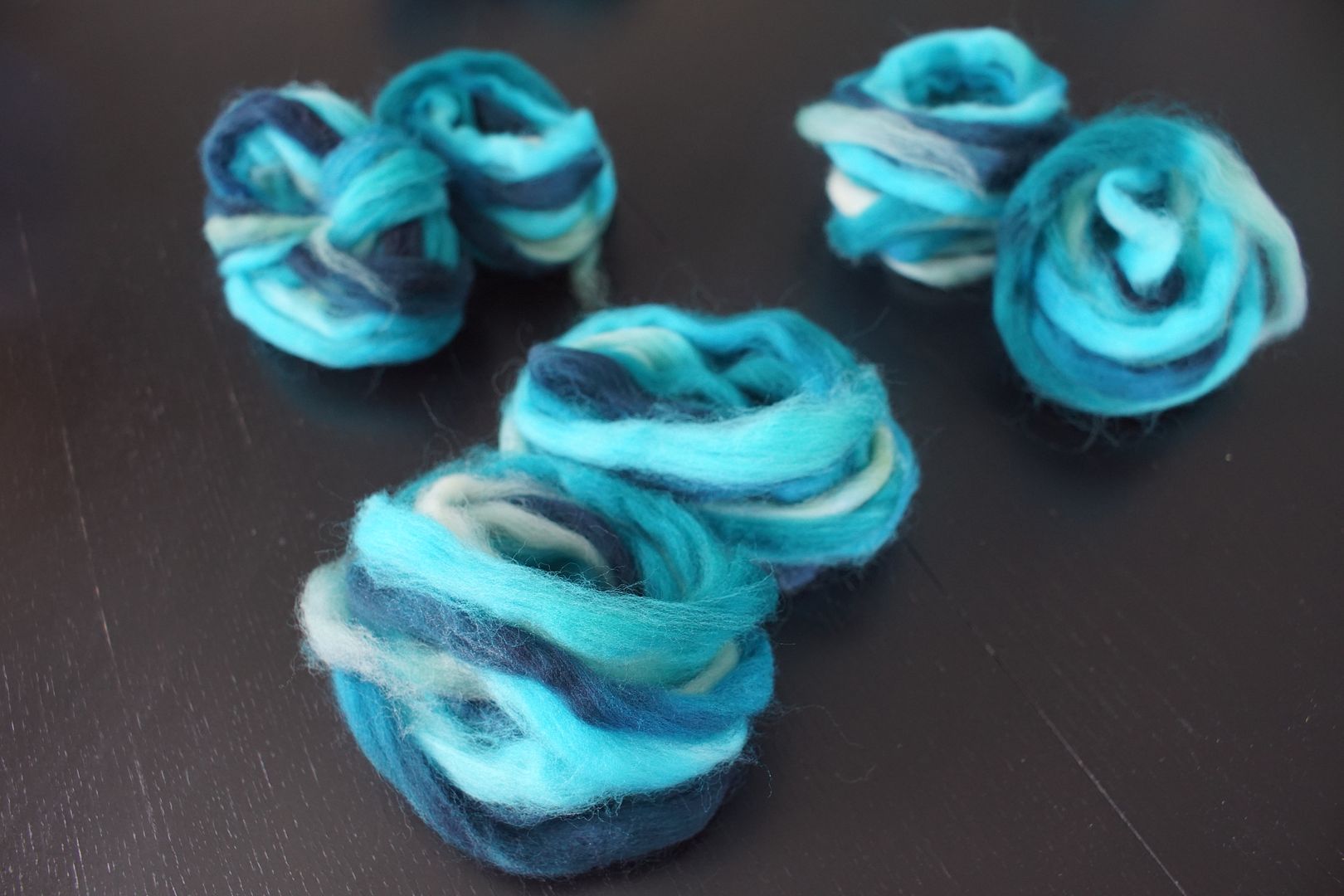 And these are the three plies of sock #2, a traditional three ply, intentionally lining up the colours.
It would have been easier had I split the whole braid in half at the midpoint, but I couldn't bring myself to do that. I wanted to have several stripes. I won't see until the knitting-up how that played out.
That's it for prep; that's enough for today I think. Tomorrow, I'll share how the spinning went!