Making these three sweaters was a special work of love for three special girls at a sweet time of life. I was going to make this blog post about the sweaters, but you know what? I just want to talk about the kids.
Stringbean is in Grade 1, and she is so six. I love her brightness, her silliness, the way she's always full to bursting with ideas. She loves making things, and sharing with her friends. There's not enough time in the world for all the games and projects she has in her mind.
This is Mini-Mighty. She's a force of nature. Shockingly intelligent, but the first to crack the bathroom humor. She's capable of being the loudest in any crowd, but also be generous and nurturing. She's already a strong, kind leader.
And this is Dooner. She is in the middle of that word explosion that is so much fun. Book! Door! Hot! Uh-oh! Dat! Google! She's given new names to her dad (Baba) and sisters (Ga-go). She loves to dance, shaking those tiny hips and shoulders and arms to the rhythm. She makes everything better.
This is a season of digging in and parenting. It's easy to get frustrated and overwhelmed, to wish for more time to myself, more time for projects. But I've been blessed with mentor moms who have told me in so many ways over the years that it is a privilege to be home with them and give them my heart and attention. It's a privilege that is becoming increasingly rare, both as a choice and even as a possibility for many who would choose it. I'm just glad I noticed how important this stage is before it ends.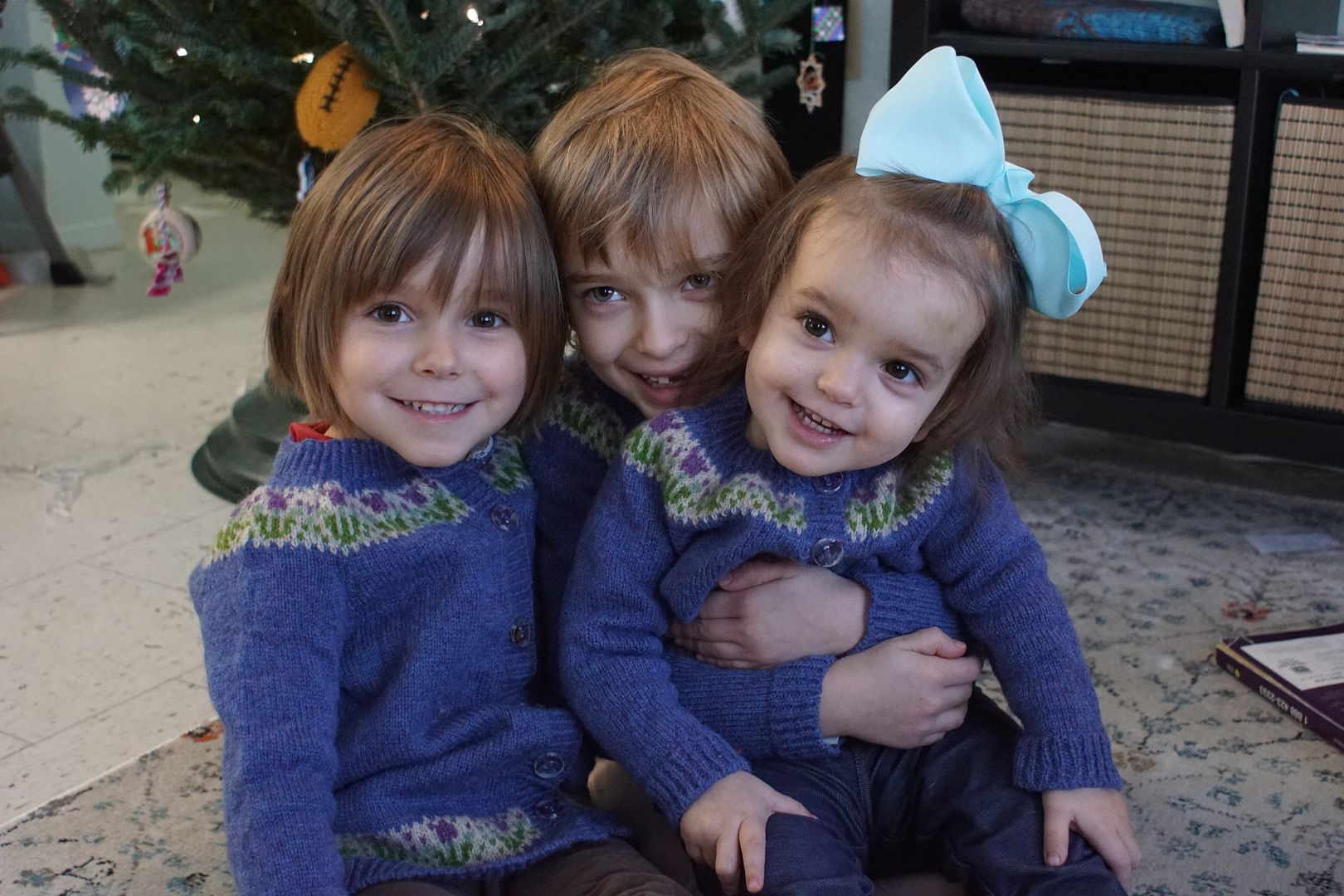 Love, joy, peace, patience, kindness, goodness, faithfulness, gentleness, and self-control. These fruits of the Holy Spirit are the virtues we want to grow inside, for ourselves and our kids, and we need the Holy Spirit's supernatural help to do it. I'm thankful for the challenge of raising these kids as the catalyst to motivate me to grow as well. Knowing instinctively that they are worth it reminds me that I am worth it.
So I knit them little sweaters. And putting them on and taking these pictures was a joy and a delight. They actually enjoy them, fit them, and appreciate them – even Dooner! But as soon as they are on, their smiling faces eclipse anything they are wearing.
But I will talk about the sweaters a little bit.
First, I want to point out the buttons! Tania of Tundramoon Designs is based in Iqaluit, and she made the buttons for my Northmavine in Baffin sweater. Right before we moved, she came to a knit night with more buttons, and I found out she did saxifrage as well. I am in love with saxifrage, which are Nunavut's official flower, and I was in the planning stages of this sweater project. She took my custom order for eighteen of this size, and kindly mailed them to my new home.
The pattern is Wee Bluebells by Kate Davies. The pattern is classic, well-written, clear, and well-fitting. Bluebells are a classic Scottish flower, but of course, I had to change them to our northern blooms. But I kept the bluebell color of Jamieson and Smith's 2-ply Jumper Weight yarn as the sweater bodies. After all, blue is my girls' favorite color too.
To fit the gauge of my mum's knitting machine, we made the three largest sizes, following custom length measurements I took from the kids. Knitting the bodies and sleeves with my mom this summer on her double-bed Passap machine was an adventure! A huge thanks goes out to my mum for collaborating with me and making this project possible.
I thought about apologizing for gushing about my kids, but you know what? I'm not gonna. Don't think of this as bragging about how awesome my kids are, but as an exercise in outward-facing positive self-talk. The work of parenting is so exhausting and demanding day-to-day that it's easy to forget how awesome your kids are and how rewarding it is. So I'm going to seize this moment and celebrate them, in the best and wooliest way I know.