Yesterday morning, while the snow buntings chittered and pecked in the yard, Jared and I stepped out to take a few pictures of my new Chrysler Cardigan in front of the slowly-melting mountain of snow next to our entrance steps.
I've been trying to think of suitable words to accompany my completion of this sweater. But everything seems trite. Suffice it to say that this sweater is a huge milestone for me, with lots of firsts.
First fiber-to-sweater within 12 months
First handspun sweater at smallish gauge
First handspun sweater in which I actually made the sweater I envisioned before spinning
First time steeking a 100% handspun sweater
That seems a little underwhelming. The lists and numbers don't actually explain it. I saw this pattern, knew it was me, and I made it.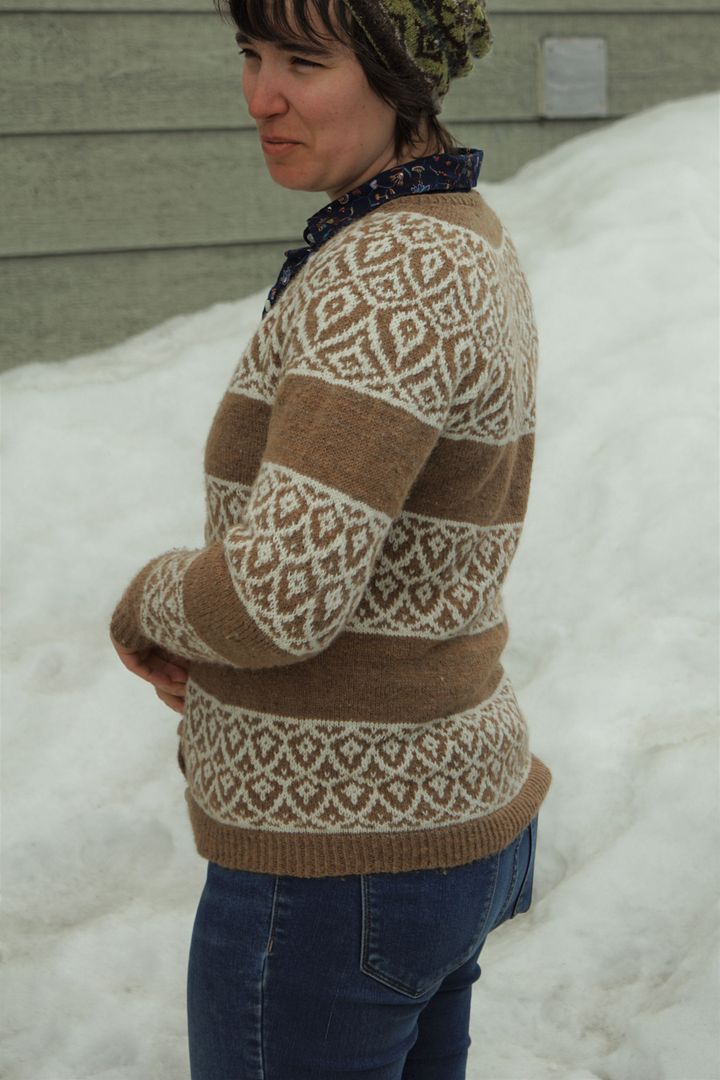 The pattern adaptations weren't exactly a first, but what I noted about them was that I just… did them. It was a steeked sweater, so that means once it's steeked, there's no ripping back. but I was able to try it on somewhat as I went. I tried the body of the sweater around my torso before joining for the yoke. I knit one sleeve, but even going up a needle size, it was uncomfortably tight, so I went up two sizes to make them comfortable. A bit of math showed that the resulting number of yoke stitches could be easily manipulated to match the size in between. And throughout, I kept an eye on my row gauges, adapting the length of the stockinette sections (and their increases and decreases) to keep the right shapes. And I just worked out the button bands for myself, because I know what I like.
It's just… it's really nice to feel competent at something. Know what I mean?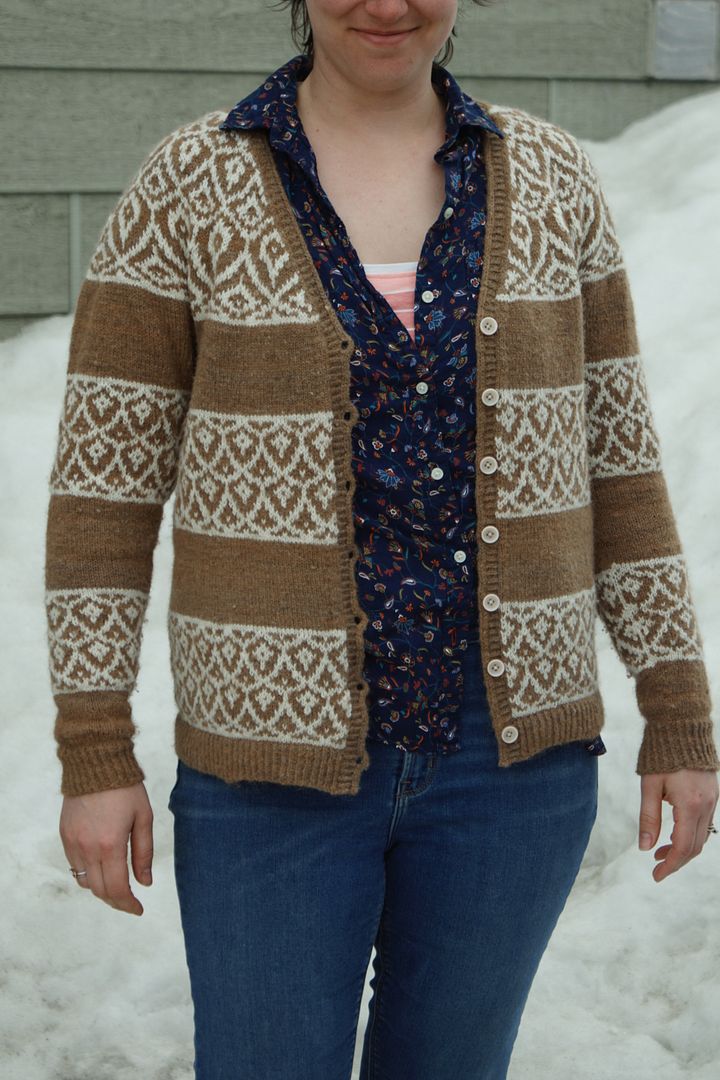 I've been wearing the sweater quite often since I finished it about two weeks ago. I don't know when I last made a close-fitting cardigan that actually fits my body just right. That's another nice thing – I'm not pleased as punch with how my body is shaped right at the moment, but I know how to customize a valuable sweater to it. That is worth a lot. It's an expression of value and acceptance. I didn't know how much I needed that.
I'm proud of how the yarn turned out, too. It's a two-ply sport/DK weight. For some reason, with handspun, I have to go way down in needle size to get the fabric that matches the yarn. Like, I knit this on US 1.5 and US 2 to get 6 st/in. I know intellectually that this is because handspun yarn has so much more life and bounce in it than commercial yarn, but it's still a bit boggling to me. The yarn was woolen spun, but consistent enough, and it blocked amazingly. It's an Alpaca/wool blend, but more than half wool, so it should keep its structure, while including the extra heft, warmth, and softness of alpaca.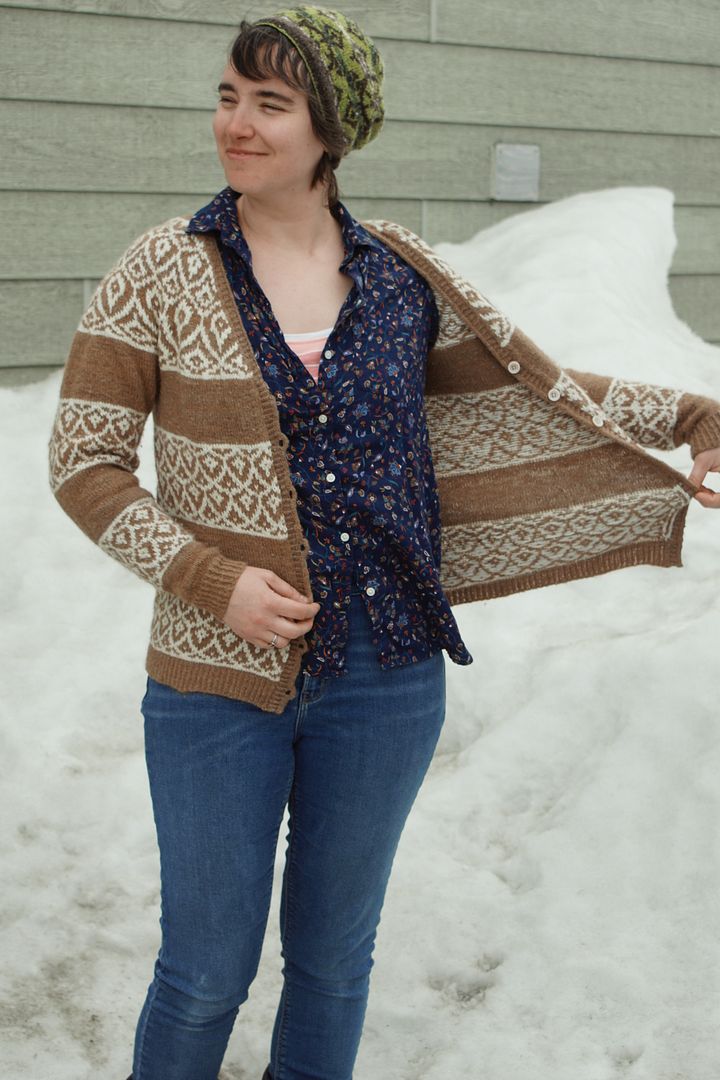 Two thumbs up for this pattern by Alexis Winslow, which appeared on the cover of the Summer 2015 issue of Interweave Knits. The main chart is a delight to knit, with all those shapes flowing in and out of each other – and the way they decrease up the yoke is one of those things that you can't believe you're making as you watch the shapes appear below your needles. So much fun.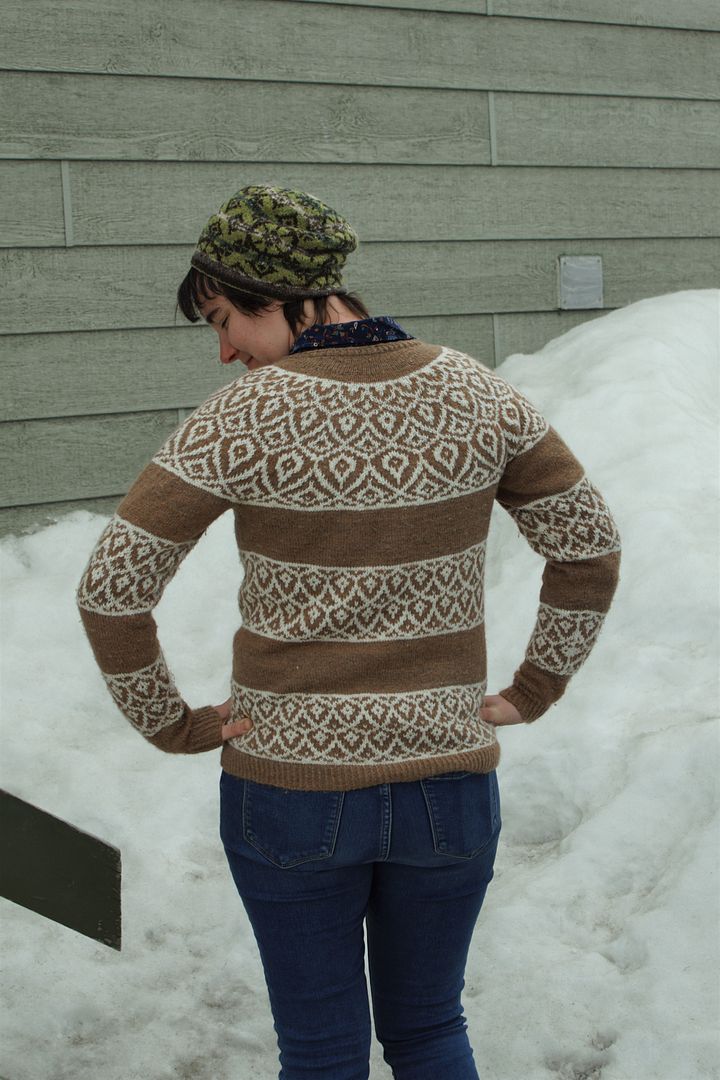 So there it is. Odd to close this chapter of my making. But it never really closes. There's a moment of satisfaction the first time I find a new sweater in a pile of clothes on the floor – it's not a project anymore; it's clothes. The creative process continues as the sweater is used, loved (or not), its niche in my wardrobe changing with the seasons. It has a life of its own now, and it has to prove itself.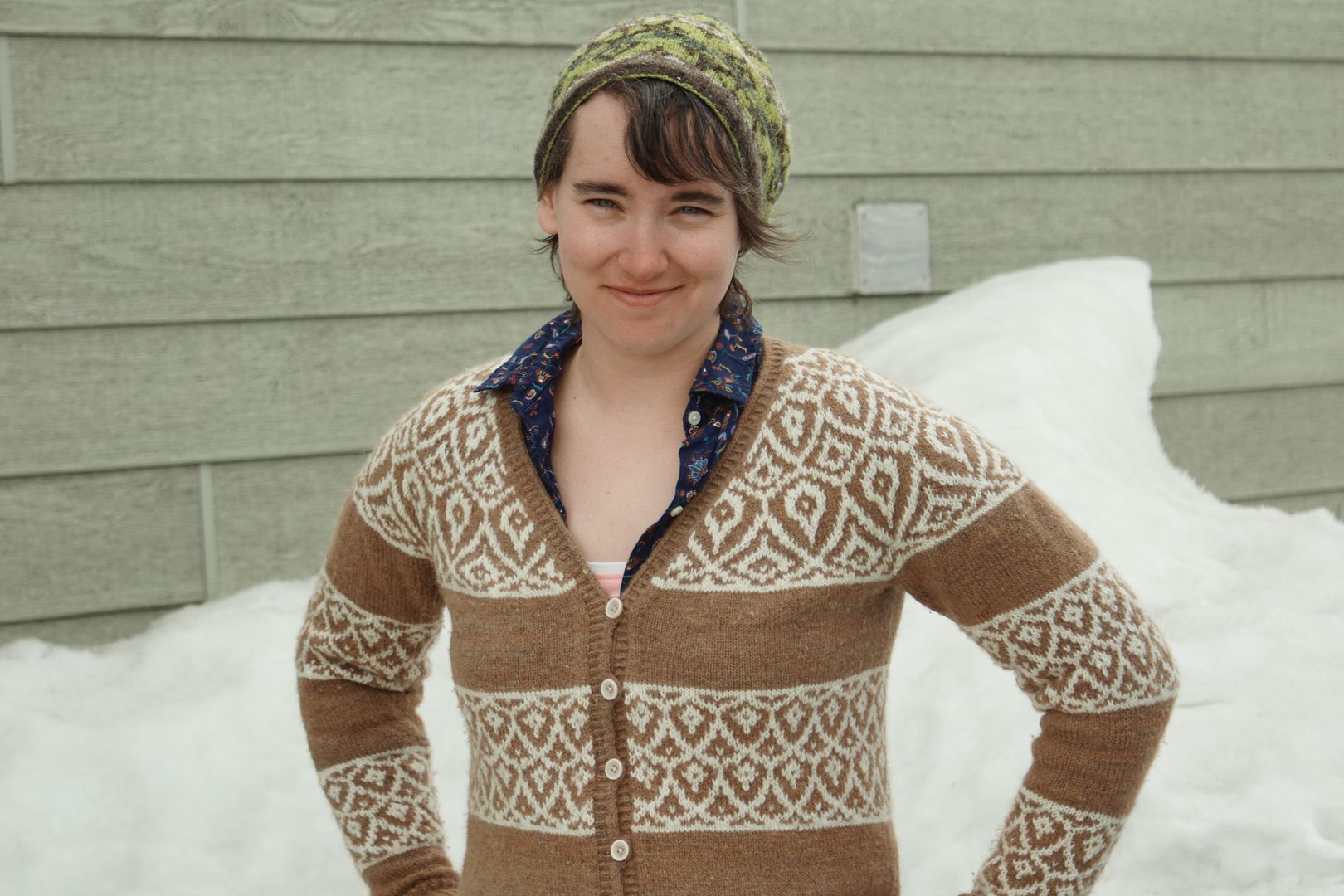 The Arctic is shaking off its winter coat, and all the summer denizens are coming back. We're busy out enjoying it, and I hope you're enjoying yours too, wherever in the world you are.