It all started with a date I had with my friend's drum carder. I kept carding and carding until I had blended my way through nearly four pounds of deep stash, resulting in two sweaters' worth of batts. The first sweater's worth became my Tour de Fleece spin last summer, which in turn is on it's way to becoming the Chrysler cardigan. The second sweater's worth just came off the wheel last week.
All told, I think it was something like twenty-seven batts. Working with these small batts, each 1-1.5 oz., broke the spin up into manageable chunks. I just spun at it steadily over a couple of months, giving it all of my evenings of watching TV or listening to Jared read books. I didn't think it was going particularly fast, and I honestly didn't realize how big a spin it was until I weighed it all up at the end.
2.3 lbs of yarn, 1795 yards total. Easily my biggest spin yet.
I took those batts and stripped them and stretched the strips. I spun in a very default way, just like the Chrysler spin – something sustainable and mindless. I sometimes leaned toward long draw, but the work was mostly definitely of the short-continuous-backward family of draft. One batt at a time, one bobbin at a time. It helped too, to take breaks to ply on my jumbo bobbin. I did the dark grey, half the black, the light grey, the rest of the black, and the fawn. It's amazing how a little variety chunks up a big task so nicely.
Each color was some combination of the bicolor Cormo fleece I've had since time immemorial and some of the alpaca that I've had stashed for even longer. The black was the darker portion of the Cormo blended with the black alpaca fleece from my mum's friend, which was also blended with Shetland for my Evergreen Mountain pullover.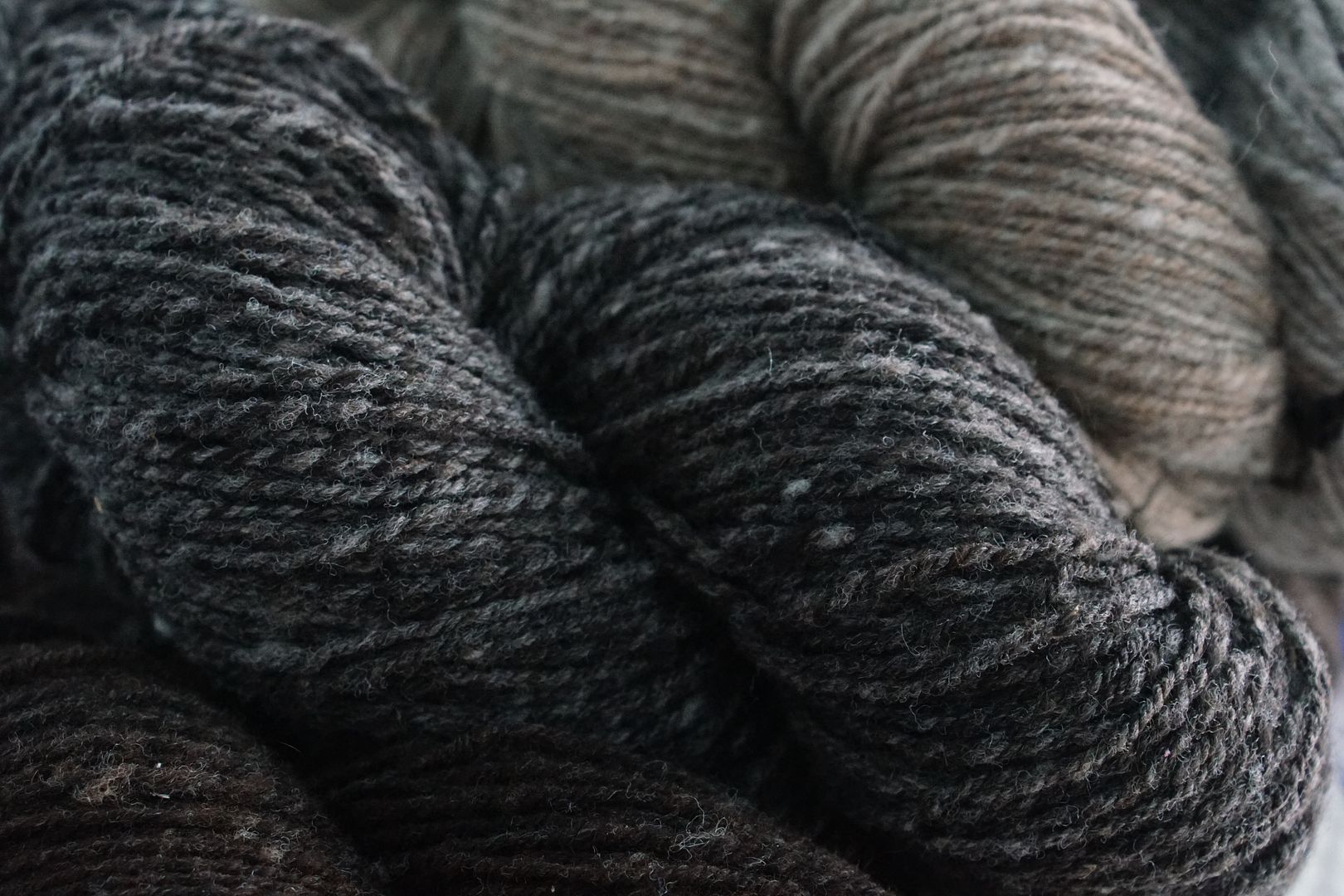 The lighter portion of Cormo fleece, which blended into a sort of middling grey, I split into groups to become part of the contrast colors. The dark grey is light Cormo blended with black alpaca. The light grey is light Cormo blended with white alpaca roving from Criative acres.
And finally, I held back one of the fawn-colored alpaca/Shetland batts from the Chrysler spin, and when I was sure I didn't need it, I blended that with some more white Cormo.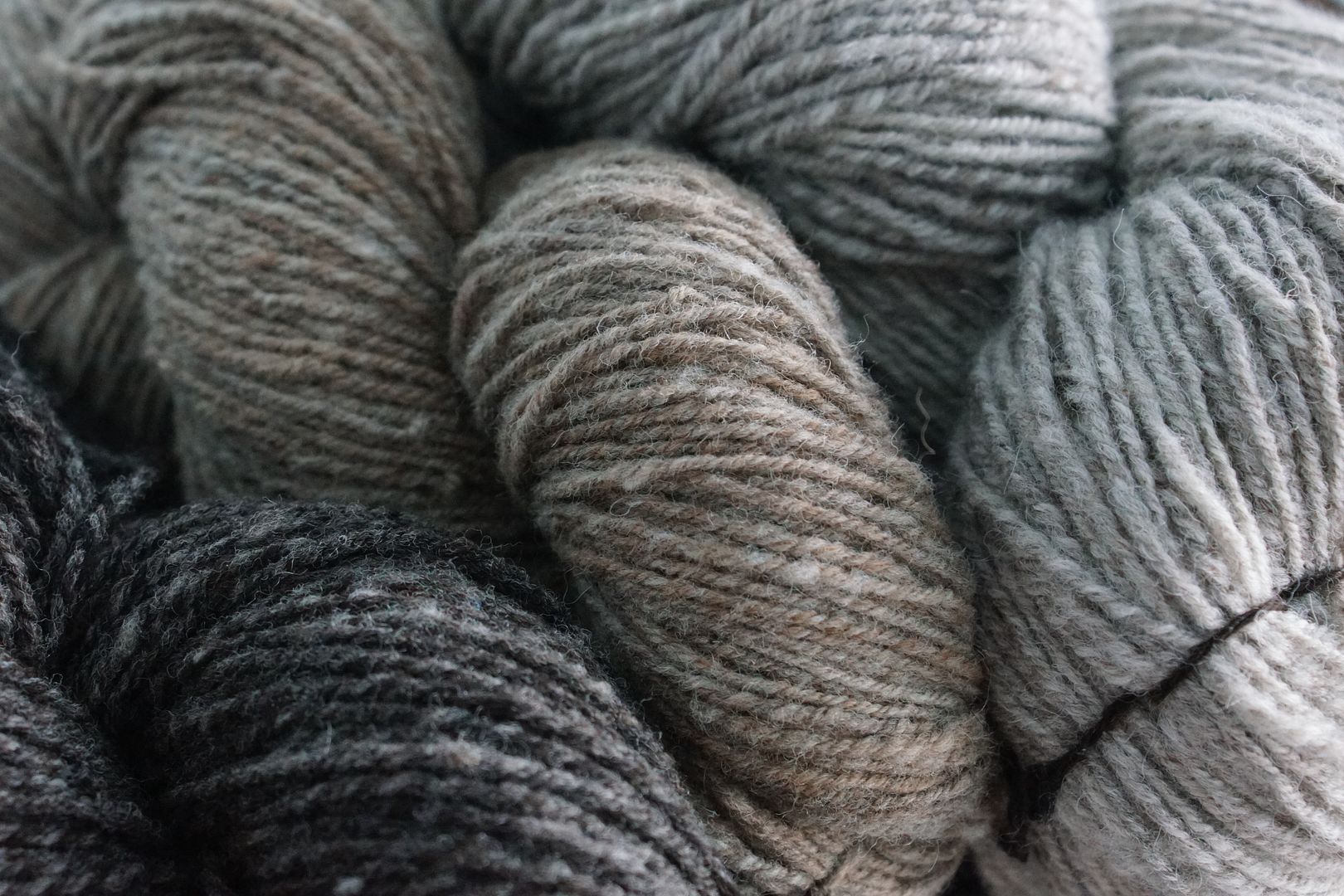 I spun pretty much the same singles that I spun for the Chrysler spin, but opted for a three-ply. I haven't measured WPI or twist angle or anything, but I'm happy enough with how it looks. Based on how Chrysler is knitting up, I think I'll get a worsted or aran gauge out of this yarn no problem. I think they will look fab together in a Weel Riggit. That sweater was written for an alpaca/wool sweater, with more wool than alpaca, much like this yarn. I am itching to cast on, after I finish the two other handspun sweaters I have on the needles!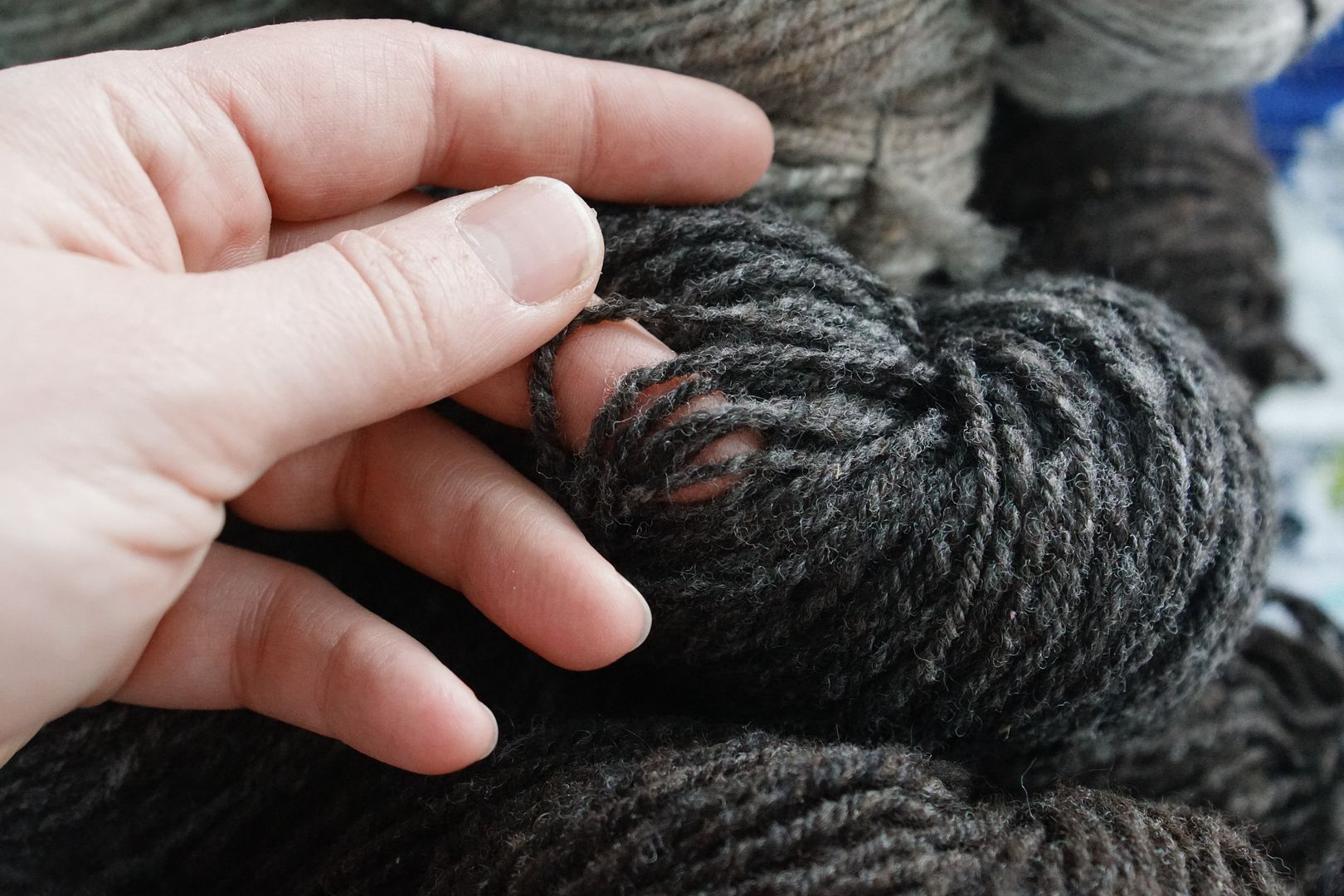 The goal of both this and the Chrysler spin was to really use up some of that deep wool stash. After completing 51 Yarns, I looked at my stash, and decided to start with the very oldest stuff and work my way forwards. I can now say definitively that the Criative Acres alpaca, which I think Jared got me for like our second anniversary, is dispatched. The black alpaca is used up as well; at least I think it is. If I find any more of it, I might compost it. The Cormo is mostly accounted for, but I did find a couple more bags of it under the bed. I think it might have been breeding down there. Anyway, I've handcarded most of the rest of that, and Stringbean is using it for spinning lessons. I also have a sizeable bag of waste from teasing and carding, which has already come in handy as stuffing for Stringbean's sewing projects.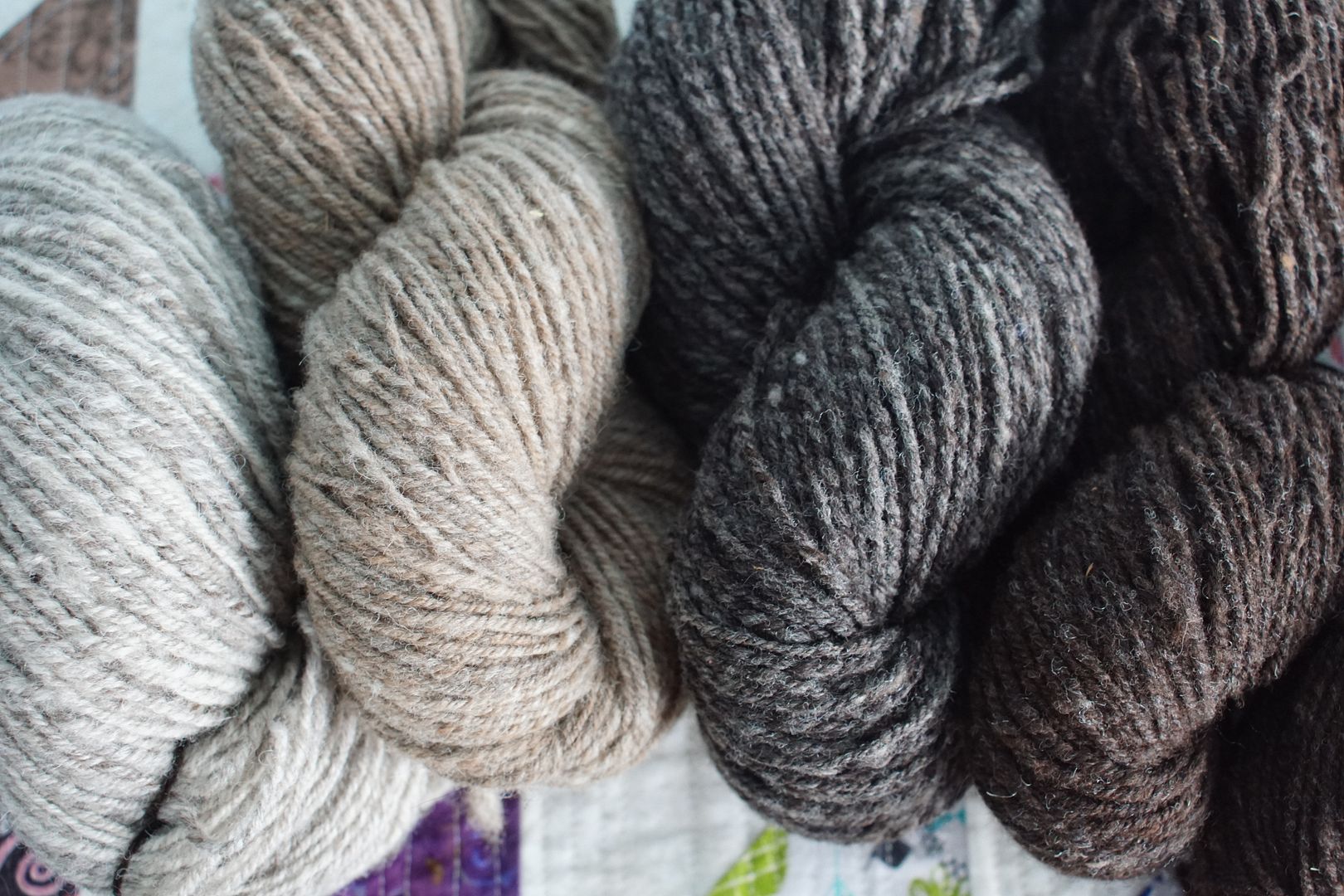 There is a time for stashing, and a time for using up stash. At this point in my life, I do not like stash (spinning stash in particular) sitting there for so long. But I love seeing stash this old finally become something really wonderful. Thanks to Alide for the loan of her carder; I don't think it would have happened this quickly without it.